It has been 20 years since rocker Kurt Cobain's death and Seattle's cultural climax as the capital of grunge.
In the intervening years, Portland has taken its place as the reigning king of all things hip and cool, but, with all due respect to the charming Oregon city, its hipsterness can be tiresome at times. Seattle, on the other hand, has been unself-consciously going about its business as a tech boomtown while continuing to be a great music city (think Fleet Foxes and Macklemore), with a robust and eclectic locavore dining scene and pockets of unique boutique shops and services.
As easy as it is to spend the majority of your time in the heart of the city, many of Seattle's charms lie just outside of the core. If you're willing to trek on foot (up and down many a hill), embrace public transit or take a few cabs, the downtown, with the Space Needle as your beacon, makes a good base while exploring the great neighbourhoods surrounding it.
Where to Drink Coffee
It's a well-known fact that Seattle is the birthplace of Starbucks and the coffee mecca of North America. With about 16 local roasters, you can't swing a cat without finding a decent latte – though, to best appreciate the terroir of quality coffee, connoisseurs order their java brewed in the what's-old-is-new-again filter-cone style.
Analog Coffee in the Capitol Hill neighbourhood (no relation to the Calgary cafs) is a must-try for coffee aficionados, with small-batch roasts, expert baristas and cold-brew coffee on tap. Other notable cafs for a done-well daily caffeine intake include Empire Espresso, Victrola Coffee Roasters – which hosts "public cuppings" every Wednesday at 11 a.m. – and Portland-based caf chain Stumptown Coffee. There's also Roy Street Coffee & Tea, which is owned by Starbucks (and is styled as a distant cousin) and offers live music, wine and beer in addition to its coffee. No venti frappucinos to be found in this joint.
Catch a Show and Grab a Bite
Just a few blocks away from Analog is Broadway Avenue, the main drag of the Capitol Hill neighbourhood, which has a well-established LGBTQ population and a diverse mix of shops, eateries and bars. At Julia's – definitely an institution of the area – you can enjoy a drag show along with your Sunday morning brunch. Try Samurai Noodle for handmade ramen noodles in big bowls for lunch and Terra Plata, where the "earth-to-plate" concept isn't just eye-rolling marketing but rather the actual expression of food grown in Washington. After 4 p.m., hit up Witness, a "Southern-influenced craft cocktail bar" where you can enjoy expertly made cocktails like the Soul Tonic (gin, tonic and a house-made lime cordial) and some small bites.
Attractions You Have to See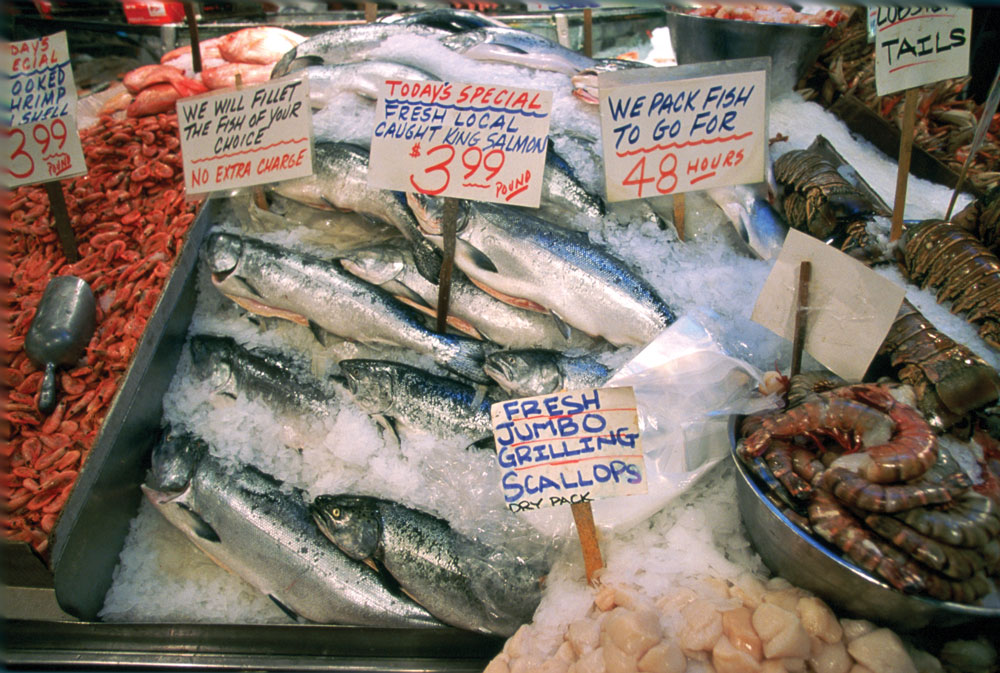 photography by tim thompson
Seafood at Pike Place Market.
Zipping back downtown, the Pike Place Market area can be overrun with tourists at times, but for good reason. The 107-year-old landmark has 200-plus stalls, shops and restaurants, as well as ghosts, two bronze pig sculptures (Billie and Rachel), a bawdy cabaret act, the Giant Shoe Museum and countless hidden treasures. If you take yourself on a self-guided tour of samples, be sure to try the smoked salmon at Pure Food Fish Market and don't skip the spectacle of Pike Place, its namesake fish market, where mongers throw seafood, from bags of prawns to whole halibut, back-and-forth for onlookers.
If you make your way north from downtown, past the Space Needle and the eye-catching Experience Music Project Museum (a museum of music and pop culture), you'll end up in Queen Anne. Its "lower" section, which encompasses KeyArena, Mercer Arena, the Exhibition Hall, McCaw Hall and other theatres – mainly consists of restaurants, bars and cafs, and On the Boards, a centre for avant-garde theatre and music. But head up the steep steady incline known as "the Counterbalance" to perch on the highest hill in town and find gorgeous views, great boutique shopping and a relaxed dining scene in Upper Queen Anne.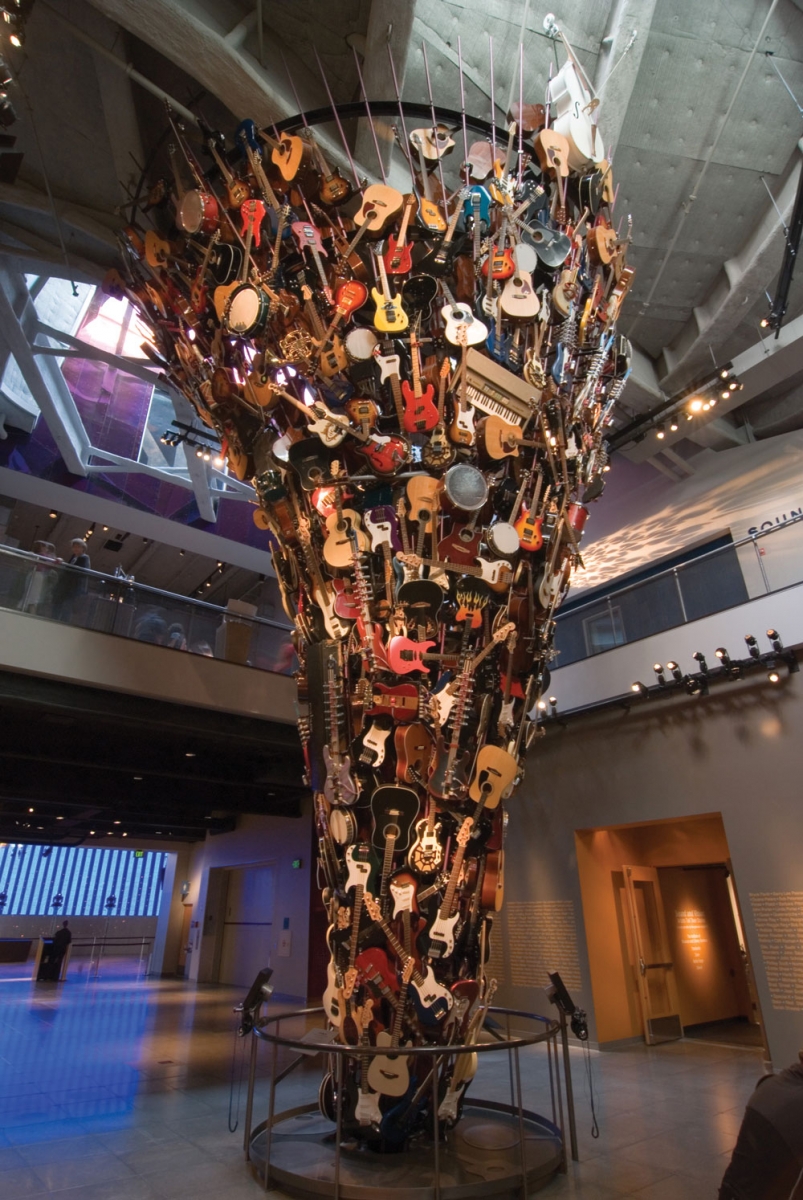 photo by howard frisk
Guitar sculpture at Experience Music Project Museum
Both Queen Anne Dispatch and Meadow offer a quirky mix of womenswear, accessories and home accents, and are great places to pick up small gifts for anyone back home. Sweet-toothed folks will especially love Chocolopolis, a boutique store that offers artisan chocolates from 20 countries around the world, as well as drinking chocolate perfect if you happen to be exploring Queen Anne on a rainy day. They do get those occasionally in Seattle.
From June to October, you can check out the Queen Anne Farmers' Market to pick up some picnic goodies and a bottle of the delightful QAFM Rose, produced by Walla Walla winery Canlis to benefit the market, which is Seattle's only independent, non-profit market. And don't leave the neighbourhood without having a dinner at celebrity chef Ethan Stowell's How to Cook a Wolf, which pays homage to legendary food writer M.F.K. Fisher. From carpaccio to agnolotti, the Italian-inspired small plates are fit for any appetite.
Where to Eat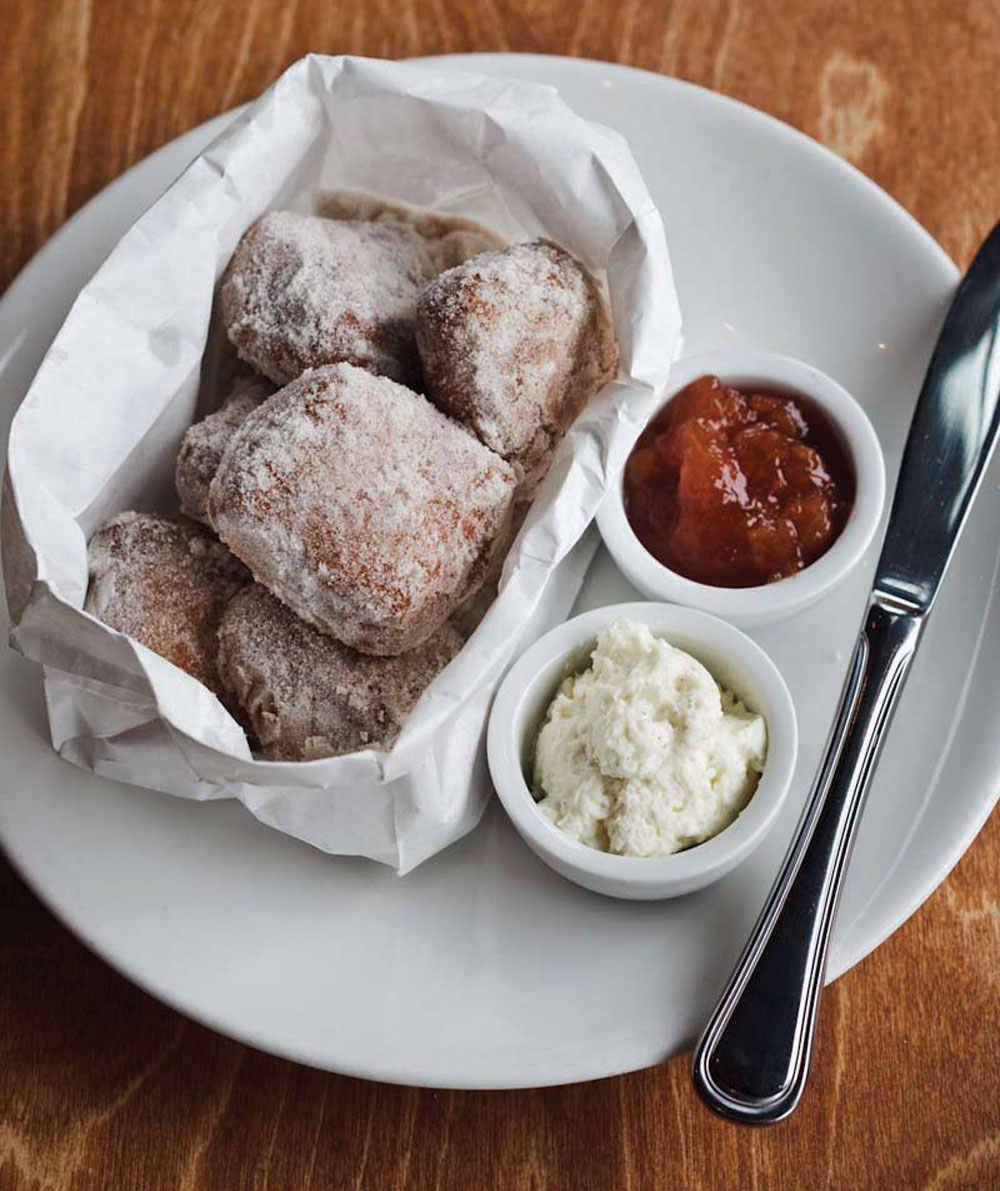 photo by ed anderson
Tom Douglas has 14 restaurants in Seattle including Dahlia Bakery and Dahlia Lounge, where you can try Dougas's famous doughnuts.
And speaking of celebrity chefs, longtime heavy-hitting Seattle restaurateur Tom Douglas was named Outstanding Restaurateur by the James Beard Foundation in 2012, which is a really big deal. Douglas has 14 restaurants in the Seattle area, including Etta's, Palace Kitchen (rustic, Pacific Northwest style) and Serious Pie (pizza) – many of them are located in or near downtown and are worth seeking out. There's also the not-to-be-missed Dahlia Bakery to complement the food of Douglas's original restaurant, the Dahlia Lounge. Dahlia's famous doughnuts are sweet, warm, pillowy bites of goodness and Douglas's triple coconut cream pie is rich, weighty and divine.
Douglas also runs a farm, Prosser Farm, about two and a half hours east of Seattle, where he hosts dinners, one of which happens on Aug. 30. The six-course dinners include a farm tour and are held in Douglas's farmhouse for an intimate experience that celebrates the freshest bounty of the season with one of America's most renowned chefs.
Relax With Music and Wine
Chateau Ste. Michelle Winery is only about 30 kilometres from Seattle, and it's well worth driving out to catch one of the great musical acts that are part of its summer concert series that runs from June to September in a natural, outdoor amphitheatre. The lineup is diverse and impressive, featuring the likes of Sarah McLachlan, Chris Isaak, Ringo Starr, Goo Goo Dolls and Boston.
Four Parks to Stroll Through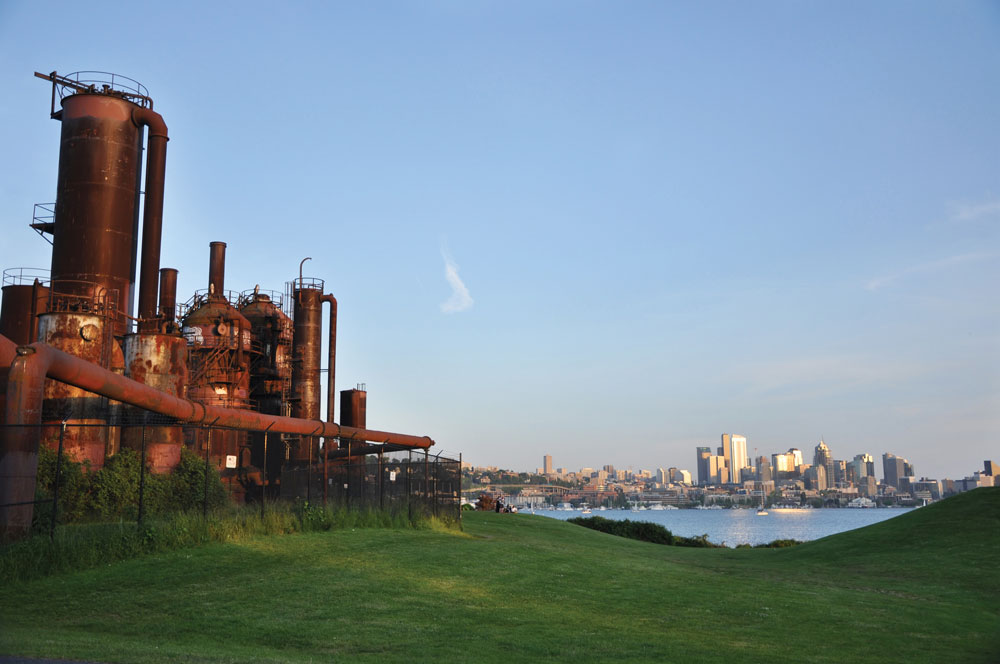 Gas works park
Urban explorations are always fun, but there's a lot of greenery to set your sights on in this coastal city, too. Here are four parks you should make a point of seeking out.
Gas Works Park
The highlight of this park along the water is the remnants of an old coal gasification plant (hence the name). It's a great place to spend an afternoon relaxing in the verdant grass and watching the seaplanes landing.
(2101 N. Northlake Way, 206-684-4075)
Kerry Park
For breathtaking views of the Seattle skyline and Mt. Rainier on a clear day, this tiny park in Queen Anne is the place to be, especially when the sun is starting to set.
(211 W. Highland Dr., 206-684-4075)
Olympic Sculpture Park
Opened in 2007, this is one of the newest and most noteworthy parks in the city. Art lovers will appreciate the variety of artwork peppered throughout, including a 39-foot-high, bright-red metal sculpture.
(2901 Western Ave., 206-654-3100)
Washington Park Arboretum
One of the city's largest parks offers extensive walking paths, spots for canoeing or kayaking and a vast array of greenery and flowers, including a well-kept Japanese garden.
(2300 Arboretum Dr. E., 206-543-8800)