As my dad recalls it, his dad didn't teach him to drive. Rather, it was their neighbour, Mikey.
This was a typical scene for a teenager growing up in a middle-class neighbourhood in the 1950s. Mikey, his wife, Esther, and the other neighbours were a ubiquitous presence and the core of my grandparents' social scene.
They were the kind of neighbours who gathered around smoky card tables to play canasta and hung out in basement rumpus rooms drinking Canadian Club and dancing to the hi-fi. In the summertime, they sat on their lawns while the youngsters ran from yard to yard. Not knowing the names of the people next door would have been akin to not knowing the names of their own offspring.
Several generations down the line, the idyllic, free-range parenting my boomer dad enjoyed is less common, but the feeling that neighbours should be more than just the people next door is tougher to relinquish.
Respondents to Avenue's 2014 Best Neighbourhoods Survey declared "friendly neighbours" to be more important than proximity to grocery stores, drug stores, libraries, places of worship, malls, restaurants or nightlife. Friendly neighbours scored higher than proximity to all three levels of schooling, daycare, recreational facilities and playgrounds. It was beat out, only marginally, by proximity to parks and pathways.
Unlike definitively measured elements, neighbourliness is a tougher thing to pin down. A good neighbour means different things to different people. Does simply knowing the names of the families whose homes border yours make you a good neighbour? Does knowing their birthdays? Letting someone on your street borrow your car? Teaching their teenaged son how to drive? Shovelling their walk when they're out of town? Shovelling when they're not out of town? Offering advice from the other side of the fence? Knowing when to leave people well enough alone?
In this hyper-connected world, it's more and more likely to be our Facebook walls that we turn to when we need help moving couches rather than the people next door. Why should we even know our neighbours beyond a simple wave?
How Friendly Neighbours Help Our Socio-Economic Health
One key reason is that it may be better for our overall physical and financial well-being. "Broadly speaking, being closely connected to one's neighbours enhances health and safety, aids in key socio-economic outcomes [such as finding a job] and, in many ways, enhances quality of life," says Tim Haney, an associate professor of sociology at Mount Royal University, whose area of study encompasses cities and urban issues, as well as labour and employment, disaster and environmental issues.
Haney hasn't focused his own studies on the subject of friendliness, per se; however, a research project he did while living in the United States examined a sample group of women who had been forced off social assistance due to government cuts. His research showed their success in finding employment corresponded with where they lived.
"In other words, women, who were otherwise identical, fared better in neighbourhoods where more of their neighbours owned cars, where there were fewer vacant houses, and so on," Haney says. "This indicates that having access to neighbours who have needed resources, like a car for job-hunting, aids in job-searching."
Haney believes the same principle – that engaged neighbours help each other out and lift each other up – holds true no matter the economic level of a community.
Friendly Neighbours Are People Willing to Help Out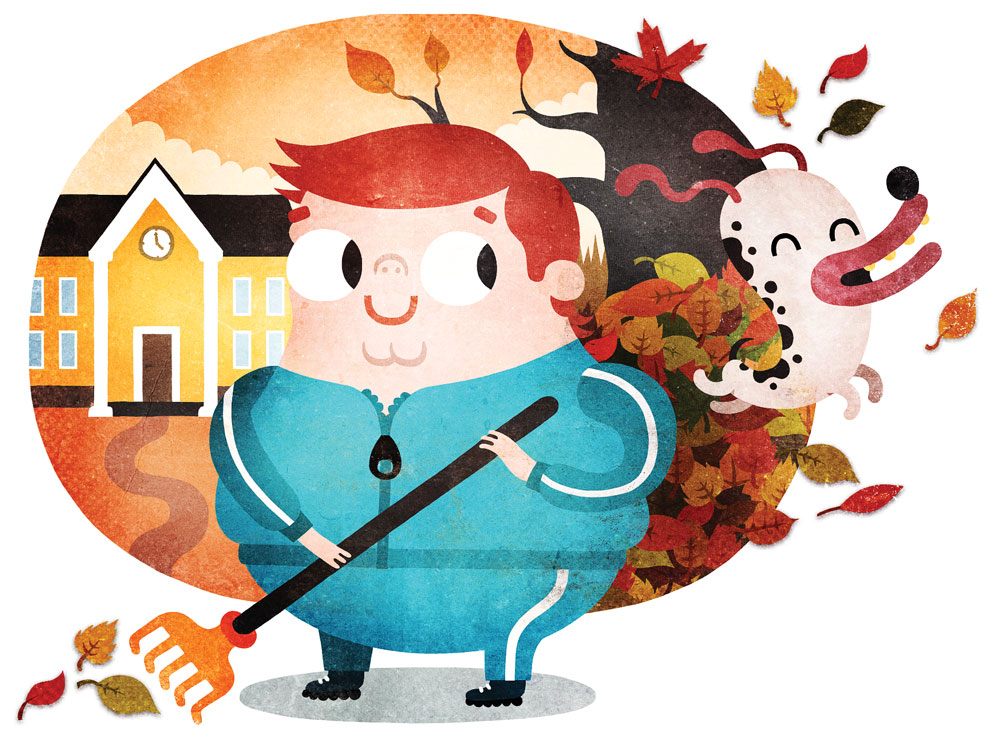 ILLUSTRATION BY TUOMAS IKONEN
Outside of academia, Haney's personal definition of neighbourliness also involves "a willingness to do favours and provide needed resources," whether those resources are a car to go job-hunting or a raft to go out on the neighbourhood lake. In his particular case, it involves feeding people – Haney's partner, Sara Haney, is a co-owner of Puzzle Permaculture and the couple practices what she preaches by using their yard as a food-producing space, inviting their neighbours to help themselves.
"If our neighbours are eating from our yard, they're not eating fast food, so, in that sense, we see our role as helping to make ourselves and our community healthier," Haney says. "According to permaculture [philosophy], everyone has needs and yields. We have many needs that our neighbours can fill – we're not terribly good at carpentry, for instance – but the yields we have are in the form of food. That creates interesting opportunities for swapping goods and services and for neighbourhood networks of mutual benefit."
Even those neighbours who choose not to eat the Haneys' vegetables can take pleasure in the existence of their extensive garden. According to Const. Ray Hostland, the Calgary Police Service's community resource officer for the community of Forest Lawn, gardening, yard work and other home-bettering initiatives indicate a sense of ownership and commitment to the neighbourhood, which builds a sense of trust among residents. That trust is the cornerstone of what he would define as friendliness.
Owning versus Renting Property
Hostland believes home ownership plays a big part in how friendly a neighbourhood will be, something he's noticed firsthand in Forest Lawn.
"There are lots of people that own and lots of good areas in Forest Lawn that people love living in and they care about their neighbourhood," he says. "If there is a breakdown, it's with the rentals. We get people who are very transient, who will live in a house for two or three months and then move away.
"I find when someone owns their house they take the time, they do some gardening, they keep the grass cut. When someone rents, they tend not to put as much time into their property.
His experiences extend outside of work, as well. A resident of the southeast community of McKenzie Towne for the past nine years, Hostland says problems with residents of rental properties on his own block were remedied when live-in owners purchased those homes. In this sense, he sees buying a home as a sign of buying into the neighbourhood as well.
"When we go away on holidays, they're looking out for our house or vice versa," Hostland says. "I trust my neighbours to come into my house. I'll give them an alarm code, things like that, to water our plants, keep watch to make sure there are no leaky pipes, that sort of thing. That, to me, is a good neighbour."
Neighbourliness Outside of the Suburbs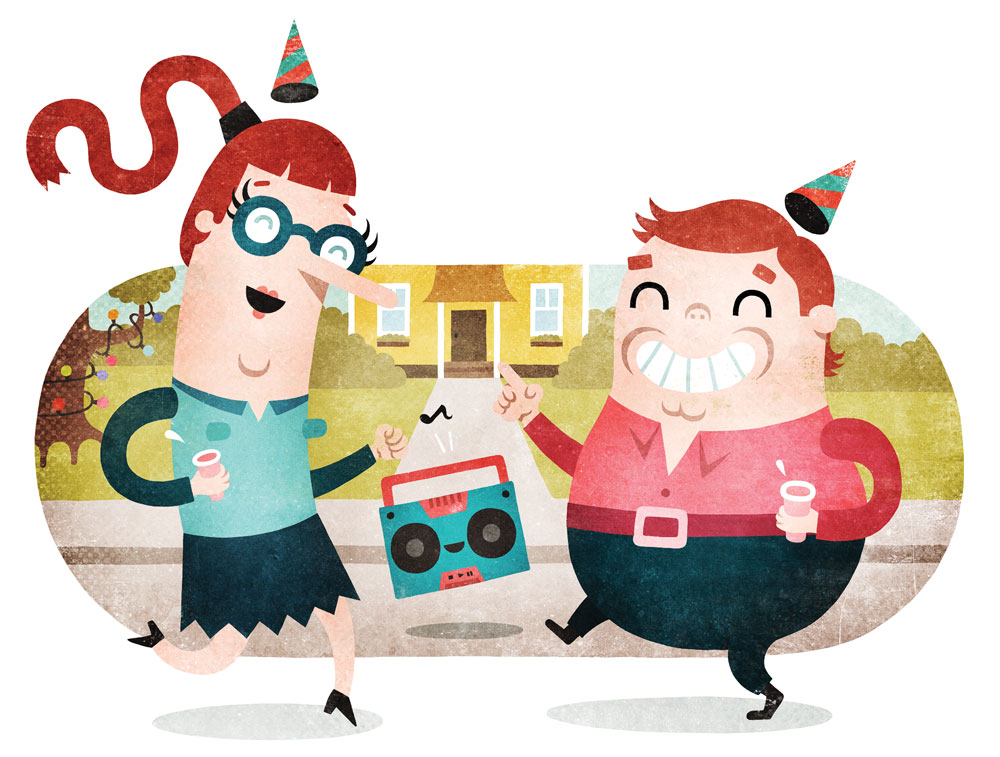 ILLUSTRATION BY TUOMAS IKONEN
A sense of trust and openness among neighbours isn't something that only exists among suburban homeowners. The neighbourly vibe is a big part of the appeal for the urbanite renters who make their home in the Moxam and Congress, a pair of pre-First World War buildings located in the heart of the Beltline.
As with most living spaces that classify as "character," the Moxam and Congress buildings tend to attract an artsy, unconventional lot. Among them is professional photographer Heather Saitz, who turned her lens on her neighbours for The Building Project, an exhibition and book released in 2010.
"There was this sense of community and also a sense of something really special that, as a photographer, I felt I really wanted to capture on film," Saitz says. "It was something rare."
A Toronto transplant, Saitz made the move to Calgary in 2003 and has lived in the Moxam for eight years. The heritage aesthetics initially drew her to the building, but she has since come to appreciate the more intangible elements of what she deems "an extraordinary living situation."
"This building was absolutely integral to me finding my way in Calgary, especially finding my art practice and honing my eye in terms of photography," Saitz says. "Moving into these buildings made me who I am in Calgary today."
Much of the Moxam's and Congress's magic is in the way the residents interact with and inspire each other. The interaction can sometimes border on oppressive (a moment of solitude can be difficult to find when the walls are thin and people are in the habit of visiting), but the flipside is a building where nobody talks and everyone is isolated inside their units.
The Interaction Between Community Members
Facilitating interaction among residents of a community is a key principle of New Urbanism. That's the design philosophy that guided the Canada Lands Co. (CLC) in its work on the southwest neighbourhoods of Garrison Woods, Garrison Green and Currie Barracks, all redeveloped out of the former CFB Calgary lands straddling Crowchild Trail.
The first project, Garrison Woods, was fully built by 2006, while the development of Currie Barracks was initiated in 2009. Since then, the scope of the mixed-use project has been expanded from 3,200 residential units to 5,600, allowing for an anticipated 11,000 residents, up from the original 7,000.
In its time, Garrison Woods was considered a somewhat radical departure in Calgary for eschewing front-drive attached garages in favour of front porches as a means to facilitate and encourage neighbourly interaction.
With Currie Barracks, Canada Lands aims to take the principles of New Urbanism further, says Doug Cassidy, vice-president, real estate for CLC's western region.
Rather than provide residents with ample backyards, the New Urbanist-aligned plan strives for "pocket parks," the size of two to three typical backyards, to foster interaction among clusters of resident families. "The CLC communities in Calgary are very unique in creating a place where the front yard is as appealing or more appealing than the backyard," Cassidy says. "That really is the thinking behind the porches and the front-of-house orientation, that people want to spend time on the street, want to spend time interacting with their neighbours and the public realm or the streetscape is friendly enough that you want to spend time there instead of your backyard."
Facilitating interaction is also a key factor in planning the retail hub of the new community. "Design is very important in providing places where you can sit outside and enjoy the southwest sun," Cassidy says. "The intimacy aspect is really interesting in public spaces. When you can create the right scale and create a place where people feel nestled and protected, it really encourages gathering."
Is Friendliness Really the Primary Factor for Buyers?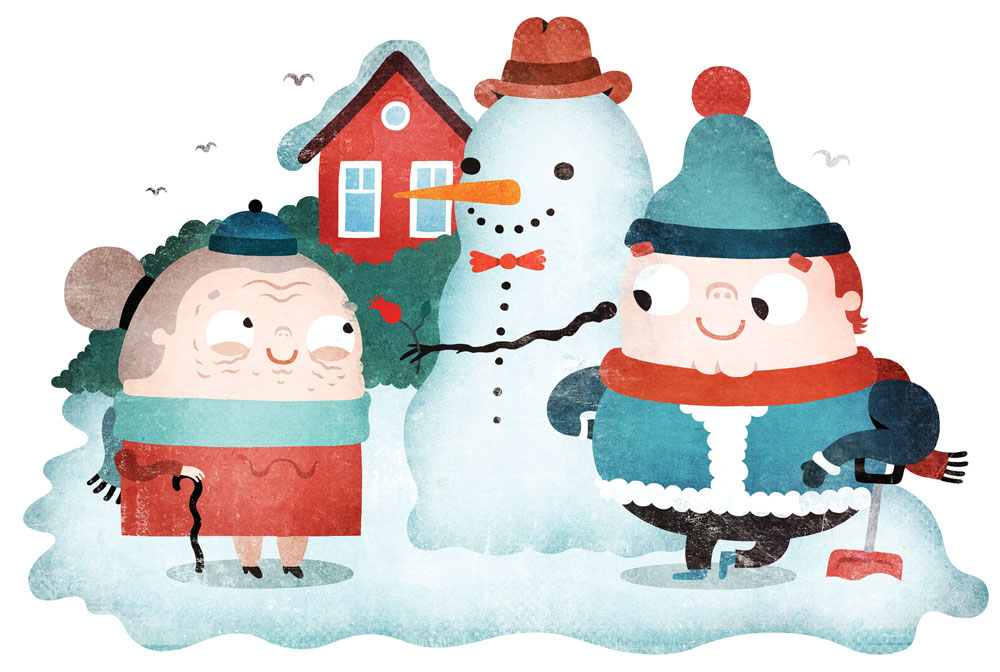 ILLUSTRATION BY TUOMAS IKONEN
While some homebuyers are drawn to these New Urbanist-aligned communities, many still seek out the antithesis: the attached front-drive-garage suburban home. Calgary Real Estate Board president Bill Kirk says it remains a popular choice in Calgary's harsh climate as it allows families to enter and exit a vehicle without being exposed to the elements.
That convenience is also the primary criticism of this style of home in that, by limiting exposure to the elements, it also means people limit their exposure to their neighbours.
Kirk and his wife, Elspeth, own a real-estate brokerage located in the inner-city community of Bridgeland, but they have lived in the northwest community of Edgemont for almost 30 years. They raised their kids there and are now empty nesters.
Kirk describes Edgemont as "your typical middle-class, front-drive-garage neighbourhood where residents drive in, shut the door and don't tend to reappear." But Kirk has found that, in fact, the severe climate that is supposed to prevent people from interacting with each other actually promotes neighbourhood bonding in his community.
"In Edgemont, we actually discovered our neighbours when we had difficult situations that came about through the weather," Kirk says. "We crossed the lines of that typical community where you don't communicate to suddenly [being] friends.
"Suddenly, you find your neighbours are out shovelling your walk as well as somebody else's walk. I have a snowblower, so I'll often do the bull work while they do the cleanup work. We have to unify to get this done efficiently, and, in the meantime, you find out they're friendly folks just like you."
Speaking as a realtor, Kirk says homebuyers aren't so much motivated by "friendliness" when looking to purchase a property – economics and access to amenities such as schools are still the primary factors. Even if they were, friendliness is a difficult thing for a realtor to gauge as neighbourhoods are constantly changing and evolving. The friendliness of a neighbourhood may be due to one resident who moves away or who moves in.
My dad got married and moved out to a suburban bedroom community, while my grandparents opted for an apartment where they didn't have to worry about home upkeep and yardwork. Their old block isn't the same as it was back in the 1960s. Things may be just as neighbourly today or maybe not, depending on which of the new residents you ask.
That's because neighbourliness has, and always will be, something people create for themselves. It exists in suburban and urban settings, in communities designed to facilitate it as well as communities designed to inhibit it, as the same weather that isolates us also makes us band together.
How to be more neighbourly
Join Your Community Association
The community association is often the heart of an engaged neighbourhood and serves as a hub for community building endeavours such as cleanups, potluck dinners and other initiatives. Search for your community association online or visit calgaryarea.com for a fairly comprehensive list of community associations.
Host a Block Party
It's not as hard to close off your street and host a block party as you might think. If you're able to get signatures from people on the block, you can apply for the permit online via calgary.ca. There's a $25 fee if the permit is granted (City barricades are an extra cost, if they are needed).
Become a Snow Angel
The City of Calgary's initiative helps ensure that those who might not be physically able to properly clear snow from in front of their residences get the help they need from people in their community. The campaign encourages Calgarians to take a few extra steps and clear sidewalks for their neighbours but isn't a formal program, so there's no registration required.