Title: John J. Bowlen Building Mural, 1969
Artist: Ron Spickett (Buddhist name, Gyo-Zo)
Medium: Acrylic on wall primed with latex paint.
Size: 11-feet-6-inches high by 44-feet long.
Location: John J. Bowlen Building, 620 7 Ave. S.W.
Note: To learn more about the artist, read Spirit Matters: Ron (Gyo-Zo) Spickett, Artist, Poet, Lay-Priest (2009) by Geoffrey Simmins, University of Calgary Press.
The mural by Ron Spickett in the lobby of the John J. Bowlen Building is a national treasure. Despite almost 50 years of wear, the painting remains a testament to the humanitarian concerns and skill of this revered Calgary artist, who is now 92.
A parade of more than 50 figures takes form within the pulse and colour patches of the painting. Expressive lines define heads, while elongated bodies shift within planes of colour and dissolve. Across the bottom, dark spikes and red wedges alternate with ivory, cream and grey to set a fast-paced vertical rhythm that dominates the composition. Horizontal bands soften and unify the whole with tonal variation. Gold and pumpkin areas glow on either end amid muted sage and olive greens. In the centre, blues come to the fore along with touches of plum and hazy purple.
Spickett's interpretation of the theme of "Alberta human resources" divides forms of human endeavour into three sections. On the left, youth engage in exploration. Riders on horses cross the central area. On the right, he predicted computers and headsets in the section on changing technology. Along the way, everyday relationships are finely drawn in depictions of young people playing a game of horseshoes and a girl climbing onto her dad's shoulders.
The mural points to lesser-known artistic connections between Calgary and Mexico. In 1955, Mexican Jose Gutierrez, founder of one of the first companies to produce acrylic paints for artists, visited Calgary to promote the new medium, which Spickett would later use for this mural. That same year, Spickett won a scholarship to the Instituto Allende in San Miguel Allende, where he studied the work of Mexican muralists and visited the Mexico City studio of renowned muralist Jos Clemente Orozco.
Spickett returned to Calgary with high hopes for modern mural painting in Canada, believing it could enhance architecture and engage people in meaningful ways. He taught mural painting at the Alberta College of Art (now ACAD) for a decade and advocated for public art by suggesting Canadian developers and government allocate a portion of construction budgets to art, as was the practice during his time in Mexico. The commission for this mural finally gave Spickett the opportunity to realize his vision on a grand scale. The largest of his public works, it holds a significant place in the history of Canadian murals.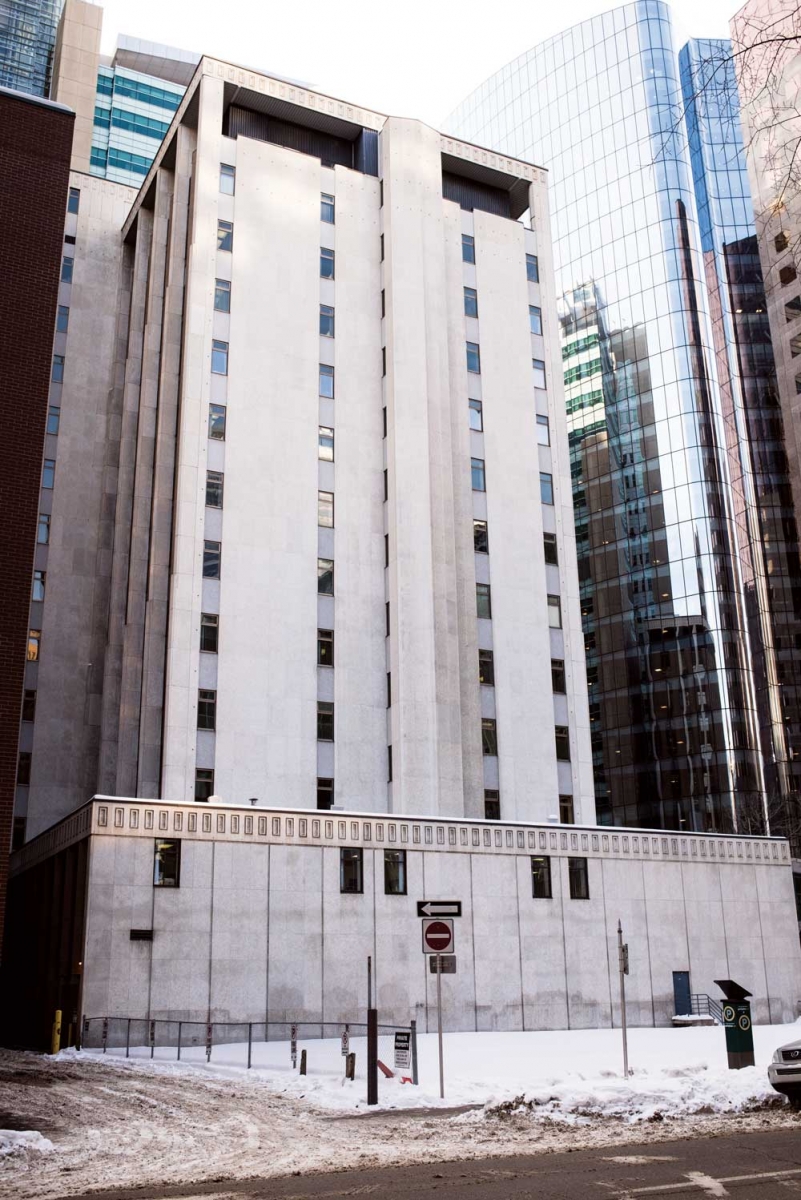 If you are interested in seeing more of Spickett's work, his first mural from 1949, "Alberta Pioneers," is still on view in SAIT's Heritage Hall. And his painting, "Four Heavenly Guardians of Four Direction in Land of Buddha (Tibetan), flanking a central figure of Shakyamuni (Sage of the Shakyus)," from the early 1980s, is on display in the permanent exhibition Many Faces, Many Paths; Art of Asia at the Glenbow museum.