After months spent at home during the pandemic, Alykhan Velji and Jason Krell started to get restless.
The couple, also known as TV lifestyle experts The Style Guys, had lived in their Chinook Park home for 14 years, slowly renovating it over that time. But, they were ready for a fresh start. "We thought, 'Instead of renovating the house again, what would we like out of a new one?'" says Krell.
So, in 2021, the couple purchased a 1960s bungalow in neighbouring Kelvin Grove and completely revamped it over the span of a year. "It's cozy, warm and inviting, with a bit of a traditional moment to it," says Velji. The two reimagined the main floor layout, tearing down walls to create an open concept living room and kitchen area, complete with a striking cathedral ceiling, that is the heart of their home.
Every aspect of the design is curated to fit the keen eyes and lifestyles of the couple, who, outside of The Style Guys, run an interior design firm (Velji) and PR agency (Krell). "It's a multifunctional space where we can host, cook, hang out, even work when we need to," says Velji.
The living room side features pieces from their travels (candlesticks from Palm Springs), a hand-cast fluted fireplace designed by Alykhan Velji Designs and an eclectic mix of furniture including a warm leather sofa and Boucle chairs from Urban Barn.
In the kitchen, integrated appliances disappear into the custom cabinetry, and an expansive Alpine granite island with plenty of seating eliminates the need for a dining room. "We worked hard to make sure we had everything exactly where it needed to go to be functional," says Krell of the kitchen.
Since moving in last August, they've hosted many events, big and small: "Ultimately, it's a space that brings people together," Krell says. But, even when it's just the two of them relaxing on the sofa or making dinner, it's still their favourite space. "The most beautiful thing about it is that it doesn't feel empty when it's just Jason and I," says Velji. "That was a huge factor when we were picking the finishes and creating these textural moments and layers — we wanted to ensure it felt as cozy when there's two people in it as it does when there's 20."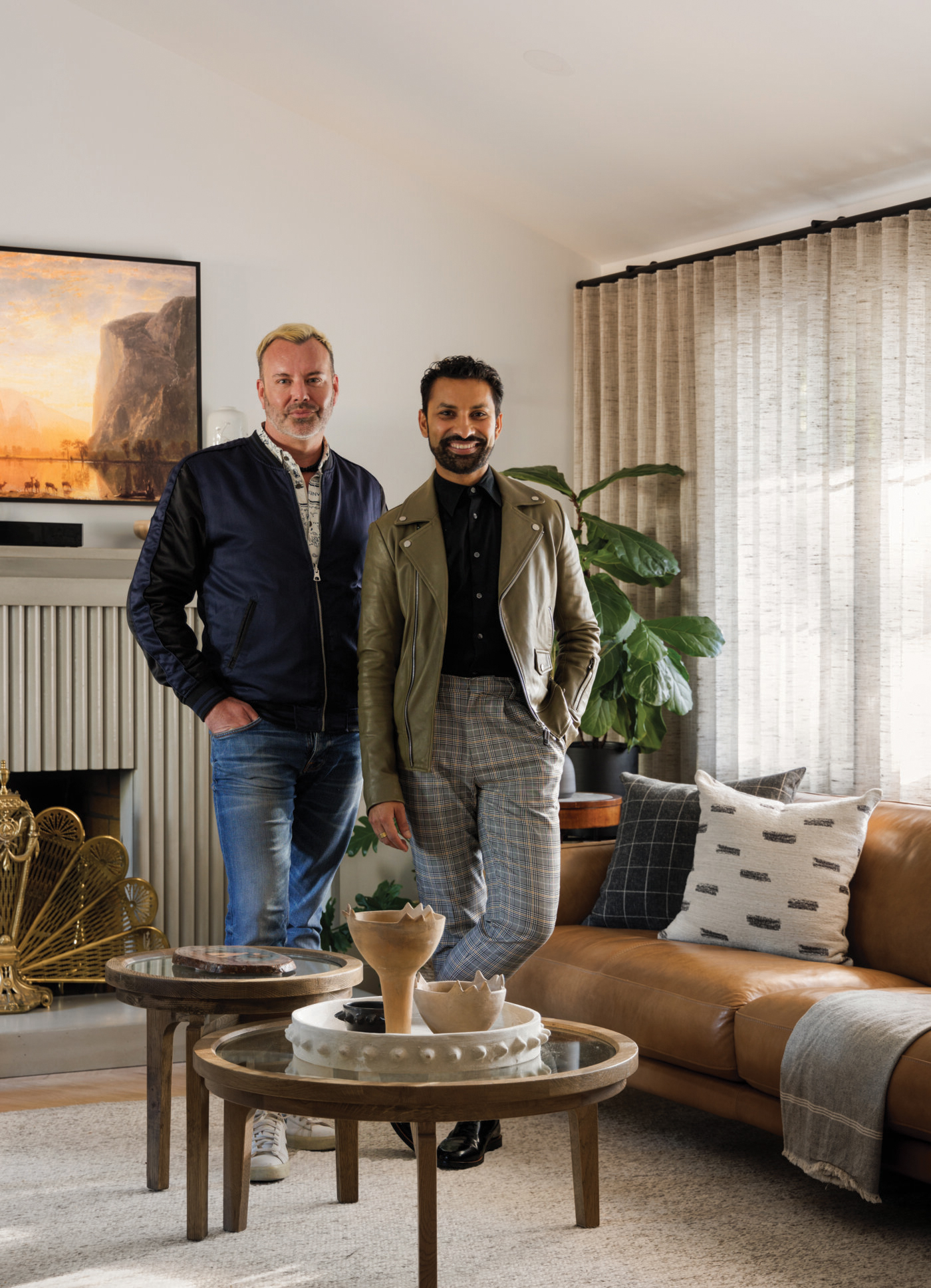 The Architecture
Originally, the main floor walls were less than eight feet high. Now, the peak of the cathedral ceiling stands at 13 feet, creating what designer and homeowner Alykhan Velji calls "a grand moment" when you walk through the door.

The Fireplace
The fireplace surround and tiles were hand cast by Phoenix Concrete Works. The curves of the fluted tiles paired with the angled mantle results in a look that's at once modern and traditional.

The Lighting
To create a warm and inviting atmosphere, the space features a variety of layered lighting, including a few statement pieces: sculptural black metal and wood pendants above the kitchen island and a brass wall sconce next to the fireplace.

The Furniture
The curated furniture selection includes
 an antique side table and a cozy chair by the fireplace that Velji designed in 
collaboration with Vintage AF.