With their kids headed away to university, the owners of this home in Altadore wanted to create a basement space just for them. No longer the kids' hang-out zone, the lower level was to be transformed into a place for the adults to sip cocktails and relax.
The homeowners brought in designer Louis Duncan-He to execute their vision for a moody, broody, speakeasy atmosphere with a vintage Mad Men vibe.
"Because you can see the basement from the main floor, we realized that we needed to make the shift in energy very purposeful," says Duncan-He. "We wanted to make it very clear that this is a different area of the house."
With dark blue walls, lush cognac leather chairs, a custom-made bar and decked-out entertainment centre, the subterranean space is certainly distinct from the rest of the home, which is light and airy.
"We loved finding ways to find that tension and style, and that contrast to make sure that the overall space was something really interesting and not just one-dimensional," says Duncan-He.
Completed in 2022, the homeowners say they often have date nights in the space, and that they always wind up around the bar downstairs when hosting guests. (They'll even admit that dance parties have broken out once or twice.)
The basement lounge showcases items that represent one of the homeowner's Caribbean roots, (specifically Barbadian), including rare rums, a car-racing medallion and a century-old barometer from an uncle, who had worked as a weather forecaster. The couple also paid homage to past generations, framing and displaying a selection of heirloom bow ties, as well as vintage briefcases and cameras. Along with being very much in line with the desired Mad Men aesthetic, these items also enhance the space with warmth and sentimentality.
"Incorporating personal details is part of our design ethos," says Duncan-He. "Our signature is creating distinctive spaces that reflect distinctive people. And part of what makes a space feel distinct is mixing in a piece of someone's authentic story."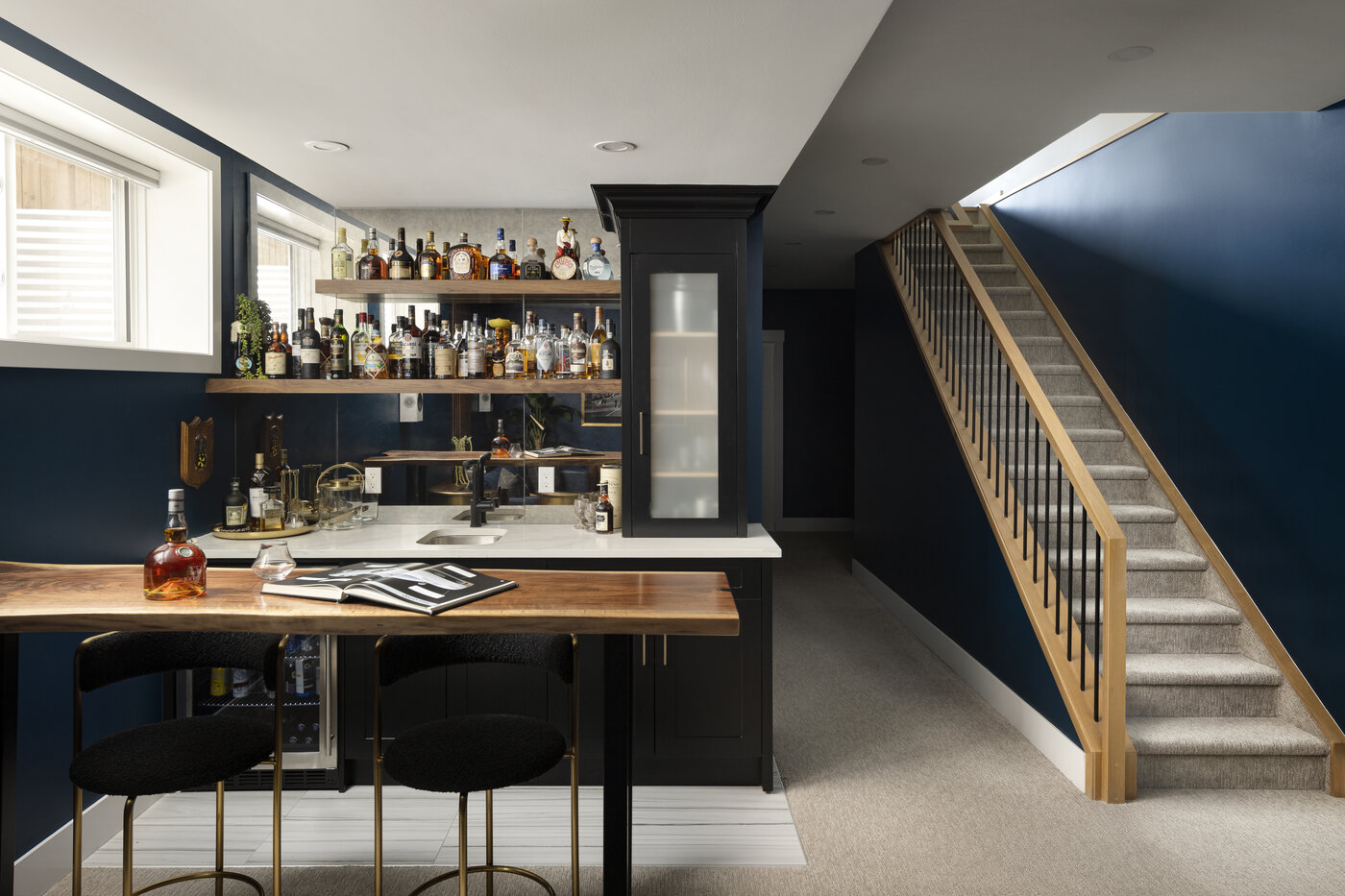 The Bar
Designer Louis Duncan-He supplemented the overall space with "dimensional relief," by juxtaposing the custom, live-edge bar table with luxurious-looking bar stools and dark cabinetry, and adding an antique mirror to amplify the ambient lighting.
The Sound
The custom entertainment system, featuring metallic mesh detailing and black mesh lining for sound clarity, does double-duty in what Duncan-He describes as a "functional, but also beautiful" way to integrate an existing sound system.
The Woods
Duncan-He created what he describes as "a moody, mid-century feeling, with a slight industrial view" by combining metallic accents with rustic elements, including wood cladding that extends all the way around the bulkhead.
The Memories
Displaying sentimental treasures, provided they work with the design, will make a space truly distinctive and something that "can't be replicated," says Duncan-He.