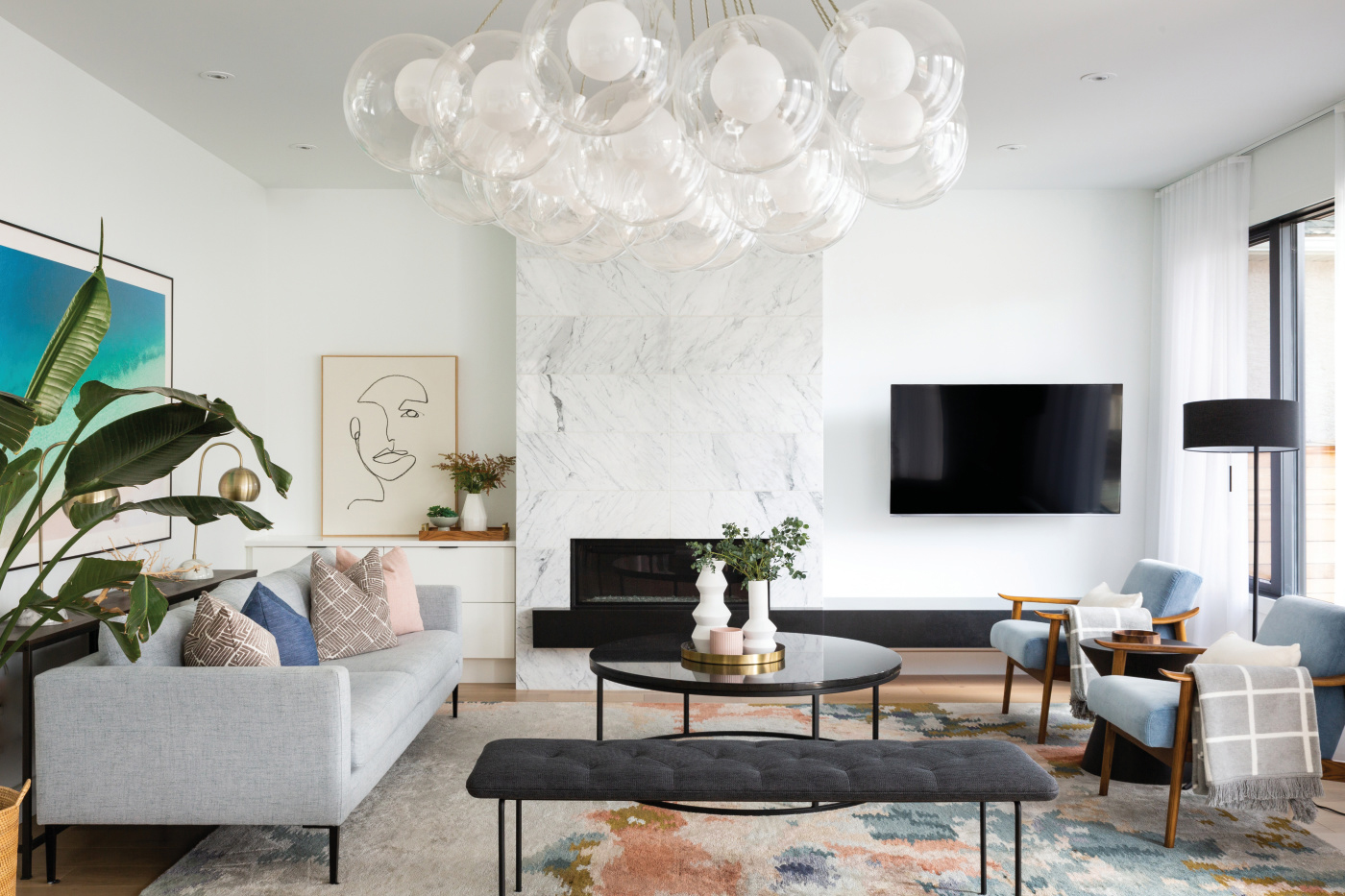 Tracey Contrada and her husband Clint Phillips were experiencing an evolution in their family life. And with Contrada's daughter Ava entering her teens, the couple realized they wanted to find a new home that better suited their evolving needs.
After looking at some houses on the market, Contrada and Phillips realized what they wanted was a new build in an established community, with a backyard, proximity to their downtown offices and space to host friends and family. Their builder found a lot in Mount Pleasant, offering the chance to design their home from the ground up. It was the perfect fit. In fact, the results are so fabulous the home has received international attention, and was recently featured in Home & Design Trends, a Times of India publication.
The couple wanted a spacious, open-concept home that incorporated mid-century-modern pieces with a more contemporary design style. They hired Aly Velji and Katie Nelson from Alykhan Velji Designs to integrate Phillips' request for a fairly neutral, clean and clutter-free space with Contrada's love of colour and desire for a home that felt warm and inviting.
To provide visual interest, Velji and Nelson focused on textural elements and mixed furniture styles. In the living room, which features a striking marble fireplace, they placed a pair of mid-century-modern chairs recovered with a handpicked soft, pale-blue velvet opposite a neutral, Scandinavian-modern couch. They added accessories in black and brass and a colourful rug to bring warmth and personality into the space.
Velji and Nelson ensured design elements in each room transitioned seamlessly into the others. In the kitchen, the marble herringbone backsplash carries over materials from the living-room fireplace, while the ceridian-blue colour of the kitchen island's base can be seen throughout the home.
When Nelson first showed the homeowners this blue, Contrada admits they were hesitant, and tried several different samples before eventually agreeing to it. "[The designers] pushed us out of our comfort zone," she says, ultimately understanding that it was a design risk worth taking.
"If you went safe on everything, then your custom home wouldn't look custom," Contrada says.
The kitchen features ample cabinetry and storage space below the countertops, which allows functional items to be tucked away, maintaining the clean, minimalist look. Open shelving displays an artful selection of books and other items while the uncluttered kitchen island provides a welcoming space for friends and family to gather.
Velji and Nelson used black accents throughout the home in the kitchen cabinetry pulls, chair bases and coffee tables, and in the entryway where it frames the stairway. "That's something super important when it comes to design," Velji says, "repeating certain materials throughout the house to create consistency and to let the eye travel through."
Velji says he likes to hang wallpaper in all of the homes he works on because it adds a fun, quirky quality to any room. In the Contrada-Phillips house, he added distinct wallpaper in shades of blue with hints of white and grey in the main bedroom, main-floor powder room and in Ava's bedroom. Because of Phillips' request for clutter-free spaces, Velji and Nelson used wall sconces in the main bedroom to create dramatic lighting as well as clear up space on the bedside tables.
The basement has an impressive home theatre for weekly movie nights as well as a bar serving Phillips' home-brewed draught beer. With the typical chaos that comes with working full-time and raising a teenager, Contrada says it was important for her to create an environment where her family members could feel comfortable and truly be themselves. This feels especially true for her since the family experienced some challenging times over the past year.
"One of the things that has resonated out of everything that we've gone through is that your home becomes your safe haven," Contrada says. "When you walk through the doors of your home, you can actually be yourself and feel what you need to feel. And I think that's what a home represents."
How to Add Colour and Texture Into a Modern Space
Designer Aly Velji of Alykhan Velji Designs found a balance between minimalism and vibrancy for the home of Tracey Contrada and Clint Phillips. Here are four strategies you can use to do the same.
Keep things consistent. Repeating one or two materials throughout will create consistency in the home. "That is one of the biggest rules in design that most people disregard when it comes to selecting finishes," Velji says.
Build a "colour story" from one feature piece. "Tracey loved the [living room] rug when she saw it and knew she had to have it," says Velji, who then incorporated colours from the rug around the home. "This can work for artwork, a pillow, or in this case, a rug."
Use natural elements. "Because this home is so contemporary, we wanted to introduce natural elements like marble for the fireplace and kitchen backsplash," Velji says. "This adds an organic feel to the space … and it's timeless."
Use colour in your millwork. "Don't be afraid of adding colour in your space through your millwork," Velji says. A kitchen island, for example, can add colour without overpowering an entire room.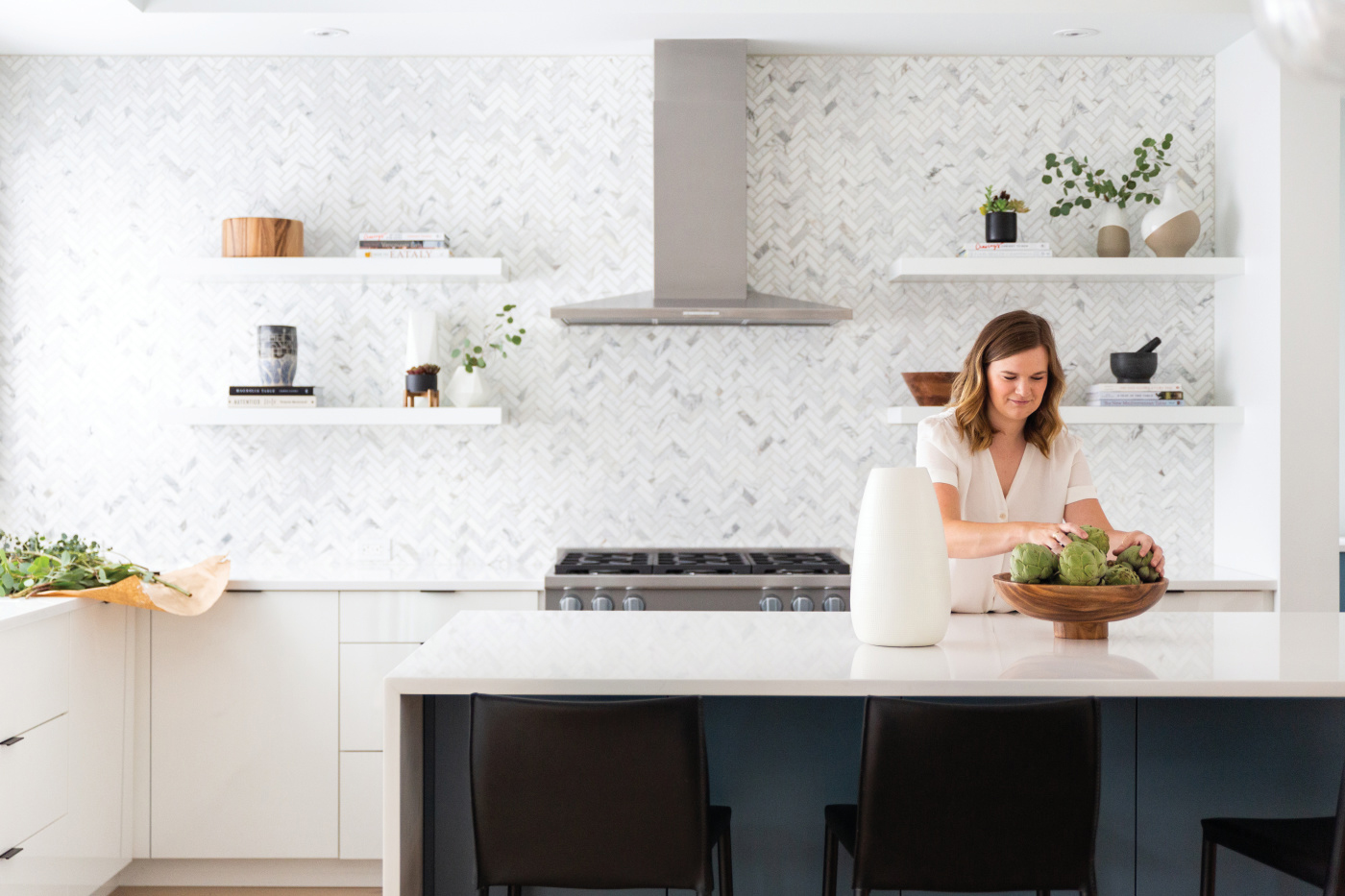 The kitchen island is an inviting spot for the family and their visitors to gather around.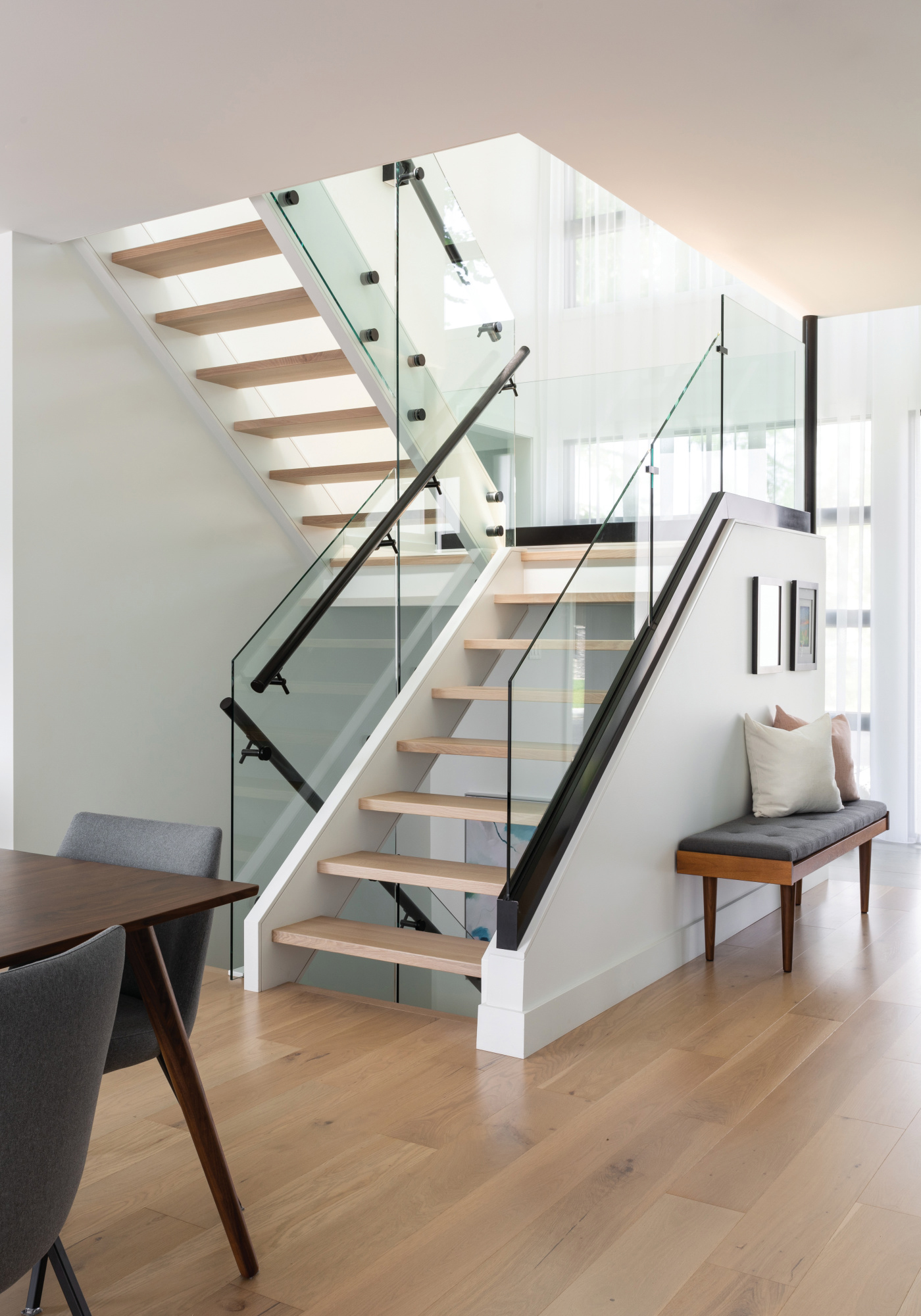 Designers Aly Velji and Katie Nelson used black as an accent colour in several areas of the home as a way to maintain consistency.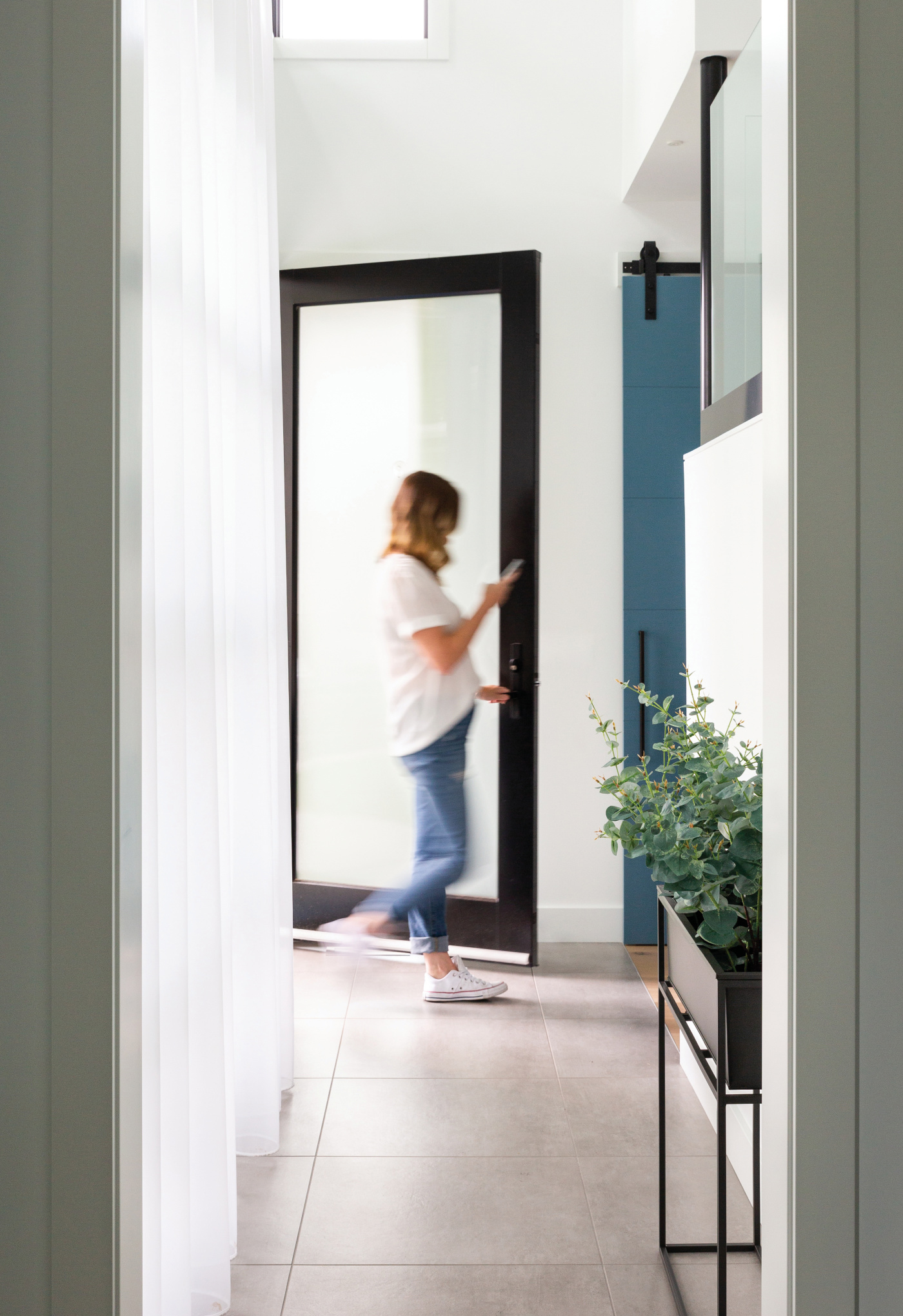 Two-storey windows at the front of the home let an abundance of natural light into the entryway, while glass panels on the staircase let the light flow into the rest of the home.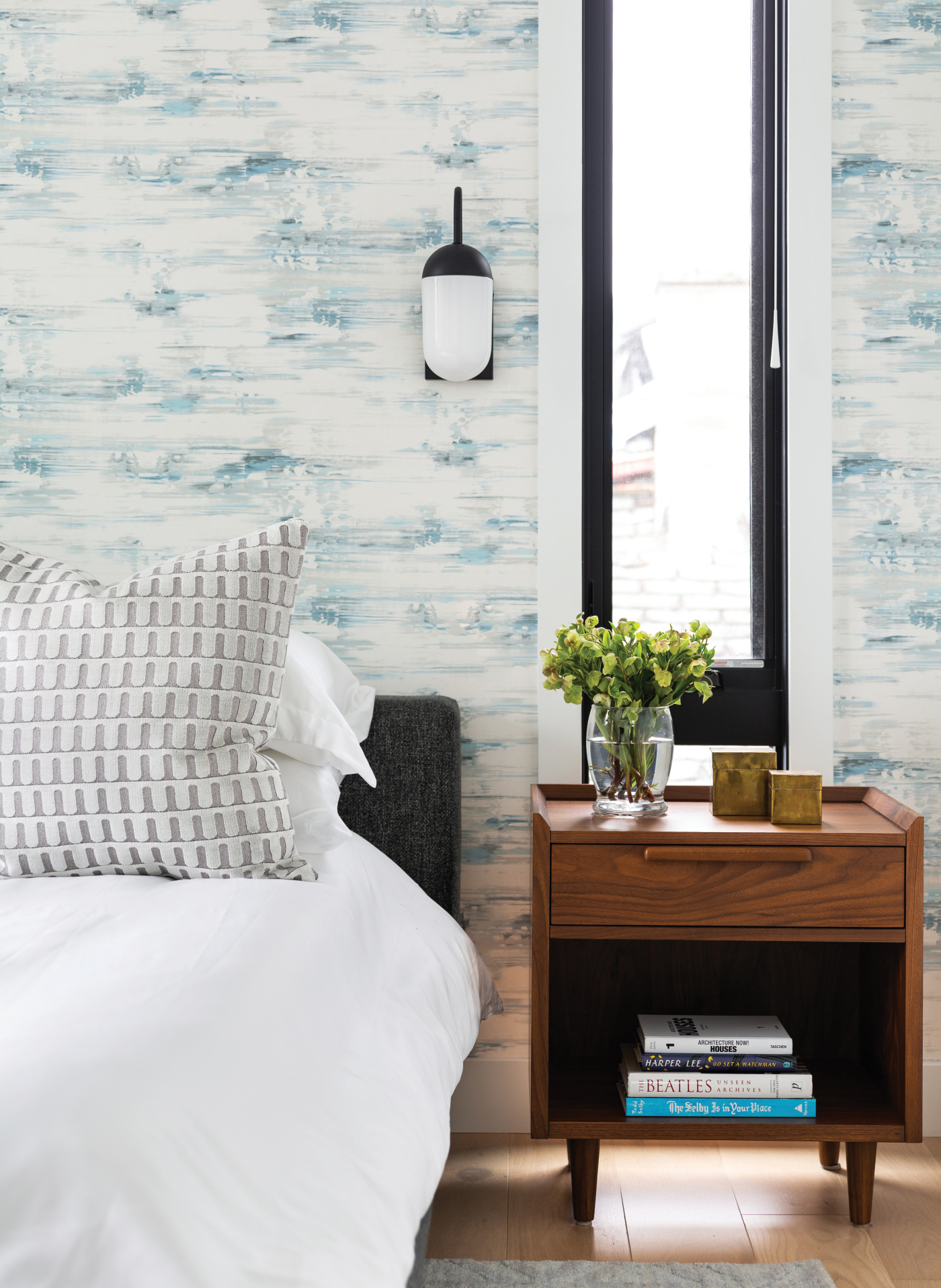 Wall sconces in the main bedroom provide artful lighting while reducing clutter on the bedside tables.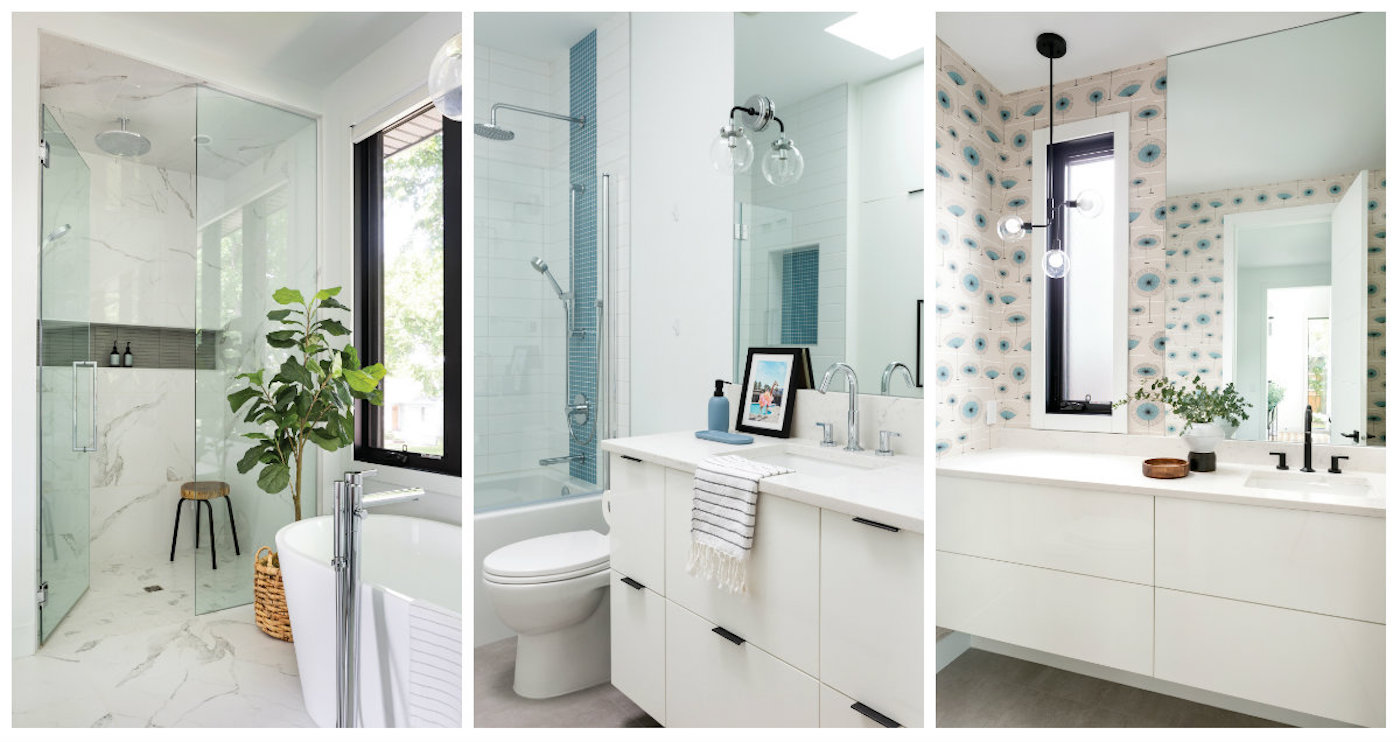 Design elements such as white marble, black accents and the colour blue continue throughout the home's bathrooms and powder room.