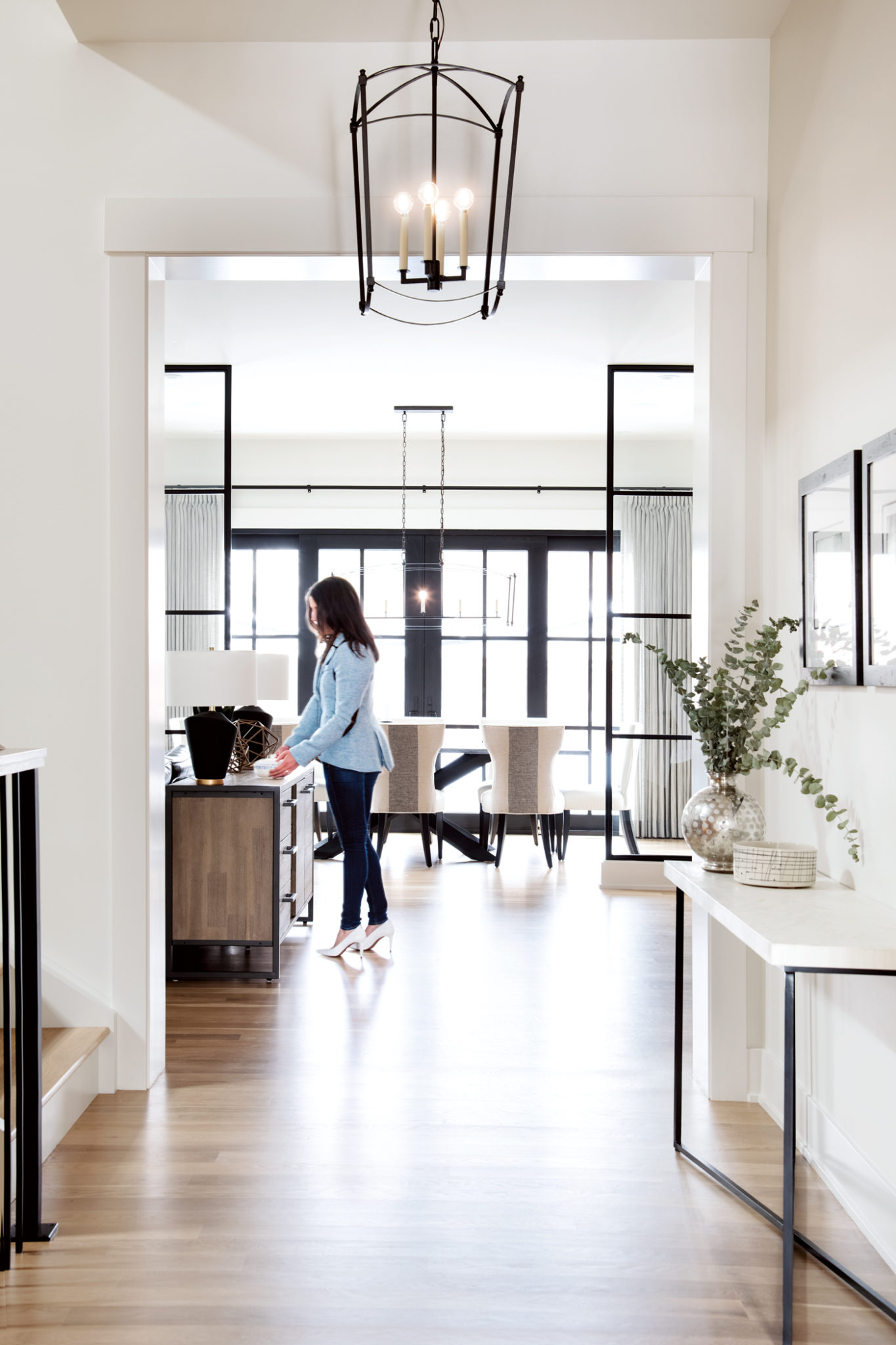 Heather Draper, decorator and founder of The Heather Company, is known for her profligate use of colour. However, she's just as comfortable working with the kind of neutral hues that her clients Andrée and Josh Wilson sought for their expansive new-build home in Altadore.
The builder, Veranda Estate Homes, is known for timeless transitional style in a palette of soothing neutrals. The 3,400-square-foot house (with an additional 1,174 square feet of living space in the basement), was at the framing stage when the Wilsons bought it for their family of four, making it, technically speaking, a partial custom build. "It was perfect timing," says Melissa Hryszko, who does Veranda Homes' interior design, while her husband handles the building. "Although all of the interior selections, such as the hardware, tile and plumbing had been completed, Andrée and Josh were able to make a couple of tweaks, like converting the fourth bedroom into a loft, customizing the colour of the on-site finished oak flooring, and adding a steam oven," Hryszko says.
One thing the Wilsons did not alter was the paint colour. "I love the colour scheme," says Andrée. "It's homey to me, simple without being plain." With that in mind, Draper went about working her magic. "You can do neutral in a way that brings loads of personality into a house through the use of pattern, by incorporating details, like brass nail heads into the furnishings, and layering different textures such as leather and wool to add uniqueness to a neutral look," Draper says.
For example, the main-bedroom draperies open to reveal a subtle stripe, while a busy insect-patterned cushion adds an element of playfulness to the otherwise serene space. Aside from mixing textures and details, Draper added statement-making pieces to amp things up. She had the dining-room chairs upholstered in a neutral woven fabric highlighted with a bold swash of black down the back to add character.
Two rooms where the homeowners did allow Draper to play with colour are the main-floor den and powder room. Draper and Hryszko decided collaboratively on the deep, moody, grey-blue paint colour for the den, which exudes a cocktail-lounge vibe. "I wanted to think about the best gin and tonic I've had when I was selecting the furnishings and fabrics," says Draper. She chose tub chairs that you could just melt into featuring faux-leather seating and tweed upholstered arms, and a massive loop pile rug in a deep charcoal grey. These elements, along with Veranda's ceiling-high custom cabinetry finished with matte-black pulls, enhance the room's masculine feeling, while pillows depicting scenes of Montreal are a nod to Andrée's French Canadian heritage.
But it isn't this cozy den that best encapsulates the home's warm and inviting vibe. That distinction is reserved for the main-floor kitchen/dining/family room. With its antique-style polished corbels and grand vent hood paired with a striking stainless-steel Wolf range, the space is reminiscent of a traditional-style hearth. "People love to hang out by the stove, and most tell me they feel as if they are in France," laughs Andrée. An oversized, eight-by-six-foot custom-stained white-oak island with a leathered-granite countertop grounds the all-neutral kitchen. Gleaming hardware and a sparkling backsplash of handmade tiles from Spain add all-important interest, while red knobs on the stove inject just a soupçon of drama to the otherwise restrained palette.
Asked if she foresees a time where she might add a note of colour to the home, Andrée smiles. "Maybe one day I might try a red pillow or two," she says, "but for now this is exactly how I want my house."
Video by Jared Sych
How to create a homey feeling in an expansive space
Even within a large space it is possible to create cozy niches, says designer Melissa Hryszko of Veranda Estate Homes. Here are her tips on how to configure large rooms to be welcoming and warm.
Carve out seating areas. Define conversation spaces through the use of plush seating arrangements. Position couches and chairs to create inviting spots for conversation and ensure there's always a spot to put down a cup of coffee nearby.
Use paint to your advantage. Dark colours create a feeling of intimacy and warmth.
Divide and conquer. In the Wilson home, Hryszko used custom black iron and glass panels as dividers, separating the dining room from the kitchen. "They don't necessarily enclose the space, but give it an air of separateness while maintaining the flow of the house," she says.
Create visual interest at eye level. Placing architectural details or lighting, such as wall sconces, at eye level (or just slightly above) encloses the elevation, giving an impression of coziness.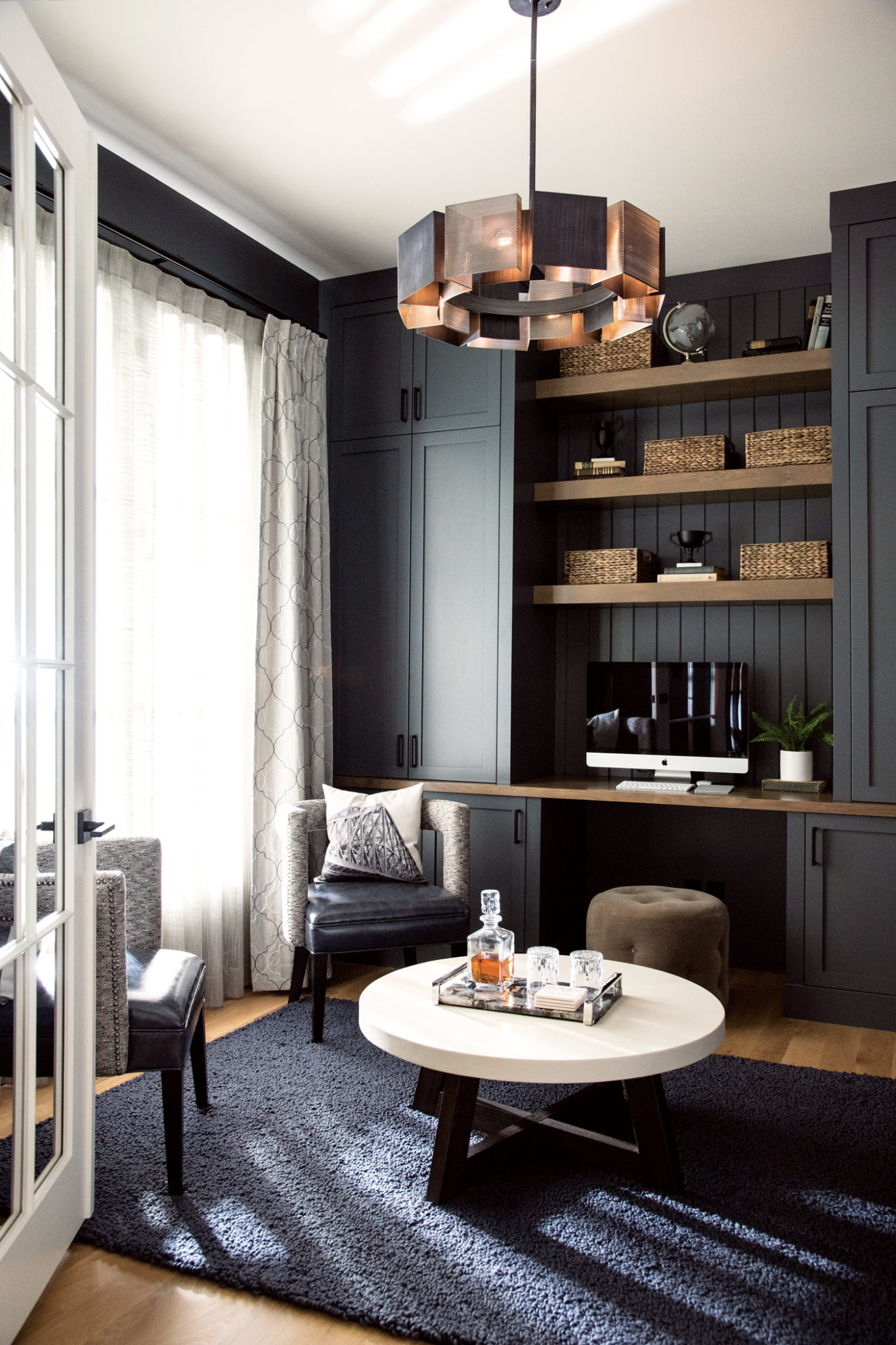 The den's rich tones, plush seating and statement geometric light fixture make it the perfect space to relax and enjoy a cocktail. Wicker baskets tone down some of the more formal elements of the room.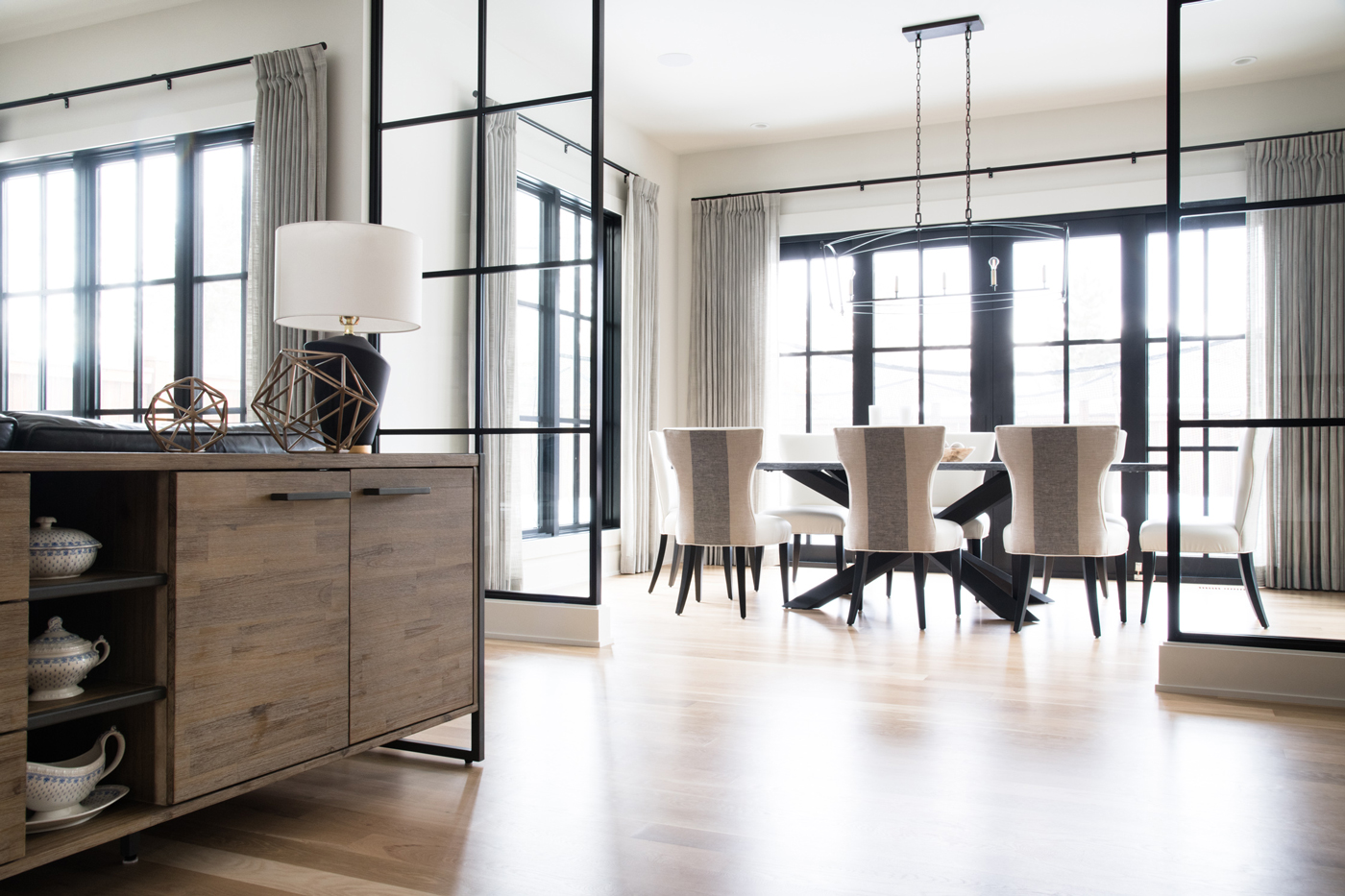 Custom iron and glass room dividers create a feeling of intimacy in the dining area, without closing it off completely from the rest of the home.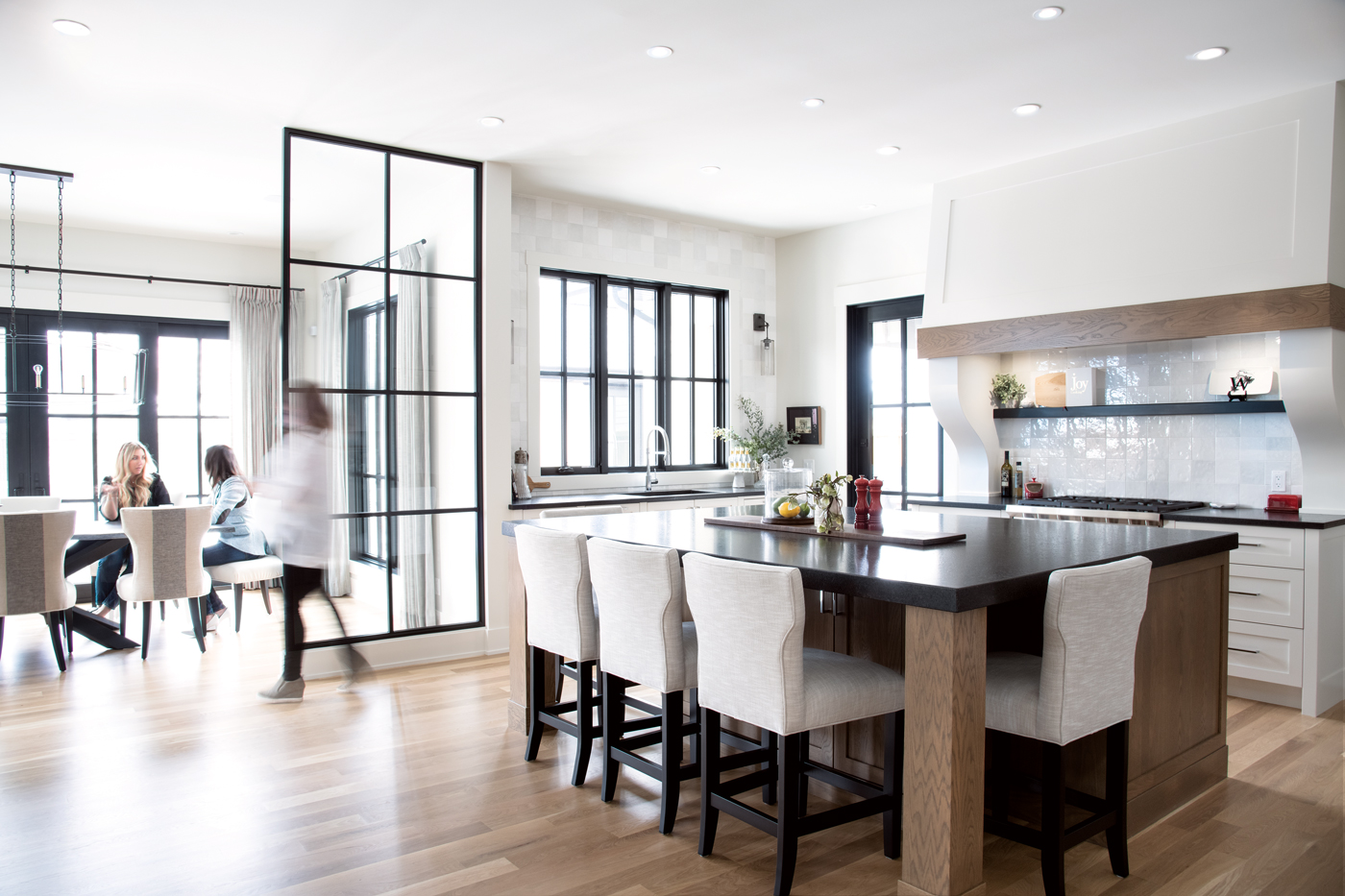 The streamlined kitchen island is where visitors naturally tend to congregate. Cream-coloured faux leather upholstery on the kitchen chairs is easy to wipe clean.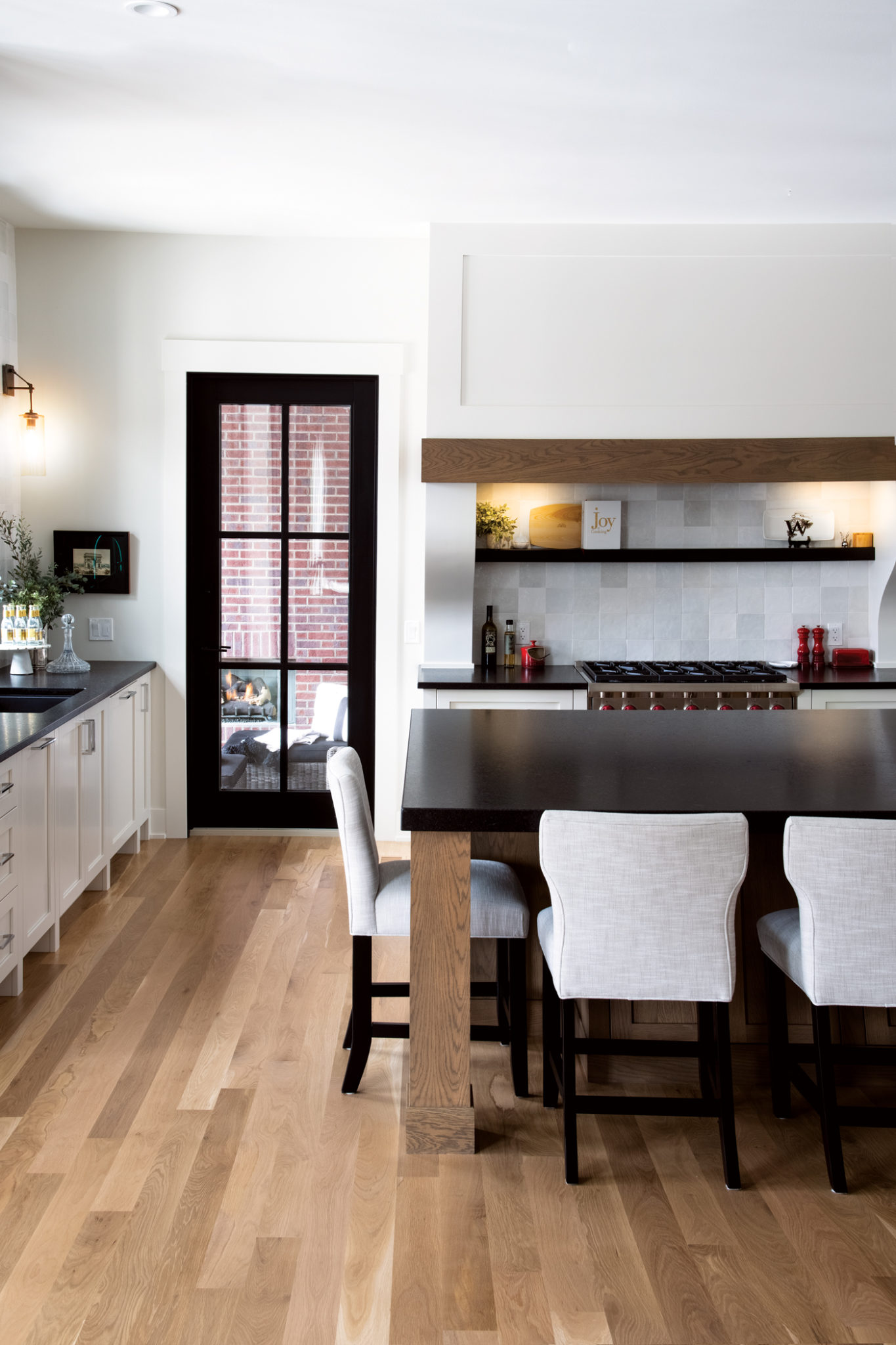 The black framed door heading to an enclosed outdoor seating area echoes the bold lines of the countertops, windows and room dividers.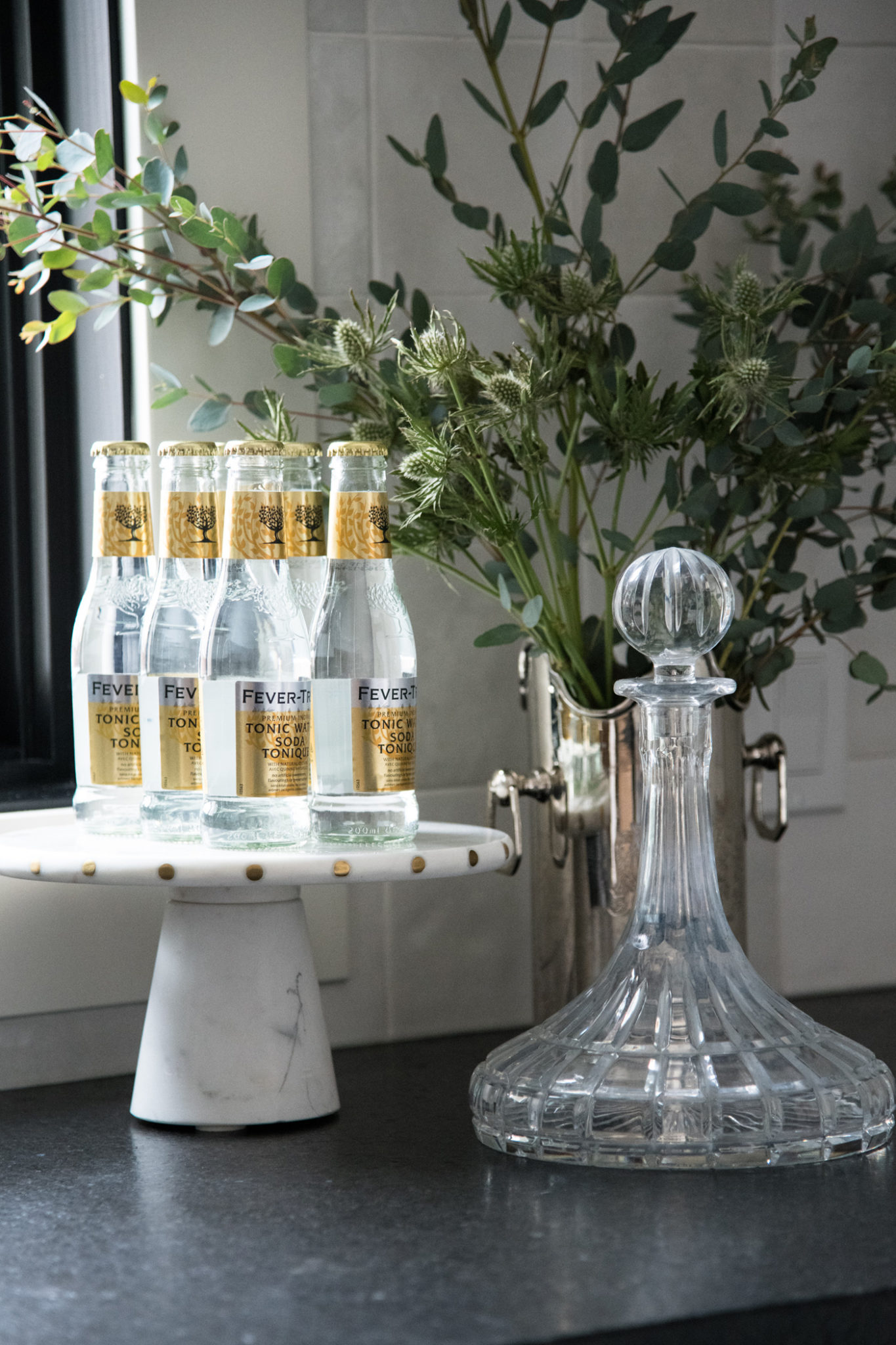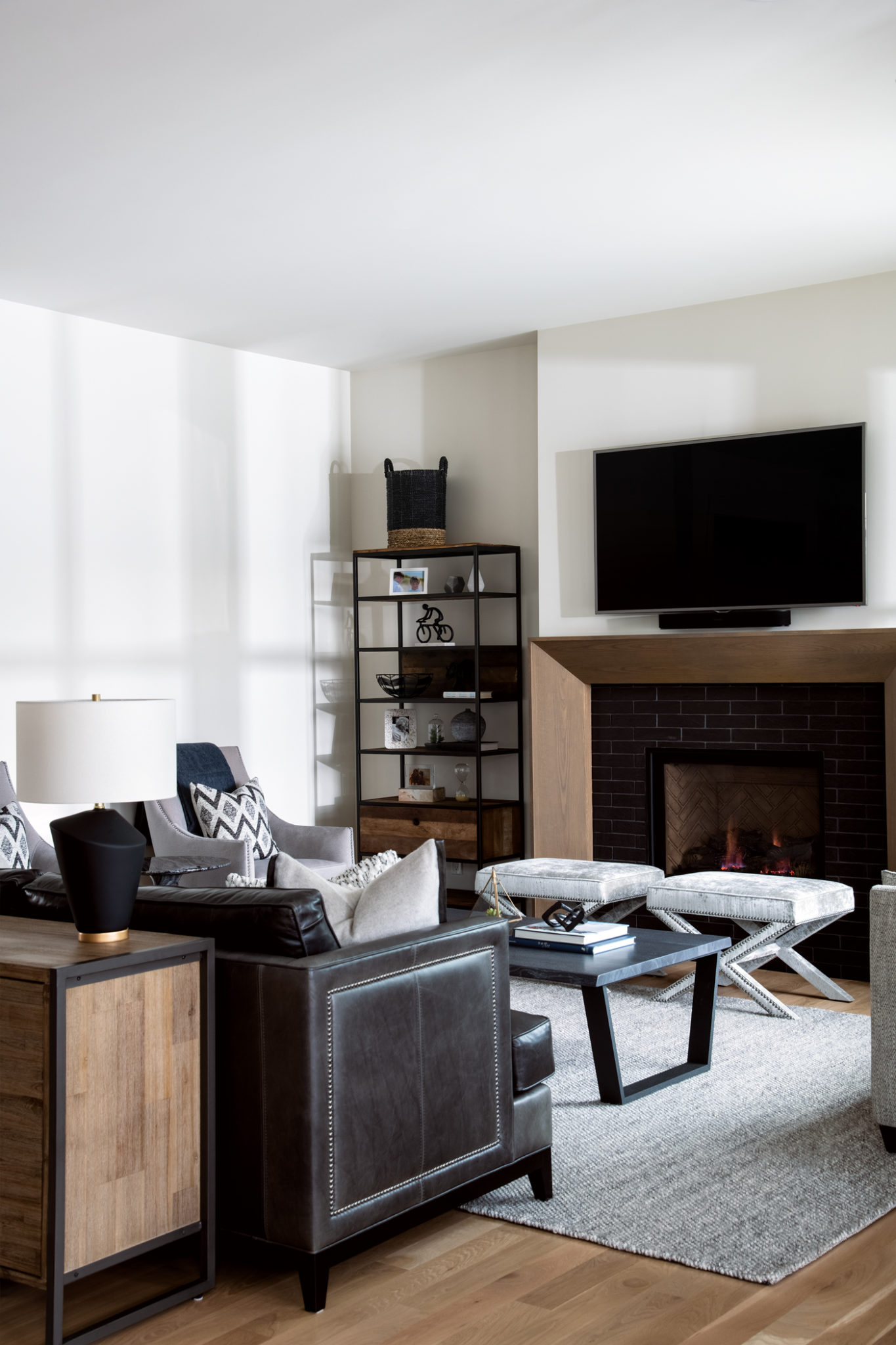 A brick fireplace complements the warm tones of the facing couch, while two ottomans upholstered in velvet create a cozy conversation area.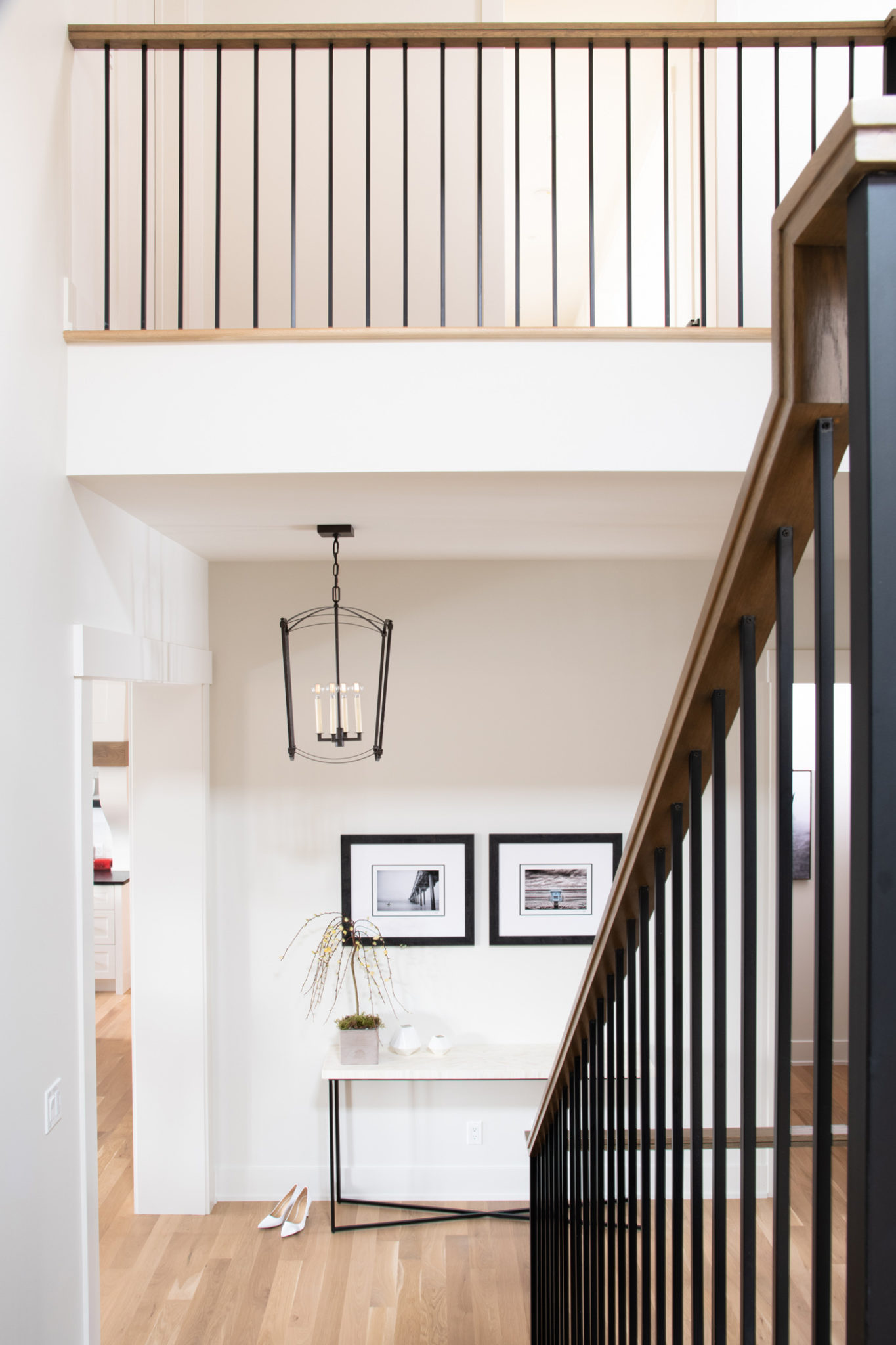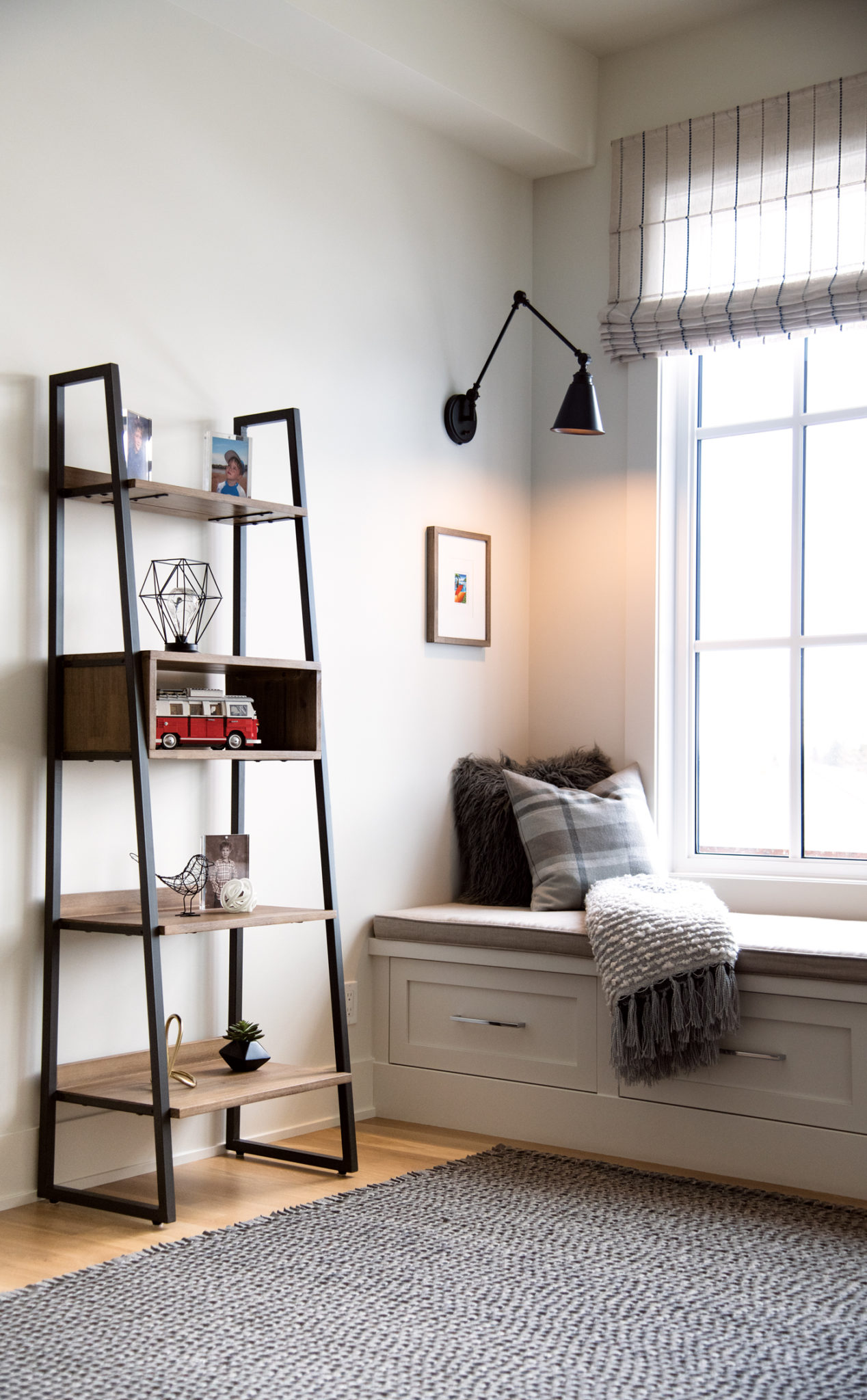 The upstairs loft features window seating with built-in storage. A felted-wool area rug adds both texture and coziness. "It is key to size rugs to fit a room," says decorator Heather Draper. "If it was a tiny little rug the room would just feel empty."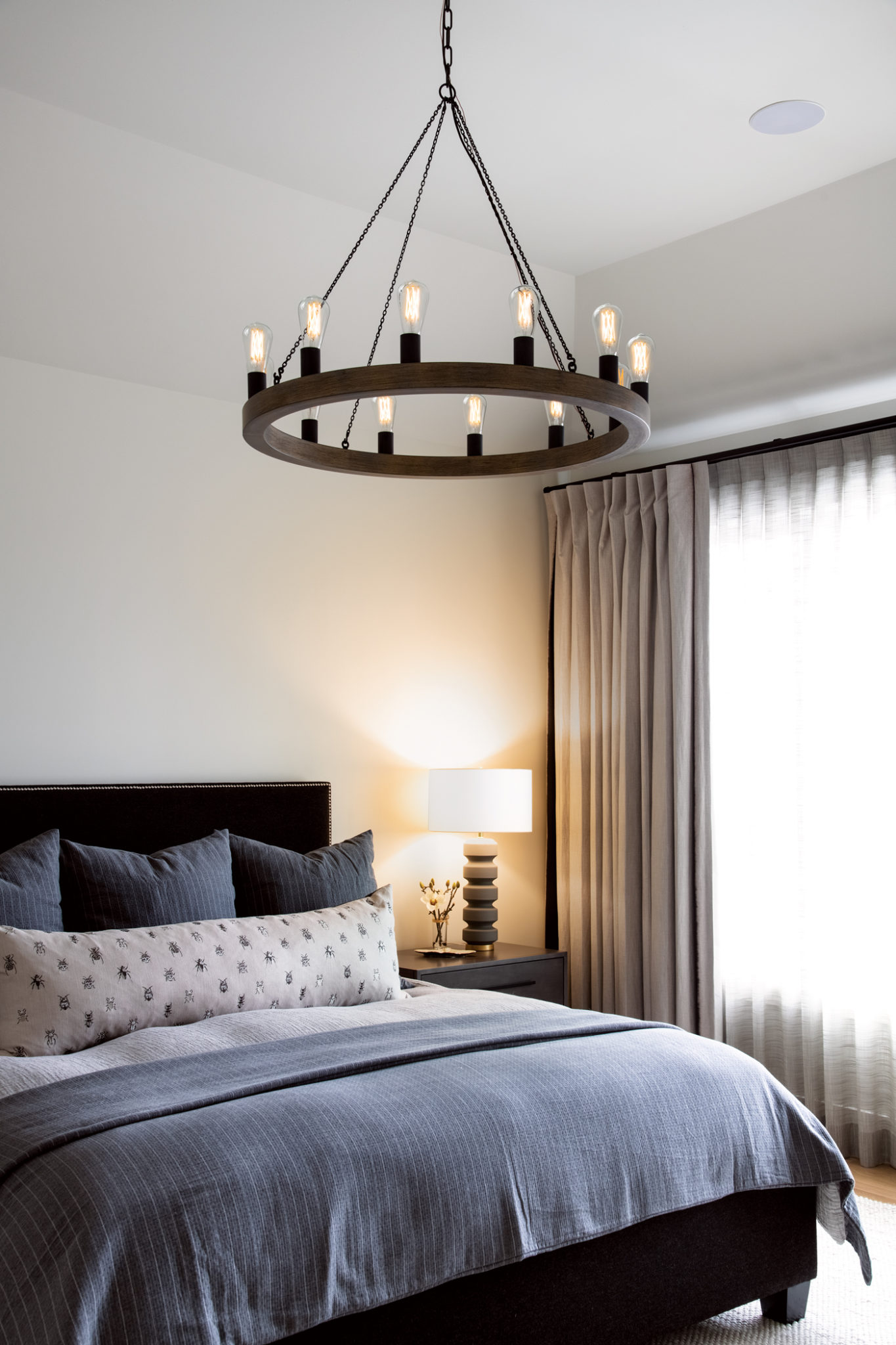 The homeowners opted for soothing colours in the main bedroom. Made in Calgary, the headboard is covered in a luxurious wool fabric in midnight black with nail-head details for a graphic appeal.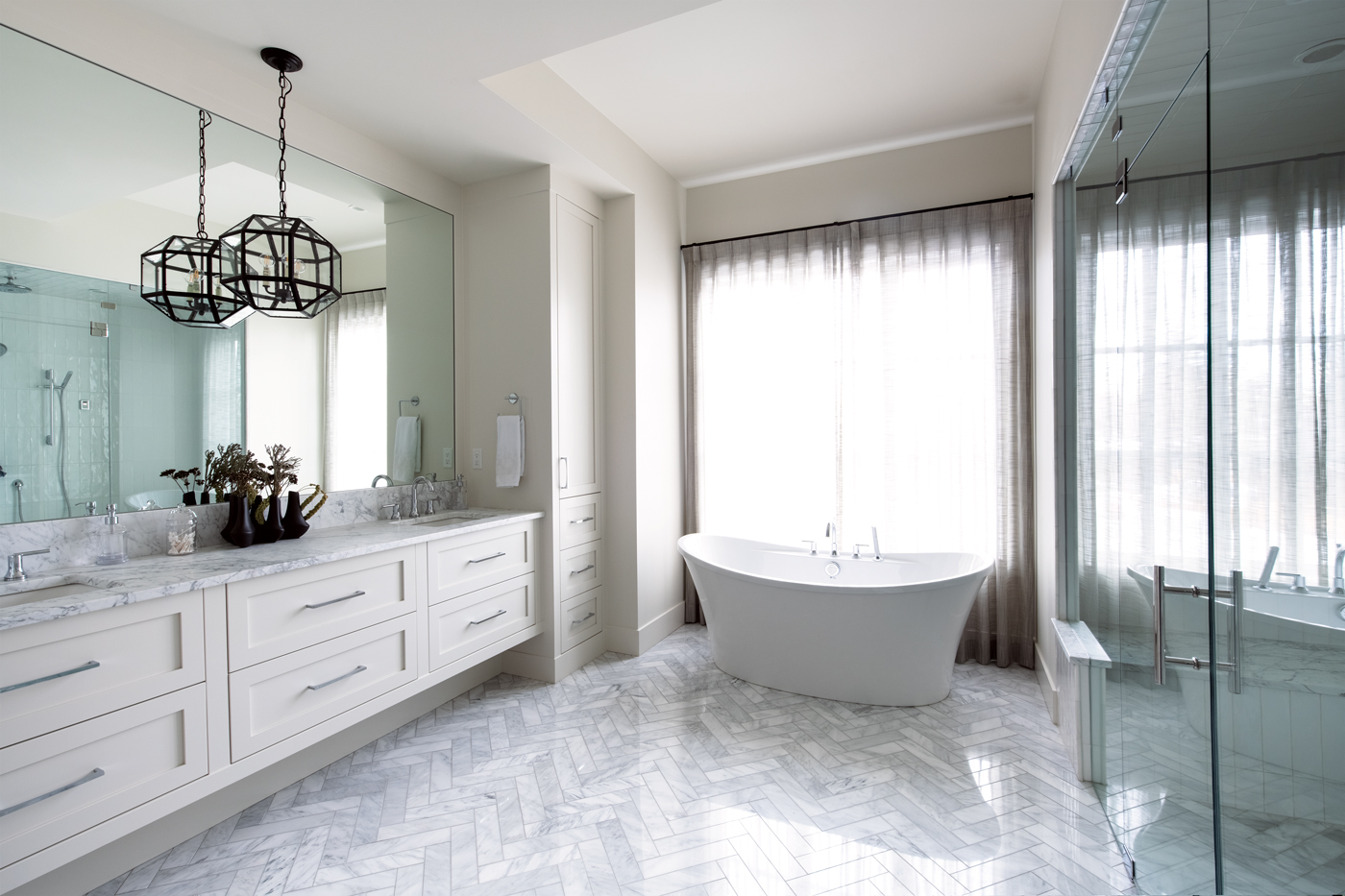 The ensuite bathroom's marble flooring, vanity countertop and matching slab on the shower bench are not only elegant but will stand the test of time, while the oversized iron octagonal pendant light punctuates an all-white space.