When the time came for Dan Hapton's parents to downsize from their home of roughly 30 years, two needs were top of mind for the couple: Finding the right smaller space, and then transforming that space into a home that would allow them to emulate their already established routines.
They checked off the first item on their wish list when they found the ideal 1,950-square-foot, two-bedroom unit with near 360-degree city views in an upscale condominium complex in Mission. However, transforming the condo into the right living space for them required significant creative problem solving. This is where it comes in handy to have a son who's an architect.
"There was a desire to map patterns they were familiar with from their old house into this new space," says Hapton, whose boutique architectural practice, Aitch, specializes in the creative revitalization of existing buildings. "A lot of the design thinking comes from a hybridization of modern architecture met with a newer aesthetic that is a product of this digital generation [of designers]." What started as a dated interior became a space driven by Hapton's vision and perfectly tailored to his parents' lifestyle. That transformation is particularly apparent in the main living and dining area.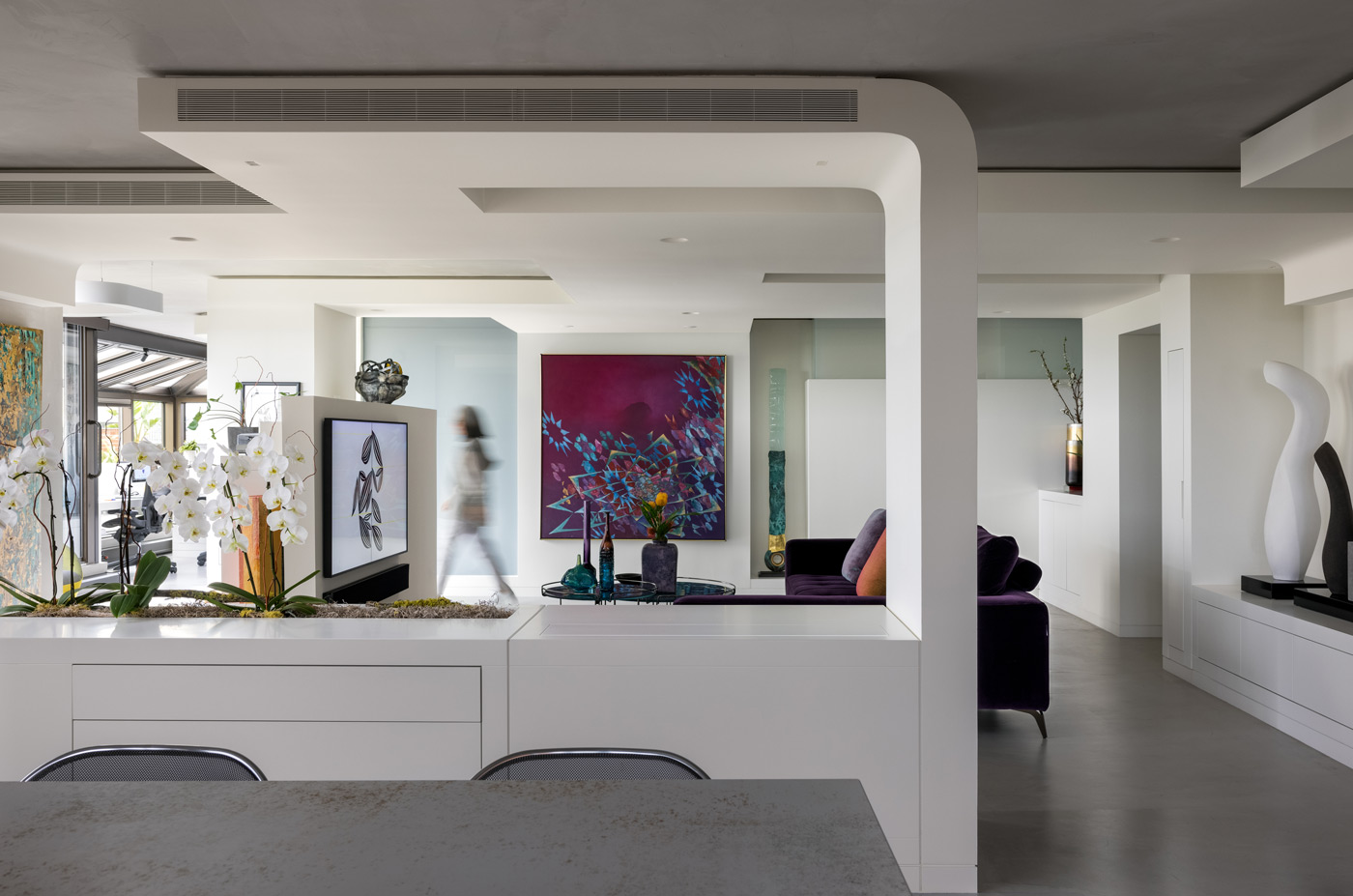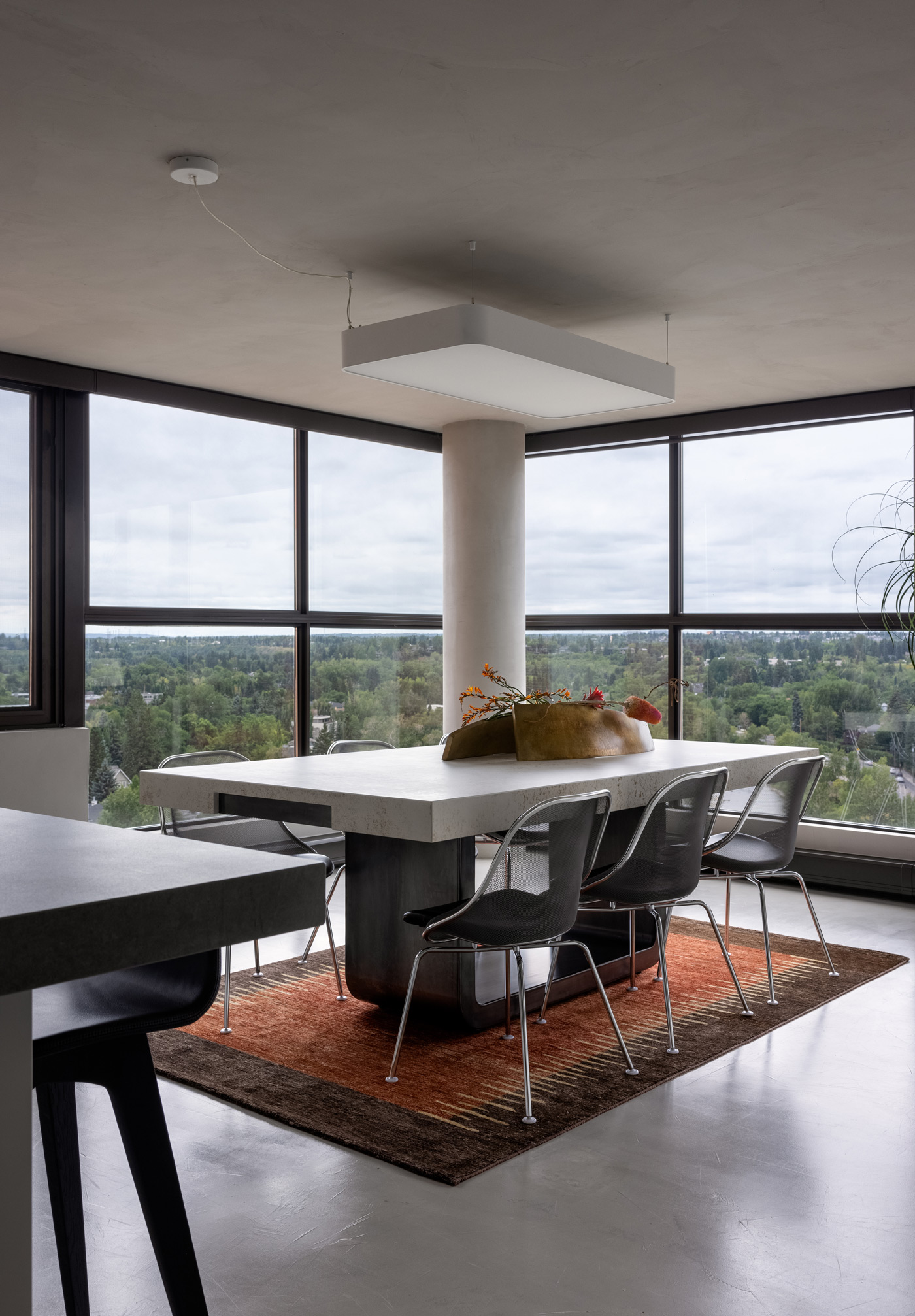 From smart features, such as ample hidden storage, including a pop-out bar, to thoughtful personal considerations, like ensuring his parents' art collection would effortlessly transfer from their previous residence, Hapton's design embraces the ideal balance of form and function.
"Zen is my word for this place," says his mother. "There is no noise in my head living here."
A cornerstone of Hapton's design was reducing unnecessary visual "noise." He collaborated with various tradespeople, including Rocky Point Custom Homes and Vektra Architectural Lighting Agency, and used 3D modelling and virtual reality gaming software to look at and refine the design, especially when it came to previewing the lighting. His methods created a space for his parents that has an uplifting and comforting effect.
"It's a powerful thing to create an experience that is meaningful and causes emotion," Hapton says.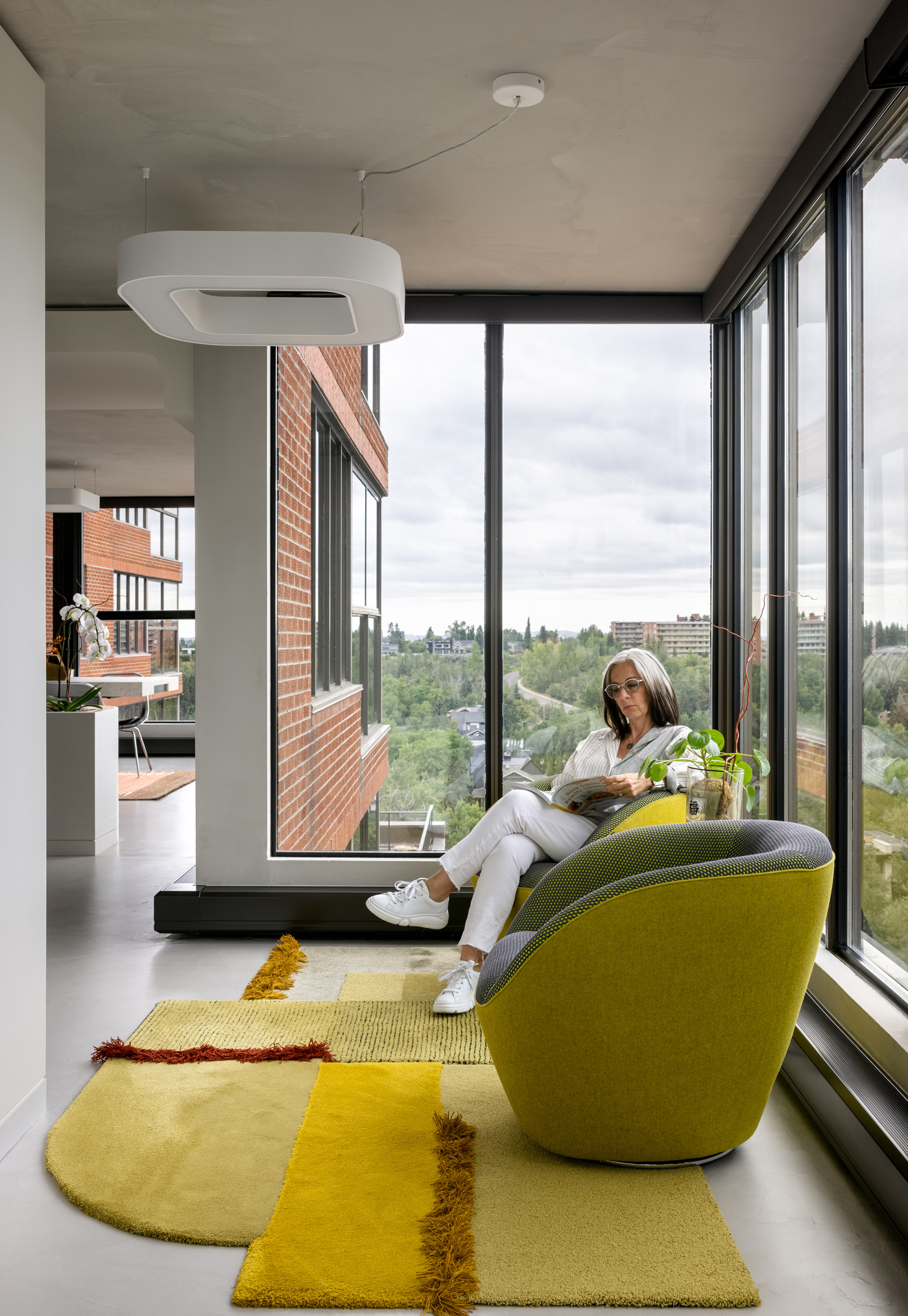 The Ceiling
Since the condo building's original construction featured eight-foot concrete ceilings, architect Dan Hapton faced a challenge when adding a drop ceiling to update the space's electrical, HVAC and ventilation. To preserve height, he reduced the typical 12-inch drop ceiling to seven inches. "I also went to great efforts to make it feel sculptural and light; like it is framing the space for you," he says.
The Music Corner
Tucked away behind a partial-height wall, Hapton designed a space within the living room to house his father's record collection. It's a space where his mom also sits to take in the view. "It's like a little lounge area," she says. "I love sitting here, listening to my Audible and staring out the window."
The Home Theatre
Without compromising the west-facing view of the Elbow River and Rocky Mountains, Hapton integrated a home theatre in the living room, using a partial wall to mount the television, and hiding surround-sound speakers behind the ceiling's drywall.
The Orchids
Five spectacular orchid plants live in a built-in planter within the console that separates the living room from the kitchen. Hapton notes that this is another way of dividing and giving purpose to the space without just putting up a wall.