On Nov. 15, 2021, Calgary City Council declared a climate emergency and announced its commitment to "accelerated action to respond to climate change" and to "accelerate the pace and scale of climate action needed to achieve our goal of net zero emissions by 2050." (Net zero means cutting greenhouse gas emissions so they are as close to zero as possible.) After all, the impacts of climate change are already being felt: August 2022 was the second-hottest on record; June 2021's historic heatwave was followed by worrying air quality related to wildfire activity; and, of course, we all remember the 100-year flood in 2013.
You don't need a weatherman to know it's time for change — and that includes rethinking the buildings we live in. From small-scale live-work spaces to major multi-family towers, here are some examples of sustainable home building happening in Calgary right now.
When Sustainability Meets Livability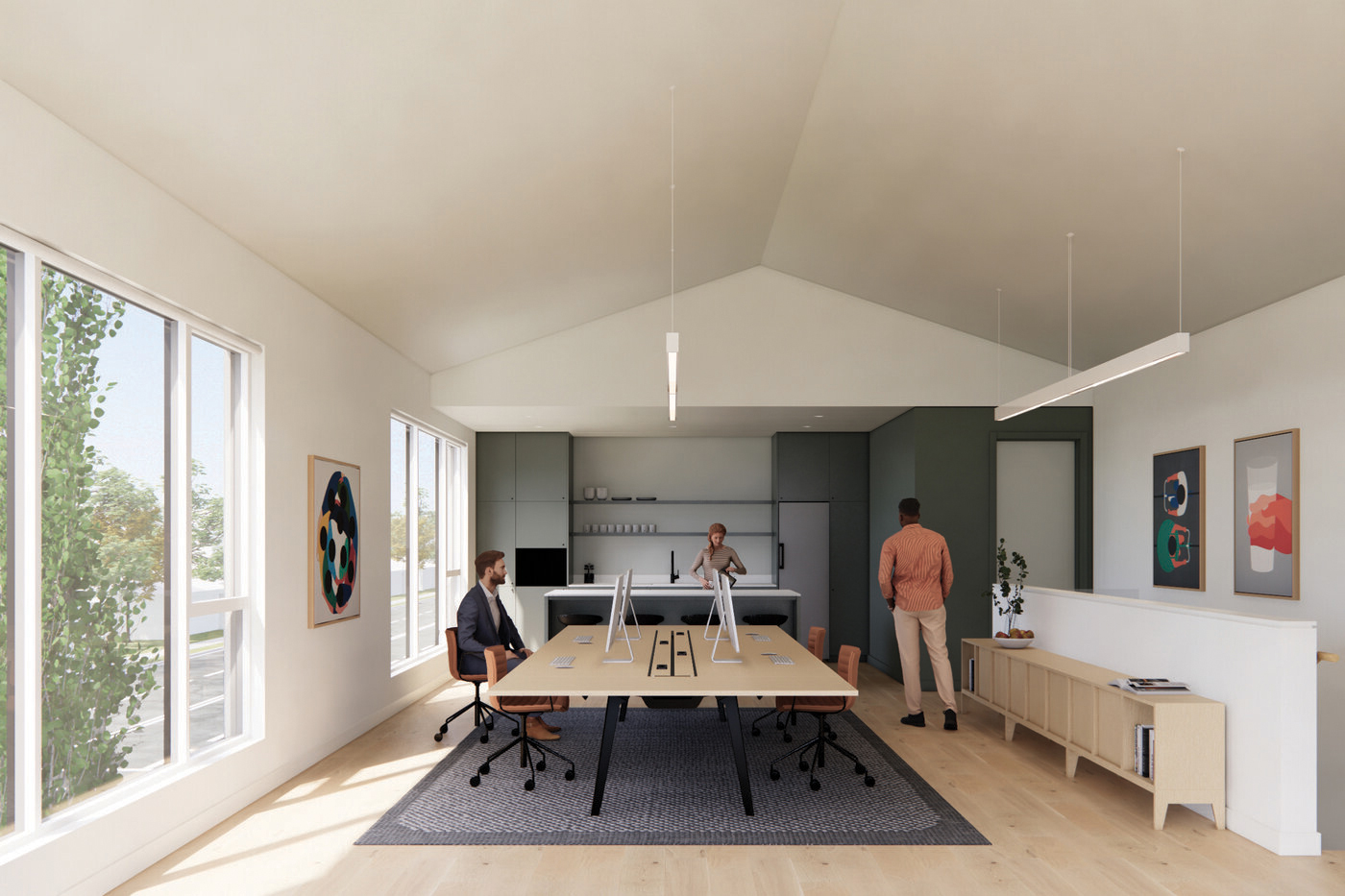 In 2017, John Lewis had an idea. The president and founder of Intelligent Futures — a company that develops strategies to aid everything from sustainability solutions to affordable housing — had lived in a 1,100-square-foot Hillhurst bungalow for more than a decade with his wife and their daughter, when he saw the opportunity to do something different with the property and demonstrate a sustainable way of living and working that aligned with his company's values.
In 2022, the bungalow was demolished to make way for Kensington Corner, slated for completion this month. While mixed-use development exists in Calgary, it is typically larger projects undertaken by big developers. What makes Kensington Corner unique is that it is a small-scale mixed-use development. The project, totalling 4,537 square feet, including basements, combines a commercial space for the Intelligent Futures office (a team of eight people) and a townhouse for the Lewis family. The entire project aims to meet the highest standards of sustainable design and construction. "We removed all natural gas from the site so it's an all-electric project. Solar plays a big role in the design process and we did energy modelling to make sure that Kensington Corner will have a low carbon footprint," says Lewis, who worked with Hindle Architects and Plaid Shirt Projects to bring Kensington Corner to life.
As well as using sustainable materials, the building's features and design add to its environmental-friendliness. "We included bike parking and showers to encourage people to use human-powered mobility to get to work," says Lewis. "We also took a function-based design approach to the office space. We're organizing our floors for different purposes: the top floor will function as a co-working space; the main floor is going to be our collaboration space for team meetings, client workshops and community events; and the basement is a quiet space where employees can put their heads down to get work done."
For Lewis, sustainable living means being adaptable and flexible. When extended family is visiting from out of town, the office side can be used to host big dinners. If the Intelligent Futures team prefers to work virtually, the office space can be rethought and repurposed. There's also space to add an apartment on the lot to further increase density. There's fluidity between home and office, and flexibility in how the space looks and operates.
"The micro-scale nature of the project has promise in terms of replication and scalability," says Lewis. "If you own an accounting firm or law firm, maybe working and living like this is within your grasp. My hope is that people can take some lessons from us and add to the building innovation and diversity in Calgary."
Generate What You Consume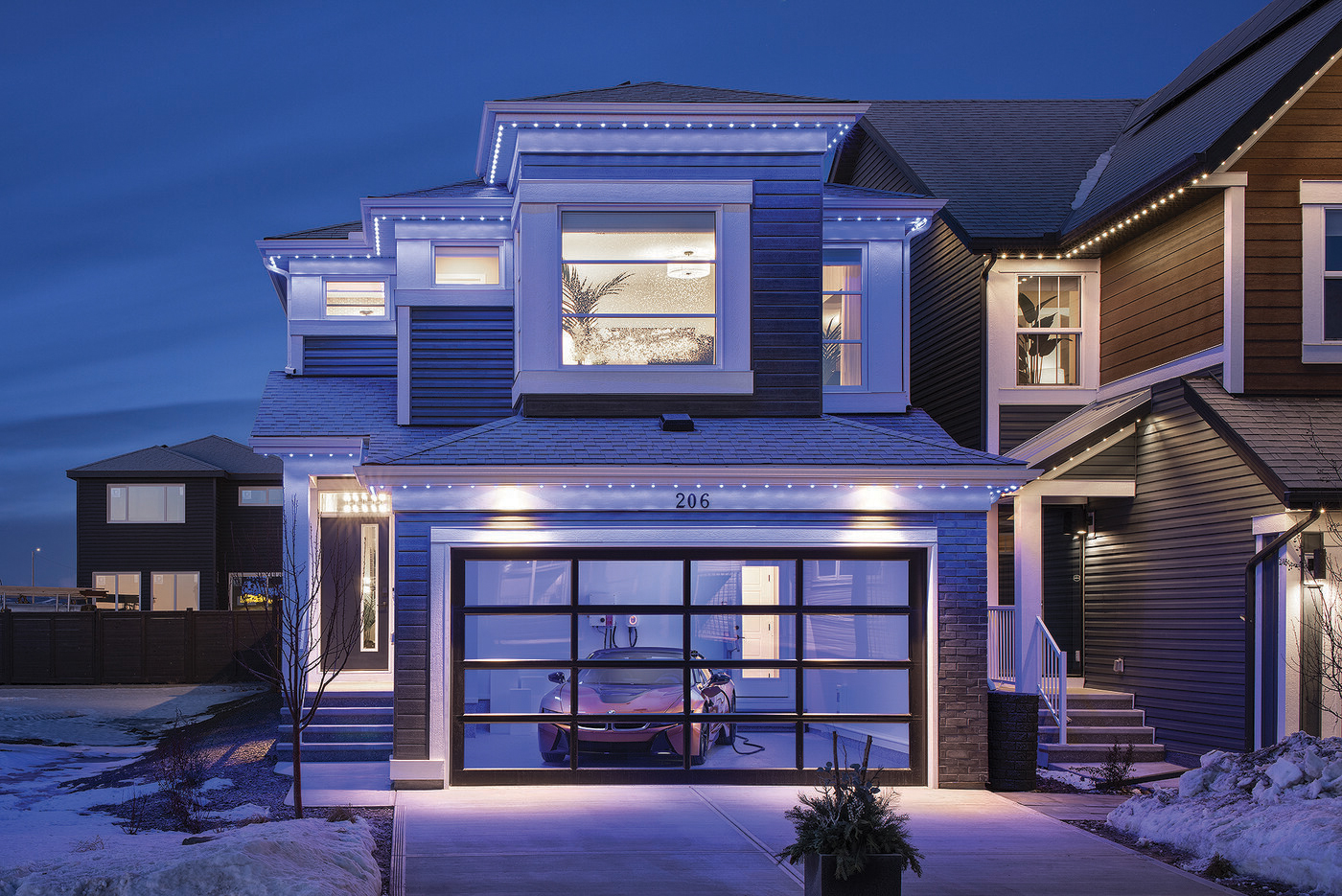 The City of Calgary's Climate Strategy: Pathways to 2050 report states that, in order for Calgary to be on track to achieve net-zero emissions by 2050, all new buildings will need to be built to a net-zero standard by 2030.
Home builder Jayman Built started developing net-zero-certified homes in 2021, with the first show home in the southeast Calgary community of Seton. "Net zero means the home produces as much energy as it uses over the period of one year," explains Dave Krasman, Jayman Built's director of corporate purchasing and the lead in many of the company's net-zero projects.
The company's net-zero-certified home, named the Quantum Performance Ultra E-Home, might sound like something out of Star Trek, but these homes look and feel like any ordinary home in any ordinary suburb. It's the way they use and produce energy that's different.
To produce green energy, Quantum Performance homes have a minimum of 25 solar panels. "We do energy modelling through our advisors, 4 Elements Integrated Design, to look at the home model and the lot orientation — the goal is get as many panels facing south as possible for peak performance — and then send that energy data to the solar experts," explains Krasman. "They take the energy data and calculate exactly how many solar panels are needed to offset the energy needs of the home."
Additionally, the Quantum Performance homes are designed to be more energy-efficient than a typical home, making it easier for the solar panels to offset their energy demands. In addition to features like LED lighting and triple-pane windows, the homes feature Jayman Built's proprietary wall system that acts like a thermal blanket (the bonus is that it makes it nice and quiet inside, too). The homes are entirely electric and are equipped with an electric heat pump, called the Daikin FIT Heating, Ventilation and Air Conditioning system, which sits outside like a typical air-conditioning unit, instead of a natural gas furnace. To heat the home, these cutting-edge pieces of equipment pick up heat from outdoor air — even at temperatures as chilly as -25°C — by moving it through a heat exchanger, and do the opposite in the summertime. The homes also have electric vehicle-charging stations in the garages.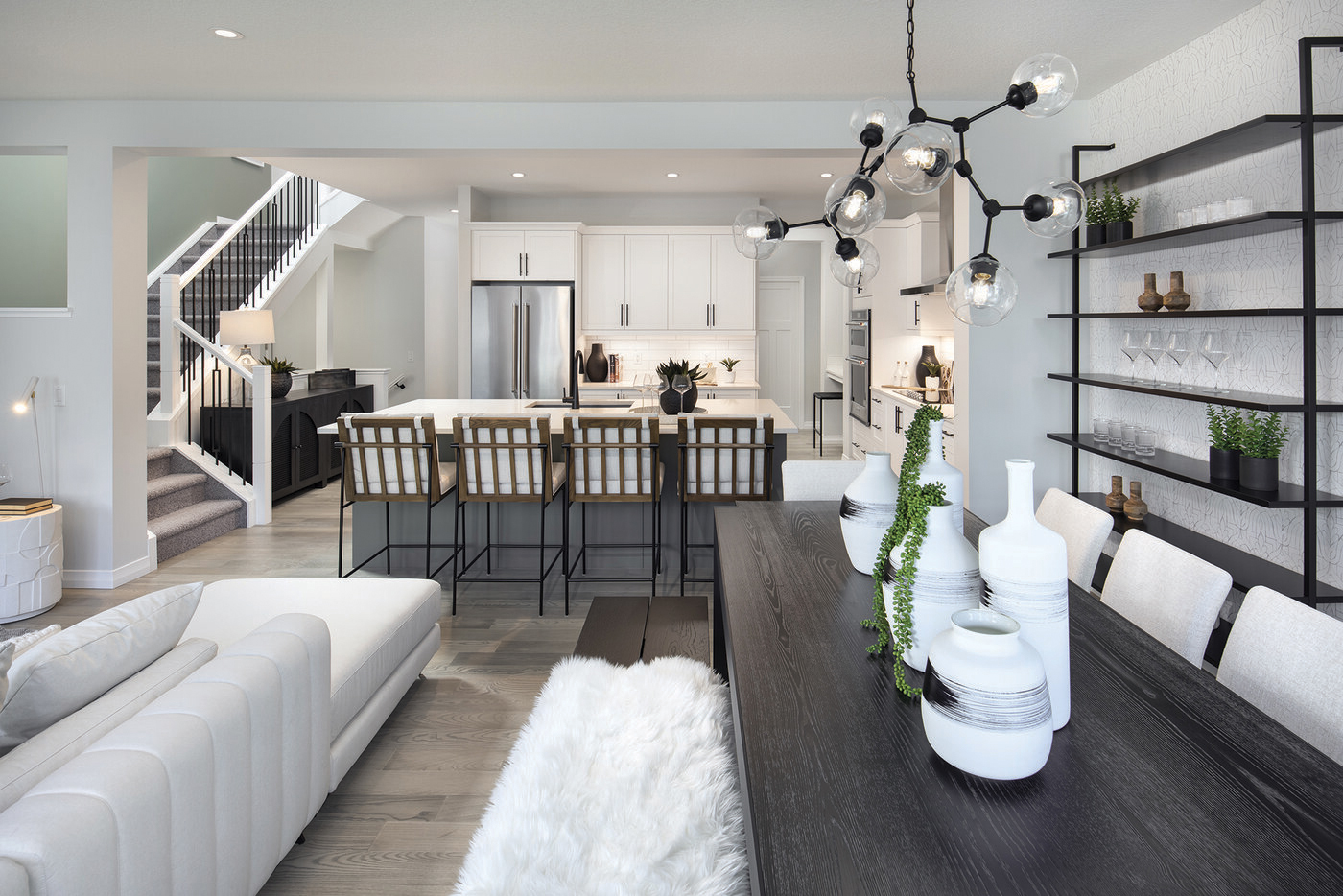 Each Quantum Performance home reduces greenhouse gas emissions by 10.67 tonnes per year and saves homeowners just over $2,100 per year in energy costs. As of this spring, the company has built 21 net-zero homes across Calgary and Edmonton. Most are show homes in new Calgary communities like Legacy, Mahogany, Seton and Glacier Ridge. There have been just four sales so far — Krasman admits their cost can be prohibitive. For a 1,800-square-foot home, a homeowner could expect to pay an additional $68,000 to have it built net-zero.
The number of these homes on the market so far might seem miniscule for a city of 1.6 million, but the demand for innovative green living is slowly increasing. Jayman Built isn't the only company in Calgary treading into the world of net-zero homes: Cedarglen Homes is also a qualified net-zero builder; Avalon Master Builder is rethinking multi-family homeownership with net-zero-ready townhomes in Seton; and Homes by Sorensen builds both net-zero and passive homes.
"Net-zero homes seem to be gaining momentum in Alberta," says Krasman. "We're all trying to pioneer the future now."
Design at its Best to Prepare for the Worst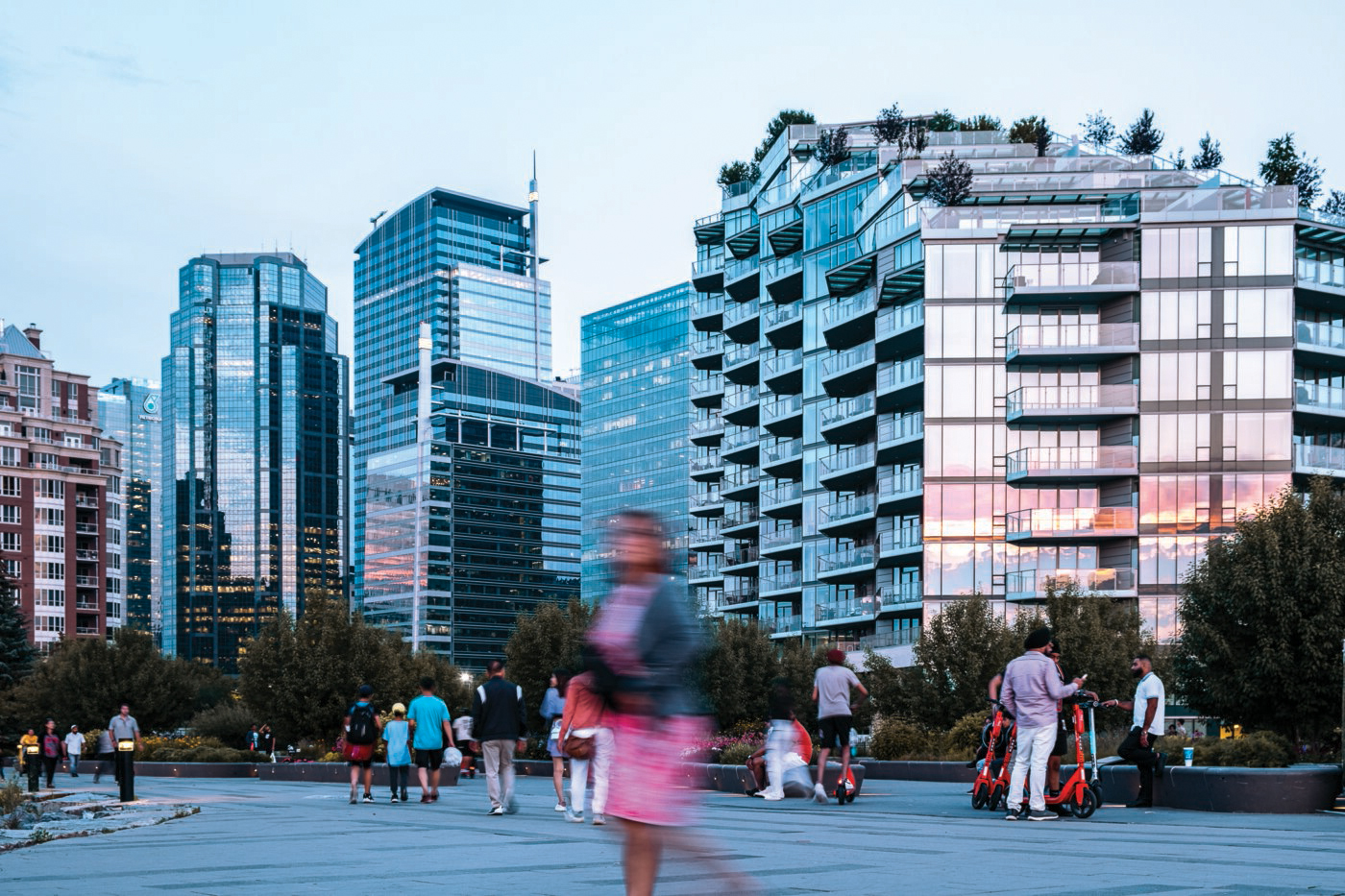 As climate change increases the number of extreme weather events we experience, some new multi-family residential buildings are being designed to withstand such events. After the flood of 2013, The Concord — a luxury condo tower located on the banks of the Bow River in the inner-city community of Eau Claire — was designed to be Canada's top flood and emergency-prepared residential building.
"The condo's disaster-mitigation infrastructure includes both landscape berms and flood gates, which can be raised with a two-foot perimeter around the entire site in the event of a flood to protect the condo from water," says Grant Murray, senior vice-president of sales at Concord Pacific Developments Inc. "Our diesel generators can run to provide additional power for up to two days, and then can be switched to natural gas indefinitely in case the City loses power, like it did in 2013."
Among the other innovations at The Concord are self-sealing waterproof foundation walls, designed to repair themselves and prevent underground water seepage. The building's design is expected to be able to withstand a flood three times as significant as the one in 2013.
The New Old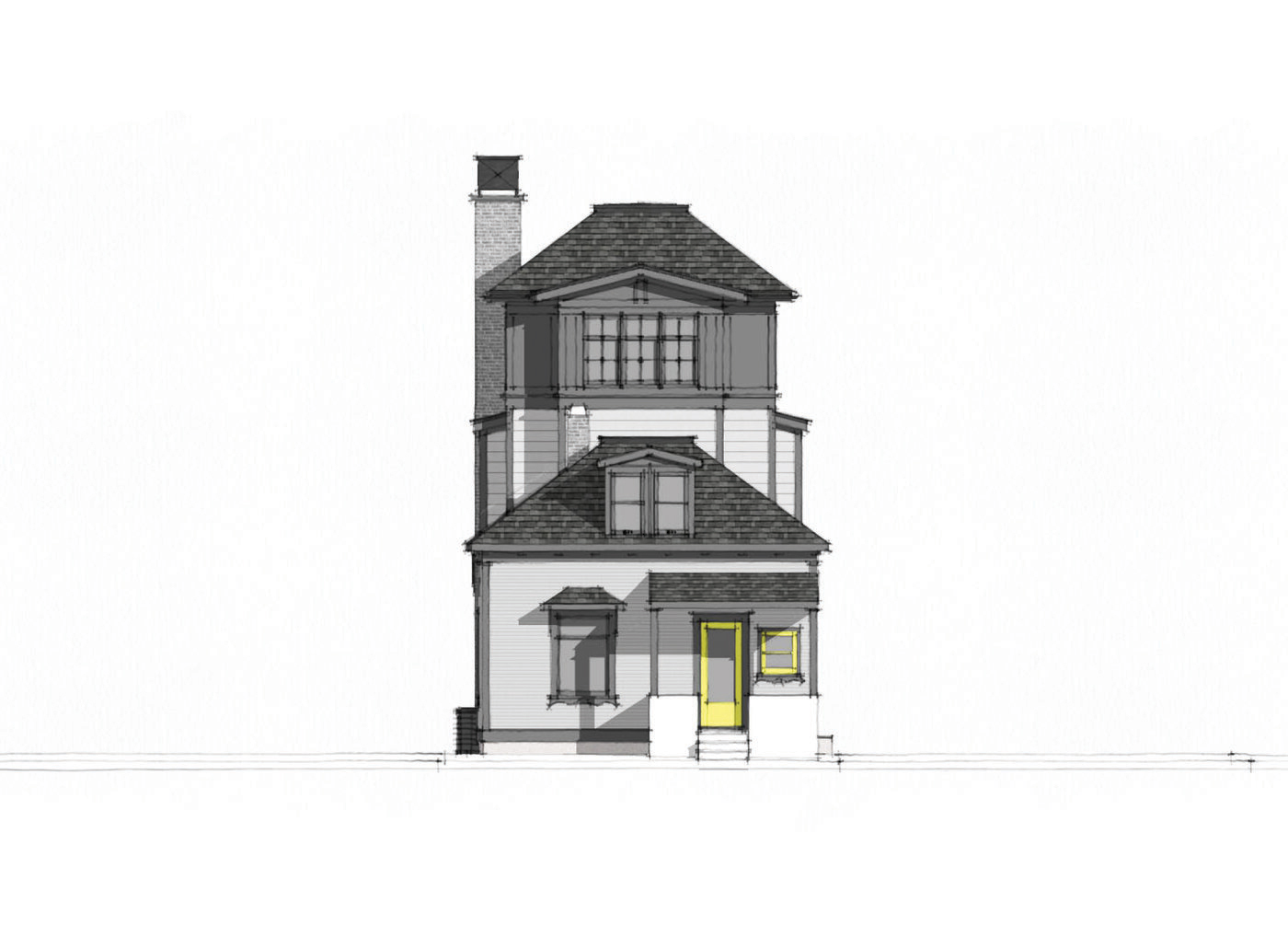 When the Upton Residence in Sunnyside was listed for sale, many assumed it would be torn down. Built in 1908 by a tinsmith named Frederick Upton, the 800-square-foot Edwardian bungalow was small by modern standards, and few homes from the same era remain in the neighbourhood today.
But owners Tonya and Dana McKechnie couldn't ignore the house's charm. "I fell in love with all these quirky characteristics," says Tonya. "I thought there could be an interesting way to bring it back to life."
The McKechnies decided to preserve the heritage home while constructing an addition behind it to meet their family's needs. They purchased the property in March 2022 and worked with architect Tom Chute, principal at Marre Design Group, to blend old and new. A 1,700-square-foot addition constructed by Saville Homes was designed to meld seamlessly into the heritage home (for a total square footage of 2,500), and Chalmers Heritage Conservation was brought in to perform the hands-on restoration work.
"The homeowners are retaining the original structure, the hipped roof and the exterior facade. We're restoring the home's siding, windows, doors, porches, all exterior elements," says Dave Chalmers, owner of Chalmers Heritage Conservation. "Interior elements had to be upgraded to meet current building code, but we're retaining all original material on the inside, including the Douglas fir floors and baseboards, the doors and the moulding detail on the stairwell."
Building materials are being reused whenever possible, with plans to repurpose the original front door as a side door with the goal of keeping all its original hardware.
"This is recycling at its best," Tonya says. "We're saving what we can and trying to work with what we have."