Since the recession of 2015, Calgary has scrambled to redefine itself as something more than Canada's oil and gas capital. But it took three years before the first strategic attempts to change course were conceived and, by then, many young Calgarians had left the city for places better suited to their lifestyle and aspirations. Designed for the preferences of an older generation, downtown Calgary is not the bustling hub of activity twenty-somethings yearn for. But a new initiative hopes to change that.
After the Platform Innovation Centre launched last year, a group of leaders from multiple organizations across the public and private sectors — including Calgary Economic Development, the City of Calgary and Platform Calgary — came together to envision the creation of an innovation district in the heart of our city. Unlike traditional business clusters, where technology-focused businesses are isolated in suburban campuses, the modern innovation district is an agent of urban vibrancy. Restricted to a spatially compact area, innovation districts offer a holistic mix of residential, office, shopping and entertainment spaces in a walkable, transit-accessible environment.
Terry Rock, the president and CEO of Platform Calgary, who holds a PhD in management from Texas Tech University with a focus on strategic management, entrepreneurship and innovation, describes an innovation district as "a place where an innovator is surrounded by their peers, programming, and supports in an environment that's going to help them get their work done." The most important benefit of such districts is efficiency, he adds, as ventures and people can find each other and connect swiftly when resources are in close proximity. "The real power [of an innovation district], where it really amps up, is that you shrink the community," Rock says.
Based on principles of accessibility, inclusiveness, collaboration, connection and sustainability, an innovation district would catalyze the city-building strategies outlined in the Greater Downtown Plan and propel Calgary and its economy forward. "We really want this to be an inclusive project that has to belong to all Calgarians," says Jason Cameron, program lead of resilience and infrastructure at the City of Calgary. "There's a real opportunity there, especially as we start to really need to attract international talent and investment."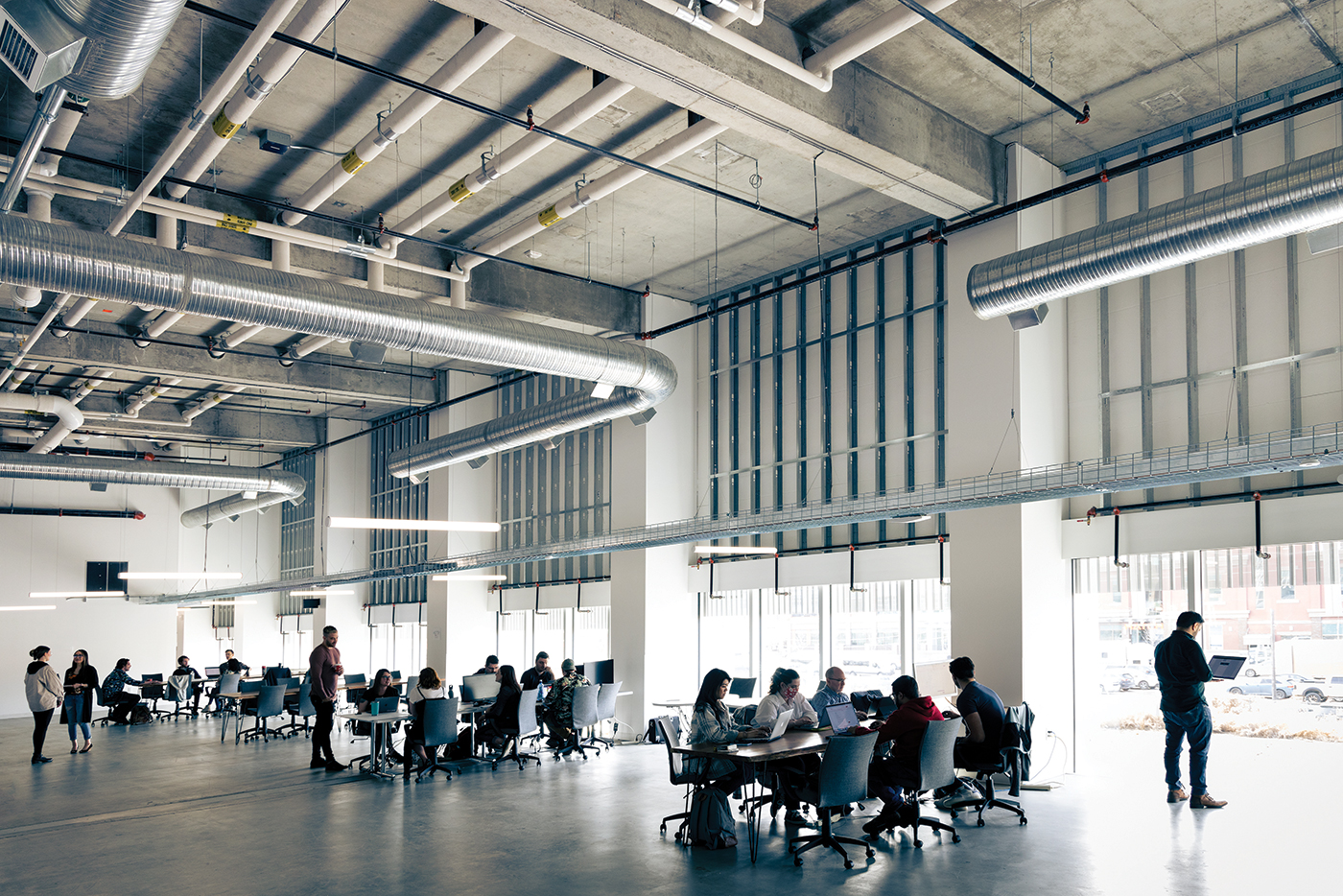 Over the last decade, cities around the world have been competing to attract one of the most coveted assets of our time: talent, and innovation districts have proven effective in attracting it. U.S. cities such as Detroit and St. Louis have successfully revitalized their downtowns by creating the unique spaces and places sought by the innovation economy.
"Being purposeful about creating an innovation district means that the ingredients are there for innovators to connect and create collisions that might not otherwise happen," says Lisa Sierra, manager in collaboration, analytics and innovation at the City of Calgary. "I think downtowns are great for those street collisions, [with] restaurants and businesses [where] people can connect and be introduced to the people they need to meet."
Indeed, today the built environment is more important than ever for any city's economy. As young professionals increasingly become "digital nomads," public amenities and programming take centre stage as a magnet for talent and capital. But our car-oriented, empty-after-6 p.m. downtown won't cut it. To retain and attract young professionals, downtown Calgary must become a walkable, vibrant, complete community, packed with entertainment and cultural activities 24-7. A place where Calgarians can live, work, learn and play.
"When you're talking about people with a decent education, an in-demand skillset, they are not generally people who are being wooed to low-tax jurisdictions," says James Stauch, director of research, scholarship and community engagement at Mount Royal University's Institute for Community Prosperity. "They're being wooed to quality of life." According to Rock, the global competition for talent is relentless. "The cities that are serious about it are finding ways to make sure that the talent conversation is a top priority," he says.
As vibrant communities become a magnet for talent, the creation of an innovation district in downtown Calgary has the potential to catalyze our city's commitment to an economic transition, meet the lifestyle sought by young professionals, and foster the breeding grounds for innovation.
"Innovation happens through catalytic events or collisions," says Brad Parry, president and CEO of Calgary Economic Development, noting the importance of creating the physical spaces where people can congregate, share ideas and make innovation happen. "Having an innovation district is going to help push collaboration."
These collisions are facilitated by the clustering of activities, which is the rationale behind any business district; what sets an innovation district apart, however, is that innovation thrives in a heterogenous environment, where innovators, artists and creatives can collaborate to devise solutions for problems in myriad industries. "Solutions for clean energy could apply to agriculture, could apply to life sciences," Parry says. "There's such great synergies that happen and great solutions that can come from these other types of solutions coming together."
According to Rock, an innovation district is a type of "shorthand" to finding the ideas, resources, and funding necessary to make things happen as efficiently as possible. "All the pieces are there," he says. For example, the proximity between the Platform Innovation Centre, the Central Library and the National Music Centre at Studio Bell has facilitated the development of partnerships that bolster our city's innovation ecosystem. "We built a music tech accelerator program with the National Music Centre," Rock says. "The Calgary Public Library now has an entrepreneur-in-residence in partnership with us to provide frontline advice and channel people to the right [resources]."
Other "pieces," Rock notes, include InceptionU, the non-profit tech-training program based out of the Central Library, the University of Calgary's School of Architecture, Planning and Landscape, Bow Valley College, SAIT's School for Advanced Digital Technology and Arts Commons in the Downtown Core — all in close proximity to the offices of tech companies like Benevity and Helcim.
Tech startups also tend to form in clusters. "It's no accident that two of our most successful buildings downtown are the tech hubs of Aspen properties," Cameron says, referring to The Edison and The Ampersand, two recently upgraded buildings in Calgary's core. "Because people are looking for that strategic serendipity, those elevator conversations, those places that are happening."
The creation of an innovation district is thus an opportunity to rebrand Calgary as "a destination for people who want to solve global challenges," Parry says, and attract the talent sought by the industry's key players. "When we get bright minds with game-changing ideas [coming] to our marketplace and setting up shop here, you start to see more and more people want to be part of that," he says. "Whether it's venture capital or other companies."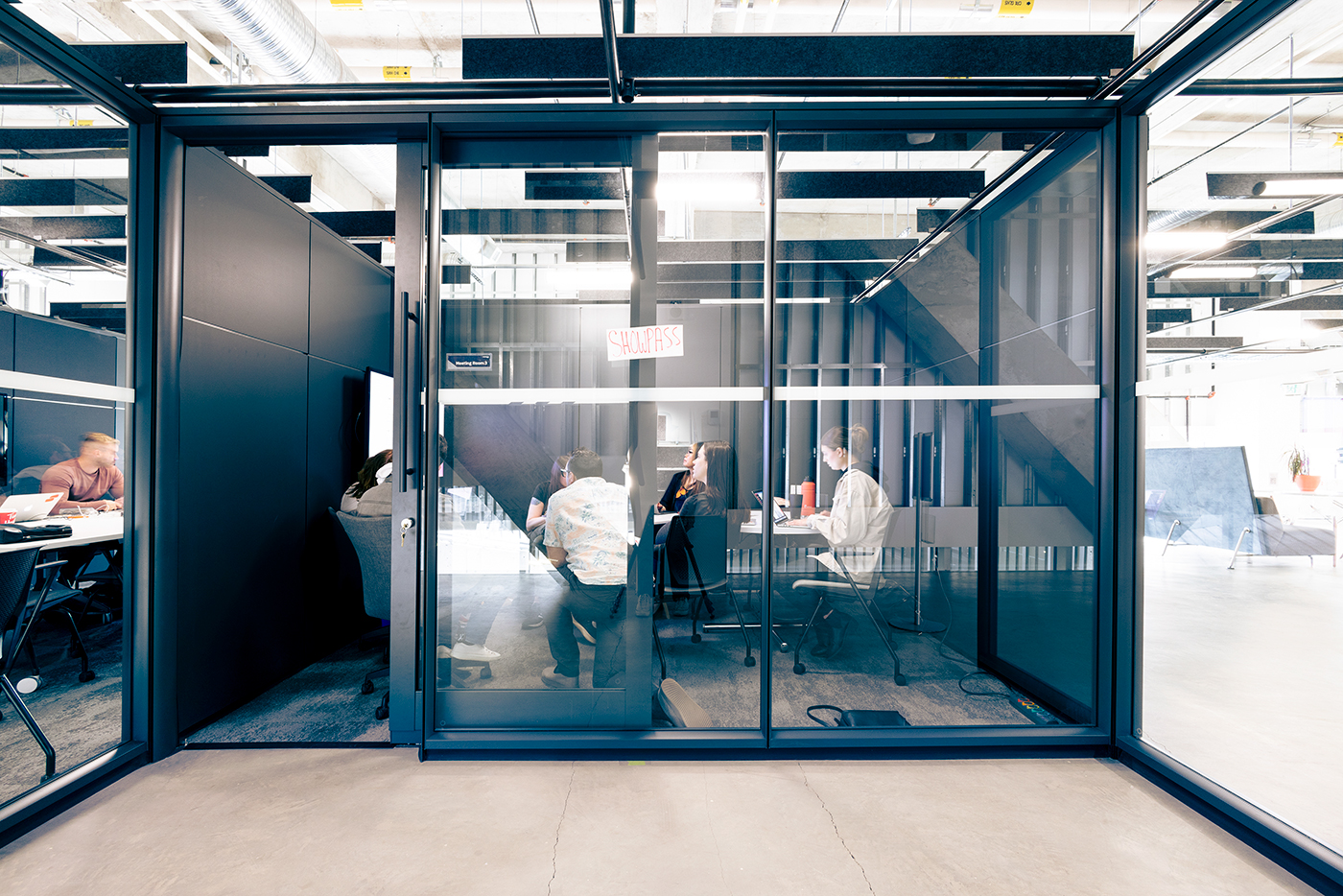 Not everyone agrees, however, that an innovation district can nudge young Calgarians to stay, or attract talent from other provinces. Young people "provide intellectual and cultural energy, and they have a lot of disposable income that they spend in the public realm," says Stauch. But they tend to prefer cities that have a wide array of cultural offerings and diverse demographics, such as Toronto, Montreal, or even Winnipeg. "There's nothing wrong with knowledge districts," Stauch says. "But most cities have a version of this, [and] it might actually become a minimum spec, like a convention centre used to be for hitting the big leagues — but it's not enough, it's not going to make us stand out."
For an innovation district to succeed, a key challenge lies in identifying the unique attributes of a city and branding them in a compelling way. "We [an ad-hoc team comprised of representatives from Platform, the City, CED, the SAIT School of Advanced Digital Technology and a youth member] did some research on what's happening in the world around innovation districts, and how there are different models that have worked for different cities," says Sierra. "And one of the things that came through was that they all had unique, homegrown ingredients. They made it their own."
For this reason, the steering group has engaged in conversations with community members, universities and industry leaders to determine the direction of this initiative from the get-go. Over a series of workshops last year, participants identified the values that will guide the development of this district: the aforementioned accessibility and inclusiveness, collaboration and connection, and sustainability. "Having these as the priority, versus attracting individualistic gains, is where Calgary can set itself apart and have a competitive advantage," Cameron says. Likewise, Rock believes the sense of community already existing in our city is hard to match. "You have a generous culture where founders are encouraging each other and sharing knowledge — this is a real advantage that we have."
But part of Calgary's competitive advantage and uniqueness also lies in its past success as an energy hub. "With the energy transition, there's no better place in the world than Calgary," Parry says. "We have the investment, we have the knowledge, we have the data, we have the decision-makers here that can help companies achieve those solutions."
The work to officially designate an innovation district in Calgary — including its physical boundaries, governance and financing — is still in its early stages, and the steering group is set to complete a business case that will be brought to admin, council and potential partners this fall. However, when it comes to attracting talent and investment to Calgary, the ball is already rolling. "We're already seeing companies that are growing fast and hiring," Rock says.
Parry agrees. "People are realizing that Calgary is more than what it used to be."
Calgary's quality of life, competitive tax rates, and incentives such as the Opportunity Calgary Investment Fund, have been attracting the tech companies and entrepreneurs that play a key role in the innovation economy. "We have companies actively looking to relocate from other major centres into our market because they see the opportunities that are coming," Parry says. "When you look at Infosys, and RBC, and AWS (Amazon Web Services) placing bets on Calgary, they're setting up a footprint for long-term success."
"Once you have these anchors coming in, you start to see other companies want to be part of that growth [and] come here because you're close to the big players."
Today, there are nearly 1,000 verified tech startups based in Calgary, and 42 venture capital investors, in an ecosystem valued at $2.7 billion, which includes four "unicorn" companies whose individual values surpass $1 billion. Moreover, in 2021, Calgary's talent pool ranked second among other small tech-talent markets, as tech jobs already represent more than seven per cent of all jobs.
Rock is beyond hopeful about these developments: "I think this notion that Calgary should have an innovation district that becomes a part of our identity as a city, a core part of our economic strategy, is no longer about 'will we do it?'" he says. "It's just a matter of, 'How bold is it going to be?'"