A New Year's resolution to eat more healthfully doesn't mean you have to become a hermit – here are the best bets for a good meal that's also good for you.
From the crisp, lemony fattoush to the warming lentil soup, Aida's (the restaurant) is a clean-food classic. Aida's (the owner) Lebanese food has down-home goodness, rich Middle Eastern flavours and the warming qualities to ward off a January blizzard. The restaurant also offers some of the best value on the 4th Street restaurant strip.
2208 4 St. S.W., 403-541-1189, aidasbistro.ca
Sleek and sophisticated in its gentrified historic building, Blink at first looks like many other upscale, downtown restaurants. It's high toned and elegant, a fine place for a special dinner or a business lunch. Blink's seasonal menu might include roast Arctic char with Jerusalem artichoke pure and braised green cabbage, all top-notch healthy ingredients, well prepared.
111 Stephen Ave. S.W., 403-263-5330, blinkcalgary.com
Head down to Lethbridge to Broxburn Vegetables for the freshest, tastiest produce in our area. All year round, the farm-based Broxburn Caf serves roasted red pepper soup, thick sandwiches and house salads tossed with whatever is fresh. A soup and salad here feels the way a cleanse diet should, leaving you happy and well fed.
Five km east of Lethbridge on Highway 3 & one km south on Broxburn Road, 403-327-0909, broxburn-vegetables.com
Downtownfood
Chef/owner Darren MacLean adheres to the local-seasonal mantra of many contemporary chefs. Summer and fall, you can have things as fresh as possible such as a Szechuan eggplant or the smoke-cured tuna tataki.
628 8 Ave. S.W., 587-353-3474, downtownfood.ca
Sushi feels clean and light after a heavy Christmas-New Year combo. And no one slices sushi better than chef Tomo Mitsuno at Goro + Gun in the heart of downtown. Just go with whatever he says is freshest, or you can start the year simply with a bowl of mushroom ramen in a seaweed broth and even ask for rice noodles.
Plus15, 225 7 Ave. S.W. (Scotia Centre), 403-237-5596, goroandgun.ca
Patricia Capuzzi – Italian by name, Venezuelan by culture – brings an international list of gluten-free arepas, quinoa salad, Thai shrimp salad and mac 'n' cheese, all with a flavour-first focus. This simple 17th Avenue restaurant also focuses on vegan, vegetarian and dairy-free options. The arepas, Venezuelan corn-flour flatbreads stuffed with an array of ingredients, are the house specialty.
1013 17 Ave. S.W., 403-249-3037, heavenartisangf.ca
One of the hottest restaurants of 2014 serves some of the freshest, cleanest foods in Calgary. Fresh duck breast is brined, seared and lightly smoked to balance the simple earthiness of slow-roasted winter root vegetables. Many dishes come with fresh greens from Market's in-house Urban Cultivator, a taste of spring on a bleak wintry day.
718 17 Ave. S.W., 403-474-4414, marketcalgary.ca
Michael Noble's Notable serves the kind of home cooking you could do at home – if you knew how. Grilled tuna nioise, rotisserie chicken salad with goat feta, smoked scallops and shrimp with wilted spinach, plus numerous gluten-free options, make everyone happy here, especially after a little snowshoeing in nearby Edworthy Park.
4611 Bowness Rd. N.W., 403-288-4372, notabletherestaurant.ca
Banff's vegan-focused, mostly gluten-free and meatless vegetarian restaurant goes well beyond the old stereotypes of the genre. Nourish is first and foremost about good food. The menu is loaded with fresh fruits and vegetables and notoriously addictive kale chips to attract the full range of diners, from committed vegans to dedicated carnivores.
211 Bear St., Banff, 403-760-3933, nourishbistro.com
Savvy to their diners' needs, the team behind Skyharbour Grill at the Best Western Port O' Call Hotel has created a menu that is healthy and as locally sourced as possible. A high-tech buffet table holds a half-dozen fresh, creative salads while keeping the cold things cold and the hot, hot. Like many hotels, the Port O' Call has upped its game to keep visitors in-house.
1935 McKnight Blvd. N.E., 403-250-6488, bwportocallhotel.com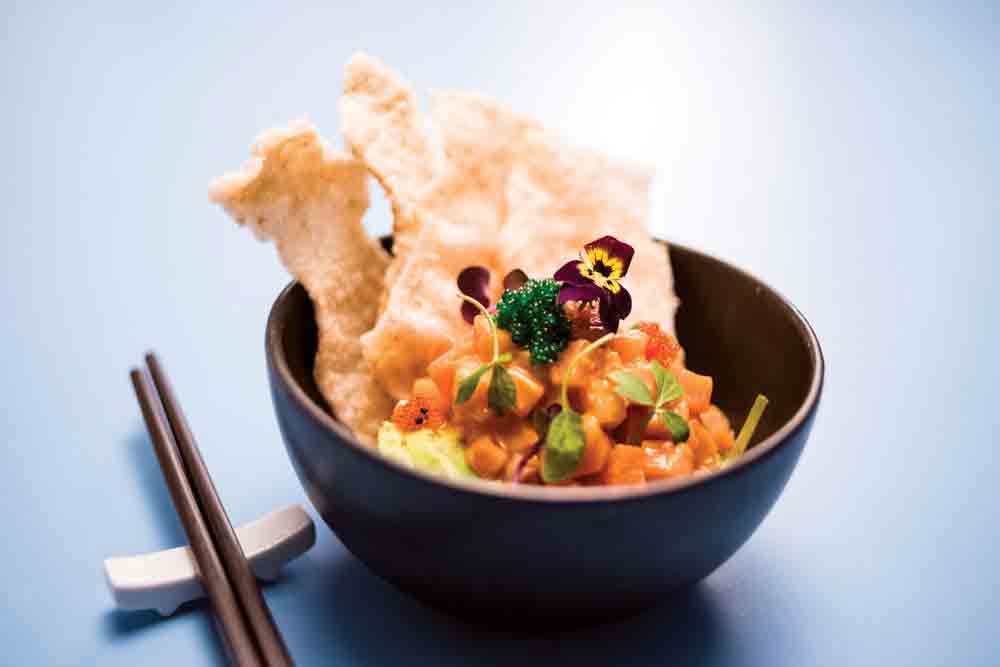 photograph by jared sych
Spicy tuna and salmon tartare at Raw Bar by Duncan Ly.
The Vietmodern cuisine of chefs Duncan Ly and Jinhee Lee is packed with brightly flavoured – and clean-feeling – dishes such as spicy tuna and salmon tartare with avocado, and maple ginger sable fish with broccolini and red curry. The flavours are bright, the textures crisp and varied and the feeling oh so good.
Hotel Arts, 119 12 Ave. S.W., 403-206-9565, rawbaryyc.ca
When sisters Pat Chirakorn and Sonthaya Chanhao opened their own restaurant in Cochrane, they decided to cook the food that they like to eat – vegan and vegetarian Thai. Their menu contains no meat, no seafood, no gluten, minimal egg and dairy and no alcohol. They do everything, including sprouting their own sprouts and making their own tofu, from scratch. This is serious good food.
115 5 Ave. W., Cochrane, 403-981-1499, thai-onzonveggie.com