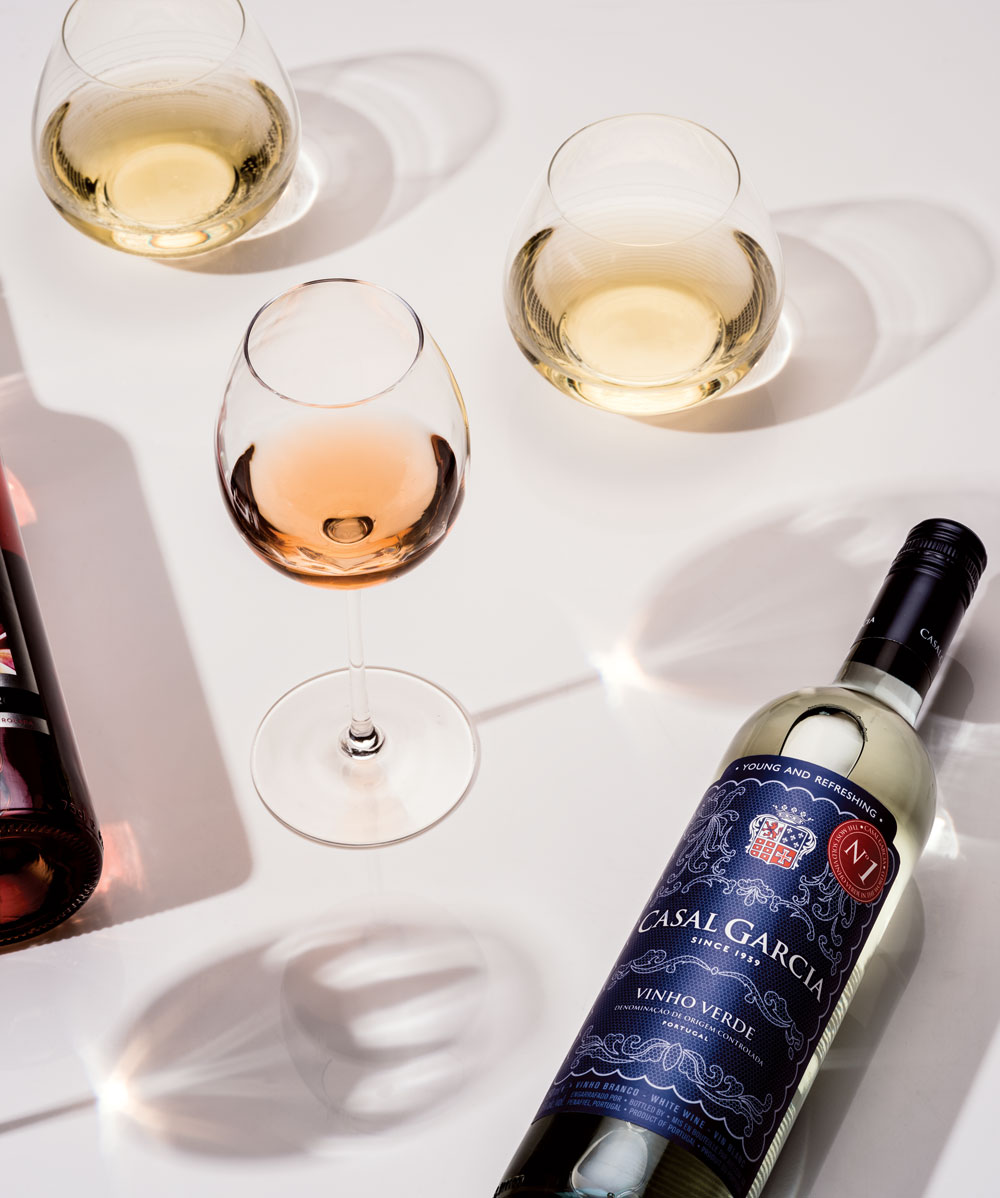 photograph by jared sych
Just like riesling, Madiera and Sherry, Vinho Verde suffers from a perception issue. The average wine consumer's perceptions are firmly mired in the era when these wonderful and classic wines were so widely imitated, they became caricatures of the real McCoy.
One of the main wine exports of Portugal, Vinho Verde (meaning "green" or "young" wine) was, for quite a while, all about being the cheapest and most cheerful-est wine around. The epitome of "plonk," Vinho Verde was usually off-dry to sweet, lower-alcohol, effervescent and, if I can be blunt, boring – at a time when interest in wine was becoming all about terroir, authenticity and story.
The Verde (pronounced VAY-rd or VAYR-deh – both are correct) in Vinho Verde refers to the greenness of the region, which is much cooler and wetter than the arid slopes of the nearby Douro region. It occupies an irregular wedge in the northwest of Portugal along the Atlantic coast as well as part of the Douro River. The DO (Denomination of Origin) of Vinho Verde accounts for approximately 90 per cent of wines in the region, while wines produced under the broader Minho appellation account for the remaining wines. It's a region dominated by around 19,000 small growers working almost 130,000 parcels of land spread across 21,000 hectares. It isn't cost-effective for most of these parcels to make their own wine, so several co-operatives exist to buy the grapes from these small farmers and make wine under the co-operative's label.
During harvest time, it isn't unusual to see a long line of workers in tractors, pickups and flatbed trucks with bins and barrels of all sizes waiting outside the co-operative to have growers' grapes tested for quality and weighed, then departing with cheques in hand. Though there are plenty of large producers (who dominate exports) and plenty of smaller landholders, this is one of those regions where it is possible for young and ambitious winemakers to farm and produce exciting wine without breaking the bank.
The grapes
Like most Portuguese wine, Vinho Verde uses blends of indigenous grapes rarely seen elsewhere. The region permits the use of nearly 50 different white grapes, with most white Vinho Verde wines using loureiro, arinto and trajadura grapes, although alvarinho and avesso are also fairly common. For red grapes, vinho and borraal are the most common, with amaral and alvarelho also in use. Though most producers would rather spend their time talking about their white wines rather than their reds, the reds can be very interesting and unusual with plenty of colour, tannins and acids. They are often served slightly chilled.
Pairing with Vinho Verde
Vinho Verde is very versatile with a number of foods and cuisines thanks to its slight sweetness, hint of palate-scrubbing bubble and acid presence. Asian cuisine or Asian-inspired dishes work very well, as does seafood of almost any type or stripe from halibut to salmon, scampi to fish sticks. But I'd be remiss if I didn't mention this next pairing – turkey and all the fixings. Loureiro is a grape that is definitely underappreciated at the holiday table.
I've served Vinho Verde at more than one Thanksgiving and Christmas dinner, with no rioting in the streets afterwards. As for cellaring, a few producers make wines that have notable progression over time, but these are very much the exception. I suggest buying these wines when the occasion calls for them, or keeping a few on hand with the idea that you'll drink them soon – whenever you're having fun, casual get-togethers with friends or family. Serve them well-chilled and avoid all pretention wherever possible.
---
12 Vinho Verdes to try
Adega de Mono 2015 Escolha Vinho Verde
Comes from a co-operative and made from alvarinho and trajadura grapes. Look for hints of grapefruit with peach and pear fruits. It's quite dry, with the barest hint of fizz. A perfectly refreshing glass of wine. $14.
Aphros 2013 Vinho, Vinho Verde, Portugal
One of those elusive red Vinho Verdes, this one is bursting on the nose with sour cherry and blackberry fruit with just a little bit of earthiness. Full bodied, it's a little sour, a little rustic and delicious. Try pairing with game meats or Bolognese-style sauces. $27.
Aphros Ten Vinho Verde, Portugal
A leading producer of Vinho Verde, the loureiro in this bottle is biodynamically farmed and is lovely and delicate with citrus and a bare hint of mint leaf aromas. Excellent balance, a rock star Vinho Verde. $23.
Aromas das Castas 2015 Alvarinho-Trajadura Vinho Verde
With flavours of fresh oranges, apricots and peaches, it has a dry profile and plenty of crisp acids – ideal for pairing with grilled poultry or a lighter seafood dish. $22.
Casa de Compostela 2015 Vinho Verde, Portugal
Limes and clementine oranges lead off on the nose with a decidedly floral perfume quality in this Vinho Verde based around arinto, trajadura, and loureiro. Slightly frizzante in the mouth, this bottle is light, refreshing, and would be best with simply prepared foods like grilled poultry or seared scallops. $16.
Casal Garcia Vinho Verde
Probably the best-known vinho verde, and a staple for a lot of white wine drinkers, Casal Garcia embodies the style of wine the region is known for. A little crackle of bubble, a little sweetness and apple and lime flavours. $12.
Casal Garcia Sweet Vinho Verde, Portugal
Some people like their whites a little on the sweeter side, and this one delivers. Delving into dessert wine territory with about 70 grams of residual sugar per liter, it still has pretty tropical fruits, a pinch of effervescence and a little acid to boot. Try pairing with custards or creamy desserts with fresh fruit. $12.
Gazela Vinho Verde Ros
One of a handful of pink Vinho Verdes out there, this wine is easy, refreshing, versatile and totally quaffable, with a tickle of bubbles and slightly tannic raspberry fruits. Wine for fun! $13.
Muralhas de Mono 2015 Vinho Verde
Also made from mostly alvarinho and trajadura grapes, this wine has prominent citrus and intensity on the nose with clean tropical fruit flavours. It can be enjoyed on its own or with a variety of seafoods. $18.
Pouco Comum 2015 Alvarinho, Minho, Portugal
An excellent bottle of alvarinho through and through, with lemony and flowery aromas that yield slightly waxy apple peel and tropical fruit flavours bracketed by tart acids and an ever-so-slightly creamy mouthfeel. Bored of pinot gris? Give this a try. $20.
Quinta da Aveleda 2014 Vinho Verde, Portugal
A fine blend of loureiro and alvarinho, the strengths of each show well, with floral and fruity touches of vanilla, honey, melon and lemons on the nose. Quite dry and quite crisp on the palate, it's a perfect alternative to sauvignon blanc. Pair with seafood or poultry. $13.
Quinta do Ameal 2014 Loureiro Vinho Verde
Loureiro is possibly the best white grape for single-varietal Vinho Verde. Look for apple and honey aromas, with a little tropical or banana notes. It's quite dry on the palate and shows no effervescence. Rich, stylish and delicious. $17.