20 Places for Late-Night Dining in Calgary
Calgary gets a bad rap for its lack of late-night dining options, but there are some quality spots for the nocturnally minded, if you know where to look.
By Dan Clapson, John Gilchrist and Jennifer Hamilton
Listed serving times are times the kitchen closes on a typical weekend unless otherwise noted.
Until 11 p.m.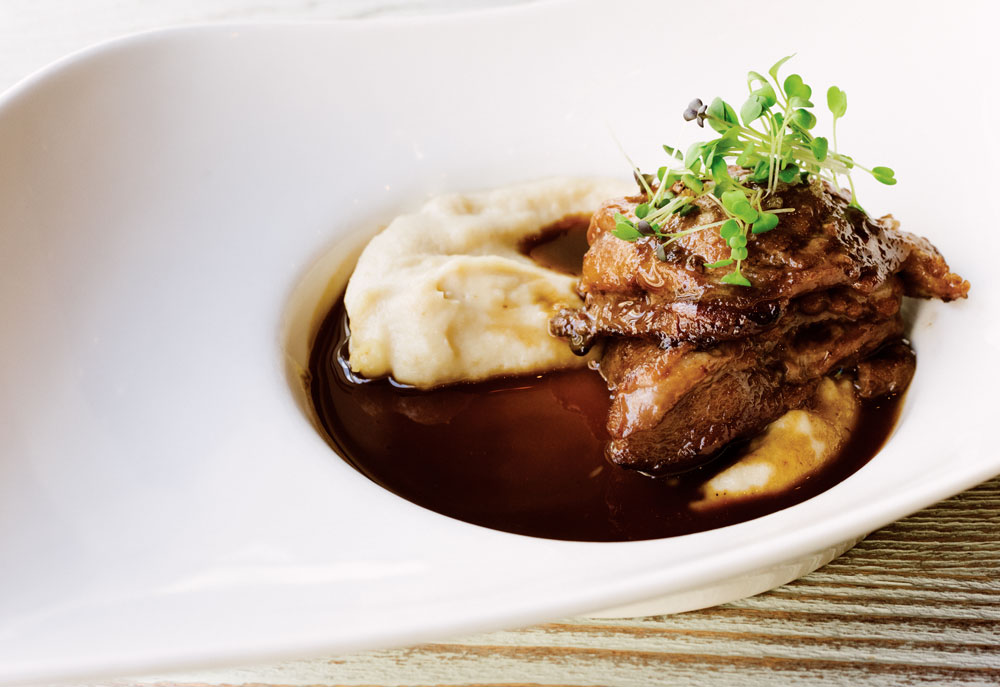 photography by jared sych
Barcelona Tavern veal cheeks.
The new kid on the downtown block, Barcelona brings the tang of tapas to the late-night scene. Oysters, paprika prawns and a slew of Spanish-themed dishes fill the menu.
What to order: Rioja-braised veal cheeks.
Serving until: between 11 p.m. and midnight
501 8 Ave. S.W., 403-265-6555, barcelonatavern.com, @barcelonayyc
For the full meat experience, few do it better than Vintage Chophouse. Beef tartare, sliders, big and little steaks, even a beef fondue are served up with luscious sides in this beefy palace.
What to order: Side dishes for the table, especially the creamed spinach gratin, whipped potatoes and onion rings.
Serving until: 11 p.m. (appetizers until 1 a.m.)
320 11 Ave. S.W., 403-262-7262, vintagechophouse.com, @vintagechop
---
Until Midnight
Another great restaurant in the Canadian Rocky Mountain Resorts family, Bar C is a primo after-Saddledome hangout. The minimalist Canadiana interior provides a stylish place that's not too noisy and serves excellent craft cocktails. The tuna tartare poke is excellent and the game-inspired menu is great late-night fare.
What to order: Elk chorizo sliders.
Serving until: midnight
340 17 Ave. S.W., 403-984-3667, bar-c.ca, @barcfooddrink
When the need for good sushi lands – and it's late – Hapa Izakaya may be the place. The hot pots are popular here too, as are the curry wings and ramen.
What to order: Sushi.
Serving until: midnight
816 11 Ave. S.W., 403-452-6737, hapaizakaya.com, @hapaizakaya
Sip an ounce or two of a favourite wine and order an assortment of dishes from the sharing-plates menu – think eggplant chips, chipotle pork ribs and roasted duck with acorn squash. (Note: Vin Room West has slightly earlier hours.)
What to order: Lobster nachos.
Serving until: midnight
2310 4 St. S.W., 403-457-5522, vinroom.com, @vinroom
---
Until 1 a.m.
A craft beer-focused bar that puts some decent thought into its menu is a great idea if you're wanting sustenance without a lineup of people in front of you. Before your pizza arrives, tear into a trio of warm pretzels topped with caraway seeds and sea salt. The best part? Dunking into the mustard and horseradish dip that comes on the side.
What to order: Junior Boy pizza with prosciutto, grilled pineapple, roasted jalapenos, smoked cheddar, maple syrup and marinara sauce.
Serving until: 1 a.m.
1080 8 St. S.W., 403-264-2739, beerrevolution.ca, @revolutionyyc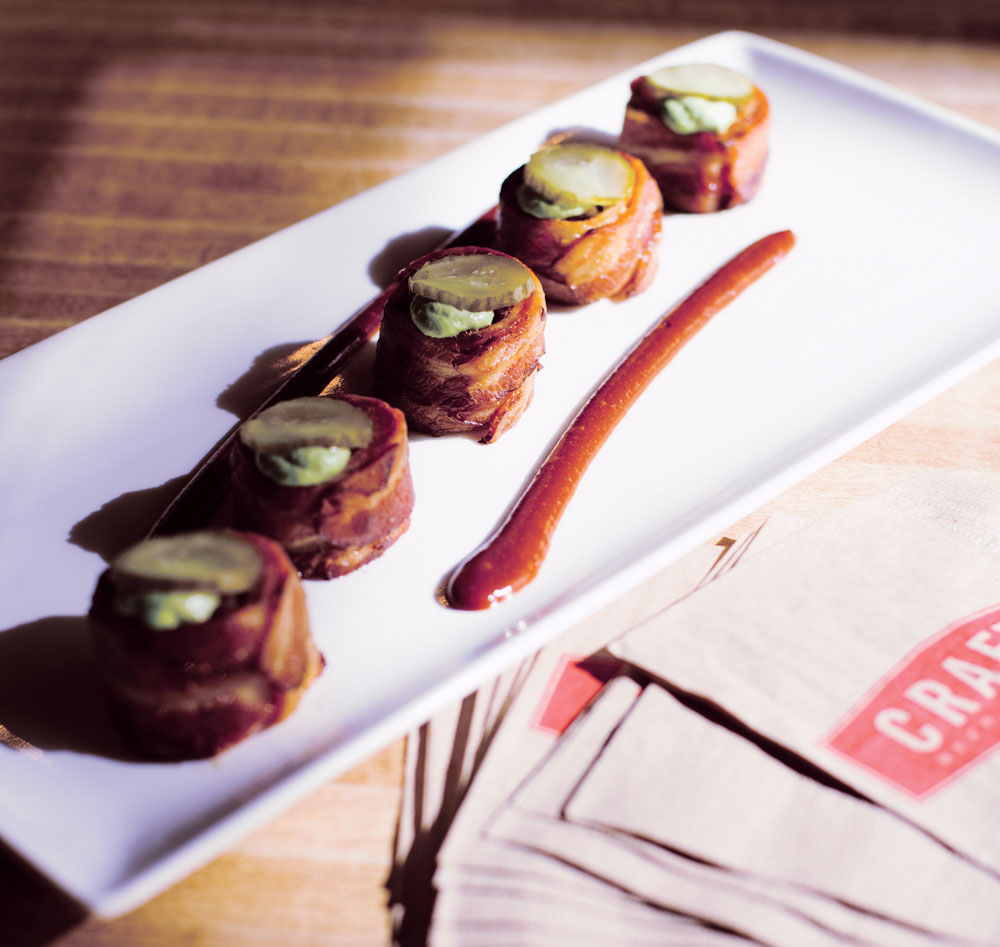 Fast Food Sushi at Craft Beer Market.
The gastro pub juggernaut that helped breathe new life into a floundering block on 10th Avenue S.W. is a go-to place for a good Friday night and an extensive selection of interesting microbrew beers.
What to order: Fast Food Sushi, because sometimes after a few drinks, a combination of a hamburger patty, cheese, fries and bacon wrapped up sushi-style seems like the perfect thing to eat.
Pro tip: If you're really hungry, try to sit as close to the kitchen as possible. Navigating the dining room when it's packed is like swimming upstream for the servers.
Serving until: 1 a.m. (there is a modified menu until 2 a.m.)
345 10 Ave. S.W., 403-514-2337, craftbeermarket.ca, @craftbeermarket
Some of the best Mexican food in town is served at La Vida Loca, much of it well after midnight on weekends when live music rocks the joint.
What to order: Fish tacos and shrimp ceviche.
Serving until: 1 a.m.
1129 17 Ave. S.W., 587-349-1400, lavidaloca.ca
Go early to Una and you'll likely be waiting in line. But head in after midnight and the lineup is usually minimal. Go healthy with a kale Caesar or some roasted broccoli, or go for one of the excellent pizzas. (Una's sister restaurant, Ox and Angela, closes earlier but is also a good stop.)
What to order: Bacon and sausage pizza drizzled with maple syrup.
Serving until: 1 a.m. every day
618 17 Ave. S.W., 403-453-1183, unapizzeria.com, @unacalgary
Descend the steps into Kensington's sultry Wine Bar Kensington, where Cam Dobranski and his team spin creativity into their constantly changing menu, cooking whatever strikes their fancy and whatever pairs nicely with the wines they're pouring.
What to order: Anything with pork belly or foie gras.
Serving until: 1 a.m.
1131 Kensington Rd. N.W., Lower Level, 403-457-1144, winebarkensington.com, @winebarkensi
---
Until 2 a.m.
When most of the 4th Street S.W. restaurant strip is folding up for the night, Aejo is just starting to rock. Mostly a tequila bar, Aejo also has some good Mexican dishes – a fine pozole and a great poblano cream soup – that pair perfectly with the libations.
What to order: Guacamole, made tableside.
Serving until: 2 a.m.
2116 4 St. S.W., 587-353-2656, anejo.ca, @anejoyyc
A no-frills sports bar out of the city's core that dishes up the typical pub fare and pizzas that are extra-heavy on the toppings.
What to order: Zucchini sticks, fried to perfection and served with dill dipping sauce.
Serving until: 2 a.m. every day except Sunday
6060 Memorial Dr. S.E., 403-248-3344, atlaspizzasportsbar.com
This is a street food-style vendor inside of one of Calgary's most popular clubs. Each month, the set-up is run by a different Calgary food truck operator, so the menu is constantly changing, keeping things fresh and interesting.
What to order: Ask the food truck du jour operator what the specialty is – these busy entrepreneurs know how to keep people happy.
Pro tip: After 1 a.m. there is usually no lineup, so you can go in, grab a bite and still get a little dance in before going home.
Serving until: 2 a.m.
731 10 Ave. S.W., 403-247-4663, commonwealthbar.ca, @commonwealthyyc
Connaught's neighbourhood pub is a lively place most nights of the week and serves quality pub fare like meat loaf and hearty sandwiches.
What to order: Pig knuckles – meaty pork ribs tossed in a sweet, sticky house-made barbecue sauce and plated with chipotle aioli on the side.
Serving until: 2 a.m.
1312 12 Ave. S.W., 403-245-8487, pigandduke.com, @pigandduke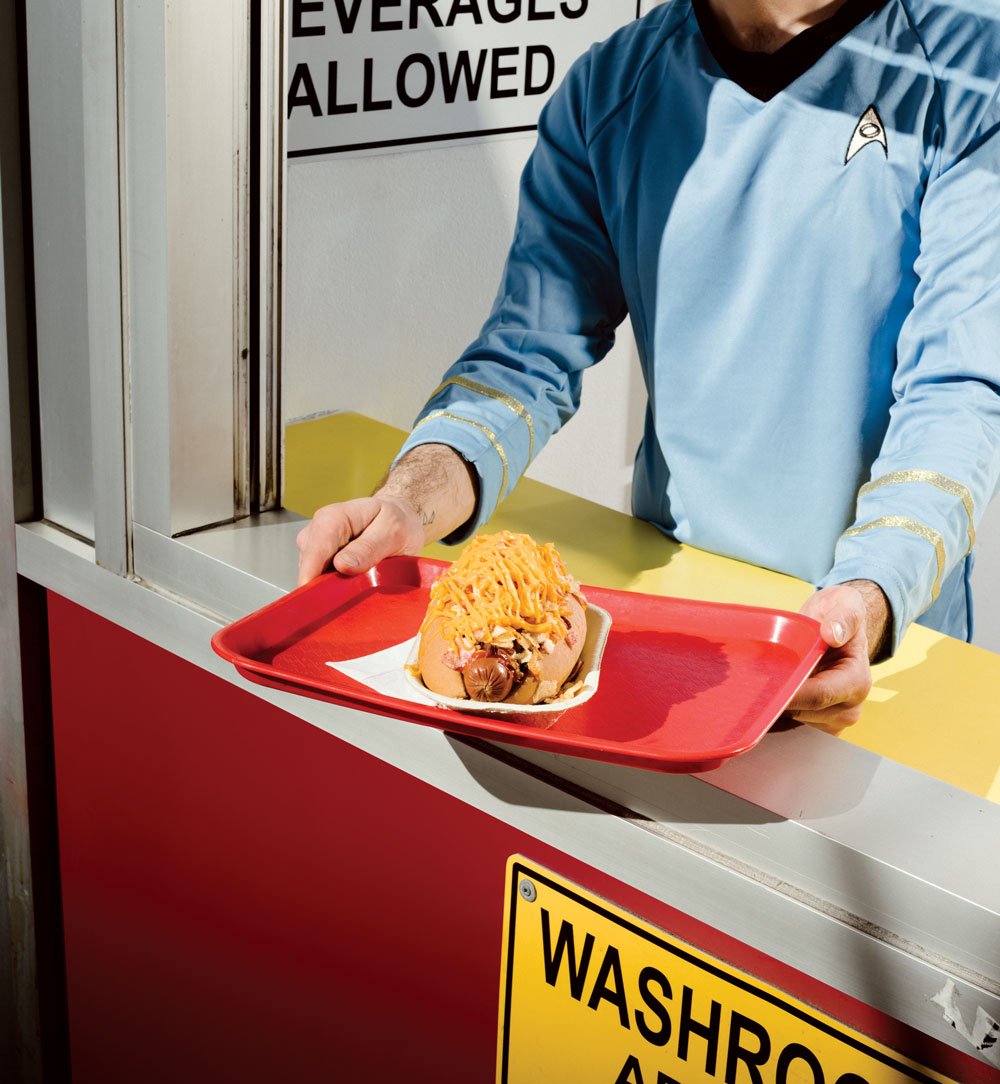 The A-bomb hot dog at the Tubby Dog window.
A rowdy, hipster crowd, funky interior and good-quality dogs with crazy toppings – what's not to love about this dining institution?
What to order: The Sumo, piled high with pickled ginger, wasabi, Japanese mayo, seaweed and sesame seeds. For anyone who's fallen in love with the famous Japadog in Vancouver, this is equally delicious.
Pro tip: If you get here a little too late to eat inside (past 1 a.m.), the takeout window will still cook you up a wiener until the wee hours of the morning.
Serving until: 2:30 or later; there are no set hours
1022 17 Ave. S.W., 403-244-0694, tubbydog.com, @tubbydoghotdogs
---
Until 3 a.m.
Chinatown's Golden Inn is the classic, downtown, late-night dining destination. At 2 a.m., who can resist Eight Joe bean cake and mo goo gai pin?
What to order: Salt & pepper squid.
Serving until: 3:30 a.m.
107 2 Ave. S.E., 403-269-2211, goldeninn.ca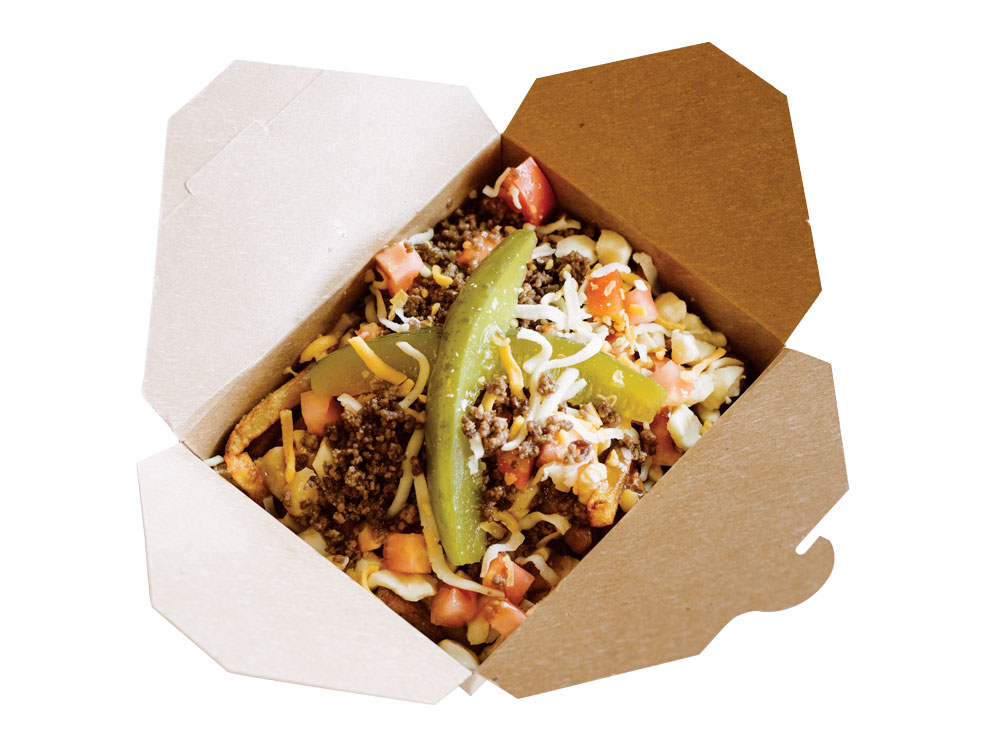 Big Cheese Poutinerie hamburger poutine.
With two locations now (one on 17th Avenue S.W. and one in Kensington), Big Cheese can curb your late-night cravings on either side of the Bow River. Poutine is its thing, with a ton of crazy add-ons like mac 'n' cheese or donair meat.
What to order: Hamburger poutine with ground beef, cheddar cheese, tomatoes, pickles and a "special sauce." It's the Big Mac of poutine.
Serving until: 3:30 a.m.
738 17 Ave. S.W., 403-457-2873, and 207 10 St. N.W., 587-350-2873, mybigcheese.com, @mybigcheese
---
Until 4 a.m.
Arguably the best late-night shawarma joint in the Beltline area, Knight is fast, efficient and delicious. It's got all of the standards like tabouli, baklava and, of course, donair.
What to order: Beef shawarma platter.
Pro tip: The platter costs only $1.50 more than a wrap, and you'll get way more bang for your buck as you get rice, roast potatoes and salad alongside your grilled meat and sauces.
Serving until: 4 a.m.
1512 14 St. S.W., 403-244-3999, shawarmaknight.com, @shwarmaknight
U & Me
Really late-night food or really early morning dim sum? At this Chinese restaurant on Centre Street, you can order anything from salt and pepper squid to braised tripe to satisfy your hunger. Sadly, the "special" tea (beer in a teapot) isn't an option anymore.
What to order: Green onion pancakes to soak up the sauces from all your other dishes.
Pro tip: If you've got someone in your group who is able to speak Chinese, you'll be able to order some more interesting dishes that the average Joe won't find on the English menu.
Serving until: 4 a.m.
233 Centre St. S., 403-264-5988
---
Open 24 Hours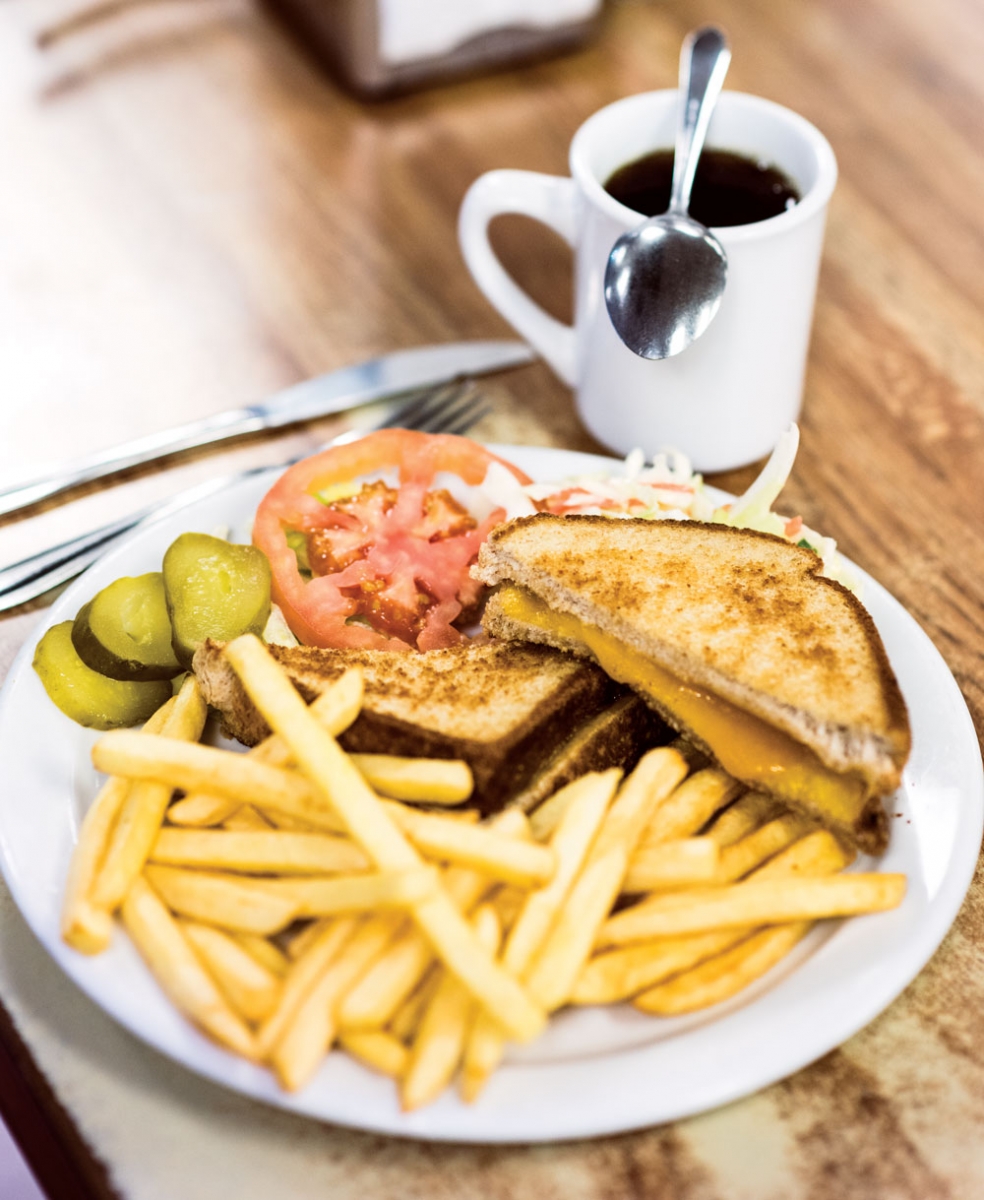 Blackfoot Truckstop Diner grilled cheese.
One of the diner's biggest selling features is the fact it's open 24 hours a day. The toy train that makes its way around the perimeter of the walls of the eatery with passengers like Furby is an entertaining added bonus. That and the pie.
What to order: Grilled cheese sandwich with ham, a true greasy spoon preventative measure for hangovers.
Pro tip: Go solo or with one companion and you'll likely get a seat at the bar without a wait. Score!
Serving: 24 hours a day
1840 9 Ave. S.E., 403-265-5964, blackfootdiner.ca