When Master Meats first opened in 1976, customers referred to it as "the dungeon." The space was small and dark and it was always tough to find parking, but the customers came all the same. They knew they'd get high-quality cuts of meat and they knew the butchers would be able to recommend the perfect cuts.
Even though Master Meats moved into a new location in October – a much bigger, brighter location, with plenty of parking – the quality of the meat here hasn't changed. Master Meats still uses old-fashioned methods. The butcher brings in quarters of beef instead of boxed beef, allowing the butchers to sell a variety of different cuts. And it brings in a lot – there is between 55,000 and 65,000 pounds of meat in the Master Meat cooler at a time.
Master Meats doesn't just work with meat, though. Master Meats was involved in the 2017 Offcuts calendar and has been involved in all three seasons of Fargo. (Master Meats supplied pork chops for season three, which premieres April 19. But that's all they can share about that.)
We spoke with John Wildenborg, the current owner of Master Meats, to hear some stories of Master Meats from the four decades that it's been open.
Master Meats, 4127 6 St. N.E., 403-277-5002, mastermeats.com
---
The story of how the Blackfoot Truckstop Diner helped bring about Master Meats
Mike Mortl and Walter Schrauth had worked as butchers before they opened Master Meats. Both men worked for a different Calgary butcher that was in the same location as the original Master Meats, but they were interested in running their own operation.
The butcher they worked for at the time used to deliver meat to the Blackfoot Truckstop Diner. "Edna Taylor said, Mike, you're too good for these guys! You should start out on your own. If you do, you can have my account," says Wildenborg. "So he did! It comes full circle – Edna Taylor really encouraged Mike and Walter." Taylor's encouragement was what they needed – the duo bought the business in 1976.
The story of the hamburger patties
After Mike Mortl and Walter Schrauth bought the business in 1976, they decided they would also get into the hamburger patty business. They bought a hamburger patty machine – and it wasn't cheap. The machine cost the duo more than it cost them to purchase the business.
Wildenborg still has that hamburger patty machine, but is finally retiring it after 40 years.
The story of how a Safeway produce manager became a butcher 
The long version of this story involves a lot of hard work and a good work ethic. But, in a nutshell, Wildenborg got involved in Master Meats because of a girl.
Wildenborg was working in Safeway as a produce manager. His girlfriend (and future wife) was a Safeway cashier. And her father was Mike Mortl, one of Master Meats owners. "Walter was getting ready to retire and Mike was working less after being in a car accident. And I was looking for a new challenge," says Wildenborg. "Mike took me under his wing and taught the passion and process of being a butcher." So, in the early '90s, Wildenborg shifted from vegetables to meat and hasn't looked back since.
The story of the Gordon Ramsay-esque training
When Wildenborg started at Master Meats in 1990, he didn't have any butcher experience at all. But, he learned from a highly trained butcher – Mortl trained in Austria in an extensive butcher training program and became a master butcher.
It wasn't an easy learning experience, to say the least. "Mike makes Gordon Ramsay seem like a dream," laughs Wildenborg. "He was hard on me, but I think that was part of the process of making me tough."
Mortl referred to Wildenborg as "goof-owski" and let him make him own mistakes. (Like the time a front of beef fell off the rollers and hit him on the head. Or the time he electrocuted himself.) Mortl wasn't afraid to test Wildenborg's mettle, either. "Mostly, I remember the lifting – fronts of beef can weigh anything from 200 to 250 pounds. One time, [Mortl] sent back a carcass to the packing house and he knew I'd have to carry the carcass up a set of stairs to get it there. There was nothing wrong with the beef – I think he did it to see whether I was tough enough and whether I'd persevere."
Another time, Mortl put Wildenborg in charge after he'd only been working for three months. Mortl left him with a carcass of beef when he had only been doing basic work to improve his knife skills, just to see what he would do. (Wildenborg passed the test.)
And Wildenborg proved tough enough. Mortl sold the business to Wildenborg in 1999.
The story of the old-fashioned tools
Walk into Master Meats and you would never guess that a lot of the butcher tools in the store are vintage. There are 90-year-old chopping blocks, an old hanging scale and a grinding stone for sharpening knives that's from the early 1950s. And until recently, Master Meats even used a vintage sausage stuffer. (Wildenborg says it's an "arm-breaker.")
The story of the busiest Canada Day ever
Wildenborg remembers one of the rainiest Junes in Calgary. He believes it was a few years before the 2013 flood. The forecast was finally looking warm and sunny for Canada Day. "Everyone who hadn't been able to barbecue for the last two or three weeks came in here to get their meat for Canada Day," says Wildenborg. "People were lined up and waiting as long as three hours – they were lined up right down the sidewalk. I remember I had people who had driven by the butcher, wondering what was going on at the store."
The story of the unexpectedly popular breakfast sausage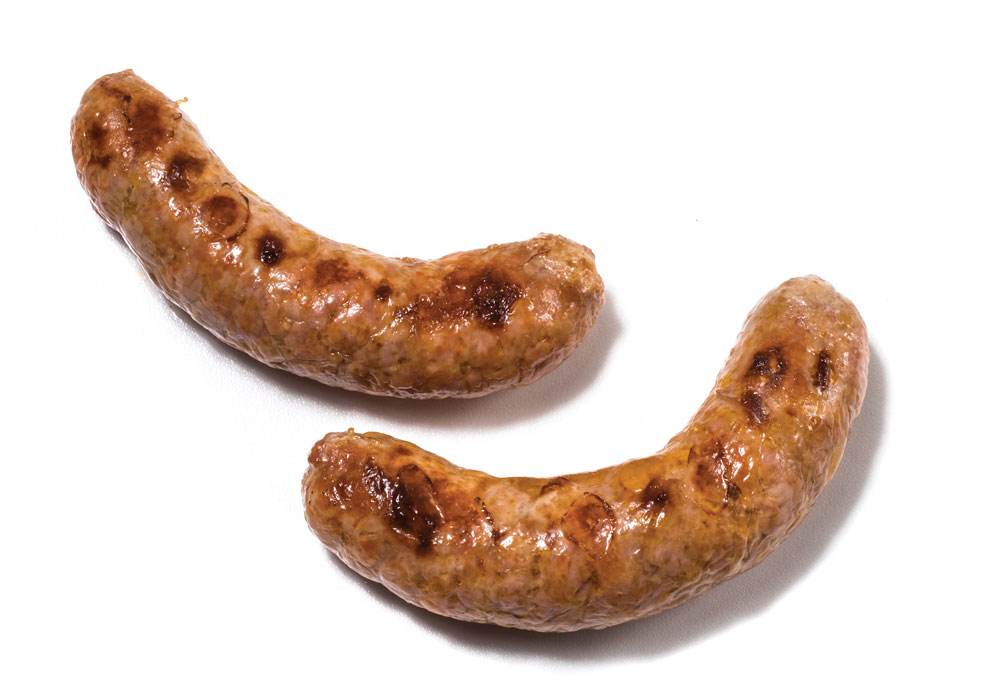 Master Meats' most popular sausage came about thanks to a church group, a little indecision and some experimentation. "I had a church group come in looking for meat for a Stampede breakfast. But they couldn't decide on sausage or bacon," says Wildenborg. "I decided to make a sausage that tastes like bacon. I had never done anything like that before! I experimented with a few small batches and it turned out alright. So I made a batch of 500 sausages – it was a one-off thing – for their Stampede breakfast."
Turns out, the sausage was a huge hit. The next week, Wildenborg had lots of people coming by the butcher asking to buy the sausages they'd had at that Stampede breakfast. Of course, there weren't any, but that did lead to the very popular Cowboy Sausage, a pure pork sausage with smoked bacon ground into it, being added to the menu.
The story of the Oklahoma man's spectacular barbecue 
Ten or 12 years ago, an Oklahoma oil man stepped into Master Meats. He was planning on feeding at least 65 people, cooking meat using a huge barbecue pit he'd built, and wanted to make sure the event was unforgettable. He wanted to serve something that couldn't be found at just any butcher.
"He wanted to do a crown roast beef, which is a spun prime rib," says Wildenborg. "But one prime rib is only seven bones and it wouldn't turn to make a full crown. It wouldn't even turn with two prime ribs. I had to make the crown using three prime ribs and it was enormous."
The crown was made of 21 beef ribs. It weighed close to 60 pounds. It was about the size of a truck tire. And the Oklahoma man loved it.
"He came in the next week and said to me in his thick accent, 'Son, that was the best prime rib I ever had,'" laughs Wildenborg.
The story of how Master Meats helped Fargo 
Wildenborg isn't just a butcher. He's also a technical advisor on the Fargo film set. He was involved in season one when some meat was needed and was heavily involved in season two, which centered on a butcher, Ed Blumquist, played by Jesse Plemons.
Wildenborg ensured everything about the butcher shop on set looked authentic. He set up the shop and brought in his meat to be used as props. He also helped train the actors. "I showed [Plemons] how to hold knives and use the grinder. He came to my shop one day, dressed like a butcher, and worked," says Wildenborg. "There's a scene where he has to cut up lamb and I taught him to do that. I taught him to wrap product too, which is difficult. He worked at it and could do it without looking. He was a very fast learner!"
Many of the props in the butcher in Fargo season two belonged to Wildenborg. "They used my hanging scale, floor scale, tape dispenser, paper rolls and a lot of my hooks and rollers were there," says Wildenborg. "My meat cleaver was used as a weapon."
He was on set for a total of 26 days, including the day the butcher shop burned down. (This was shot at Stampede Park.)
The story of the old-school posters and the decorations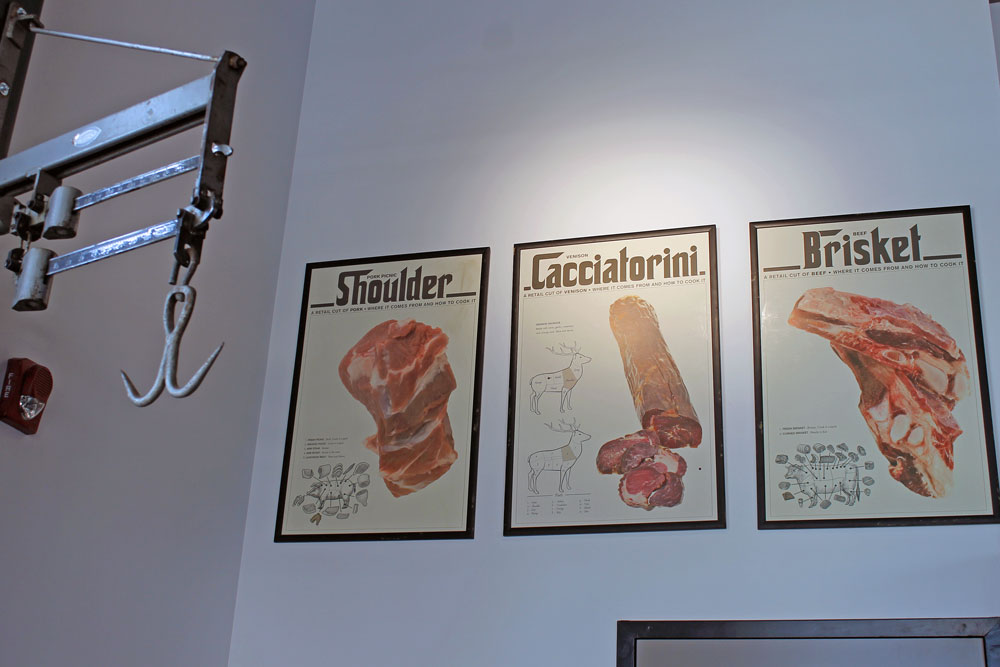 The posters on the walls look vintage, but they're actually set decorations from Fargo. If you look closely, you'll see the posters on Master Meats' walls – and the four posters in the venue's washroom – in the butcher shop Ed Blumquist works in during the second season of the show.