Peter's Saturday Brunch is offered every Saturday from 10 a.m. to 1:30 p.m. at the Mermaid Inn in the Danish Canadian Club. Besides an extensive omelette station, manned by Peter himself and laden with filling options like smoked salmon and garlicky creamed kale, you'll also find traditional Danish cereal made with rye bread soaked in ale and fresh aebleskiver – ball-shaped pancakes cooked in a special cast iron pan over an open flame. Eat them warm with Saskatoon berry sauce and whipped cream. They only do brunch on Saturdays, so make reservations to avoid disappointment.
727 11 Ave. S.W., 403-261-9774, danishclubcalgary.com
Los Chilitos on 17th Avenue S.W. starts serving huevos for brunch at 11 a.m. every day, not just on weekends. Besides the familiar rancheros, try the beef fajita omelette, chalupas (soft fried corn tortillas topped with scrambled eggs, tomatillo salsa, spicy tomato salsa, mole salsa, onion and feta cheese) or huevos pochados (poached eggs on fried tortillas with ranchero salsa and feta, served with chunky potatoes and cactus salad). Bonus: it has an enormous patio, or you can visit it at the Calgary Farmers' Market.
1309 17 Ave. S.W. and the Calgary Farmers' Market, 403-228-5528, loschilitos.ca 
Mango Shiva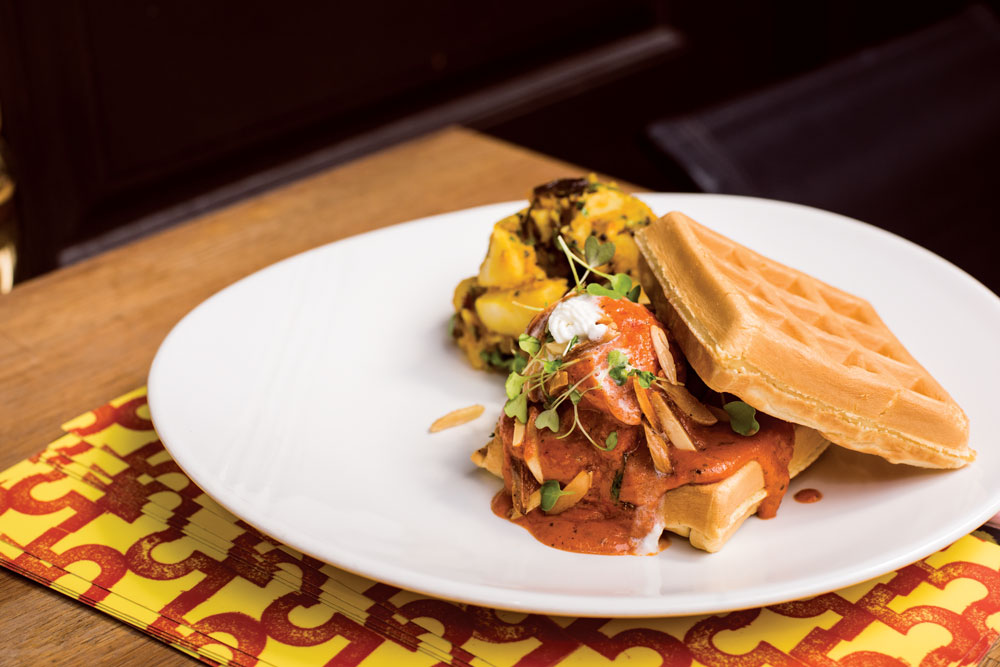 Belgian waffles at Mango Shiva.
Think crisp Belgian waffles topped with butter chicken, lamb kofta baked eggs with soft naan for scooping or eggs Benedeep – Indian spiced duck or kale and mushrooms, topped with a poached egg and fenugreek hollandaise over cardamom raisin biscuits and served with masala hash. Bollywood meets brunch!
218 8 Ave. S.W., 403-290-1644, mangoshiva.com, @mangoshiva      
The larger-than-life, ultra-thin Dutch pancakes at the Pfanntastic Pannenkoek Haus can be sweet or savoury, loaded with toppings like spek, prei en champignons (bacon, leek and mushrooms) or Zwarte Woud (warm cherries, ice cream, chocolate sauce, whipped cream), which comes with Kirschwasser liqueur in a chocolate cup. Try a house combo or build your own from eight pages of offerings.
2439 54 Ave. S.W., 403-243-7757, dutchpancakes.ca, @dutchpancakesca 
Those craving a Brittany-inspired brunch can go for a galette at Suzette. The savoury buckwheat crepes are gluten-free and come with an array of French fillings. Try the Complte: French ham, Gruyre cheese and egg, the Norvgienne: smoked salmon, leek and cream, or the Paysanne: local farm bacon with roasted potatoes and sauted mushrooms.
2210 4 St. S.W., 403-802-0036, bistrosuzette.ca, @suzettebistro