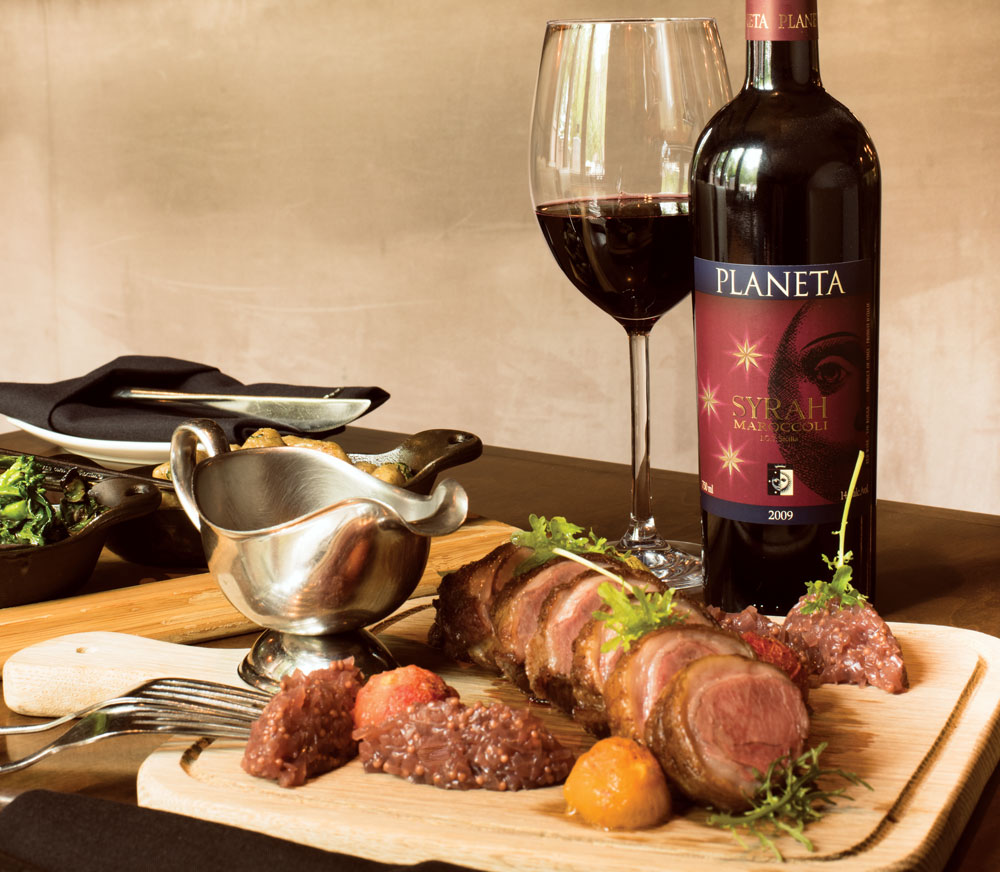 photography by Tieran Green
Chili-cured lamb for two with Sicilian syrah at The Living Room.
Sitting in front of a fire evokes something both primal and docile. Though no longer necessary for survival, the pastime has remained popular simply for pleasure – a pleasure that can be greatly enhanced by the right wine.
So what makes a great fireside wine? Generally, flavours that are in the cherry and berry spectrum work best, along with earthy flavours such as leather or mushroom, and even spiciness that warms the heart, if not the hearth. Alcohol and tannins also come into play. (Tannins are those bitter, astringent flavours typically found in red wines that help soften the protein structure of red meats.) Alcohol, long thought to have a warming benefit to those in the cold, really has the opposite effect as the alcohol dilates blood vessels and capillaries, chilling the body, but for those safely ensconced in a warm house, a little alcohol can't hurt.
Now, there's no rule that you can't enjoy white wine by the fire. Indeed, there are plenty of beautiful, interesting and exciting white wines out there to drink year round. But those reds – they have the structure and flavour to really take the chill off a cold evening. The best sorts of wintry wines are the rich, full-bodied ones that every country seems to make. Napa cabs, Argentine malbecs, Australian shiraz, or French Bordeaux – they all work, depending on your preference. Wines from warmer climates tend toward a little more alcohol heat, and plenty of those firm, astringent tannins, while those from cooler climates tend toward earthy and floral flavours.
Pairing food with your reds
If you need help making a selection, let your dinner be your guide. Rich, earthy stews or something with loads of mushrooms? Reach for the Bordeaux. Hearty, Italian pasta dishes call for Tuscan or Veronese wines. As for beef, glorious beef, in all its myriad cuts and presentations, the world is your oyster.
Decanting red wines
As we gravitate toward the bigger reds, it's worth discussing decanting. Decanting wine doesn't require a flickering candle, the hands of a surgeon or an English accent. It is simply transferring wine from the bottle to a new vessel prior to serving. In the case of very young wines, it helps to aerate the wine to soften it up a little and release aromas and flavours. Do this by dumping the whole bottle of wine upside down into the decanter so that it creates lots of bubbles and sloshing, known as a hard decant.
In the case of older wines, decanting is a little more delicate. Older wines may have a little sediment in the bottle, and while sediment isn't harmful, it doesn't look quite as nice in your glass (or between your teeth). Older wines are decanted by standing the bottle upright for a few days before serving to let the sediment settle, then gently pouring the wine into the decanter and stopping when the sediment reaches the neck of the bottle. I'm sad to report that a little bit of wine will remain behind in the bottle, but those are the rules.
---
3 perfect pairings
Looking for something special? Try the incredible barbecued, chili-cured lamb (for two) paired with a Sicilian syrah from Planeta ($75). The peppery and floral syrah certainly stands up to the flavour of the lamb but never overwhelms it – the way it should be.
The Living Room, 514 17 Ave. S.W., 403-228-9830, livingroomrestaurant.ca
Modern Steak: Prime rib and Touriga Nacional
Modern Steak has been bringing its "AAA" game since it opened. Try pairing the prime rib (available on weekends) with the dried-herb and earthy-fruit flavours of a touriga nacional from Quinta do Vallado ($63).
Modern Steak, 107 10A St. N.W., 403-670-6873, modernsteak.ca
Vintage Chophouse: New York strip and a malbec blend
Argentina knows and loves meat just as much as the average Albertan, and has the wine to back it up. Clos de Los Siete ($16 by the glass or $60 for the bottle) is a malbec-based blend built to bring out the best in a great steak like this one.
Vintage Chophouse, 320 11 Ave. S.W., 403-262-7262, vintagechophouse.com
---
6 red wines to drink by the fire this winter
Black Hills 2014 Nota Bene, Okanagan Valley, British Columbia

One of the first cult wines of the Okanagan, it has also managed to weather the changing times while preserving its quality and cachet. A more "left bank" Bordeaux-style blend with rich, black and red fruits, spicebox and black licorice. Firm but lovely tannins lend structure to the warming alcohol heat and spicy finish. Drink or keep around till 2025 or longer. $60.
Cultivar 2013 Cabernet Sauvignon, Napa Valley

Cabernet is king and Napa is its kingdom. Blackberry jam and cedar dominate the nose, with a bit of pipe smoke and leather for good measure. Tannins are rightfully prominent, but with a certain lushness to the fruit that makes for the perfect wine to enjoy while staying in. $36.
Laughing Stock 2013 Portfolio, Okanagan Valley, British Columbia

Another new "classic" from the Okanagan, this one is styled after a merlot-based Bordeaux blend with slightly smoky fruits and abundant plum and spice. Full-flavoured, lush and chocolaty on the palate, it's shining right now and perfect for an icy eve. $55.
Montes Alpha 2012 "M" Santa Cruz, Chile

This is one of the great wines coming out of Chile. The 2012 year was slightly warmer than usual, bringing an added ripeness to the fruits and plenty of chocolate, dried berry, spice and tobacco. Mellow tannins are everything they need to be. I tasted it with several back vintages recently, and I can say it's a wine that ages with grace. $88.
Paul Jaboulet An 2010 "Les Cdres" Chateauneuf du Pape, France

The mark of any great wine is nuance. The wines of Chateauneuf du Pape constantly over-deliver and the "Les Cdres" is packed with subtle dried herb and abundant floral characters. Spicy, flavourful and with a bit of heat, it's vinous magic. $49.
San Felice 2011 Campogiovanni Brunello di Montalcino, Tuscany, Italy
Brunello, for those that might not know, is possibly the finest expression of sangiovese out there. Densely arranged layers of earthy and cherry flavours are perfectly proportioned and balanced between acid, fruit, spice and tannin. Stunning now, it will be a cellar all-star for years to come. $60.
[Correction: A previous version of this story included the incorrect photograph for San Felice 2011 Campogiovanni Brunello di Montalcino. The photo has been updated and is now correct.]