Korean cuisine has been a vital part of Calgary's dining scene for at least three decades — Korean Village Restaurant in Downtown West End is celebrating its 30-year milestone this year — and more recent additions routinely end up on lists of the best places to eat in Calgary. In recent years, the other KFC (Korean fried chicken) has exploded in popularity. So with all that in mind, it seemed like the right time to highlight some of the finest Korean restaurants in the city. Read on, then go out and enjoy!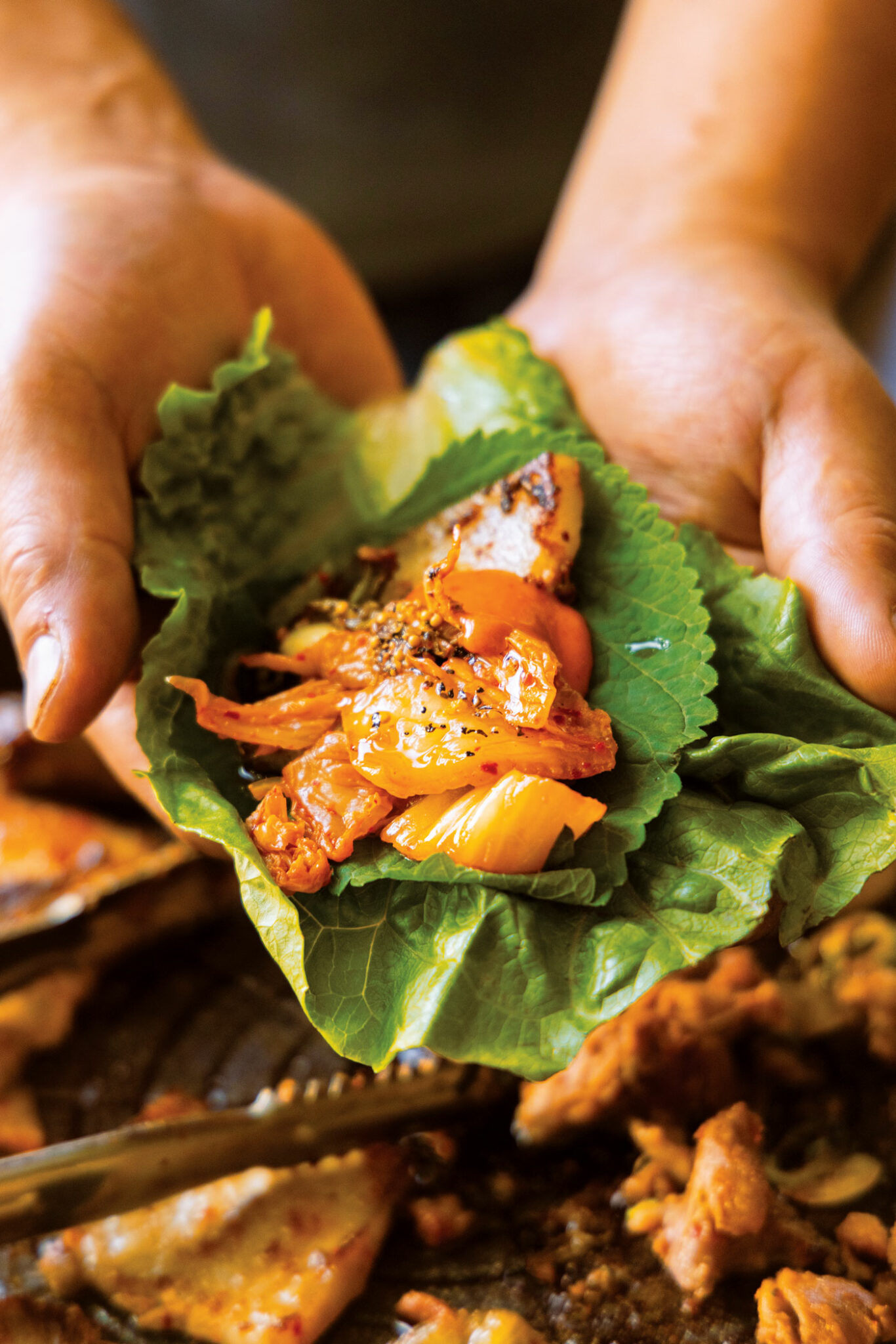 Roy Oh earned his reputation as one of Calgary's most exciting chefs with his Korean-fusion restaurant Anju. But with Anju closed for renovations, Roy's Korean Kitchen has become the go-to for those craving his modern dishes with a traditional Korean twist. For hands-on types, Roy's also offers Korean barbecue kits so you can create lettuce and meat wraps at home.
MUST TRY DISHES Roy's oxtail tortellini is Korean-Italian-fusion perfection: Wonton wrappers, subbing in for traditional pasta, are stuffed with juicy oxtail flavoured with soy sauce and a touch of truffle oil. Roy's soy-maple Brussels sprouts offer a delicious take on this trendy side dish, with bacon providing a salty counterpoint to the sweet maple syrup flavours.
2024 4 St. S.W., 587-287-9949 (text only), royskoreankitchen.com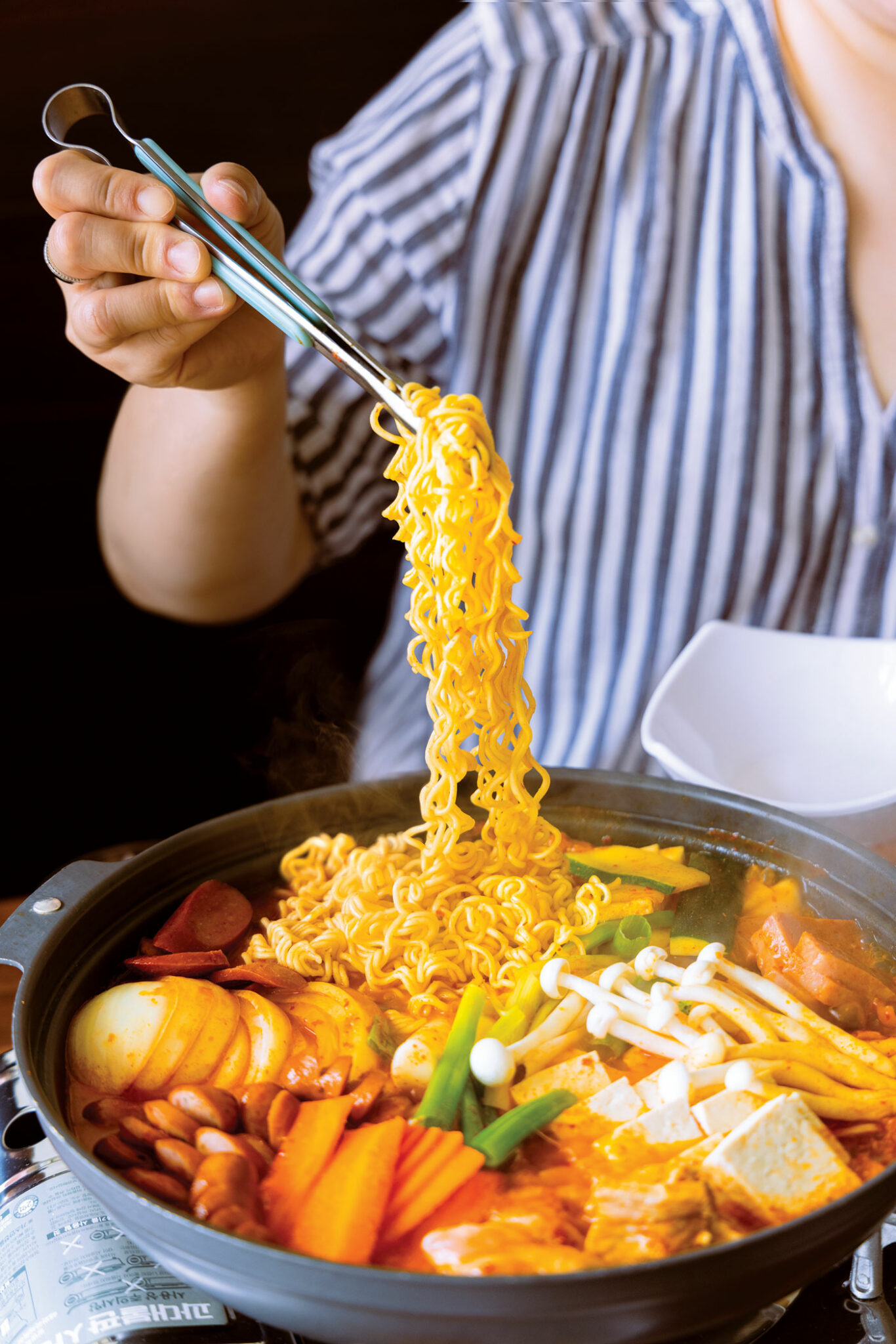 Located in Calgary's far northwest, Sudam Korean Restaurant is an unassuming joint serving up some of the most authentic and flavourful Korean food in the city. While most meals at Korean restaurants start with complimentary banchan (side dishes), Sudam's rotating banchan offerings stand out for their freshness, presentation and flavour. The traditional soups (tang) and stews (jjiggae) are flavourful and rich, and the hotpot offerings (a fondue-like preparation where meats and vegetables are cooked at the table in boiling broth) are consistently delicious.
MUST TRY DISHES Sundubu jjigae is a spicy soup flavoured with beef, pork or seafood and a generous dose of Korean red chili, cooked up and served in a traditional stone bowl. Budae jeongol, is a hotpot version of the popular Korean dish known as "army stew," created after the Korean-American war from surplus American military ingredients. You'll find Spam, sausages and kimchee in Sudam's version of this spicy, salty comfort food as well as ramen noodles.
122, 15 Royal Vista Pl. N.W., 403-460-9222, sudamrestaurant.ca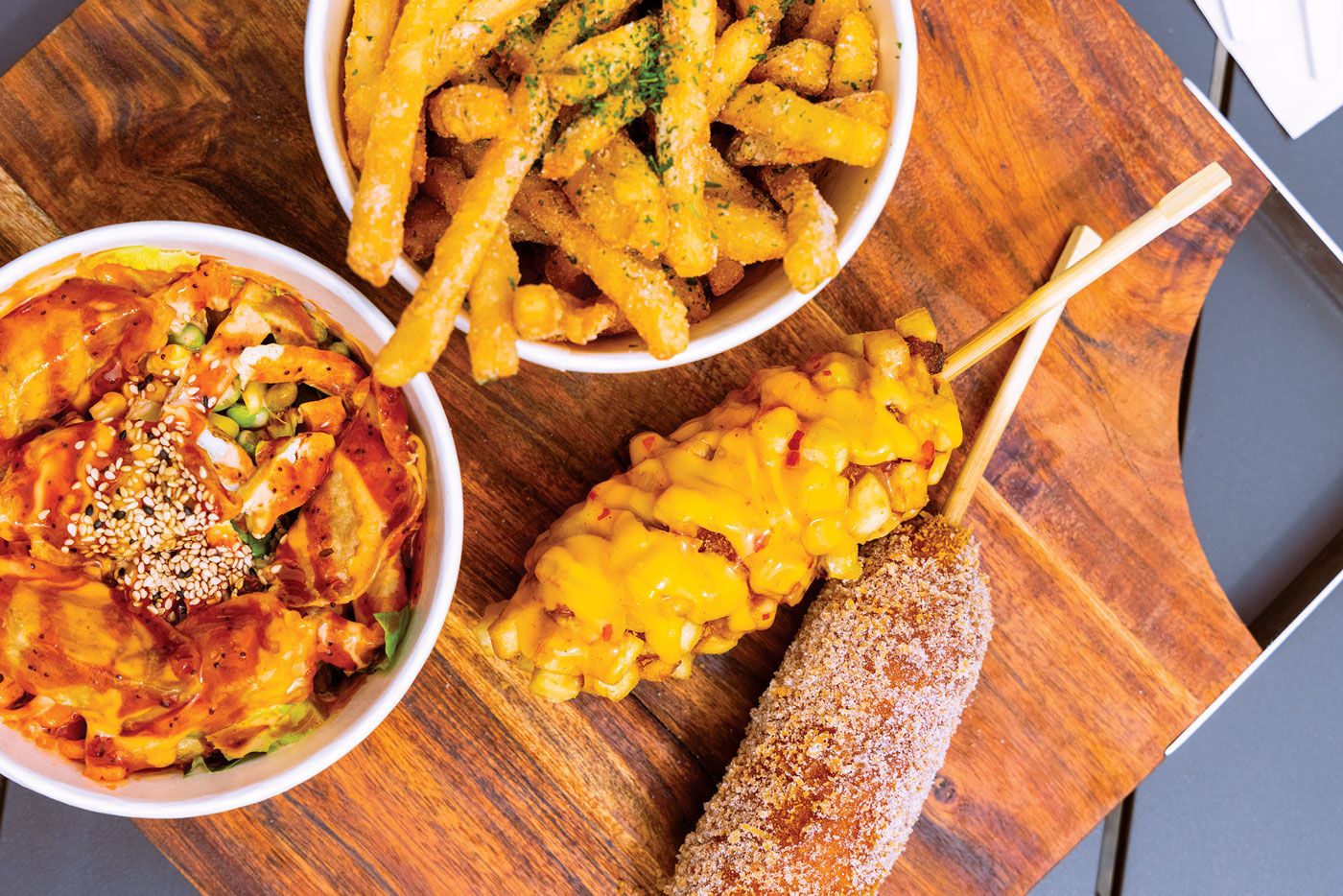 In Korea, street-food vendors are popular options for snacks, meals and everything in between. Hankki, a restaurant whose name translates to "one meal," serves up a small menu of tasty snacks such as seasoned fries, fried chicken and bulgogi dumplings, but the main draws here are Korean-style hot dogs and cupbop, flavourful meats and veg served over steamed rice in a cup. The food comes out fast, fresh and at affordable prices.
MUST TRY DISHES For a fun take on a classic hot dog-and-fries combo, order the "ugly potato" corn dog with chunks of potato in the batter, and honey-butter seasoned fries.
1058 17 Ave. S.W., 403-475-2218, hankkica.com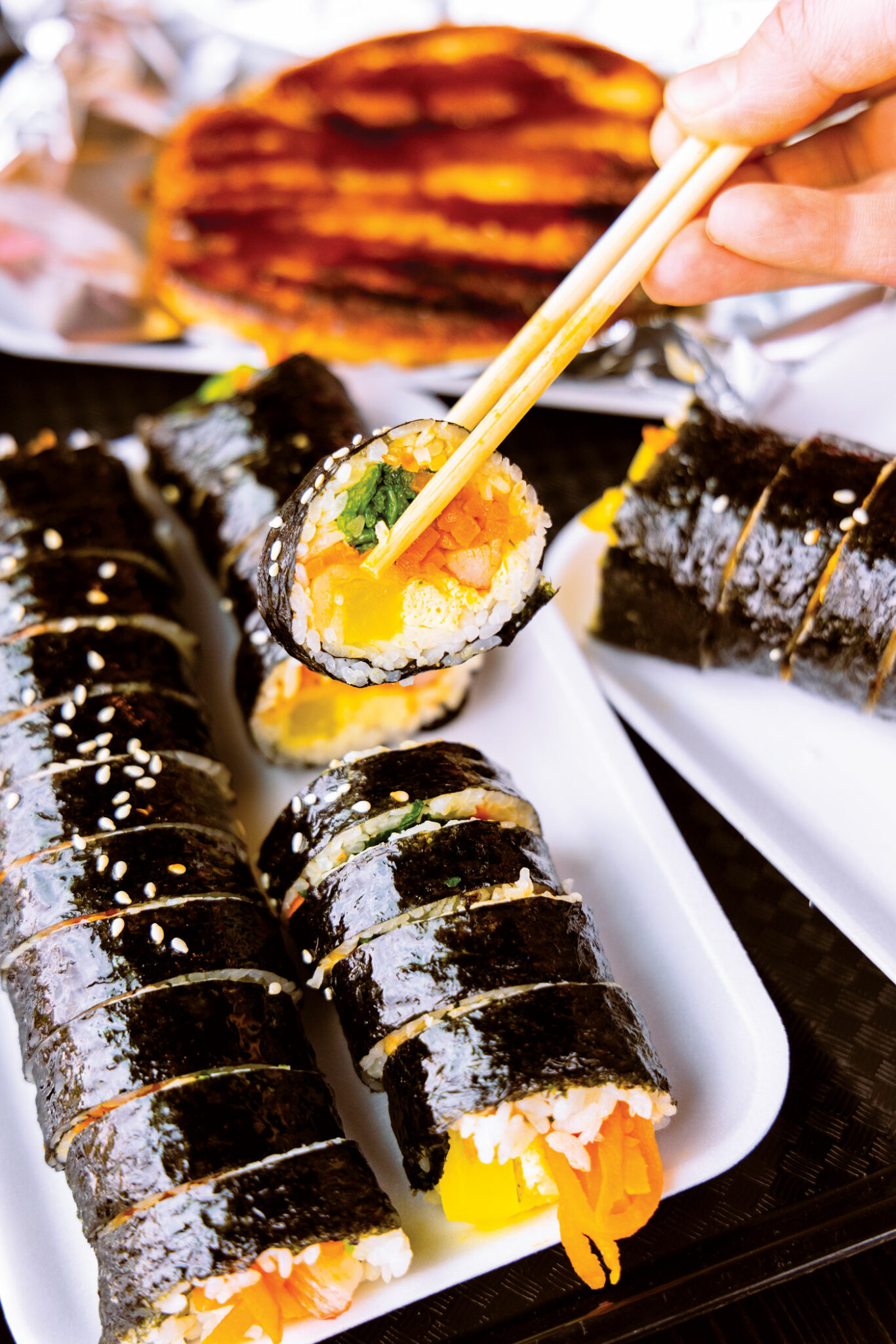 K Street Food is another option in Calgary for authentic, delicious Korean street food. From bowls of Korean noodles to traditional fish cakes, K Street Food has a wide variety of both savoury and sweet snacks — not to mention trendy drinks like caramel-infused Dalgona coffee, a whipped concoction of sugar and instant coffee over milk.
MUST TRY DISHES Gimbap (or kimbab) is a twist on sushi, where seaweed and rice are stuffed with cooked ingredients such as carrots, egg, radish and meat. K Street Food also has hotteok, a traditional winter street-food that's like a cross between a pancake and a cinnamon roll.
1211 Edmonton Tr. N.E., 587-352-8811, restaurantji.com/ab/calgary/k-street-food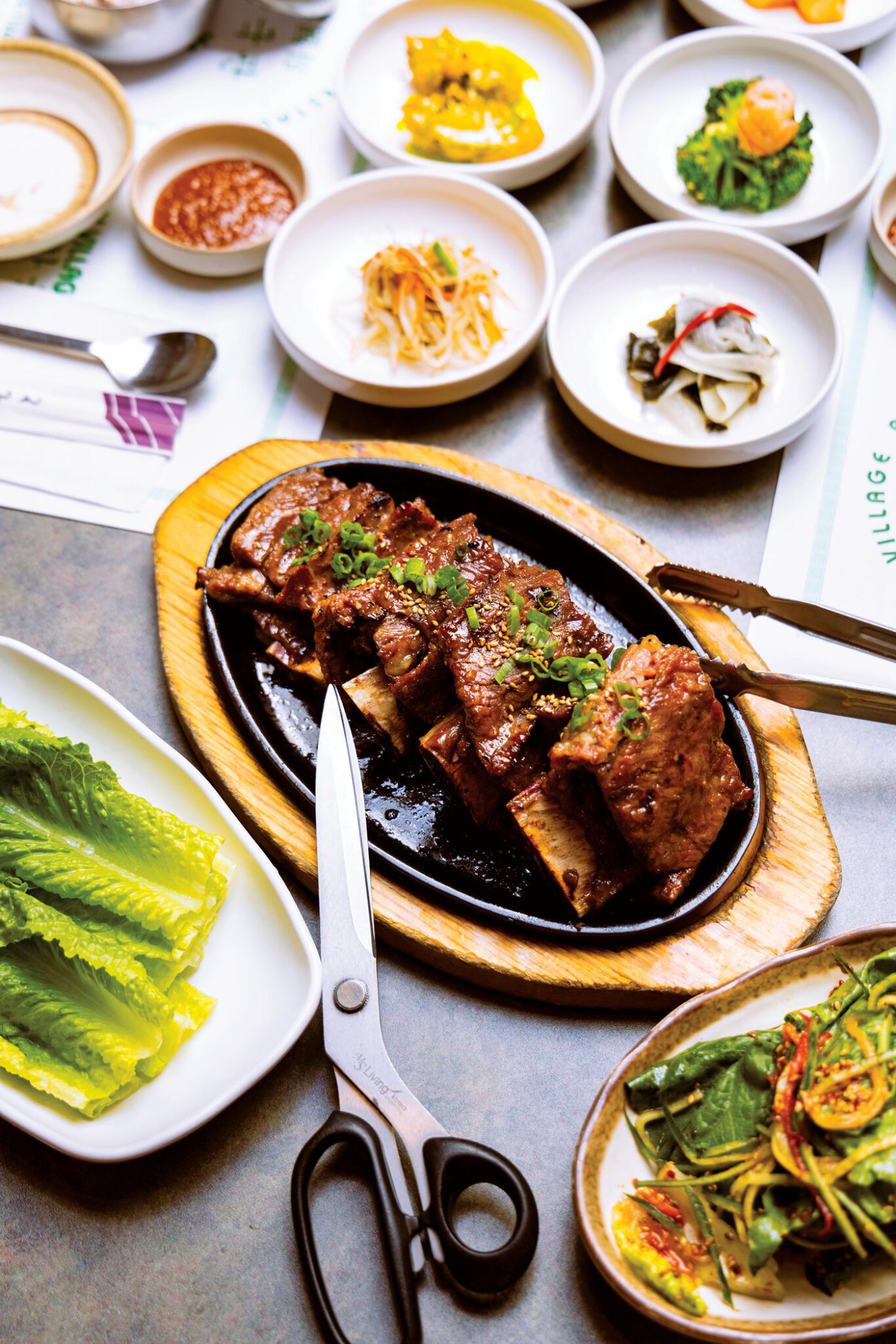 Calgary's grand dame of Korean restaurants, Korean Village, has been serving up hearty, traditional Korean dishes, barbecue and hotpot since 1991. While the menu offerings are pretty much all solid choices, the barbecued meats are definitely a cut above. Meat dishes come in both spicy and mild marinade options, and larger tables have built-in grills on which adventurous diners can cook their own proteins. That said, Korean Village staff will barbecue your meal for you in the kitchen if you're feeling a bit grill-shy.
MUST TRY DISHES Wang galbi is an extraordinarily tender short-rib cut marinated in a traditional sweet and savoury barbecue sauce. It's served with special scissors so you can cut strips that are the perfect size for wrapping up in lettuce with a dollop of ssamjang, a spicy soybean and chili sauce.
1324 10 Ave. S.W., 403-228-1120, koreanvillageyyc.wordpress.com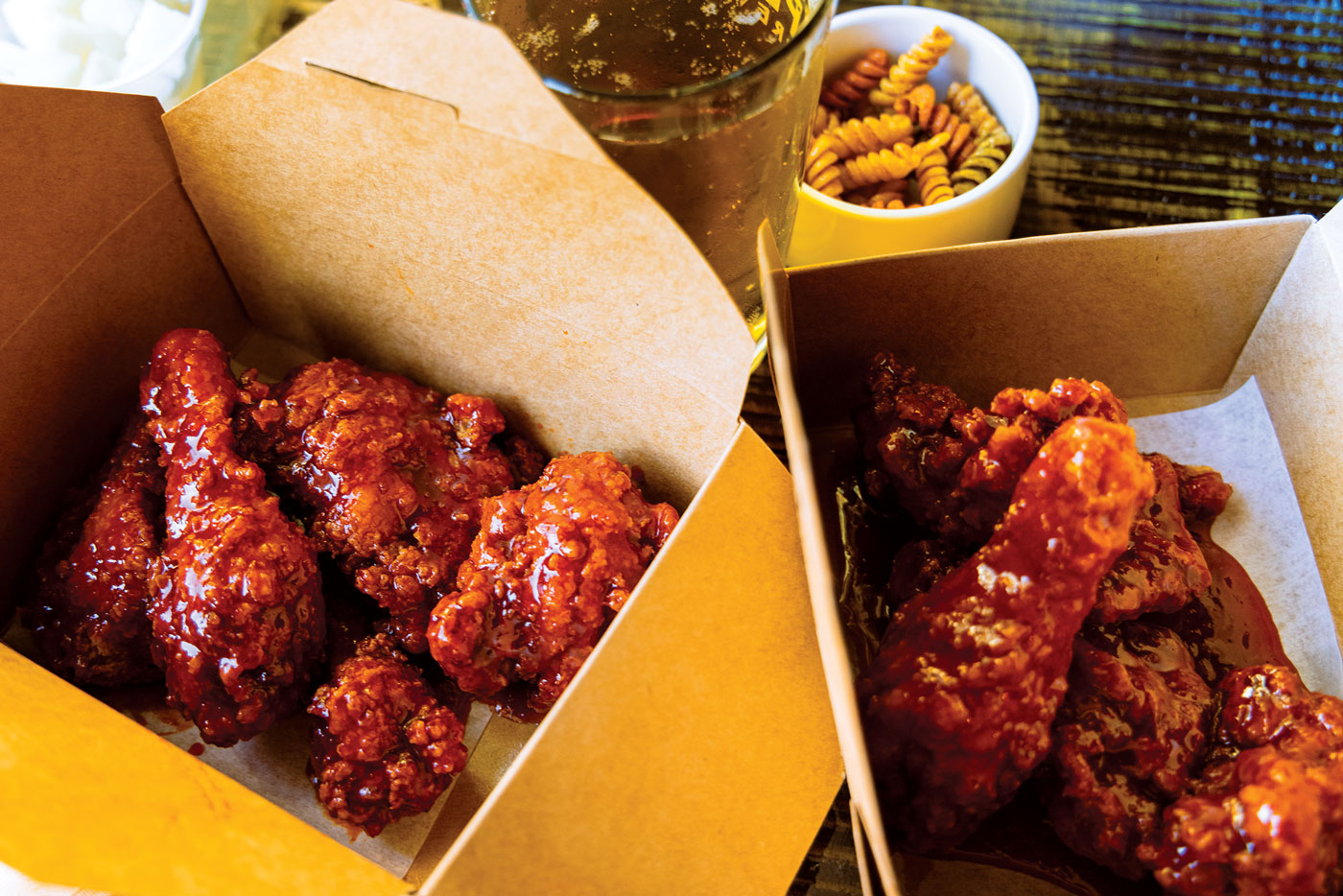 In Korea, the pairing of fried chicken with beer is a cultural phenomenon known as chimaek. Korean fried chicken distinguishes itself with a two-step frying process that ensures a crispy and light texture. Thanks to this method, even sauce-glazed Korean fried chicken retains its crunch. Bb.q Chicken, a global Korean fried chicken chain, has perfected its technique and offers a variety of sauce options.
MUST TRY DISHES Bb.q's secret-sauced chicken is a perfect example of classic Korean fried chicken, with its thin, crispy crust and savoury-sweet Korean sauce with a kick. Of course, it pairs perfectly with your favourite cold beer.
Four Calgary locations, taplink.cc/bbqchicken_calgary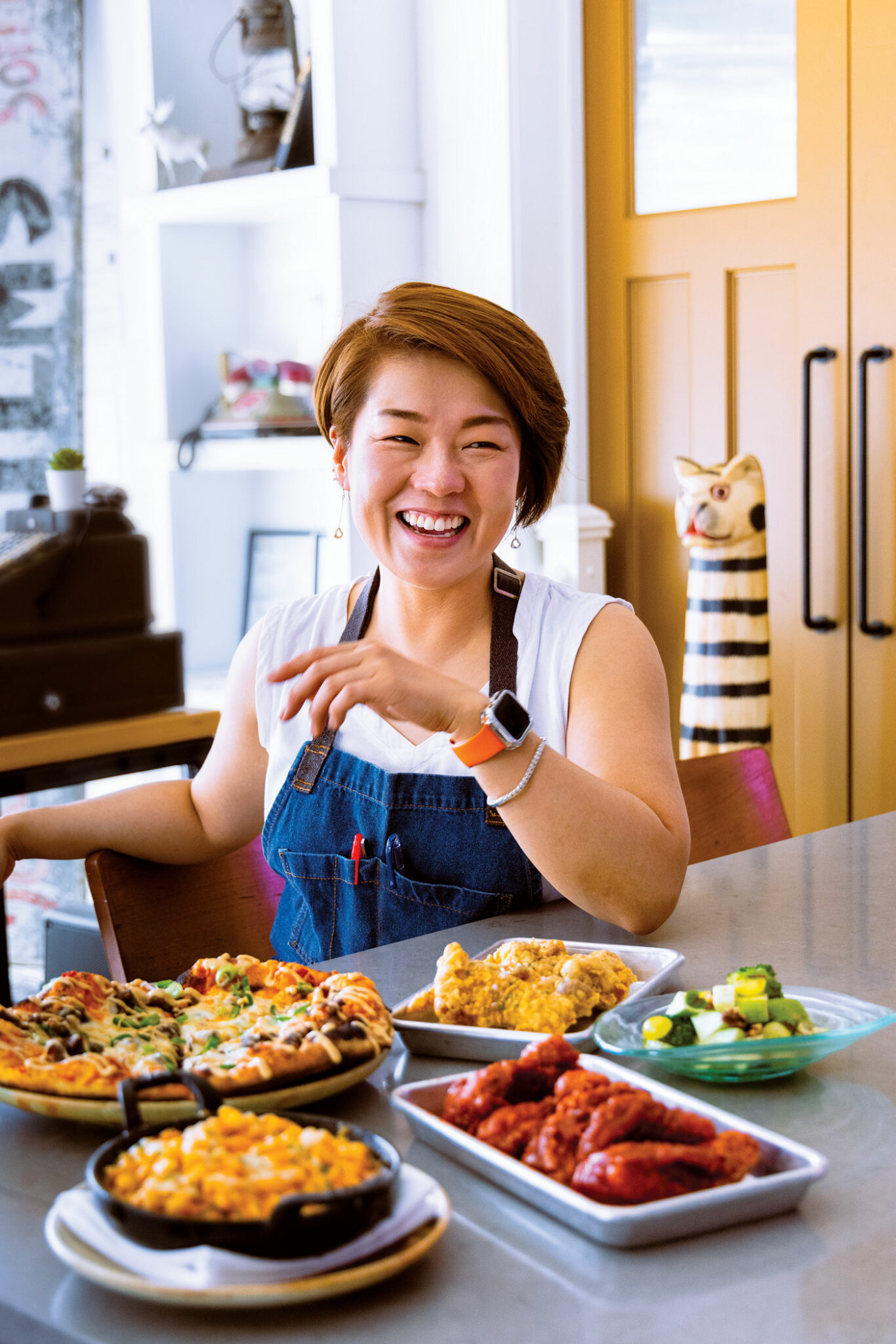 Award-winning chef Jinhee Lee's restaurant serves up expertly made KFC alongside creative fusion dishes. A Waldorf salad, for example, is transformed with sesame aioli and the mac 'n' cheese gets a Korean twist with the addition of kimchee.
MUST TRY DISHES Jinbar's fried chicken has a signature crispy texture and comes in a variety of flavours — try the honey-garlic-butter for a sweeter treat, or for spice lovers, there's the buldak, which literally translates to "fire chicken." The Korean beef bulgogi pizza is fusion at its finest, with slices of marinated, grilled beef and enoki mushrooms.
24 4 St. N.E., 587-349-9008, jinbar.ca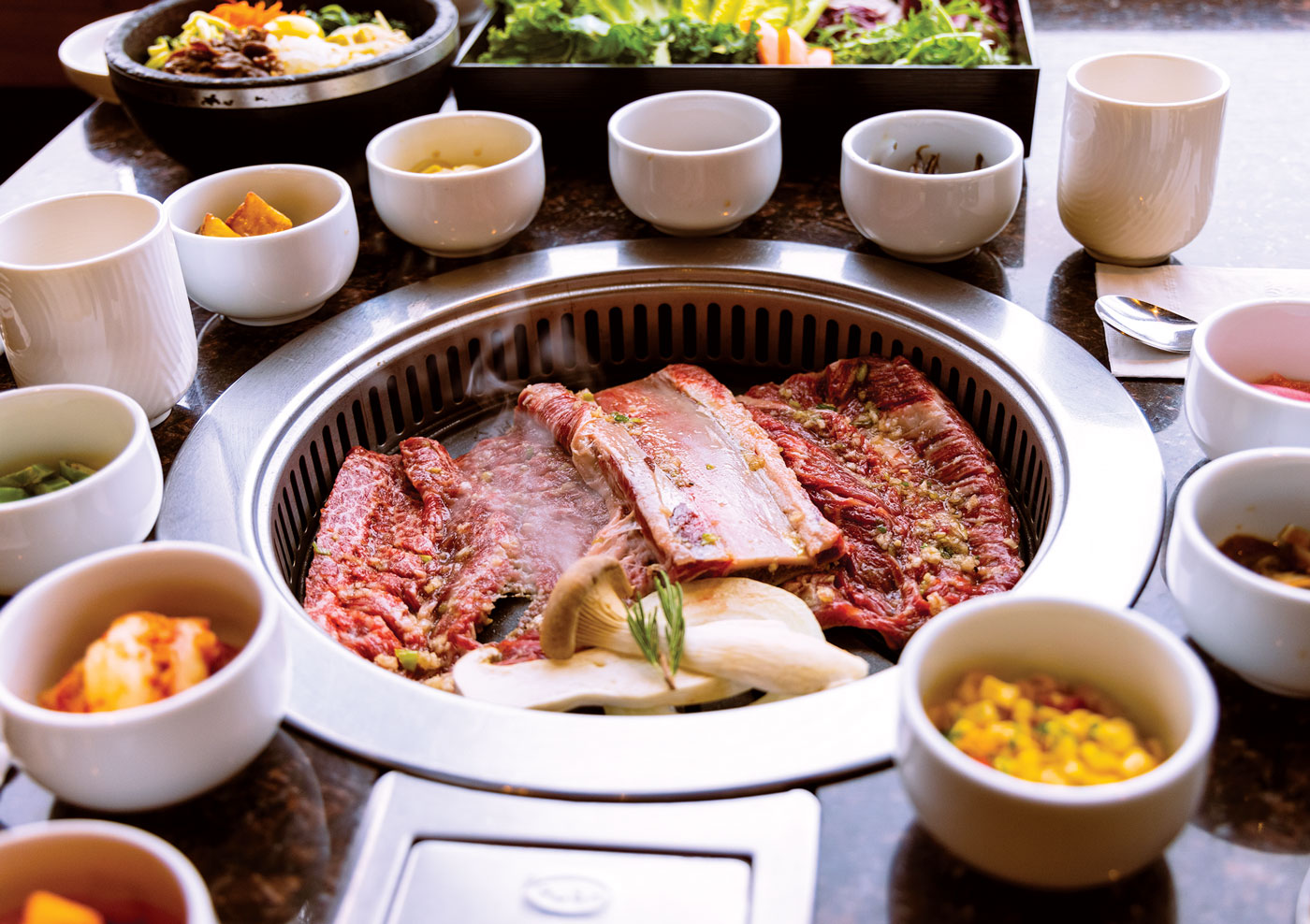 Located just off Macleod Trail, the newly rebranded Galbi (formerly Migarock Korean Restaurant) offers a wide selection of Korean cuisine staples with an emphasis on barbecue and a selection of contemporary fare. In July, the menu was updated to focus on high quality meats, you-grill meal experiences and, of course, wang galbi (translation: "king ribs").
MUST TRY DISHES Aside from the wang galbi, diners should consider the chulpan experience, where you grill at the table with a large cast iron pan. It comes with sauces, meat and veggies, and is usually ordered with sari (add-ons). There's also dolsot bibimbap, a rice, beef and vegetable dish cooked and served in a sizzling hot stone bowl, giving the outer layer of rice a satisfying crunch. It is finished off with gochujang sauce and an egg.
17, 7400 Macleod Tr. S.E., 403-452-1020, galbicalgary.com
And For Dessert…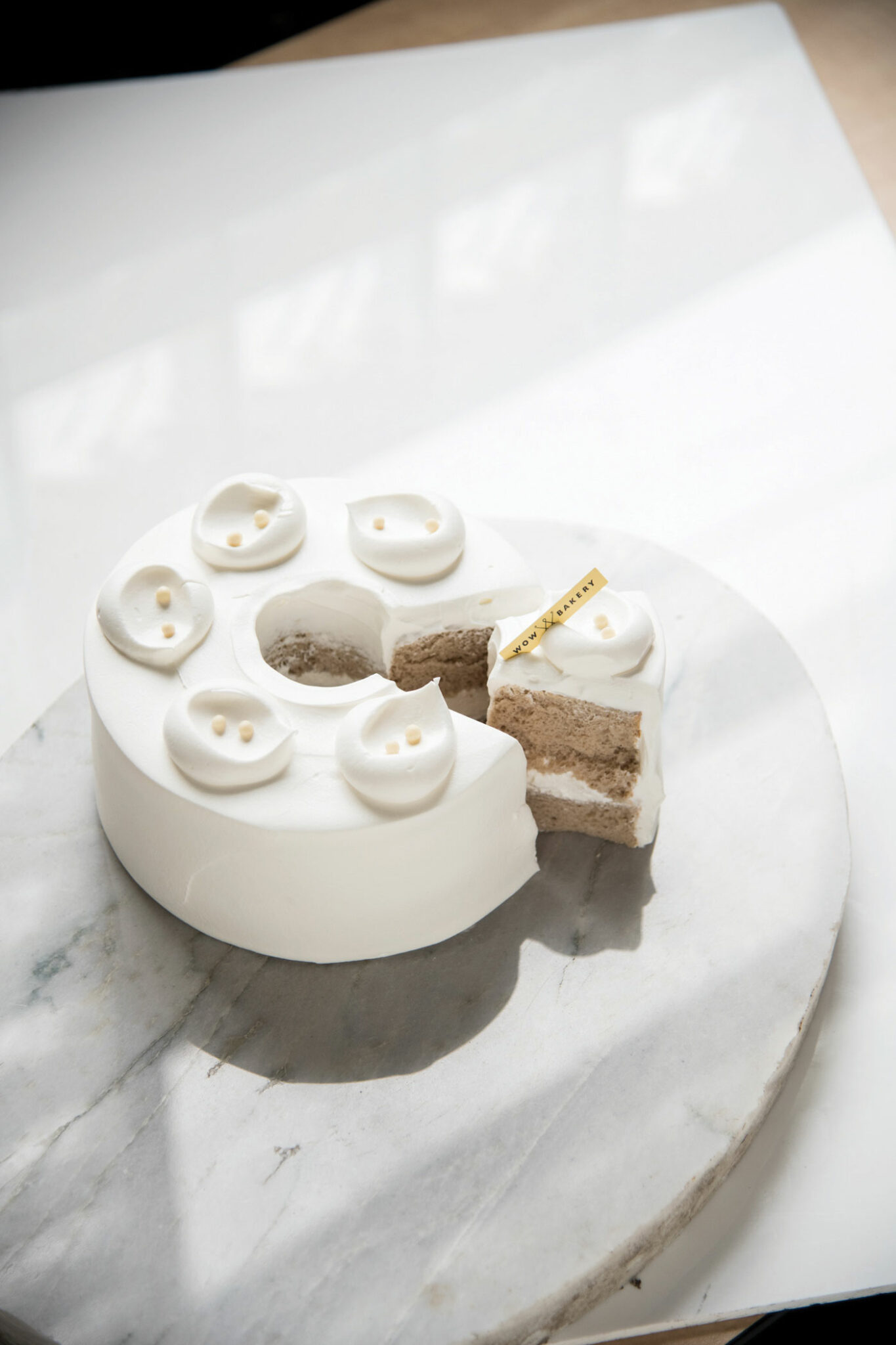 Korean dessert shops are a category unto themselves. Here are some of the sweetest spots in Calgary.
Snowy Village (101, 3604 52 Ave. N.W.) is where you'll find bingsu — strands of shaved ice milk topped with everything from green tea and fresh fruit to Oreos.
At Dauck Sa Rang (1324 10 Ave. S.W.), tteok (sweet rice cakes) are handmade and steamed fresh daily. One of Dauck Sa Rang's must-try treats is a vividly purple tteok flavoured with ube (purple sweet potato).
Wow Bakery (three Calgary locations) is a popular bake shop that adds Korean and Japanese touches to French-style patisserie. In addition to its signature tea-flavored chiffon cakes, Wow is known for fusion items like the soft matcha milk loaf and pastry chef Kyung Yeon Hwang's flaky, buttery croissants.