Clockwise from top left: sticky rice in lotus leaf, steamed barbecued pork buns, shrimp dumpling, baked egg tarts, pan-fried turnip cakes and steamed shrimp and pork dumpling at U & Me.
Brunch is not just a Western phenomenon – visit any Chinese restaurant on the weekend and you will see long lineups of people, young and old, waiting to sit at a table and enjoy dim sum – small dishes, mostly steamed and enjoyed family-style with tea.
Dim sum is said to have originated in Guangzhou, the capital of Guangdong province in southern China. In the early years after the fall of the Qing dynasty and the establishment of the Republic of China, Guangdong was a hub of revolutionary activity, which valued simplicity and conservatism. As a result, teahouses, which used to cater mainly to the lower class, became popular for their inexpensive yet filling dishes, forcing more extravagant restaurants out of business and gradually evolving into the tradition we know today.
---
How to dim sum
Get a group together
Dim sum is best enjoyed with as many people as possible, so you can order a greater variety of dishes. With a group of four or more, order about two dishes per person.
Pick from the menu
Heated dim sum carts have now been traded in for menus and ordering sheets at most places. This helps restaurants reduce labour costs, food waste and fire hazards, but customers like it, too, because it means that everything is steamed to order – no more waiting for your favourite to come by or wondering how long that plate has been sitting on the cart.
Know how to serve tea
If you want tea, pour some in everybody else's cup before serving yourself. If someone pours you tea, knock on the table with your index and middle fingers as a thank you. When the teapot is empty, take the lid off the teapot and a server will come fill it up for you.
Try something new
There is usually something for everyone at dim sum. Classics include har gao (shrimp dumplings), shiu mai (pork dumplings with an open top) and char siu bao (steamed barbecued pork buns). Want something deep-fried? Try spring rolls or fried wontons. Craving sweet? Try egg tarts or tofu dessert. Feeling adventurous? Try chicken feet or tripe. If small bites are not enough, there are usually rice and noodle dishes available, too.
Don't wait for the machine at your table
At most places, you pay at the cashier instead of at the table. Bring your order sheet to the front (and don't forget to tip!).
---
5 places to dim sum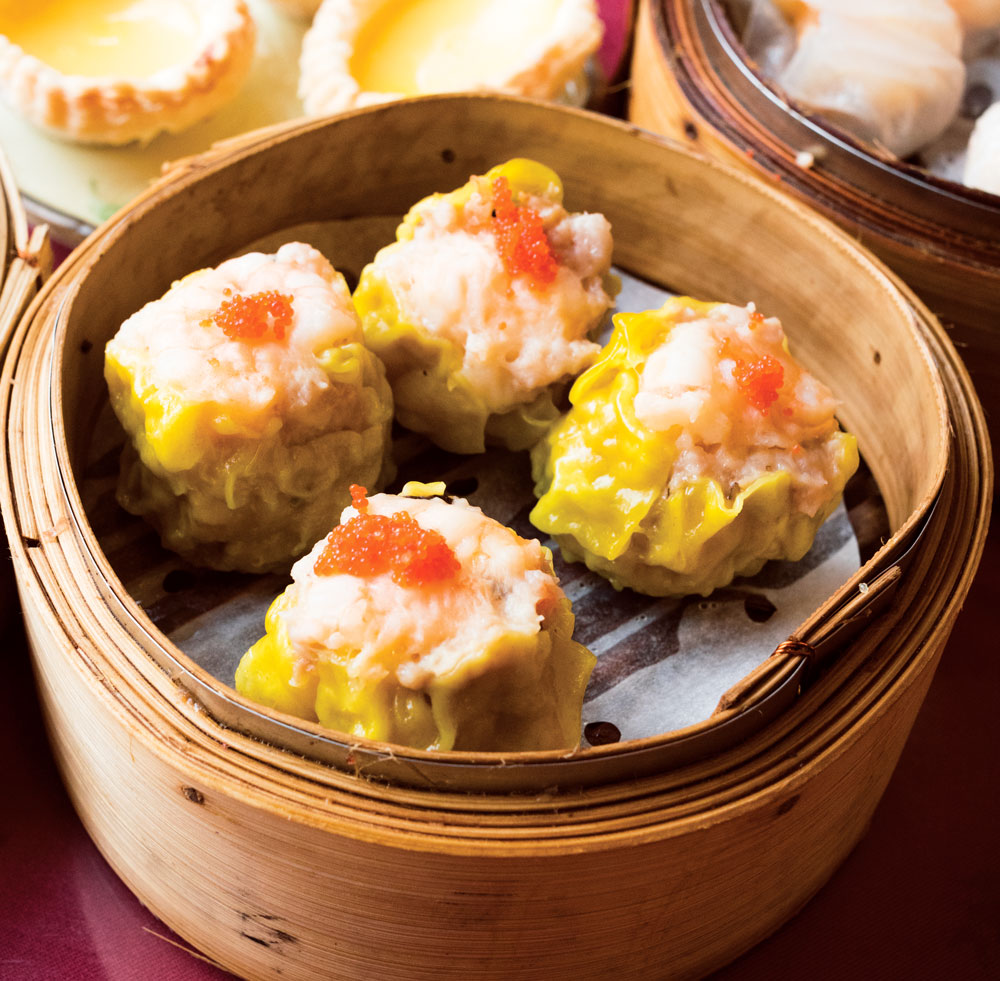 Dim sum at U & Me.
Central Grand Restaurant
It's one of the few places in Calgary that still uses dim sum carts, which is fun for newbies, but if you want your favourites fresh and fast, flag down a server and put your order in.
2nd floor, 1623 Centre St. N.W., 403-277-2000 
Forbidden City and T. Pot China Bistro
Both of these popular restaurants are owned by the Taste of Asia group, so the menus are similar. Get there early, as they only take reservations for large groups.
Forbidden City, 999 36 St. N.E., 403-250-1848 and 9650; T. Pot – Harvest Hills Blvd. N.E., 403-532-3982
Enjoy some entertainment with your meal as you watch chefs preparing the day's dim sum through the floor-to-ceiling windows into the prep kitchen. The steamed duck meat and chives rice crepes offer an interesting variation on a classic.
388 Country Hills Blvd. N.E., 403-265-1616, gingerbeef.com   
While most people may know the 24-hour restaurant as the place to go after a night of drinking, it is actually a popular dim sum spot during the day. The fried turnip cake in XO sauce is a must-try.
233 Centre St. S.W., 403-264-5988, uandmerestaurant.com