Stepping into an Asian bakery can make any head spin with all the assorted types of buns to choose from, not to mention filling flavours like curry beef, barbecue pork, taro, salted egg yolk, red bean paste and more. Along with the usual suspects like pineapple buns, you'll also encounter decadent creamy layer cakes, Swiss rolls, cookies, deep-fried glutinous sesame balls, egg tarts and mochi. The beauty of Asian baked goods is that nothing is too achingly sweet and savoury flavours still count as dessert.
In September, you'll also find countless tins and beautiful packages of mooncakes, a seasonal pastry eaten to celebrate the Mid-Autumn Festival this month. To help you navigate the city's Asian bakeries, here are our picks for the top pastries and sweets you should try while you're there.
Diamond Bakery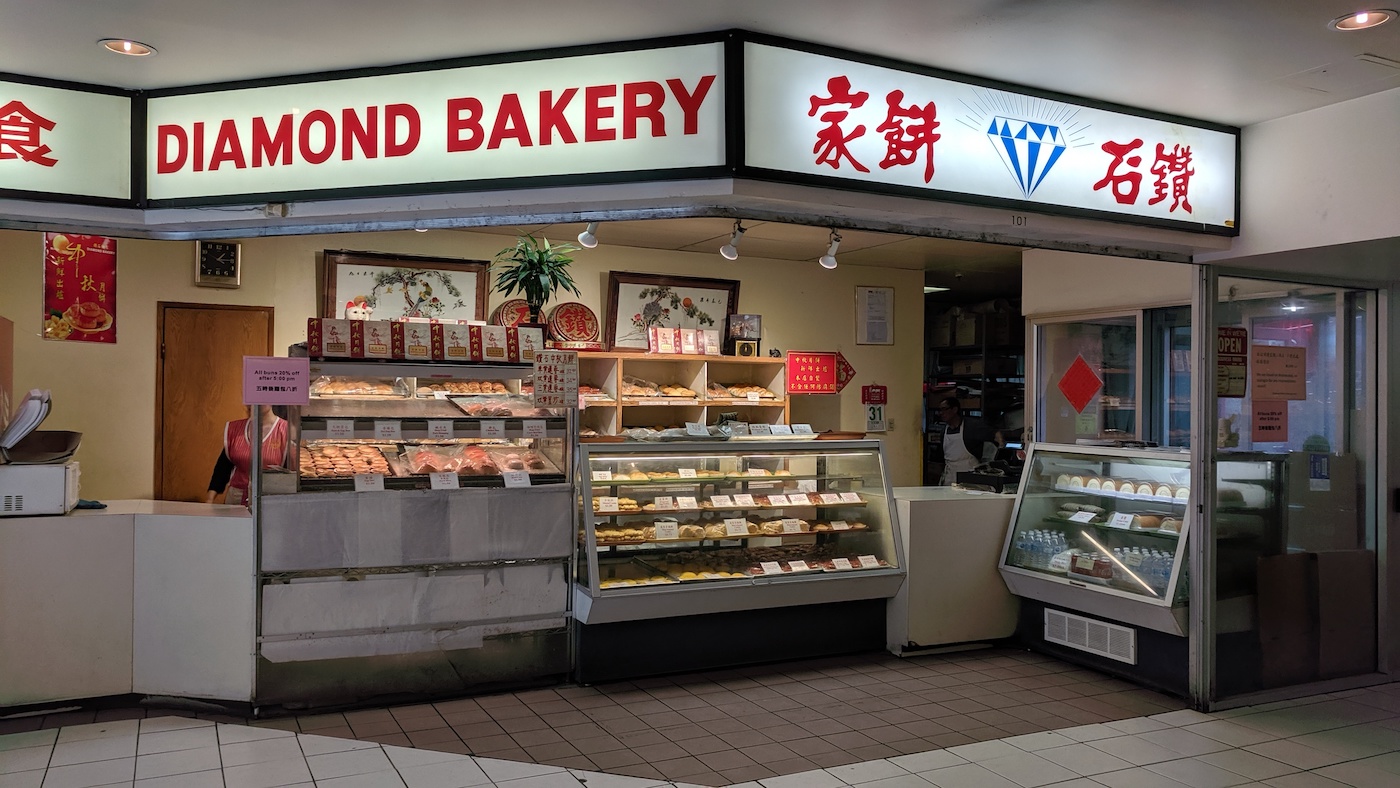 For three decades, this spot has been serving all the Chinese bakery classics. Loyal customers return for its egg tarts, barbecue pork and curry beef buns, and almond cookies. To find it, just head downstairs from the HSBC Bank on 3rd Avenue in Chinatown and follow your nose — the wonderful aroma of fresh baking will draw you right in. If you arrive after 5 p.m., you can score any remaining buns for 20 per cent off.
Try this: Coconut bun ($1.50). Diamond's version of this traditional Hong Kong-style cocktail bun is perfectly soft. The sweet, shredded coconut filling mixture has a rich, buttery flavour and an egg wash gives it a shiny golden brown colour.
111 3 Ave. SE., 403-269-1888
Forest Lawn Bakery
Located in the city's southeast area, this small bakery has been selling both Asian and North American-style baked goods for decades. Walk in and you're immediately greeted by the wide display case of winter melon and green bean cakes featured alongside cream horns, butter cookies and slabs of Napoleon cakes. Chinese doughnut sticks and buns line the shelves behind that. A huge selection of Vietnamese desserts are available here including pandan sticky rice and the banana-leaf wrapped banh gio, a savoury Vietnamese pyramid rice dumpling with pork.
Try this: Hollow Chinese doughnuts, ham chim peng ($1.85). The simplicity of these deep-fried, oily doughnut snacks is what makes them so addictively good. These golden puffy discs are crispy on the outside and speckled with white sesame seeds, while the slightly sweet dough is chewy and airy inside.
#2, 4527 8 Ave. SE, 403-273-9576
Don't let the unadorned storefront throw you off when you first walk into this Spruce Cliff bakery. While the retail area only houses a cash register, a walk-in-freezer and shelves that don't have much on display, the reason it looks like it's just their baking facility is because it essentially is just that. The majority of Foster's business is actually wholesale with grocery stores and businesses in Vancouver (T&T Supermarket is one of its biggest clients). This family-owned bakery has been operating since 1981 making Japanese baked goods fresh daily that are also available frozen to take home. Pick from the small menu of cream puffs, curry buns, red bean buns, shoku-pan (square loaf milk bread) and mochi ice cream, and either the baker or his wife will bring you the goods from the back. Cash only.
Try this: Melon pan ($1.95 each). This classic Japanese snack bread, a cookie-crusted sweet bun, is named for the crispy topping that supposedly resembles a melon rind. Available in vanilla, mocha, green tea, chocolate and strawberry flavours. If you buy five, you can get one free.
532 Poplar Rd. SW., 403-249-3312, fostersbakery.ca
Korean Bakery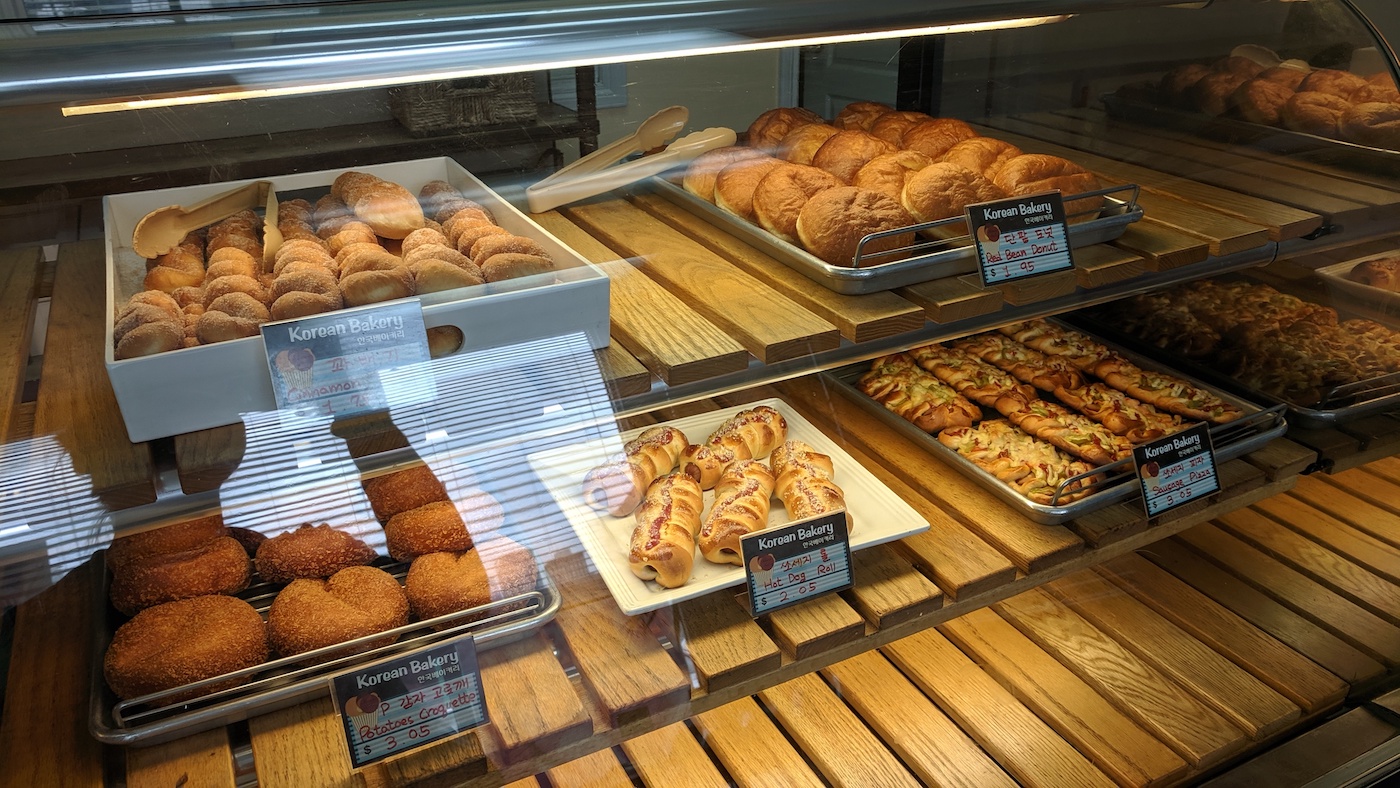 This cozy Korean family-owned bakery is housed in the same little plaza as the Korean grocery store Arirang Oriental Foods next to Community Natural Foods on 10th Avenue. They make red bean doughnuts and golden brown buns with fillings like green tea custard, strawberry cream, mango, pumpkin and blueberry cream. There's also a variety of cream horns and savoury treats like sausage pizza and hot dog rolls. Most items here are under $2.
Try this: Cinnamon twists ($1.95). Known as kkwabaegi in Korean, these twisted doughnuts are yummy cinnamon and sugar sweets served warm here. The crunchy, crispy texture with the soft and chewy dough inside will remind you of Stampede mini donuts and Mexican churros, all in a single bite.
#10, 1324 10 Ave. SW., 403-802-2023
Logos Bakery & Cakehouse
Located in the Central Landmark Mall at the corner of 16th Avenue and Centre Street, Logos Bakery & Cakehouse offers a variety of pineapple buns (bo lo bao) that are quite popular. But don't be fooled by the name as the buns don't actually contain any pineapples. These buttery and sugary half-domes are a sweet bread named for their crumbly pineapple-like pattern on top. Logos has plain butter ones as well as taro and BBQ pork flavours. It's cash only here and if you buy six items or more, they won't charge you GST.
Try this: Cream bun ($1.85). The cream bun is a Chinese bakery classic. It's typically split down the middle, filled with a salty-sweet cream made from shortening and sugar, and topped with dried coconut shavings.
1623 Centre St. N., 403-230-1688
Maxima Bakery & Cake House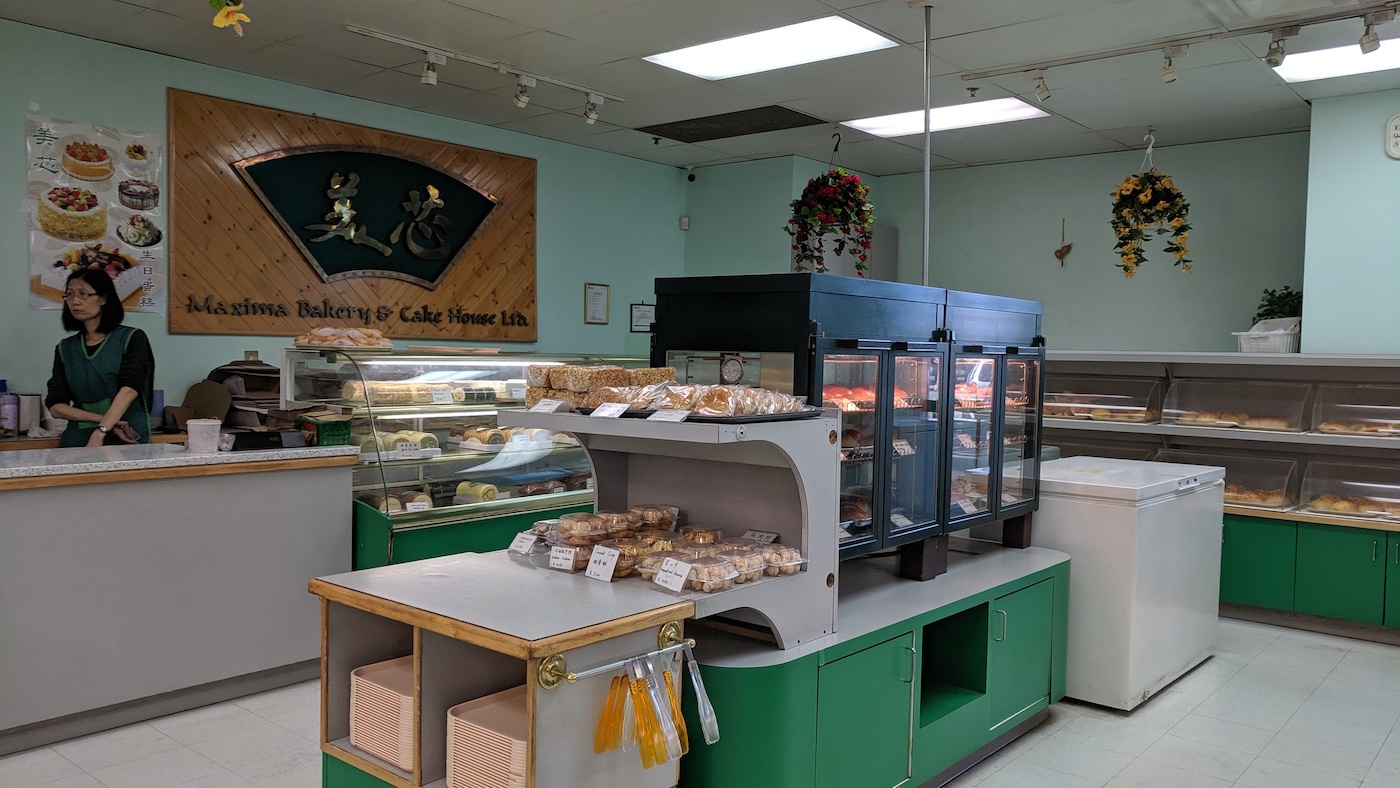 Being in the same building as Sun's BBQ restaurant and the Lambda Oriental Foods Supermarket means this tiny bakery is usually bustling with shoppers and diners that are coming and going. The cheap and tasty goodies (most items are $1.80) include savoury buns, hot and crispy taro pastries, rolls cakes (which take up an entire display case) and a huge selection of Chinese buns. Maxima also sells sachima honey twists, mochi and fried doughnut sticks (youtiao), which are typically enjoyed with congee. Like most of these bakeries, it's also cash only.
Try this: BBQ pork bun ($1.80). Maxima's baked cha sui bao are deep brown, pillowy soft fluffy buns filled with tender chunks of marinated, barbecued pork. The glazed exterior has a subtle sweetness and the proportion of meat filling to bread is quite generous.
1423 Centre Street N., 403-277-8988
Rainbow Bakery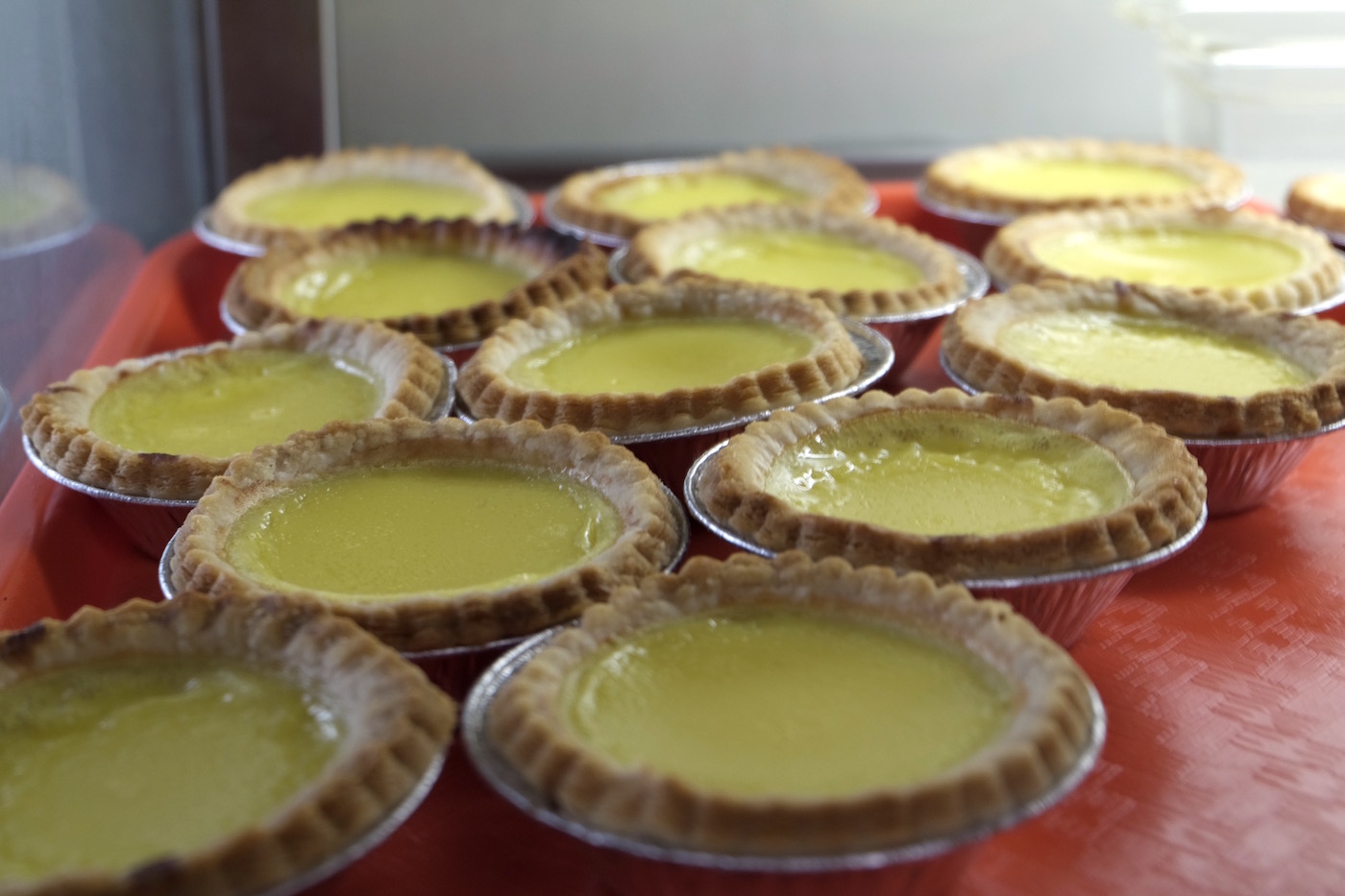 This Chinatown bakery inside Dragon City Mall makes everything fresh every day. When the doors open at 10 a.m., you can still expect to see ladies working away in the back, bringing buns and sweets out as they come straight from the oven. Arrive around noon to get the widest selection before items sell out. Rainbow Bakery's savoury buns are a popular item here (fresh pineapple, ham and cheese, BBQ pork and tuna) as well as coconut tarts and wife cakes (flat and thin traditional Cantonese pastries filled with winter melon, almond paste and sesame).
Try this: Egg tarts ($1.70). Rainbow arguably has the tastiest Chinese dan tat in the city. Its version has a crispier and flakier puff pastry shell and the creamy and silky egg middle has just the right custard consistency with a glossy smooth finish on top.
135, 328 Centre St. SE, 403-234-9909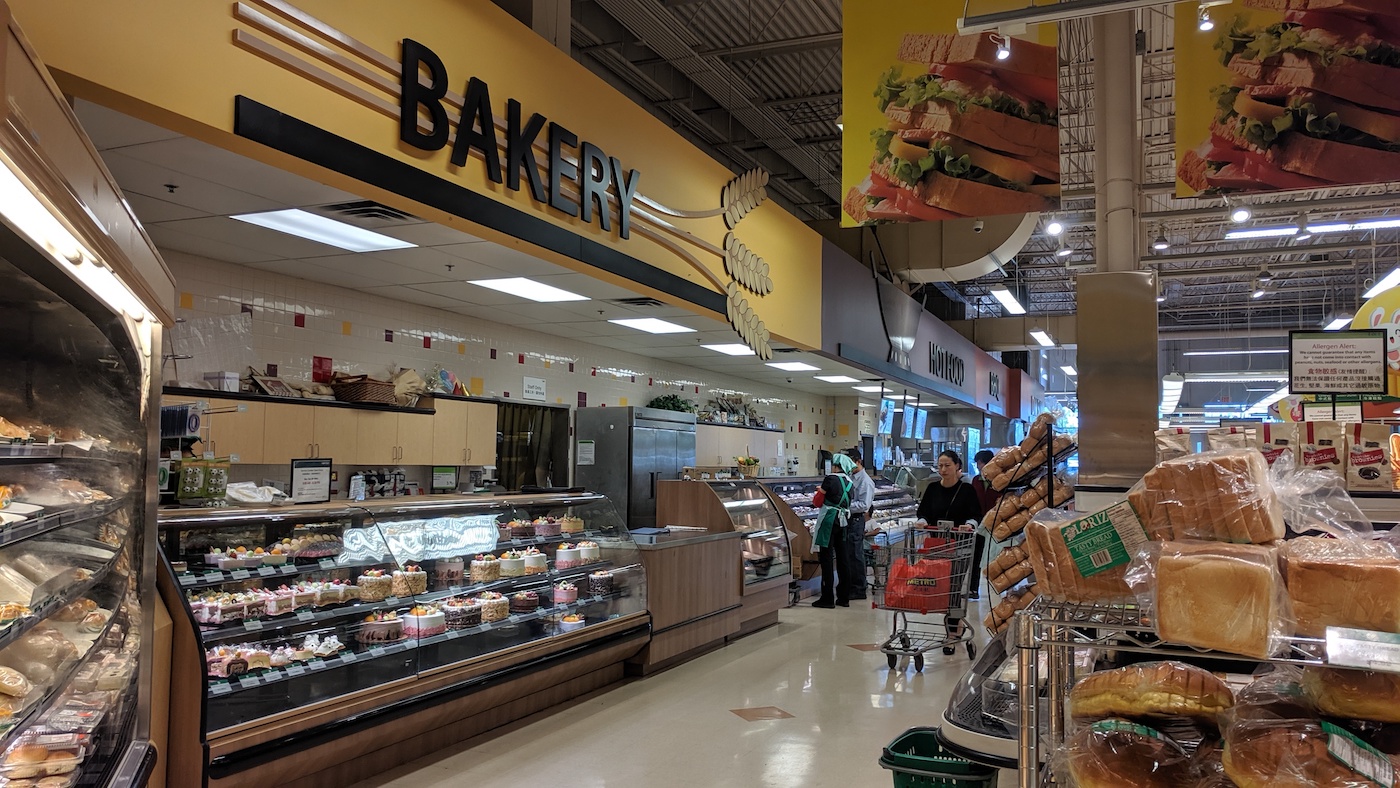 This giant grocery store chain is a one-stop shop for all sorts of Asian baked goods. For the largest selection of cakes, sweets, rolls, buns, tarts and more, the Harvest Hills location is your best bet. Find Filipino-style cheese ensaymadas (think sugary cheese bun) next to classic fruit-topped cakes, macarons, house-brand cookies, mochi and assorted buns made and shipped from its Richmond B.C. headquarters.
Try this: Portuguese egg tarts (6 pieces for $7.25). Hot and flaky, these crispy pastry shells hold a creamy egg custard inside and unlike its eggier cousin, the Chinese dan tat, they're instantly recognizable by those dark caramelized spots on top.
1000, 9650 Harvest Hills Blvd. NE., 403-237-6608 and 800, 999 36 St. N.E., 403-569-6888, tntsupermarket.com
Wow Bakery
Executive bakery chef Kyung Yeon Hwang is the mastermind behind Wow's delicious and beautiful Korean and European-style desserts. The French-inspired interior showcases coffee and Earl Grey madeleine cookies, mandel schnitten almond cookies, mochi cream cheese buns, sweet red bean buns and immaculately designed chiffon cakes next to coated croissants. If you miss out on the danishes (which sell out very quickly), the highly addictive sweetened condensed milk baguettes are a great consolation prize. While the Chinook Park Plaza location is the flagship store, there are additional locations in Marda Loop, Chinook Mall and Market Mall. Another location is set to open in the New Horizon Mall in Balzac this year.
Try this: Snow cookie choux ($2.99). These not-so-mini cream puffs have a sweet cookie topping known as craquelin that's made with butter, sugar and flour. Wow's chouxs (vanilla, chocolate and matcha) are kept in the freezer as they claim the cold custard cream is more delicious when frozen. Who are we to argue?
Chinook Park Plaza, #108, 5809 Macleod Tr. SW., 403-640-0273 and other locations in Calgary
Inside this little unassuming Japanese bakery and cafe on Centre Street, you'll find some of the tastiest mousse and Asian cheesecakes in Calgary. Mousse flavours include black sesame, green tea, passion fruit, taro and even durian pistachio. Enjoy single slices in-house with coffee or pre-order full-sized cakes for any occasion. Yamato does seven, eight and nine-inch versions of all their cakes. If you want to have your cake  and eat it too from the comforts of home, they also deliver via SkipTheDishes.
Try this: Mango cheesecake (slice $3.65, full $30 to 54). It's a close tie between the raspberry lychee and mango cheesecake for a must-try item, but the mango cheesecake has an edge with its tart fresh mango flavour balanced by the richness of the cream cake.
1322 Centre St. N., 403-230-3513, yamatobakery.com