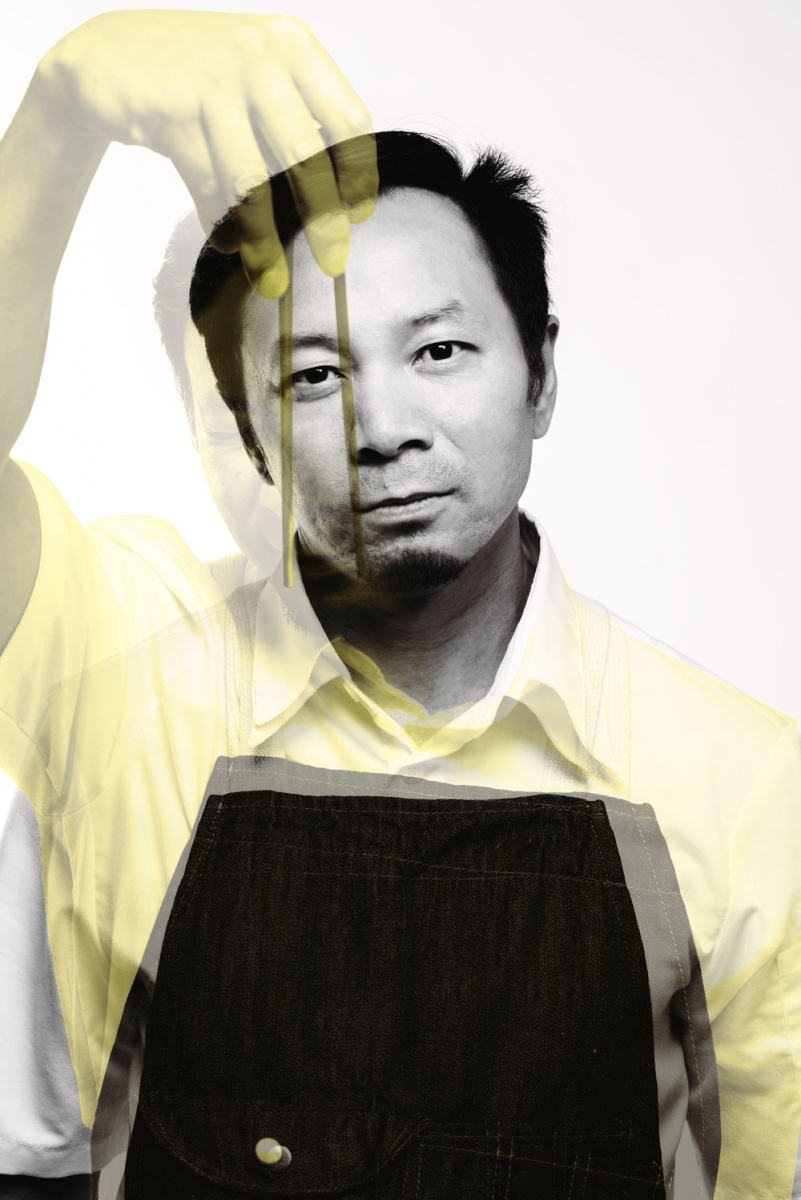 photograph by jared sych
Duncan Ly.
Duncan Ly has been a chef for 20 years, but he's been eating great Vietnamese food for as long as he can remember. He grew up in a Vietnamese-Chinese family eating the best spring rolls. (Ask Ly and he'll tell you that no one makes fried pork and shrimp spring rolls as well as his mom does.)
And at the end of this month, Ly will be opening Foreign Concept, a Pan-Asian restaurant that Ly says has been in the works for about the last five years. Foreign Concept will serve dishes Ly used to love and eat with his family when he was growing up. According to Ly, his new restaurant is all about bringing together his childhood food memories and his classic professional training.
So, it's safe to say he knows what makes great Vietnamese food great. And according to Ly, mostly it's the ingredients. "Vietnamese cooking is known for its freshness: the freshness of the herbs, the lettuce, the bean sprouts. So that's what I judge a Vietnamese restaurant on," says Ly. "That, and the broth – I always judge a Vietnamese restaurant by its broth."
Of course, Foreign Concept will become one of Ly's recommended places to eat Vietnamese and other Asian dishes once it opens at the end of November, but we were interested in where this prominent chef goes to eat when he doesn't want to be in the kitchen.
Here are a few of Duncan Ly's favourite spots to dine out.
Foreign Concept, 1011 1 St. S.W., 403-813-2790, foreignconcept.ca
---
[Ed. Note: As of October 24, Song Huong is temporarily closed as the restaurant is relocating. For details on its new location and re-opening, follow Song Huong on Facebook.]
Ly's favourite Vietnamese restaurant in the city is Song Huong. His favourite dish there is the raw beef carpaccio. "It's thinly sliced raw beef and it's a traditional Vietnamese dish with lots of mint, cilantro, onions and chilies, with a lime fish sauce," says Ly. Ly adds that he created the signature beef carpaccio dish at Raw Bar based on inspiration from this dish.
Song Huong is also Ly's favourite place for pho. His favourite is a type here is bun bo hue, a spicy Hue-style pho. "Bun bo hue is kind of like sate pho but it's done with rice vermicelli noodles and it has a lemongrass-based broth. I love the broth here – you can tell it's made from scratch, made with bones," says Ly. "The noodles in pho are really important too. Here, they cook the noodles properly so they don't stick and clump together."
403-313-9509, facebook.com
Ly's all-time favourite area of the city to go for Vietnamese food is 17th Avenue S.E. "For me, that's where the real authentic Vietnamese food and restaurants are," says Ly.
He has a couple of favourite Vietnamese restaurants in this area, one of which is Noodle World. "They do these awesome clay pots. They do a sauted pork in clay pot and a fish one too," says Ly. "And they make their own jalapeno pickles."
Towne Square Shopping Centre, 4909 17 Ave. S.E., 403-248-5778, noodleworldcalgary.com
Ly is half Chinese, so Chinese food plays a big role in his childhood food memories, as well as Vietnamese food. While he considers himself more of an expert on Vietnamese food than on Chinese food – he lived in Vietnam until he was four years old and his Vietnamese mother did the cooking at home – he does have a go-to Chinese restaurant choice in the city.
"I love going to Calgary Court in Chinatown," says Ly. "I don't necessarily have a favourite dish there that I always order. I just like going there for late night eats."
119 2 Ave. S.E., 403-264-7890, tasteofasiagroup.ca
When it comes to ambience, Ly's favourite Vietnamese restaurant is the recently opened Nam Vietnamese Kitchen, located across the street from Posto and Bonterra Trattoria. The restaurant officially opened its doors in August and has all the classic Vietnamese dishes such as spring rolls, salad rolls, vermicelli and rice bowls, pho and Vietnamese coffee.
"I like Nam because the food is really good and authentic, but also it has a casual vibe. Nam is modern, clean and fast," says Ly. "And I like the dcor. They have a beautiful, black-and-white mural on the wall. It's just a little bit different here."
1023 8 St. S.W., 587-352-8881, namvk.com
This isn't a Vietnamese restaurant, but Ly says his favourite restaurant in Calgary right now is Anju. He loves the restaurant's ambience, he loves how you can come for late-night bites or a full dinner, and of course, he loves the modern Korean tapas dishes on the menu.
"When I go to Anju, I always get the sashimi salad – the seafood is really fresh," says Ly. "Usually when you have a sashimi salad it's a Japanese-style dish, but Chef Roy Oh puts a Korean twist on it and I really like that. And of course, his chicken wings are some of the best in the city!"
344 17 Ave. S.W., 403-460-3341, anju.ca 
Honourable mention
If Ly could only eat one Vietnamese dish for the rest of time, he'd pick a dish called banh khot. Ly says that in Vietnamese, "banh" means cake or bread, so you can think of the banh khot as a mini pancake that's made from coconut and turmeric. The banh khot are baked in dome molds, fried and served with fresh herbs and a nuoc cham sauce. (Nuoc cham is a sauce made with lime juice, fish sauce, garlic and chilies.) They're small – barely bigger than a loonie – and his favourite way to eat them is like you would eat a lettuce wrap. You wrap the coconut turmeric pancakes in lettuce with mint and Thai basil, and dip it in the sauce.
If you find a restaurant in Calgary that serves banh khot, let Duncan Ly know. He hasn't found any place in Calgary that makes them. "We make banh khot at home all the time, but I'm thinking the dish could be added to Foreign Concept's menu," says Ly. "That's what we want to offer at Foreign Concept – we want to offer things you wouldn't ordinarily be able to find at most restaurants."
This article originally stated that Ly likes to go to 17 Ave. N.E. for Vietnamese food. This has been updated to reflect that it is actually 17 Ave. S.E.