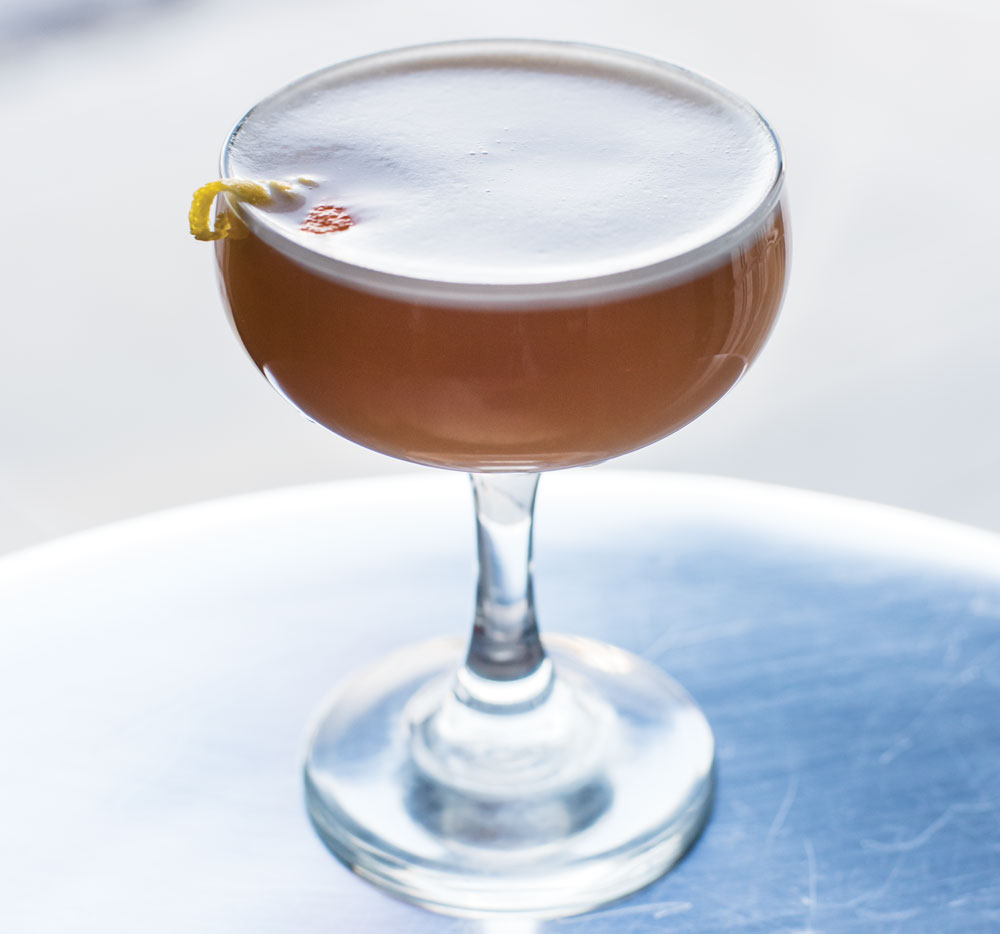 photograph by jared sych
Don't be surprised if your night at PRLR Lounge plays out like a game of Clue.
"It was The Butler in the parlour with a bottle of Ardbeg!" you might cry out when bright lights illuminate the cozy lounge at closing time and you find yourself slightly snockered. Instead of murder, however, your crime will be having one too many at PRLR, which is short for Parlour ("we don't like vowels," explains general manager Matt Mosley), a cocktail bar in Kensington. And, if you're like me, the culprit will be The Butler, a delicious whisky-amaretto sour hybrid cocktail with a shot of peaty Scotch that adds a smoky aroma and flavour.
"It's a little sour, it's a little sweet, it's a little smoky. It's approachable and it goes down a little too easily, some would say," says Mosley. He came up with The Butler one night, after drinking some Scotch, as a simple twist on a classic sour. As for the name, it's a nod to the prohibition era when many of the classics were created and when the wealthy could afford butlers. It's also a nod to Mosley, who's a dead ringer for Scottish actor Gerard Butler.
PRLR doesn't take itself too seriously, which makes for a spirited evening in a space that feels part museum, part speakeasy and of course, part parlour – the idea was to mimic the estate room that welcomes guests and plies them with liquor before they're seated in the formal dining room. In other words, PRLR wants to be the place that gets the party started.
The ambiance is enhanced with gold-framed mirrors, a gallery wall hung with art and photographs, deep banquettes in the back that help to conceal the number of Butlers you're consuming, and even a red velvet couch, if you really want to get your flapper on.
"When people seek us out it's because they've heard of the ambiance and the cocktails," says Mosley, setting to work behind a bar that's tucked off to the side of the room and provides easy access to classic drinks and craft cocktails with dangerous names. There's the chartreuse-forward Hemlock, named after Hemlock Tea, a small-screen suicide drink, while Death in the Evening twists its classic muse – Death in the Afternoon – by adding lemon and lavender bitters to absinthe and prosecco.
They're not groundbreaking cocktails, but they'll help you commit the crime of inebriation nicely. What's more, like The Butler, there's a story behind each one, and the friendly staff are eager to share the narratives and play a supporting role in your evening whodunit.
How to make PRLR Lounge's The Butler
Save this recipe card so it's easy to make this cocktail later.