An artful plate is great, but the best dining experiences stimulate senses other than just taste. Whether it's the aural effect of well-chosen music, cozy furniture and well-balanced cutlery hitting your tactile receptors or something visually enticing to offer a feast for the eyes, a restaurant can go from good to great when there's more to focus on than just what comes out of the kitchen. Calgary isn't short on gorgeous and creative interiors designed by professional firms, but this selection of restaurants goes beyond decor to showcase the talents of working artists in the city.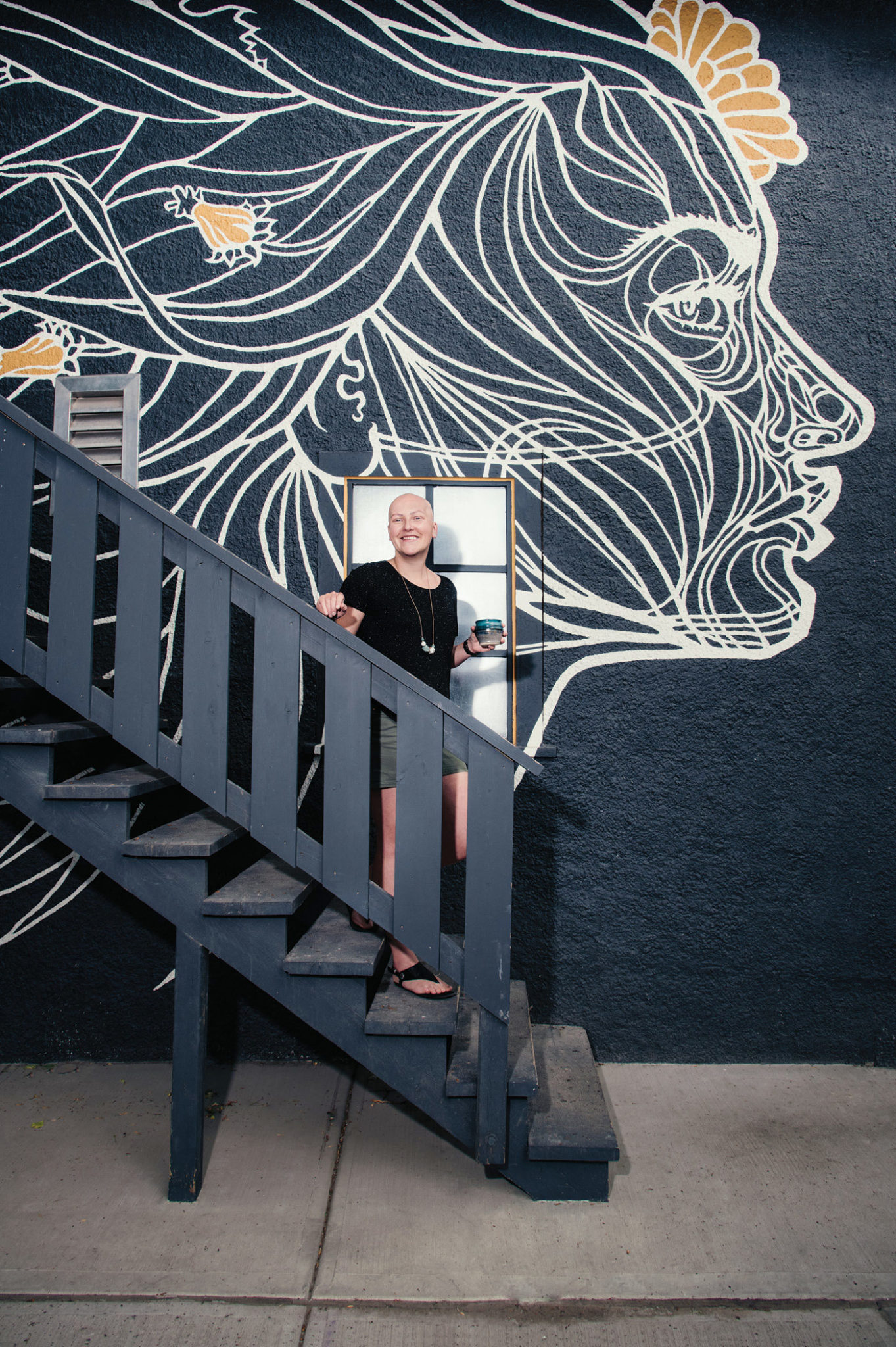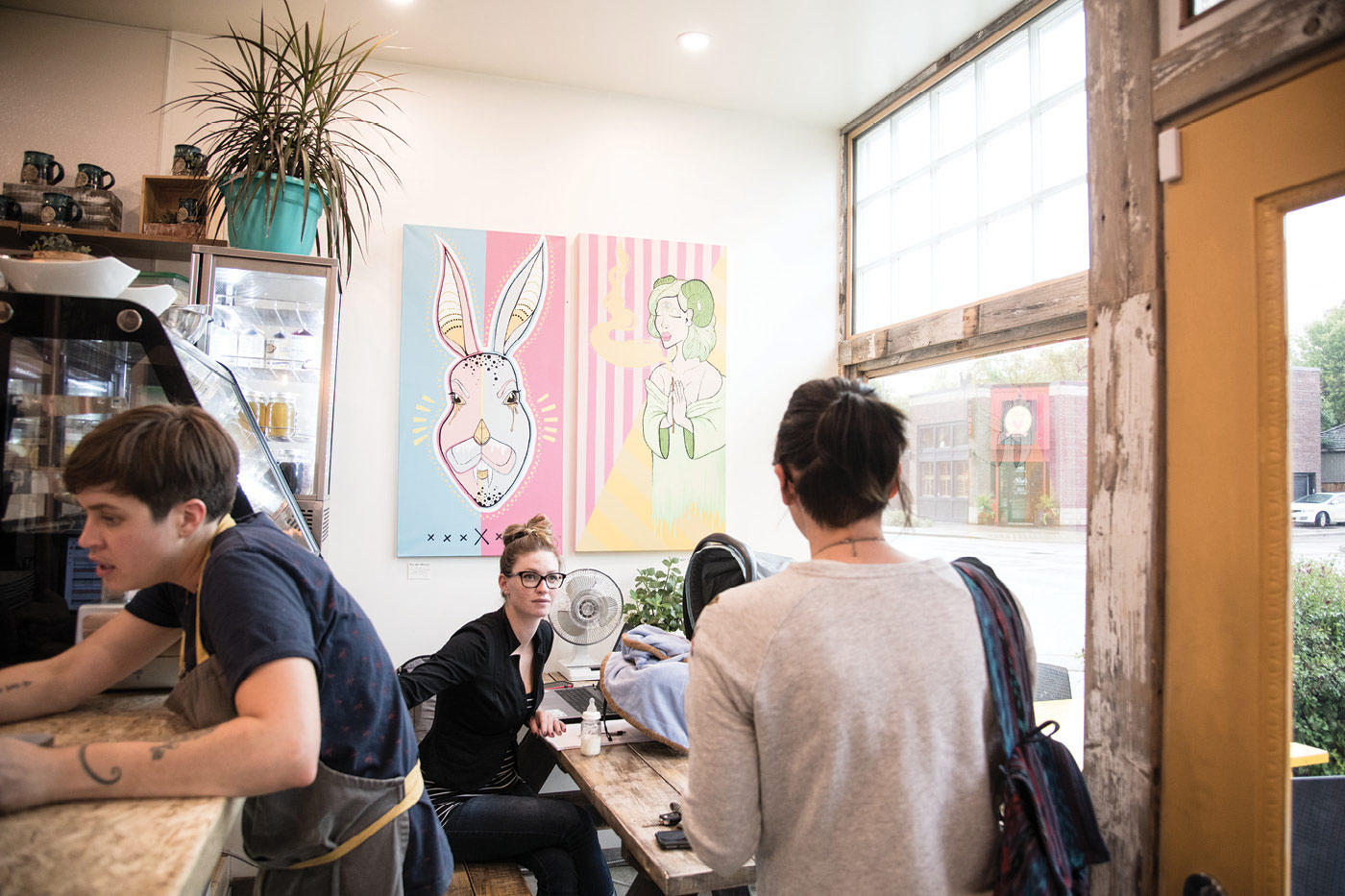 The Dandelion in Ramsay isn't so much a café as it is a post-capitalist utopia that happens to serve breakfast, brunch and lunch. The collaboratively run space has a minimal-waste, plant-based restaurant on its main level and an art studio/event space/gallery on the second floor. Dandelion is operated by a collective of both artists and food people. The first thing you'll notice upon arrival is a massive exterior mural depicting a woman's face by operating partner and artistic director Sarah Slaughter. Inside, both the restaurant space and upper level (open to the public on select dates) are covered in local artwork, most of which is for sale. Keep your eye out for when Fry Bread Friday (when the restaurant stays open into the evening and serves bannock) coincides with an exhibition launch — you'll leave with your belly
as full as your heart.
1048 8 St. S.E., 403-475-3426, thedandelionyyc.ca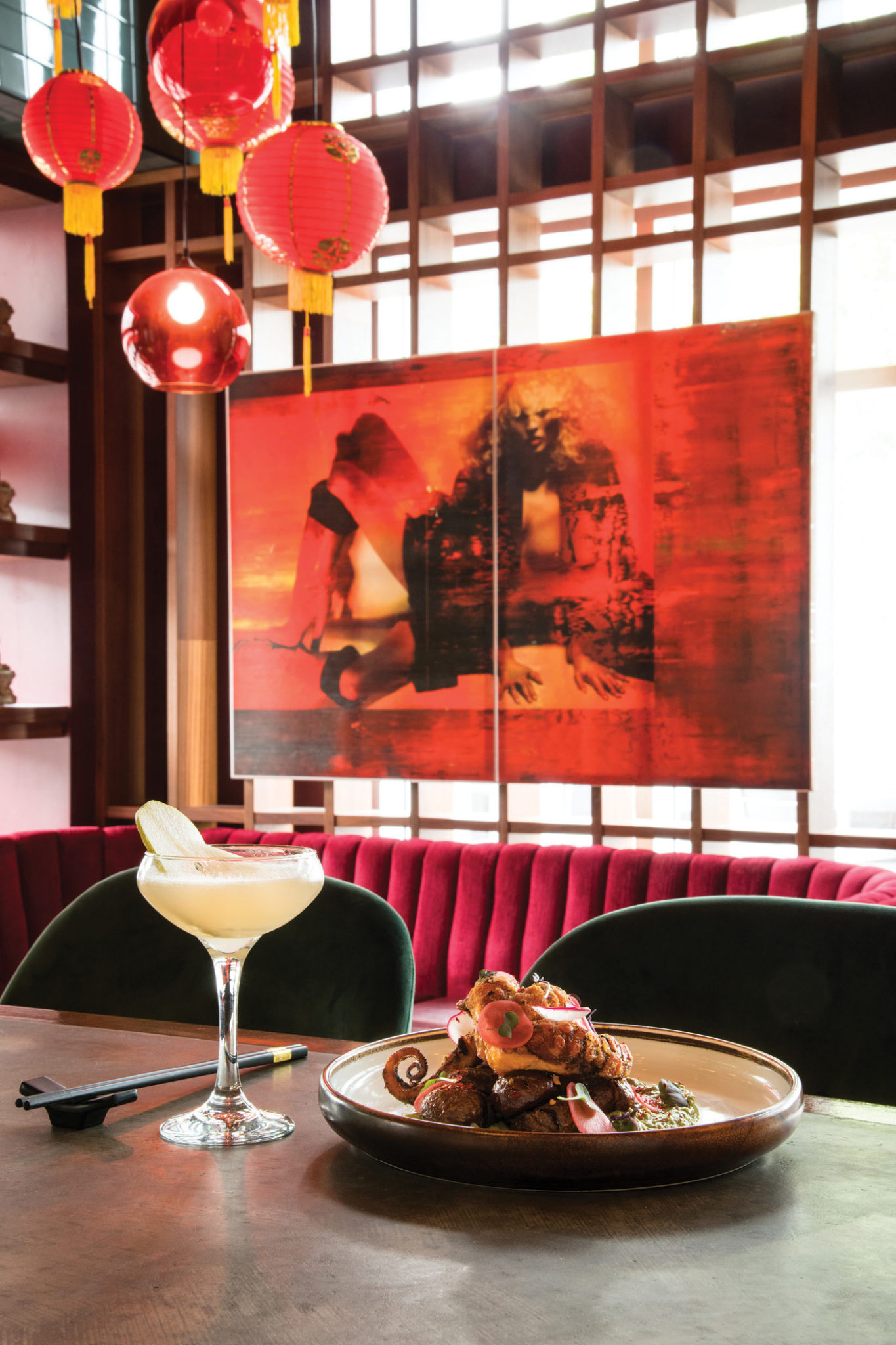 Co-chef and owner Shaun Desaulniers knew he wanted a bold visual treatment when he opened Mr. Chen's Asian Brasserie in 2018. To realize his vision, Desaulniers commissioned artist Tony Wong, whose large-scale mixed-media triptych is displayed at the heart of the restaurant on 4th Street S.W. Wong's elaborate canvases combine photography, painting and fashion, inspired by silkscreen prints and Warhol art. The pieces have an audacious flair that matches the edgy feel of Mr. Chen's craft cocktails and dishes such as spicy Spam and pineapple bao and cumin-lamb biangbiang noodles. You can also see more work by Wong at Bread and Circus Trattoria and the new French steak house Le Petit Boeuf.
2004 4 St. S.W., 403-764-2436, misterchensyyc.com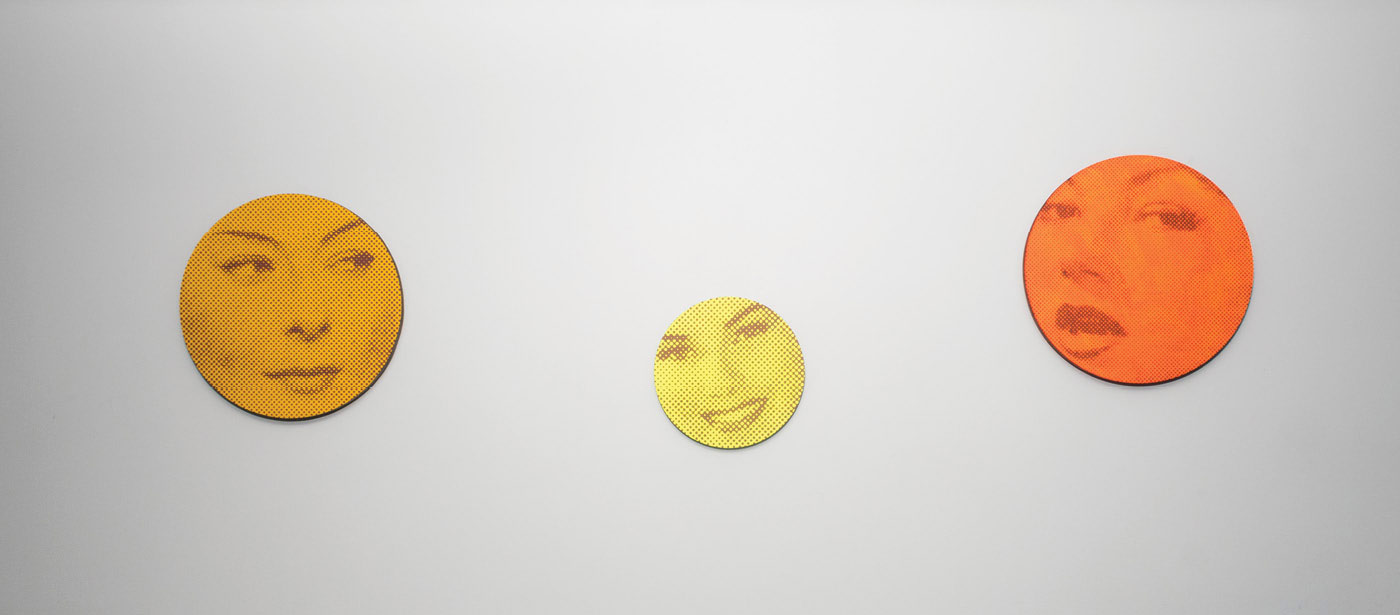 Yes, we could stare lovingly at the tuna carpaccio with chili crumble, crispy nori, cucumber and yuzu ponzu for longer than we'd care to admit, but then we'd miss Raw Bar's three circular portraits by Chris Cran and six acrylic abstracts by Bradley Harms. Both sets mimic the appearance of digital art with their respective unconventional painting styles, complementing the tradition-meets-disruption effect of the contemporary Asian fare on the menu.
Hotel Arts, 119 12 Ave. S.W., 403-206-9565, rawbaryyc.ca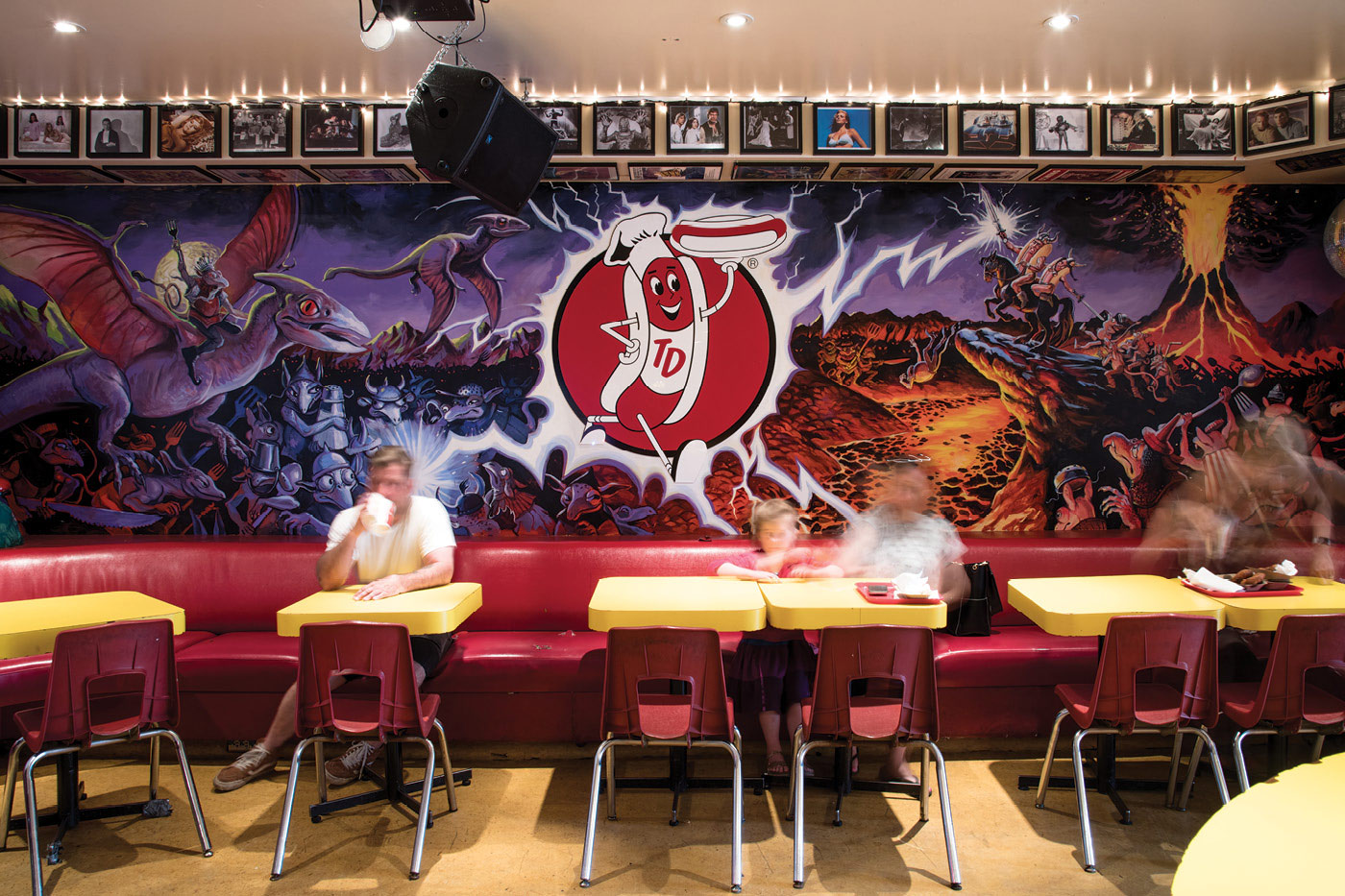 Tubby Dog has been serving offbeat hot dogs on 17th Avenue S.W. since 2005. Prior to that, proprietor Jon Truch served up test-kitchen dogs at the now-defunct Night Gallery. You can order an A-bomb (with cheese, bacon, mayo, mustard, ketchup and potato chips) or a sumo (covered in Japanese mayo, wasabi, ginger, sesame seeds and seaweed salad) while playing pinball and retro arcade games six days a week (it's closed on Mondays). They also do tacos on Tuesdays and burgers on Wednesdays. No matter when you arrive, you'll be greeted outside by an Astro Boy-inspired hot-dog portrait by Kyle and Derek Simmers and welcomed inside by a Michelangelo-via-fantasy-saga mural created by Finn Matthews and Mary Sanche.
1022 17 Ave. S.W., 403-244-0694, tubbydog.com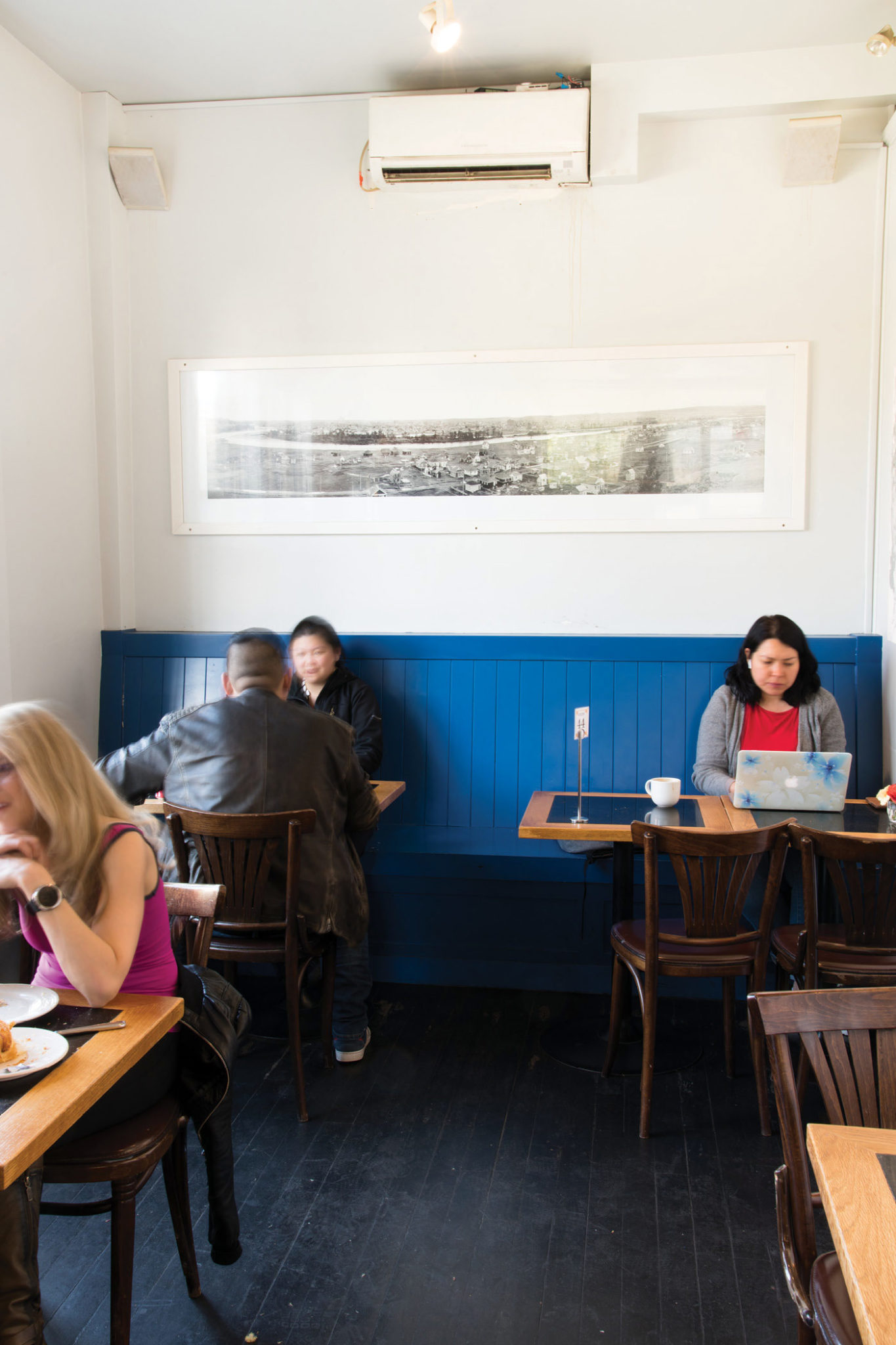 A charming French-style café adjacent to the Containr park in Sunnyside, Vendome is a great place to enjoy a duck confit panini and an expertly made latte — and do a little art shopping while you're at it. The Teatro Group property exhibits art for sale throughout the café's two main rooms, switching in new works every month or two. There's just one caveat: the vintage panoramic image of Calgary from the early 1900s is not on the market. Created by local branding firm Brandsmith from photos in Glenbow's historical archives, it is the only permanent piece in the Vendome collection.
940 2 Ave. N.W., 403-453-1140, vendomecafe.com
Bars with Great Art
As you climb the stairs to Broken City's rooftop patio, take a second to admire the screen-printed gig posters by Tim Huesken. Up on the rooftop, you'll spot a TARDIS replica built by Eric Trapnell alongside Doctor Who-themed murals created by Jackie Leclaire. Once your drinks make their way through your system, check out the giant octopus painted inside the ladies' room by Camille Betts or the Rick and Morty mural in the men's painted by Greg Darou, street artist Voes and members of the Big Kitty arts collective.
613 11 Ave. S.W., 403-262-9976, brokencity.ca
Head to The Hifi Club to see large, colour-blocked pieces by Rhys Douglas Farrell, a.k.a. itsxyz. The pieces almost resemble a deconstructed mural, adding a light psychedelic effect when paired with the club's pulsing bass and flashing lights. Hifi changes its walls at least once a year, so go check out this incarnation while you can.
219 10 Ave. S.W., 403-263-5222, hificlub.ca
This nearly unmarked cocktail bar on 4th Street S.W. is a popular spot for dates and restaurant industry insiders, but something of a secret for other imbibers. It shows up on some list of must-try bars every few years, fields a rush of first-timers and then bobs back to being a reliable spot to hide from post-'Dome rowdies. Sip a signature creation or time-honoured classic from the expansive cocktail list while you gaze upon eclectic works created by musicians and tattoo artists. Don't leave without admiring the portrait of a dashingly dapper turtle by Chris Dow.
1410 4 St. S.W., 403-261-5009, milktigerlounge.ca