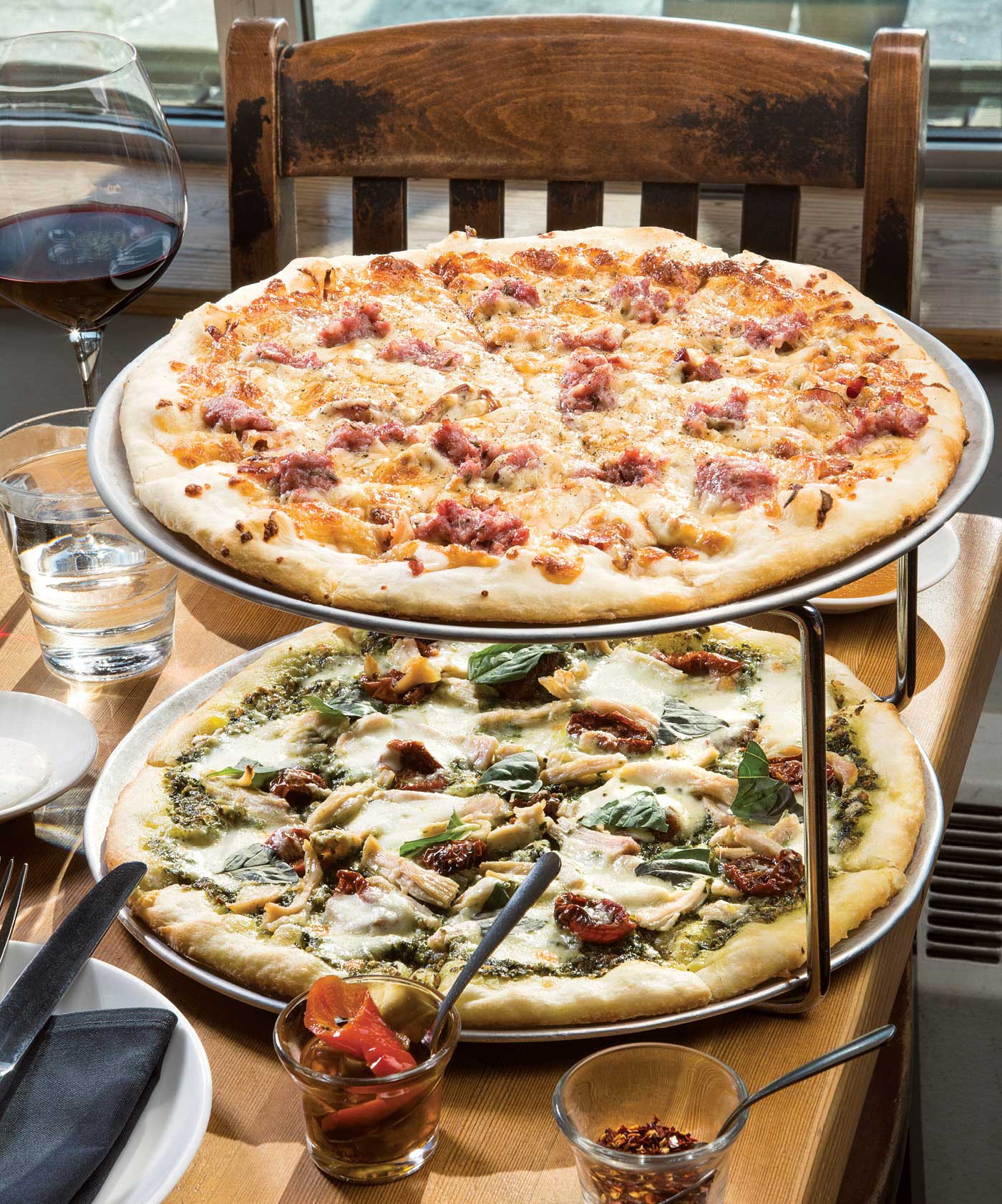 California-style pizza usually starts with a thin, wood-fired crust. From there, in-season produce, chicken and seafood are common ingredients, but the only real rule is to use your imagination. Una co-owner Kelly Black comes from the stricter background of Neapolitan pizza, having worked in a Neapolitan restaurant, though yearning for culinary freedom. After experiencing the renegade pizza styles of California, he and his co-owner (and wife) Jayme MacFayden opened Una with a mandate for unrestricted pies baked on a stone-deck oven. That spirit is expressed in pizzas like the Beltline, with meat and fresh mozza and a drizzle of maple syrup — an ingredient MacFayden says would get you "crucified" in Italy.
618 17 Ave. S.W., 403-453-1183, unapizzeria.com
More West Coast
This Chinook Centre-based eatery doesn't explicitly brand its offerings as Californian, but pies like the zucchini (with pine-nut pesto, goat cheese, mint and lemon) and chicken and prosciutto (with béchamel, chicken sausage, Asiago and spinach) showcase a distinctly Pacific panache.
CF Chinook Centre, 403-457-7677, doublezeropizza.ca
Again, you won't see the word "California" written out on the menu, but you'll absolutely see it written between the lines. One pizza has Gorgonzola, pancetta, pineapple and Fresno chili peppers for a spiced-up, adult alternative to a Hawaiian. Another (number seven on the menu) takes your taste buds to the San Francisco Bay area with smoked salmon, leek, capers, crème fraîche and lemon.
1014 8 St. S.W., 403-263-4876, posto.ca
Avenue's writers and editors are occasionally invited to eat at local restaurants as a guest, including some of the spots in this story. Neither complementary meals nor advertising are required for coverage in Avenue. Neither companies that advertise nor those that provide other incentives are promised editorial coverage, nor do they have the opportunity to review or approve stories before publication.