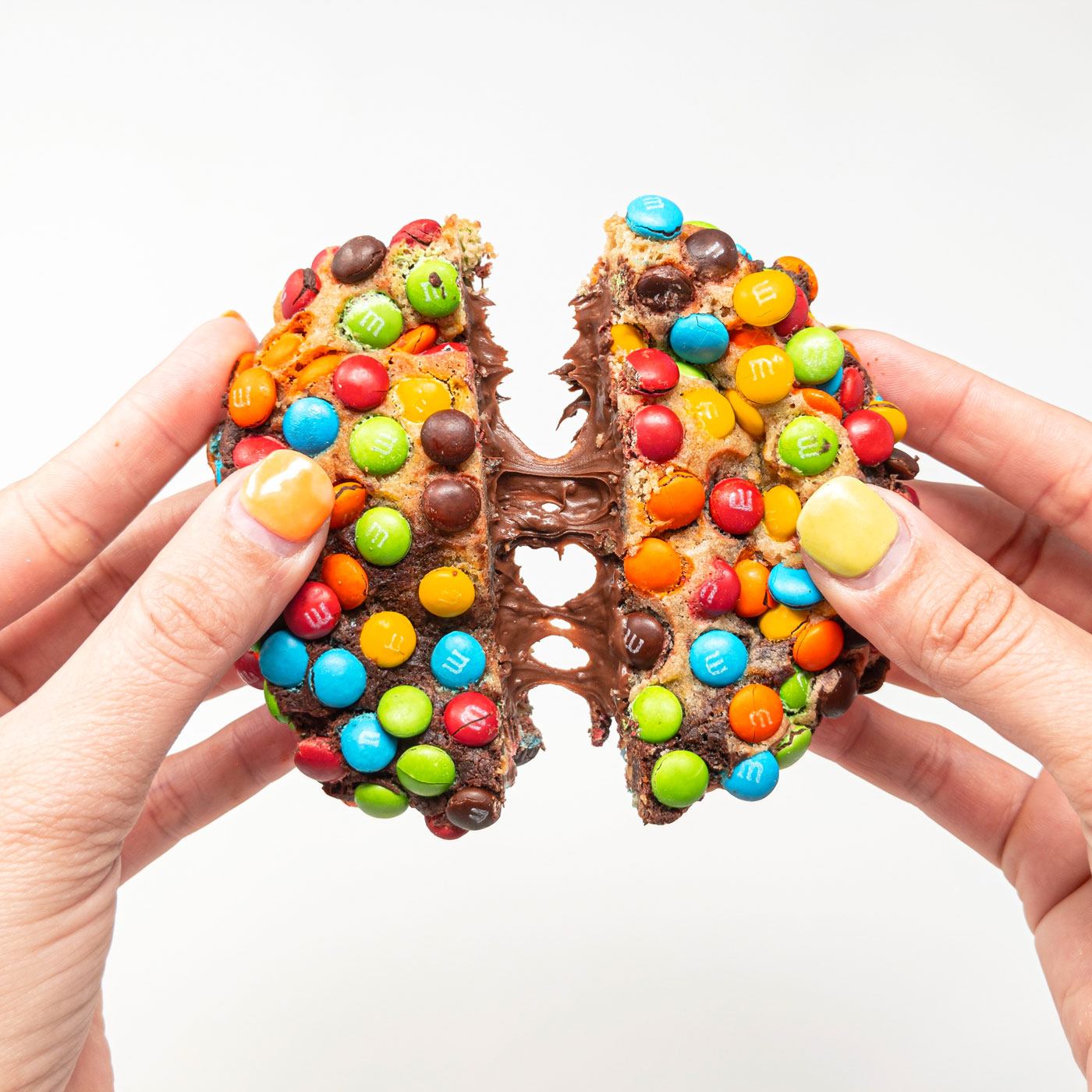 Formerly known as BFF Cookies, local cookie company Chunk'd recently opened its first storefront in Kensington and Calgarians wasted no time lining up to try its stuffed cookies.
Owners Annalie Ivarra, and Oscar Morales are a married couple who moved to Canada from Venezuela. They started BFF Cookies together when they couldn't find anywhere in Calgary that made chunky cookies. Ivarra had tried a chunky cookie when she was overseas and wanted to recreate it.
"I tried 25 different modifications on a recipe until I finally got The Chosen One, which is a chocolate chip cookie. It was quite exciting because I loved it so much. So then people started asking for the cookies and that's when we came to realize that we should start selling them," Ivarra says.
Chunk'd started as an online business working out of a commercial kitchen so it could establish a platform before transitioning to a retail space. While the pandemic did impact Chunk'd with issues like ingredient shortages, it also allowed them to get a storefront in the heart of Kensington due to lowered rent prices.
The new storefront is filled with multiple graphic designs, including mini graphics of cookies and baking images on the countertop and walls, all created by Morales. There's also a pink geometric wall inspired by a popular Instagrammable purple wall in Walt Disney World's Magic Kingdom.
Larger than most cookies, the cookies at Chunk'd are all soft baked, allowing the cookie to be crispy on the outside and soft on the inside. The cookies are stuffed with fun, gooey fillings like Nutella, chocolate or even cheesecake.
Chunk'd offers eight mouthwatering flavours for $5.50 each, as well as packaged deals. Among them is a peanut butter cookie filled with peanut butter and topped with peanut butter chips and cups. There's also the A7 cookie, one of the most popular cookies, featuring marbled dough topped with mini M&M's and filled with Nutella.
The owners try to be creative with new flavours and suggest trying ones that might sound a little different. For instance, their favourite cookie that they've created so far is a red velvet cookie with a passionfruit filling.
If you are planning to visit Chunk'd soon, try to arrive early before it sells out for the day — since opening, there have often been lines out the door for these delicious cookies.
330 10 St. N.W., chunkd.ca