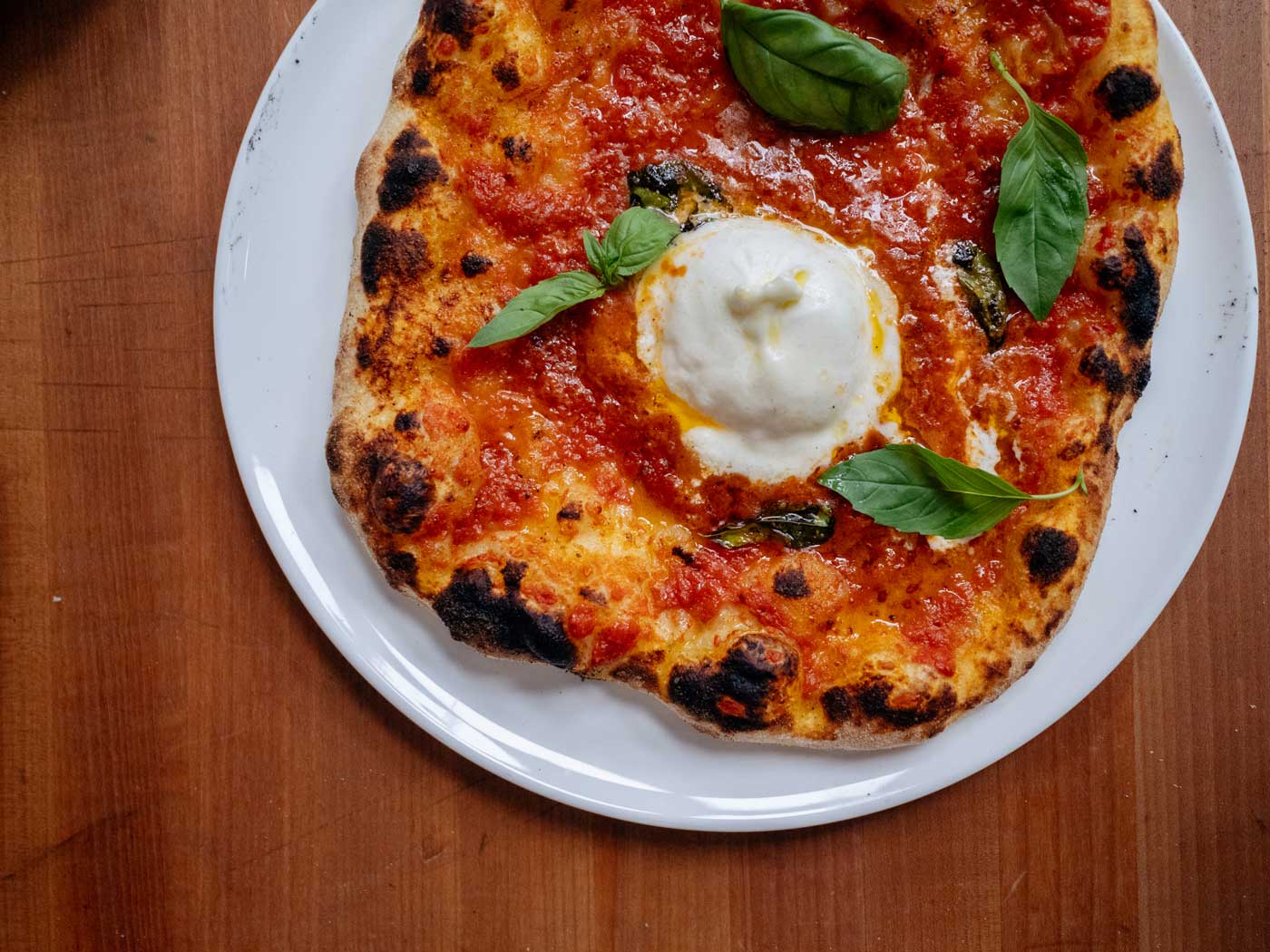 Buffo, the Italian restaurant in Chinook Centre's Saks Fifth Avenue store, has seven pizzas on its menu. But only one is actually named "The Buffo" and it has indeed become the restaurant's most talked about dish.
Interestingly, The Buffo is probably also Buffo's most simple pizza; essentially it's just a basic house-made Napoli-style crust, topped with tomato sauce, Greek olive oil, Parmigiano-Reggiano and an entire ball of burrata cheese. As it's brought to the table, the outside of the burrata begins to melt and guests get to smear the cheese across the pizza before digging in.
The beauty of this dish is really in the quality of the ingredients. Burrata was a relatively rare sight in North American restaurants until it suddenly became the "it" cheese over the last few years. For the uninitiated, it's a fresh cow's milk cheese with a soft, but solid outer layer of mozzarella and an ultra-creamy centre that oozes out as the casing is broken apart. While some places do make burrata in-house, Buffo sources its cheese from Italy.
"It's mostly being ordered by the foodies, or the people who love burrata," says chef Michel Nop. "Burrata is starting to get more and more awareness in Calgary. I believe that if there are artisans in Italy who can do the job better than I can that we should buy from them."
Nop does bring some local flair to this pizza though — his house-made passata-style (i.e. uncooked) tomato sauce starts with San Marzano tomatoes from Broxburn Vegetables in Southern Alberta, a crop that the farm started growing especially for the restaurant. The sauce is flavoured simply with onion, garlic and oregano — it really doesn't need anything else.
The fun, of course, is getting to break into the burrata and spreading it across the pizza. Nop compares it to the thrill of breaking into a perfectly poached egg and letting the yolk run out. In other words, it's Instagram magic. But even if you don't do the 'gram, The Buffo is creamy and delicious and more than worthy of it's lofty name. It sells for $25 and is available at both lunch and dinner.
6455 Macleod Trail SW (accessible through Saks Fifth Avenue or the West side of Chinook Centre), 403-351-2316, buffocalgary.com