For Corey Ma of Ma Pies, March 14, 2020 is a memorable day for many reasons. Not only was it last year's Pi Day, but it was also the date he had originally planned to debut his chicken Mornay pie at the Farmers & Makers Market at cSpace. But COVID-19 hit, forcing the Saturday market to close and Ma to pivot his business. He started personally delivering orders door-to-door, searching for a commercial kitchen to operate out of and a new way to sell his pies. Nearly a year later, Ma Pies is one of more than a dozen food businesses working out of Culinary Coworking alongside Ritual Doughnuts, Nude Market and Bridgeland Bread.
The chicken Mornay pocket pie is now one of Ma's most popular menu items. It's his spin on a classic chicken pot pie but with a French twist. His pocket pies are individual-sized hand pies made with a flaky butter crust and filled with an assortment of sweet and savoury fillings. In the chicken Mornay pie, the filling is diced chicken breast, peas and carrots mixed in a rich, creamy milk-based sauce with provolone cheese and nutmeg.
Ma says he starts by cooking the chicken breast and chopping it into small chunks to match the same size as the peas and carrots. He creates all his fillings a day in advance, which gives more time for the chicken to absorb the sauce.
"I wanted to have white meat in both the chicken Mornay and the cranberry chicken brie [pie] because of the texture," says Ma. "I find it more meaty than dark meat. The knock on white meat is of course that it's dry, but both pies have enough milk in it to make it moist."
For the Mornay sauce, Ma says he starts off creating a roux with flour and butter and then slowly adding milk until it's the right consistency. Then, he adds grated provolone cheese and nutmeg to flavour it and salt and pepper to finish.
"The sauce is something I learned in Auckland while working at a French pastry shop," he says. "Coming back, I knew I wanted to do some sort of chicken pie."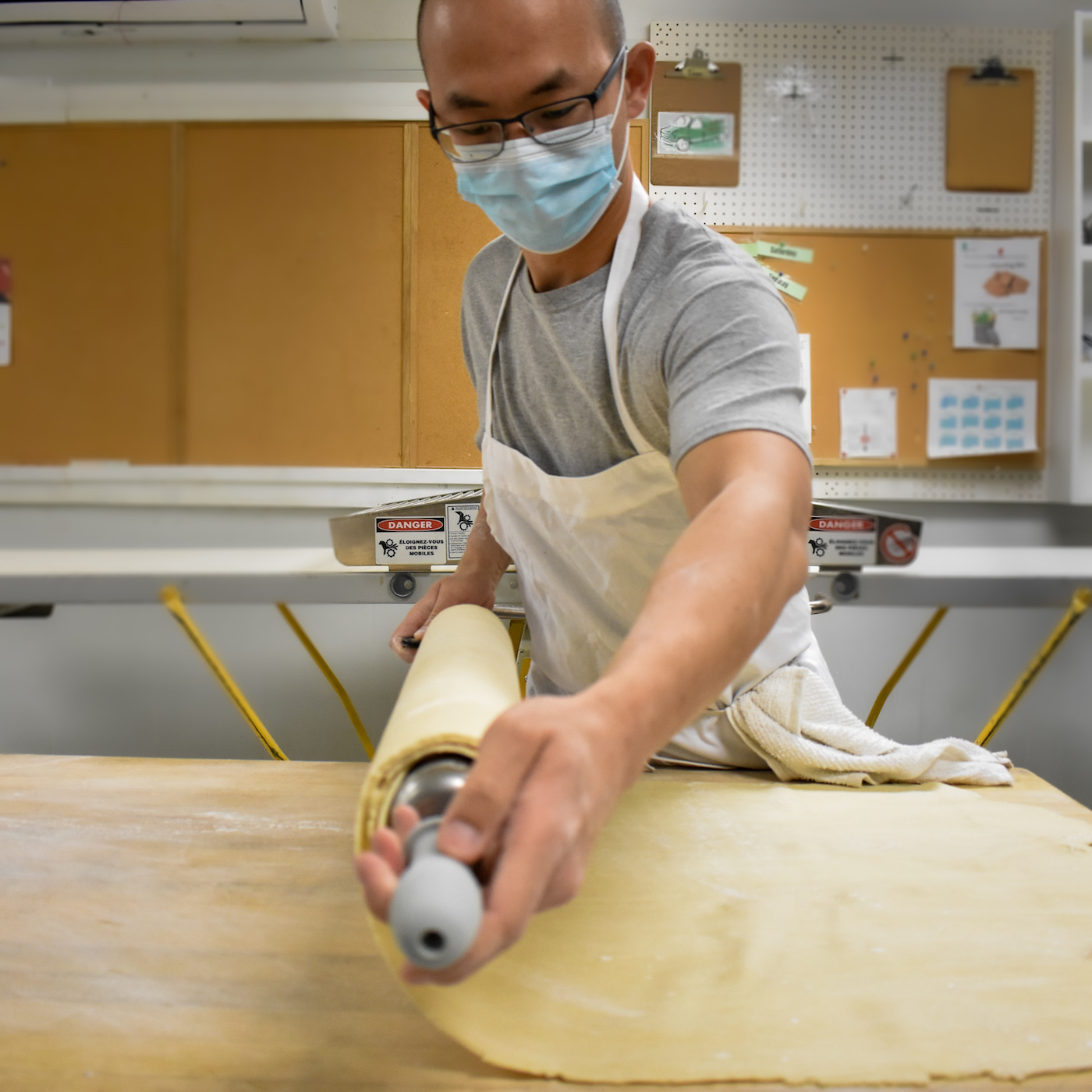 Ma is an engineer turned pastry chef who had been making pies on the side since 2012 before officially deciding to quit his job to attend pastry school. After studying at Maison Christian Faure in Montreal, Ma moved to New Zealand to live and work before returning to Calgary, where he then worked part-time at Eclair de Lune while launching Ma Pies in 2019.
For Ma Pies' loyal fans, it's that oh-so-buttery and perfectly flaky crust and texture that keeps them coming back (try the pie sticks if you need further proof). The key, Ma explains, is keeping the butter cold which creates the air pockets and those layers in the crust itself, as well as that unmistakable flavour.
In addition to pocket pies, Ma also sells nine-inch family pies, pizza pies and sweets like lemon cake. He is always experimenting with flavours and recently launched a coffee pie in partnership with Element Café, using its coffee beans to infuse the milk in the pastry cream. Up next? Ma says he's playing around with a honey garlic chicken recipe and even toying with the idea of pulled pork pies.
Currently, Ma's pocket pies are sold frozen in a six-pack for $24 and are available online. You can opt for pickup at Culinary Coworking or delivery. They are also available at the Hillhurst Sunnyside Farmers' Market every other Saturday and some flavours (frozen) are available at Namo Café and Bistro. Ma also partners with local businesses like Element Café and The Bullet Coffee House, which serves select pie flavours in-house.
 Culinary Coworking, 4517 1 St. S.E., mapies.ca