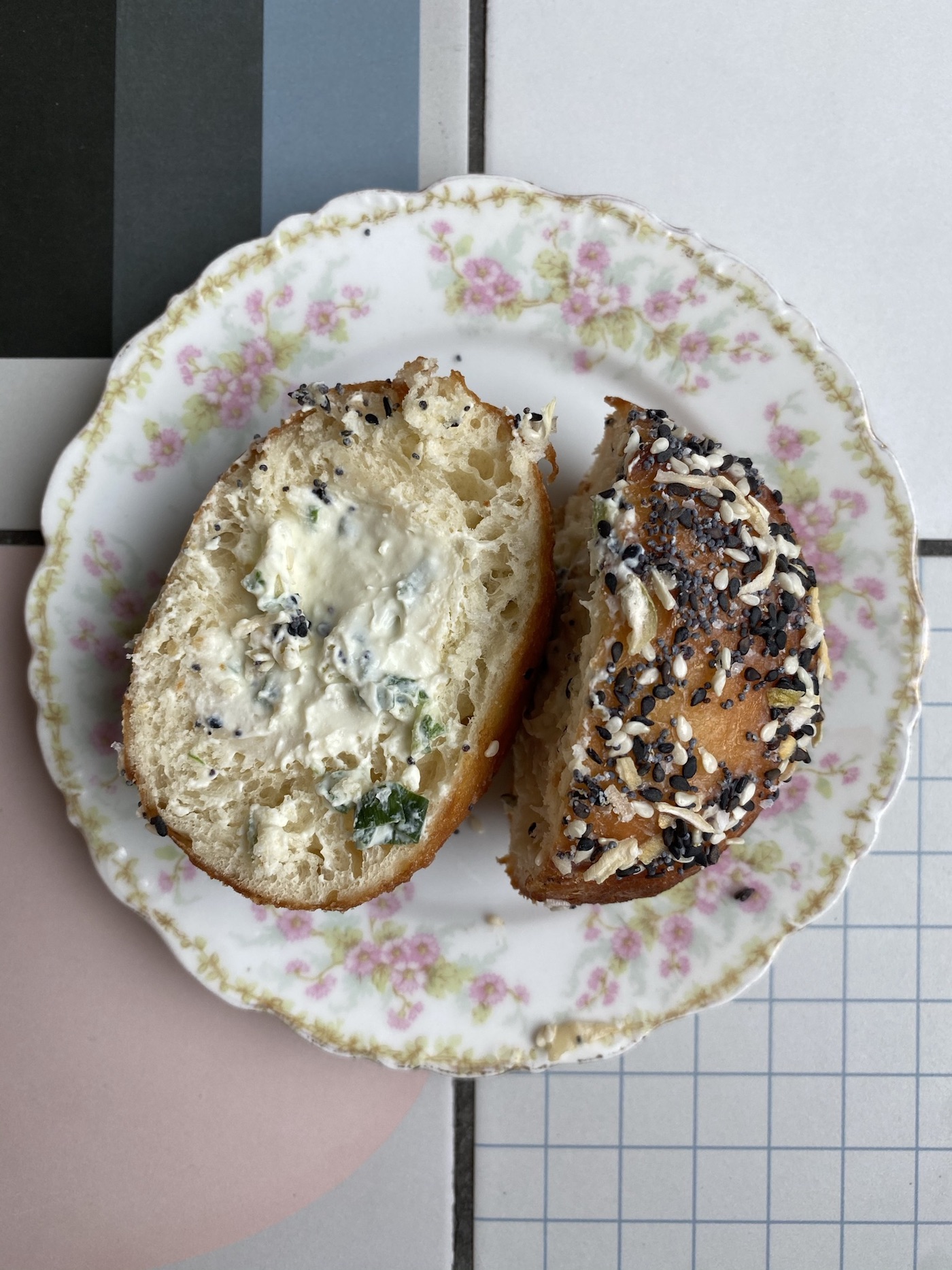 In the short time since it opened in fall 2020, Holy Cow, the latest addition to the Teatro Group family, has become a popular neighbourhood spot in Sunnyside for its fresh-churned gelato and homemade doughnuts. In February, the eatery introduced the first savoury doughnut to appear on its monthly rotating menu of doughnut flavours. The everything bagel doughnut quickly became a runaway hit with customers and is consistently the first flavour to sell out daily.
Named "You're My Everything" and inspired by the everything bagel and bagel bombs, the flavour is the brainchild of production lead Larissa Costella, otherwise known as "Holy Cow's gelato and doughnut queen." A graduate of both Alberta University of the Arts and the SAIT bakery and pastry arts program, Costella cut her teeth at places like River Café and Sidewalk Citizen Bakery before taking creative lead at Holy Cow.
"I had been dreaming and thinking about doing savoury things for a while and I've always wanted to do something everything bagel-themed," Costella says. "The nice thing about our doughnut dough is that it's quite a savoury dough. It's bread-like, so it lends itself towards going either way. I was curious to try what would happen if we went totally savoury."
The result is a wonderfully whimsical and playful take on a jelly-filled doughnut where, in this case, the filling is whipped cream cheese with green onion blended with their house recipe for everything spice mix. As for the dough, all of Teatro Group's doughnuts are made from sourdough with a 24-hour proof.
"We use that natural yeast culture as part of our leavening. It does add a dynamic to the flavour for sure, it prevents the doughnut from being overly sweet, if you will," says Teatro Group's corporate executive chef Matthew Batey.
Costella says her daily routine is to make dough for the next day's doughnuts, roll and cut it, then let it sit in the fridge overnight. The next day, the dough is fried first thing in the morning and the doughnuts are assembled in Vendome's kitchen next door, all before Vendome opens for breakfast service.
"For the topping, we brush the top with melted butter and dip into a homemade everything spice which contains garlic powder, onion flakes, poppy seeds, sesame seeds and salt," says Costella. There are also chopped herbs in the mix of spices so that with every bite, you get a zing of flavour in your mouth.
"I've never seen such a good response for a particular flavour," laughs Costella. "I was working at the shop the day that we did the [launch] post on Instagram and they sold so fast. I had people come right at noon when we opened and my first two customers who bought it confessed to seeing it on Instagram and leaving immediately to come and get it."
Batey adds that there's an almost cult-like following for the everything bagel doughnut and its popularity even inspired a dish on the new Vendome breakfast menu: the pulled pork doughnut sandwich where the sourdough doughnut is cut in half to act as the bun for the breakfast sandwich.
Both Batey and Costella confirm this is likely only the start of plenty more savoury doughnut options to come at Holy Cow. Doughnuts are $3 each and available by walk-in and by preorder. 48 hours are required for pre-orders online and pickup is available daily from 12 to 4 p.m.
938 2 Ave. N.W., 403-719-1092, holycowgelato.com