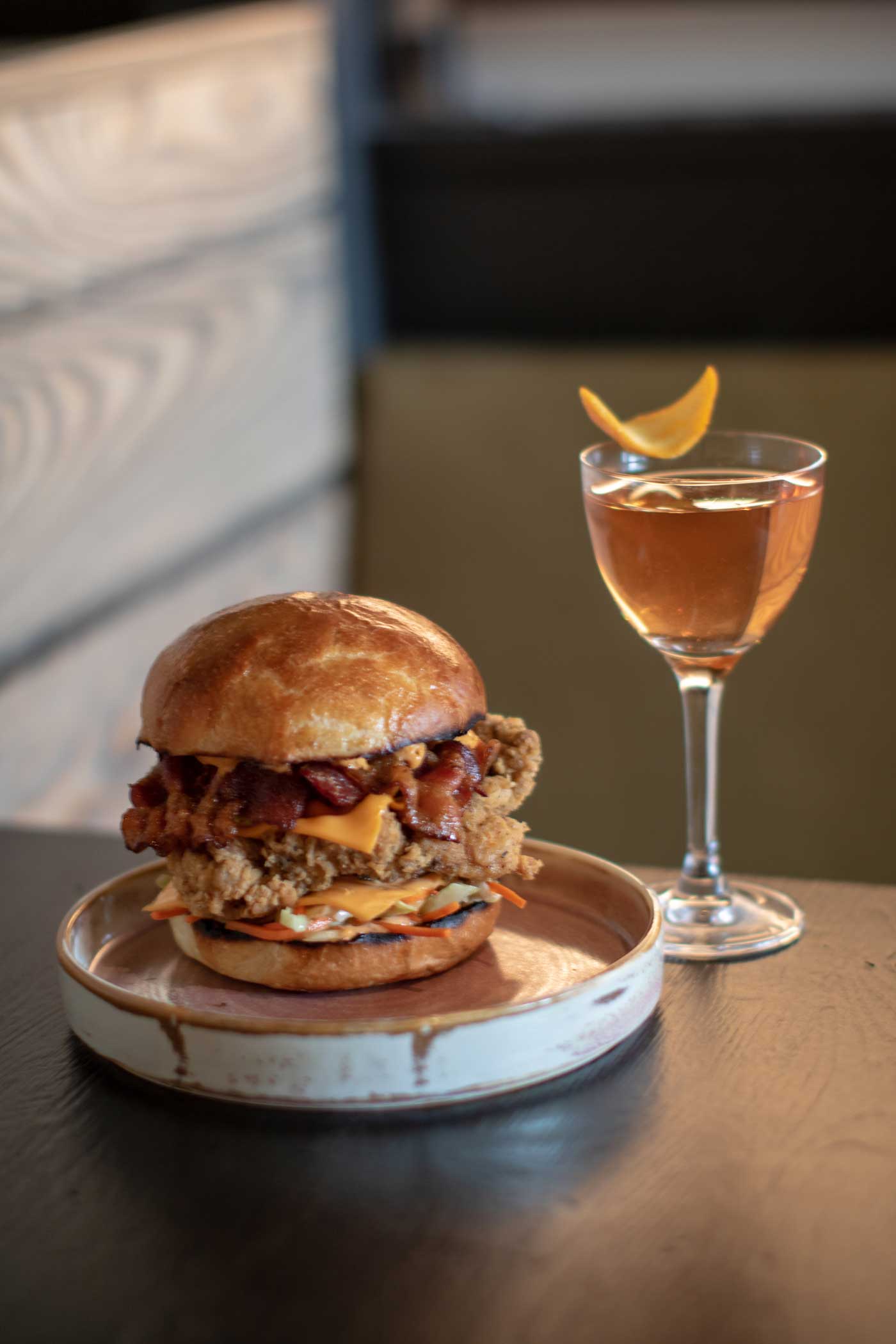 The whole concept behind Inglewood's Gorilla Whale is playful takes on classic Japanese food, made with quality ingredients and a little bit of whimsy. Chef Dirk McCabe's menu features plenty of dishes that accomplish this goal (like the Gorilla Rice with salt craft mortadella or the clams with kimchi), but the most glorious of all may just be his karaage burger.
Kaarage is Japanese-style deep fried chicken. It's typically lighter, crunchier and far less greasy than American-style fried chicken. McCabe starts by dredging his chicken in cornstarch only (no flour!) to achieve that Japanese-style, ultra-light breading with a spectacular crunch.
That crispy fried chicken is a great starting point, but a perfect burger is about much more than its protein. The sandwich is dressed with a spicy Kewpie mayonnaise — a Japanese rice vinegar mayo that is smoother and creamier than the North American stuff and is wildly popular in Japan. The fattiness of the fried chicken is also balanced out with a green onion, cabbage and carrot slaw with a citrus and sake vinaigrette. To hold everything together, McCabe opts for a rich and buttery sourdough brioche bun, though it can be replaced with a gluten-free Care Bakery bun to make the dish gluten aware (don't forget — there's no flour in the fried chicken).
And, because McCabe subscribes to the "everything is better with a cheese slice" school of burger construction, he tops the chicken with bacon and a slice of American cheddar. It's a contrast in high and lowbrow foodstuffs, which is a big part of the sandwich's considerable charm. It also makes for a formidable looking dish as it hits the table, but McCabe advises karaage fans not to be intimidated by the sky-high burger.
"It tends to come out looking a bit huge," McCabe says. "But give it a good squish and it will cure what ails you."
Gorilla Whale's karaage burger goes for $17 and comes with a side of greens.
1214 9 Ave SE, 587-356-2686, gorillawhale.ca