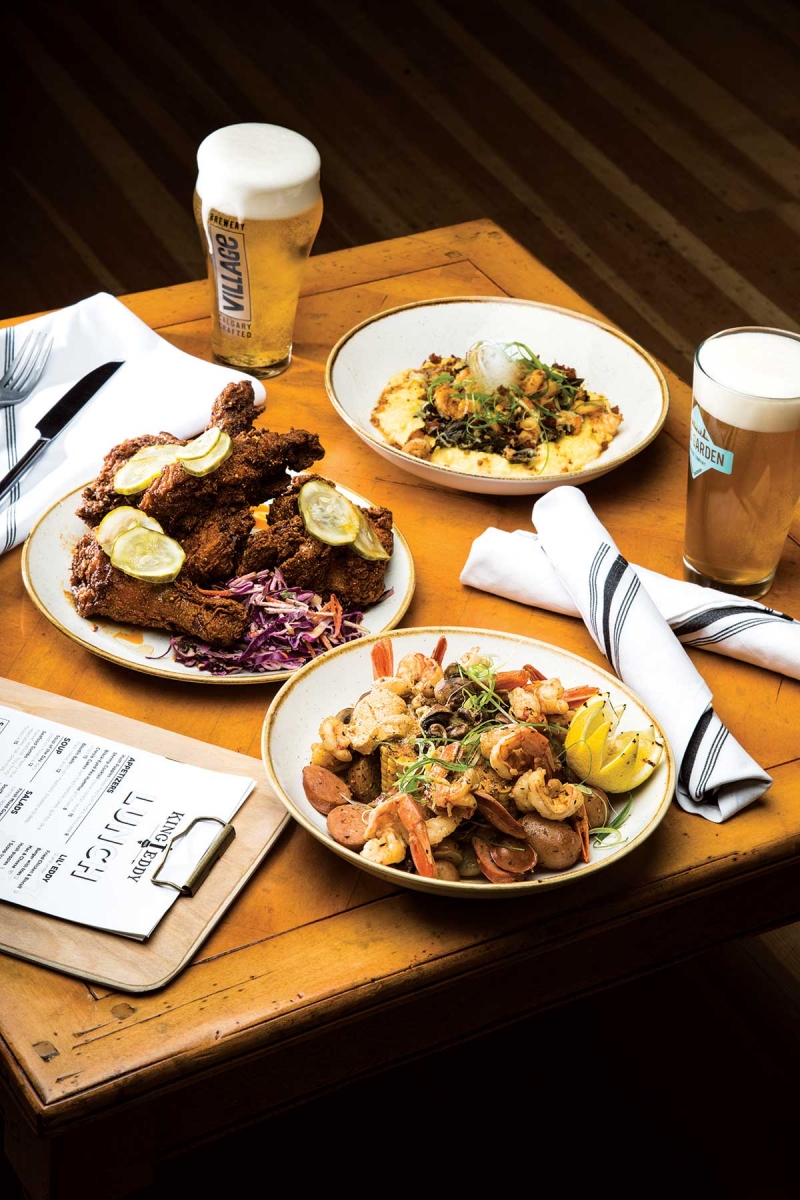 Calgarians of a certain age know the King Edward Hotel (affectionately, and now officially, known as the King Eddy) as the kind of place that visitors were oft warned to stay away from. A dive bar in every sense, up until it shut down in 2003, the Eddy was rundown, grimy and more than a little rough. It was also, without a doubt, the best place in Calgary to hear live blues music.
Now engulfed by the National Music Centre (but operated separately), the King Eddy has reopened, fully refurbished but with a healthy nod to its past. The interior has been designed to appeal to original regulars as well as patrons with less of a tolerance for sticky floors — it's clean and comfortable, though still adhering to the room's original 1905 floor plan. The room's original brickwork, which was restored brick by brick, is intact and the centerpiece of the venue is still the stage, which hosts live musicians, spanning genres that go beyond the blues, playing at least three nights a week.
The menu and quality of the food, however, is all new. General manager Jynnifer Gibson has roots in the American South and wanted to channel that region's comfort-food flavours.
Chef Diana Nacita, formerly of Vin Room, has answered her call with dishes like buttermilk fried chicken (available Nashville hot-style), Cajun shrimp and grits with double-smoke bacon and an authentic seafood gumbo served with dirty rice and okra chips, as well as brunch dishes like country ham and eggs. All of it can be washed down with beverages from the bar, where the focus is on local craft beer and spirits.
"Music and food are two instrumental things that bring people together and both evoke a lot of emotion," Gibson says. "This is supposed to be a place for fun and joy and bringing people together, so it's really important that the caliber and quality of both match one another."
438 9 Ave. S.E., 403-476-1679, kingeddy.ca
Live music and food can be a tricky combo. These Calgary spots manage to harmonize them.
The Ironwood's concept is unique: make a reservation and the cover charge for the live music (which occurs each and every night) is automatically tacked onto your bill. You'll hear original blues, folk and rock music by acts that range from local bands to world-renowned out-of-towners. The food — an eclectic selection of flatbread pizzas, burgers and bistro-style entrees — also hits the right notes.
1229 9 Ave. S.E., 403-269-5581, ironwoodstage.ca
The Palomino is a local standby when it comes to combining great music and great food. Nothing beats hitting the upstairs dining room for a pulled-pork sandwich or an authentic southern barbecue platter and then heading downstairs to catch a local or touring punk, rock, indie, dance or jazz band.
109 7 Ave. S.W., 403-532-1911, thepalomino.ca
Without Papers has long been a thin-crust pizza hot spot and remains one of Calgary's best, but the Inglewood restaurant has recently expanded its offerings by booking a regular rotation of oddball local musicians so pizza lovers can rock out over their Hawaiian 5-0 or Shrooom pies. Catch live music on Friday and Saturdays, and every second Sunday for open-mic shows as well.
1216 9 Ave. S.E., 403-457-1154, wopizza.ca