A hallmark of post-war times, drive-thrus have sometimes been negatively associated with fast-food chains. But during the pandemic's fluctuating restrictions, local Calgary drive-thrus thrived because they gave us a way to enjoy familiar and affordable comfort food with low contact. Whatever your comfort level this summer as things open up, here are a few local Calgary drive-ins and drive-thrus to grab takeout from.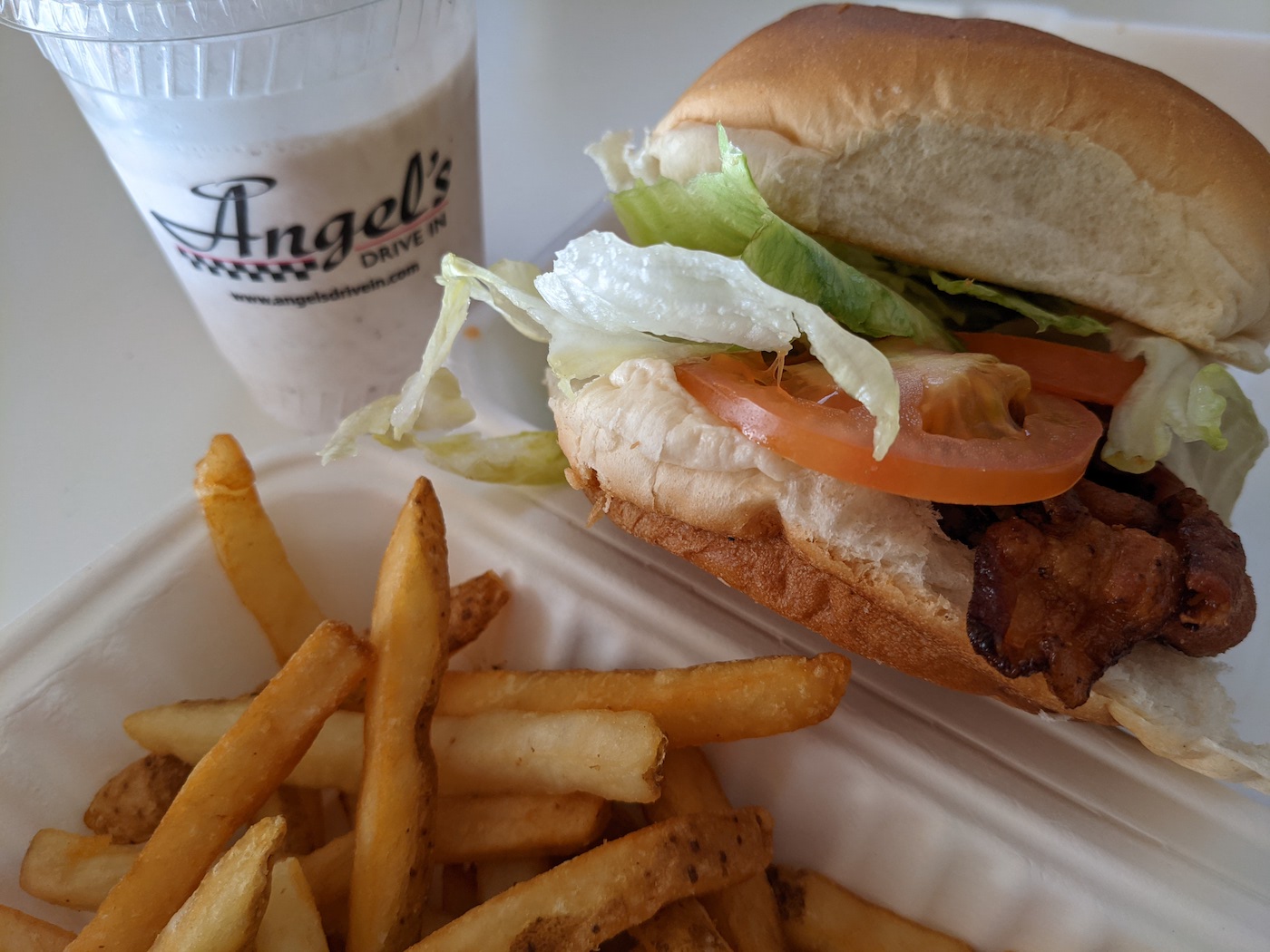 Look for the Cadillac on the roof at this old-fashioned retro diner in Bowness. This eatery with a playful 1950s vibe serves up rock and roll nostalgia and diner fare like burgers, sandwiches, wraps and more. Popular items include the Bowness Burger with its mayo-based sauce and the mushroom burger with sautéed mushrooms and mushroom sauce. Make it a combo with curly fries. Once you order at the window, the staff will direct you to wait in the parking stalls and someone will bring the food to your car to keep the line moving. Enjoy your takeout in Bowness Park just down the road.
8603 47 Ave. N.W., 403-288-1009, angelsdrivein.com
Steps from Confederation Park, this Korean family-run spot has been a Northmount Drive staple since the '70s and the signage still bears the name CB Hamburger Inn. Prices are super reasonable and the burgers are all fresh-grilled with lettuce, mayo, pickles, onions, relish and barbecue sauce. Pair them with fries (which are extra salty) or onion rings that are perfectly cut and battered. Wash it all down with slushes, milkshake or a screamer (slush and ice cream).
789 Northmount Dr. N.W., 403-282-8188, cb-driveinn.com
On a sunny day, it's not uncommon to see lines down the street at this Inglewood spot, which has a convenient walk-up window for takeout. Classic diner burgers, seasoned fries and milkshakes are par for the course here; order the Singlewood, with its single patty, ketchup, mustard, mayo, pickles, onions, lettuce, bacon, tomato and cheese. The drive-in also does breakfast items and desserts like dipped cones, but a must-order here is the tangy soft-serve Dole Whip, available in a cone or a cup.
802 12 St. S.E., 403-265-5198, inglewooddrivein.com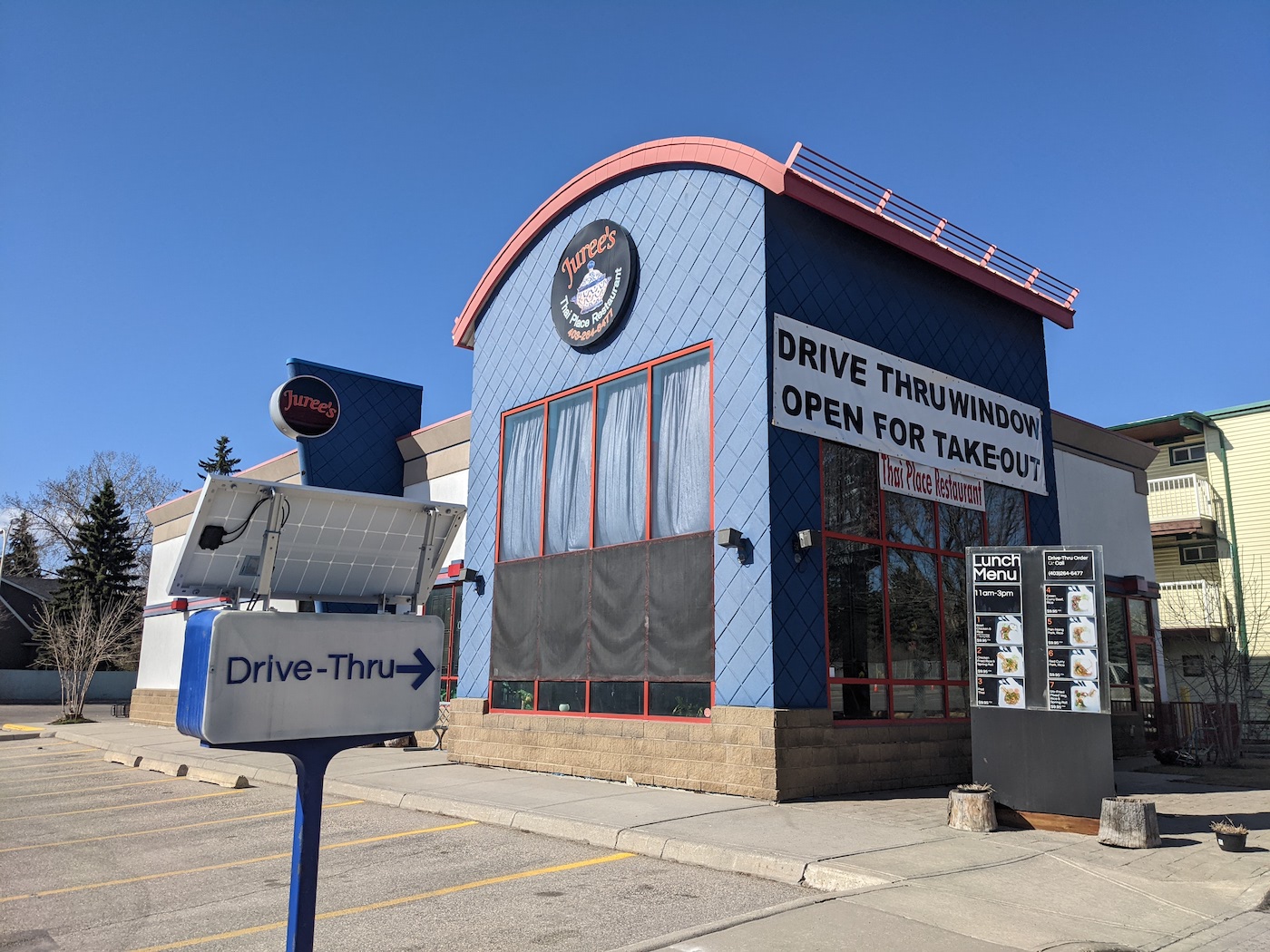 Juree's opened its drive-thru window to reduce contact between staff and customers in March 2020. While you can order on the spot, the Thai restaurant recommends calling ahead for takeout with a specific pickup time as the lines can get long on the weekends and for the dinner rush. Try the satay skewers, papaya salad and the classic green chicken curry or panang pork curry, and cap things off with the sticky rice and mango.
2055 16 Ave. N.W., 403-264-6477, jureesthaiplace.com
Gus Pieters whipped up his first shake back in '62 at this local institution and not much has changed since. All the flame-broiled beef burgers feature that special Peter's sauce, and you can choose from single, double, triple, cheese or veggie (no chicken burgers here). Fry portions are massive and the thick milkshakes are famously made with real ice cream and real fruit. To avoid the traffic jam on the TransCanada turning into the drive-thru, park in the back parking lot with tables and order at the walk-up windows instead.
19 16 Ave N.E., 403-277-2747, petersdrivein.com
To Me Vietnamese Sub
Likely Calgary's smallest drive-thru, To Me took over the former Cowtown Beef Shack off Macleod Trail in October 2020. The wide menu of Vietnamese subs, spring rolls, vermicelli bowls and bubble tea is pretty impressive for the tiny digs. Get the $6 banh mi subs (choose from grilled pork, chicken, beef sate, coconut curry or tofu) with all the usual fixings like shredded carrots, cilantro, onions, jalapenos, cucumber and cheese.
5250 Macleod Tr. S.W., 825-882-2828