Calgary's regional pizza scene continues to expand with the opening of the second Pizza on the Fly location in Northland Village Mall. The expansion has helped the business grow its hours, offer delivery and, hopefully, spread the gospel of Roman-style pizza to more Calgarians than ever before.
About the Business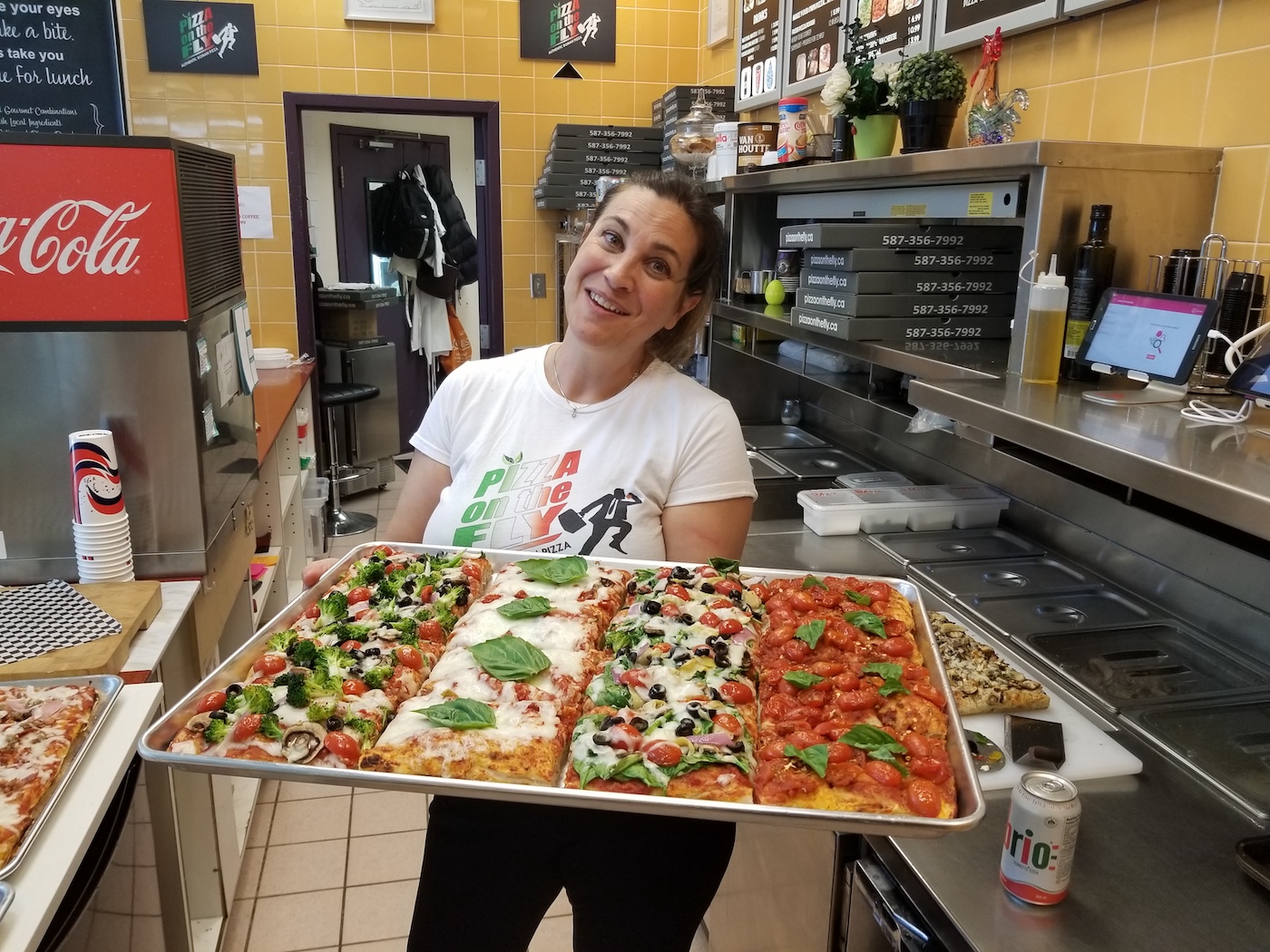 Anna Marchisano Marinzi was born in Naples but spent most of her life in the Rome area. There, she earned a degree in engineering and started a family while working in sales. After a surprise decision from her husband's company to send him to Fort McMurrary in 2010 (and later, Calgary), Marchisano Marinzi found herself missing the taste of home and opened the first Pizza on the Fly in May 2018.
Located in the downtown Nexen Building, the operation attracts large crowds at lunch but, like many businesses in the area, doesn't operate on evenings or weekends. The decision to open this second location — less than a year since the debut of its flagship — has allowed Marchisano Marinzi to expand hours and offer delivery, a crucial component to any pizza operation. Marchisano Marinzi grew up cooking but takes her commercial cooking pedigree from a master class with chef Massimiliano Saieva, and you can taste her hard work in every bite.
Roman-style Pizza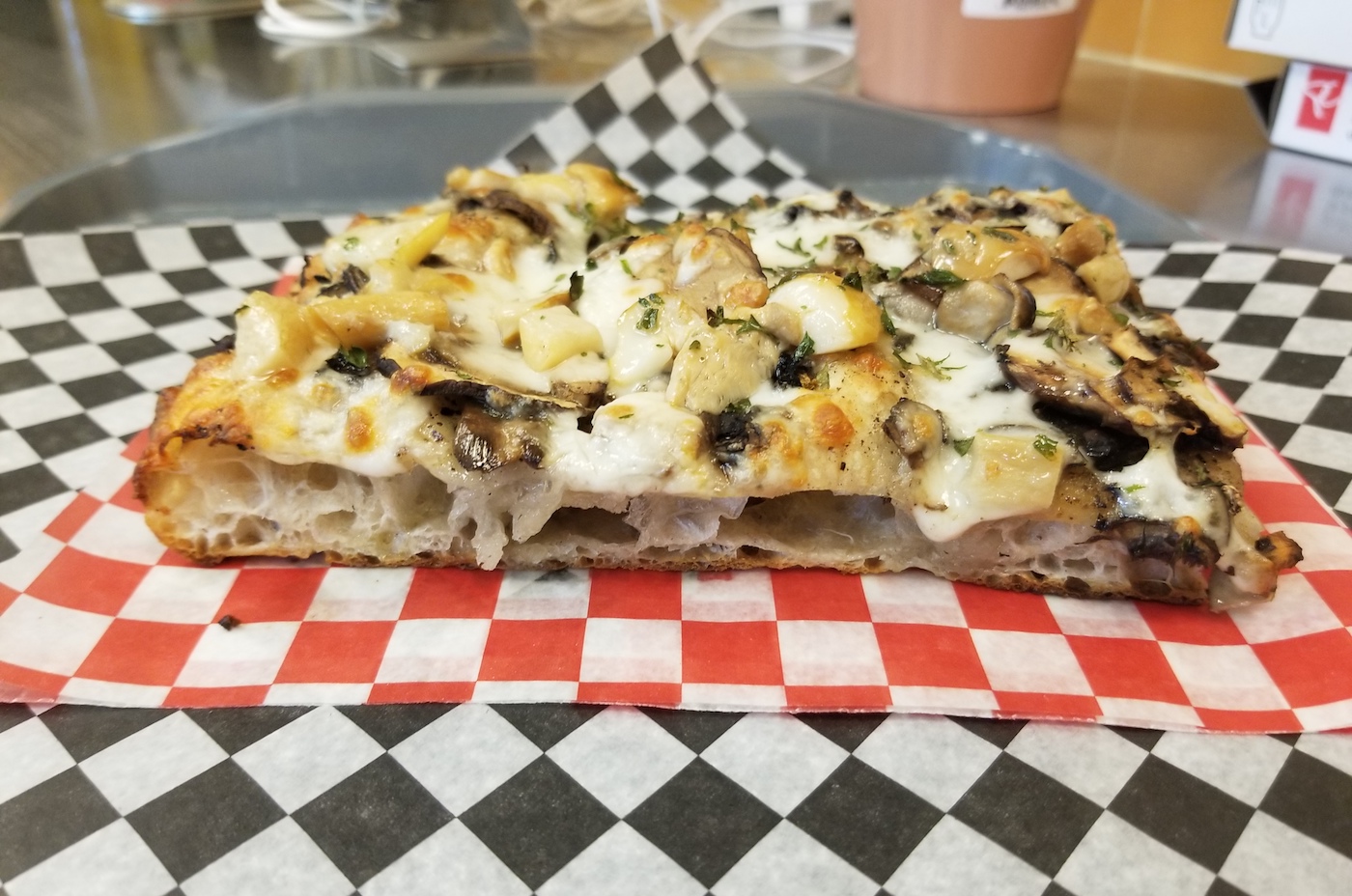 There isn't just one standard kind of Roman-style pizza, but the most popular and famous variety is the al taglio kind commonly served by street vendors in Italy's capital. Al taglio literally translates to "by the cut," is baked in a rectangular pan and then cut into rectangular slices as opposed to the familiar triangle shape of other pizzas. Aside from shape, what really sets Roman-style apart is its dough. In the case of Pizza on the Fly, that means dough made from locally sourced flour that is high in protein, no added sugar and minimal yeast (three grams per kilogram of flour). It is proofed for a minimum of 72 hours, resulting in thick but airy crust that crisps up on the bottom but keeps a light chewiness inside.
From there, Pizza on the Fly turns its pies into either crostino (pizza without sauce that is usually loaded with fresh veggies), saucy Italian staples (Margherita, Fiesta Salami) and westernized favourites like Hawaiian and pepperoni. Up to four different kinds of pizza can be made per pan before being cut into squares and mixed-and-matched for customers.
What to Order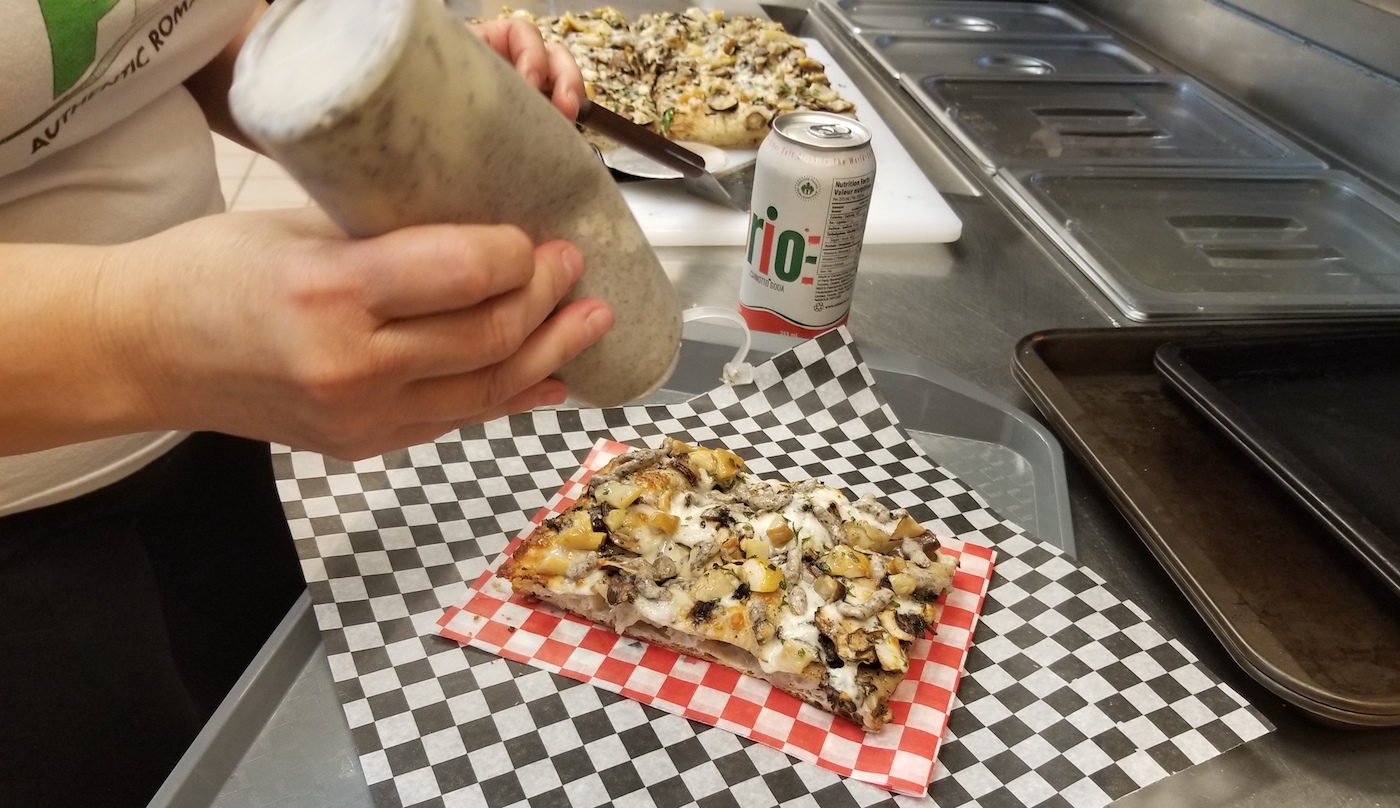 Marchisano Marinzi says that by far the most popular menu item is the Crostino Truffle. Using "fiesta" mushrooms, porcini (at a reported $22 per can) and her own house-made truffle cream, it's an addictive mix of mild richness and crisp freshness. This is one of many vegetarian-friendly options (like the salad-inspired Caprese), but if it's meat you crave, then go for Fiesta Salami or Meat Lovers. Then again, why limit yourself? A signature of Pizza on the Fly is its "Mix & Match" option, where customers can pick any variety of slices in quantities of eight and 16.
Aside from pizza, it offers savoury "pizza wallets" (somewhere between a sandwich and a calzone), salads and bake-your-own pizza dough. For dessert, try tiramisu, Nutella pizza or cannoli. To wash it all down, we suggest a Brio chinotto, a soft drink made from Italian oranges that tastes like a bittersweet cola.
The new Pizza on the Fly is located at Northland Village Mall, 5111 Northland Dr. N.W., 587-353-7992, pizzaonthefly.ca
Take a Closer Look at Pizza on the Fly's Offerings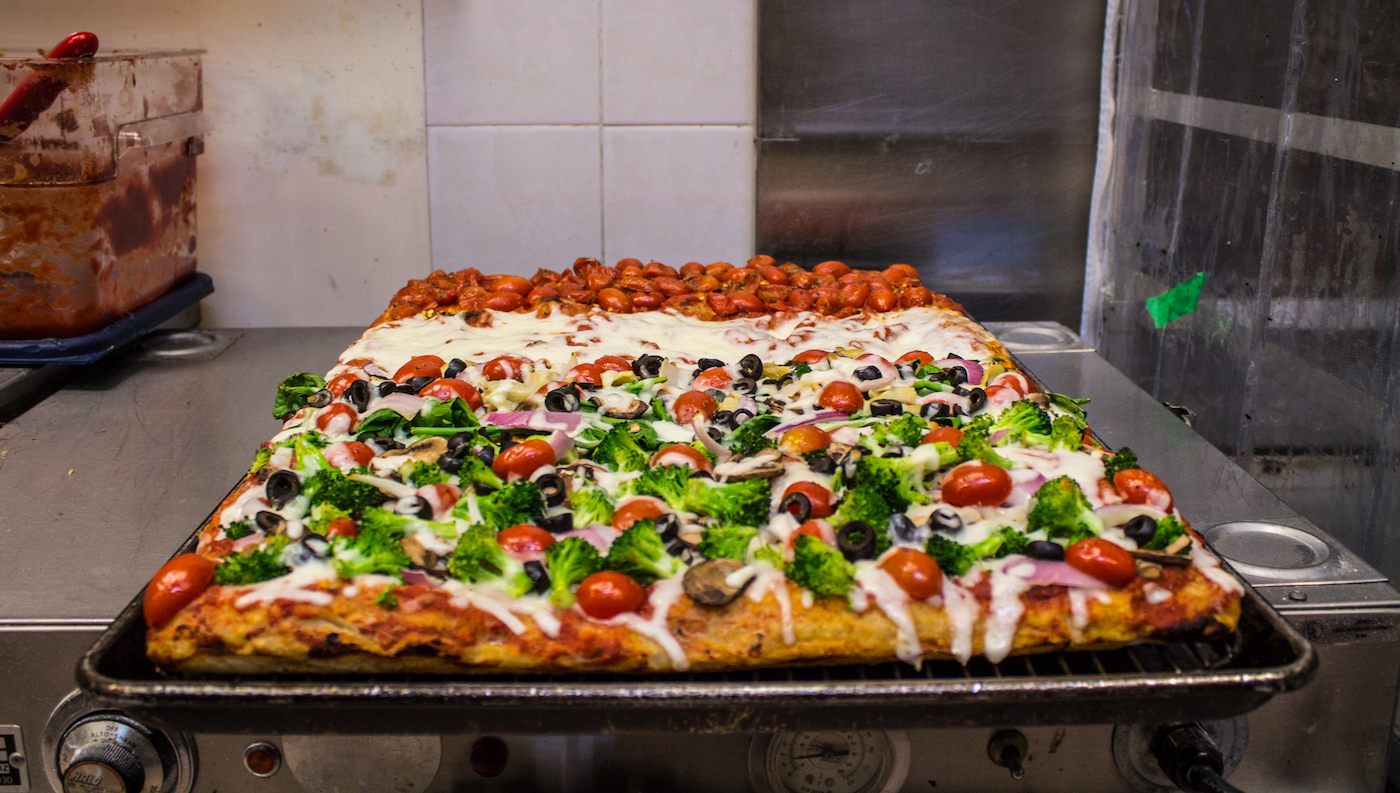 Marchisano Marinzi says part of her goal at Pizza on the Fly is to offer a healthier pizza than Calgarians are used to. That's exemplified by the protein-rich flour she uses and the mountains of veggies found on the pies.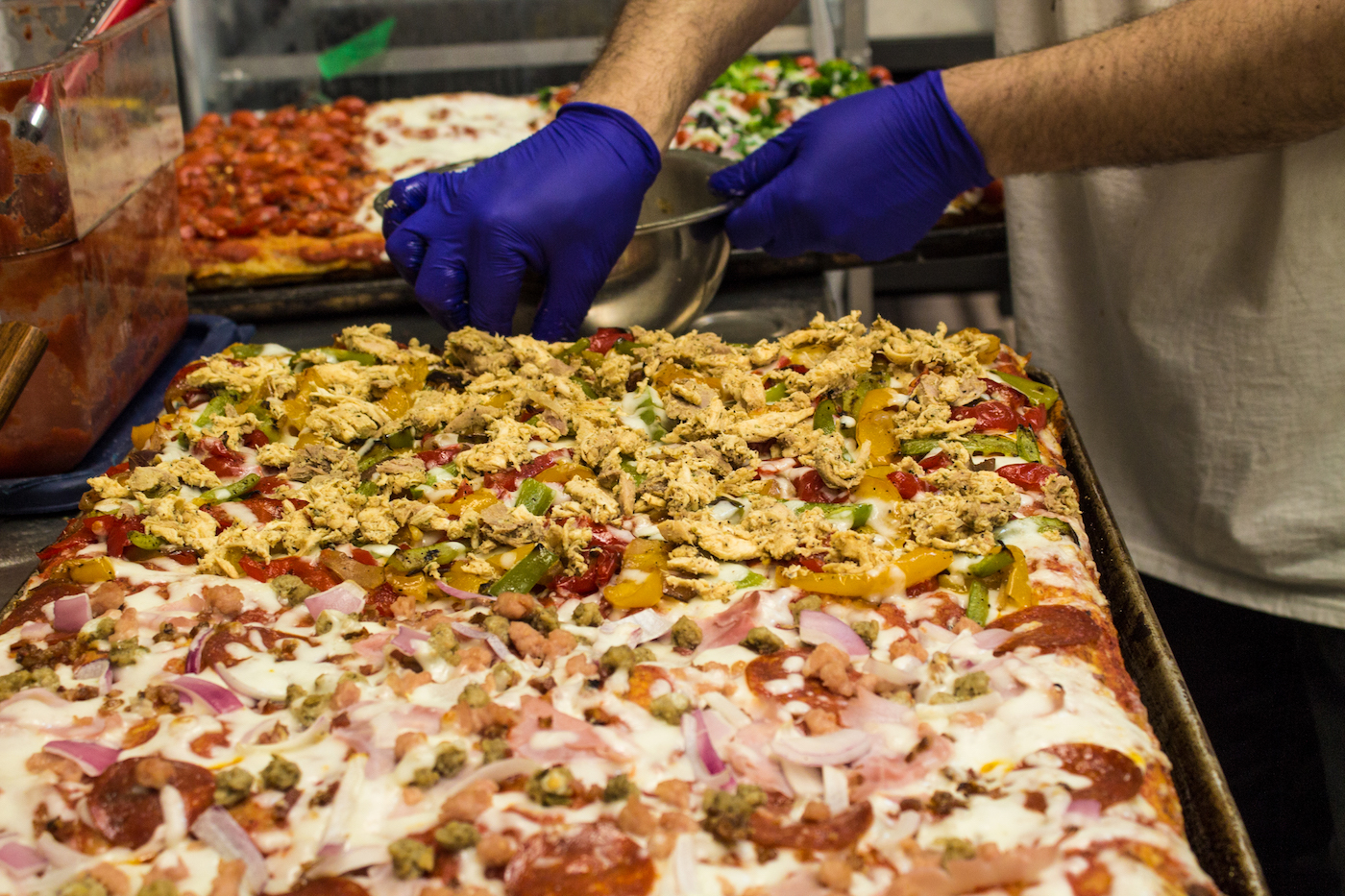 Some pizzas are baked without sauce, while some are baked with an initial layer of sauce with a second portion added partway through baking. Certain toppings are kept aside to be added fresh at the end for texture and flavour-related reasons.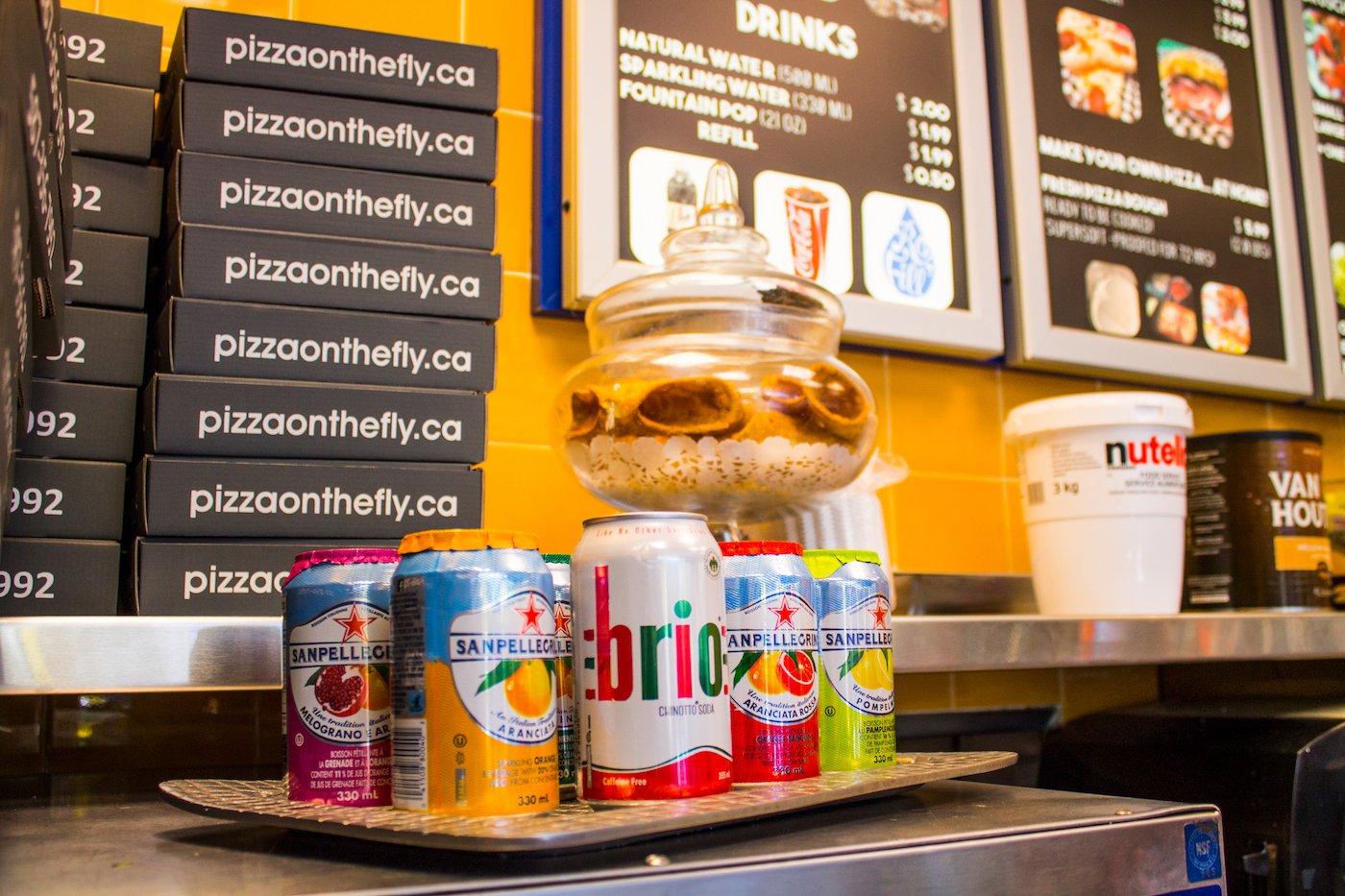 While you're introducing your tastebuds to Roman-style pizza, get to know the popular chinotto beverage Brio. It's a tart, sweet and tangy sparkling beverage made from the fruit of the myrtle-leaved orange tree.
Avenue's writers and editors are occasionally invited to eat at local restaurants as a guest. Neither free meals nor advertising are required for coverage in Avenue.