When Anne Ostberg, owner of the Ruberto Ostberg Gallery in northwest Calgary, decided to add a lounge to her gallery space, she turned to long-time friend and colleague Khalid Omokanye for help.
A local builder, designer and entrepreneur, Omokanye also happens to be an active participant in Calgary's art scene, and he was immediately inspired by Ostberg's vision of creating a fun and approachable space where artists and non-artists alike could convene, enjoy a cocktail or two, and talk about art.
He agreed to take on the project.
Construction of the lounge began in 2020, shortly before the pandemic started. Omokanye says that prior to COVID, he and Ostberg were rushing to get the bar finished. But once the pandemic hit and lockdowns became a part of life, he was able to take his time as a one-man construction team.
"I don't want to say COVID was a good thing, but it gave us a chance to take our time and really solidify the concept [for the space]," says Omokanye.
After more than two years of construction and preparation, The Artist Lounge officially opened in May 2022. With seats for 60 people and a modern, open concept feel, the lounge is a seamless extension of the gallery itself.
"The idea is to get people to come in, grab a drink, have a look at the art, and then foster more art conversations and [a stronger sense of] community," says Omokanye, who now serves as The Artist Lounge's general manager. "Of course, you can still come by and enjoy a drink without having to engage in the fancy art. The idea [of the lounge] is to be on the slightly weird side, but approachable weird."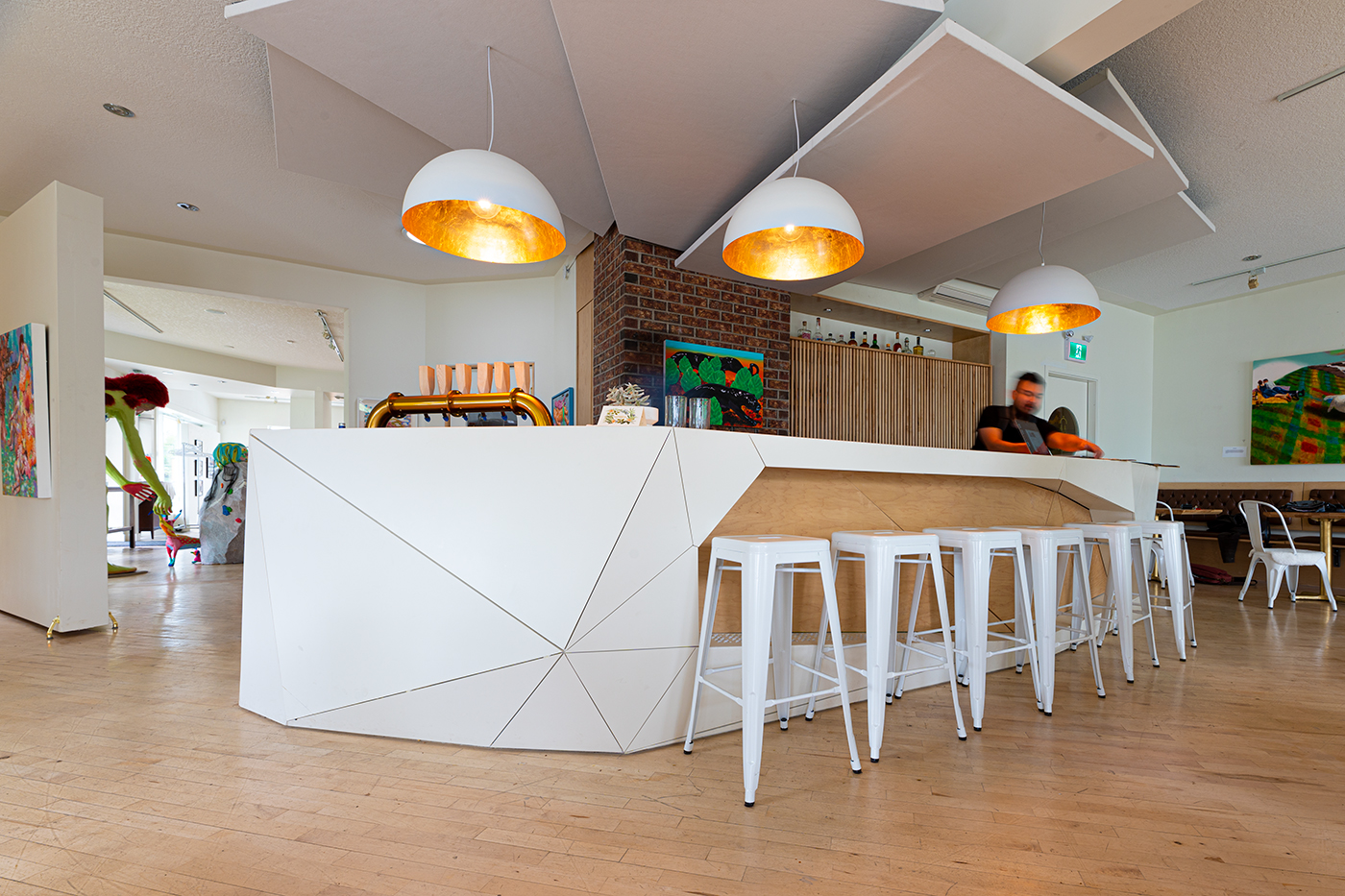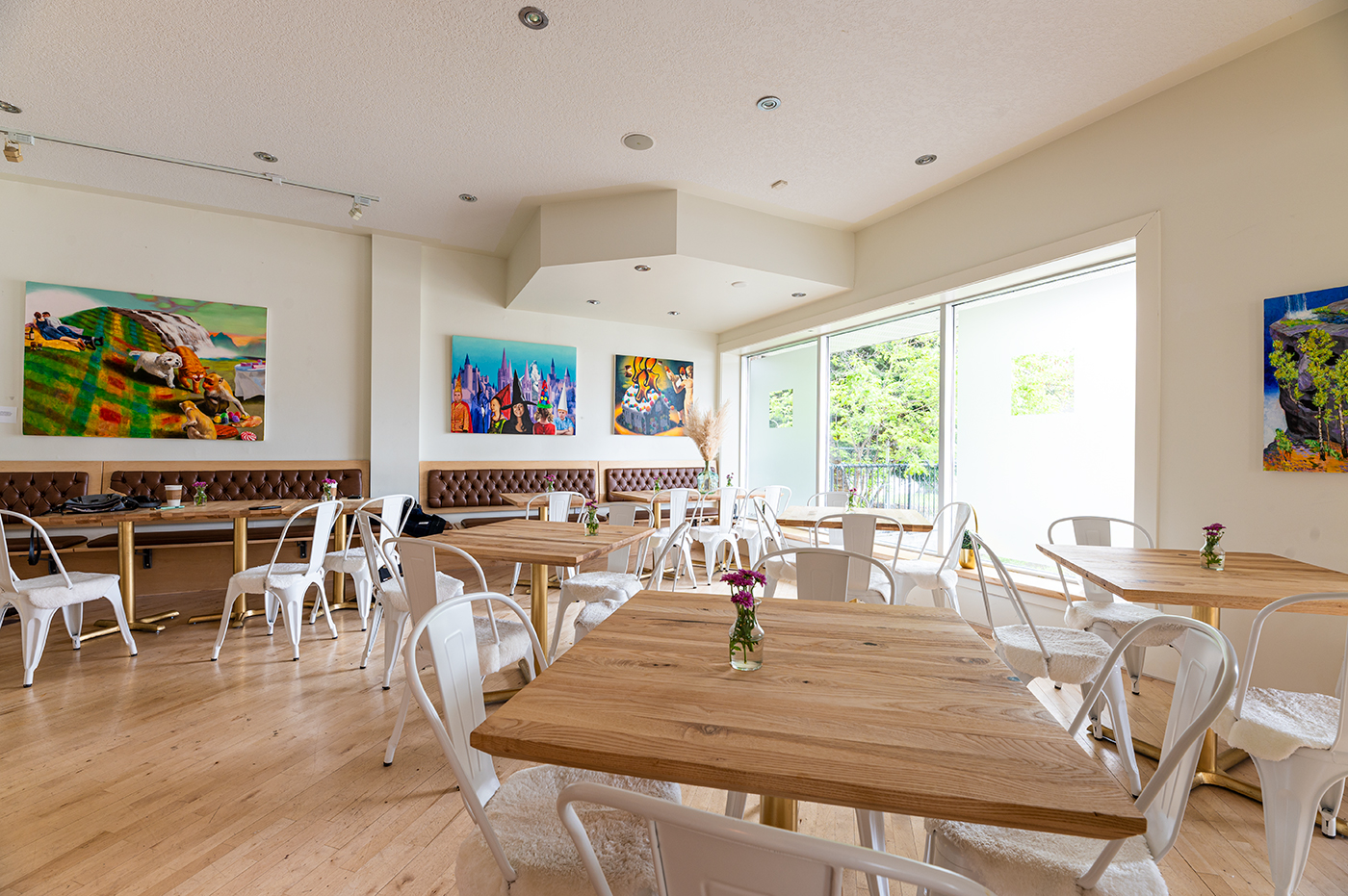 In terms of what's on the menu, The Artist Lounge is a tapas and cocktail bar, and creativity is at the core of everything on offer.
"In the kitchen and behind the bar, we're sort of prioritizing that artistic expression," says Omokanye. This means the menus will be constantly rotating, based not only on what is in season, but also on what sort of exhibitions are showing in the gallery.
The chef in charge, Trent Bochek, has created a menu inspired by diverse cultures from around the world. Currently, the tapas menu has snacks like kimchi pork wontons, cumin spiced carrots, bourbon caramel doughnuts and "island nuts" with coconut oil and a lime-jerk spice. There are also more substantial options, such as French onion veggie or chimichurri ribeye sliders, and coconut prawns with a pineapple sweet chili sauce. Those who want a taste of everything can opt for a platter of seven items from the tapas menu.
The drinks menu, created by Jimmy Nguyen (who has helped open several bar programs around the city, including those for Porch and Lily Asian Bistro), is equally as interesting. Cocktails like "The Lunch Lady," made with rum, ginger beer and pho syrup, or "Fozzie the Bear Says Oaxaca Oaxaca," with mezcal, prune, mole and cricket salt, currently grace its pages — but just like with the food, these drinks may not be on the menu forever. There is also a selection of beer and wine from local producers and breweries to choose from.
The space will have a number of wine and sake tastings in the coming months, with more being added all the time. Plus, the gallery is always changing, so no two visits to The Artist Lounge will ever be quite the same.
The current exhibition at Ruberto Ostberg Gallery, called Connections 2022, is a group show featuring local artists. The Artist Lounge is open Thursdays to Saturdays from 4 p.m. to close.
1840 20 Ave. N.W., 403-455-0992, theartistlounge.ca