Long thought to have peaked with the three-martini boom days of pre-2015 Calgary, the business lunch is back — and experiencing a renaissance. Today's midday affairs, which have resumed after two-plus years of COVID-19 restrictions and work-from-home advisories, are all about thoughtful shared plates, playfully curated wine lists and an appreciation of the time we lost.
"There is a strong desire to be together," says Shannon Wray of Lawson Lundell LLP, who regularly steps out for lunch from her office at Brookfield Place. "Both on the client front and with our team, we have recognized the benefit of in-person communication and collaboration."
When Alberta dropped its remaining restrictions this past spring, offices began to refill — and restaurants followed. While the rest of the country lingered over protocols, it seems workers in downtown Calgary showed up to capitalize on a new normal. Data collected by reservation platform OpenTable reveals Calgary and Edmonton led the country with the most weekday seated diners in May and June.
"[Corporate Calgary] can see they have the chance to beat other companies to the deal — and they are taking it," says Stephen Deere, owner of Modern Steak, who sees the impact of in-person client lunches every day. "A lot of Calgary-based, energy-driven companies are in the game right now. People are going out, people are spending money."
Despite staff shortages and a slowing economy, the proof is on the street just before noon on weekdays, as Stephen Avenue fills with people heading to a reservation or running to secure a table before the rush. Abbreviated lunch menus are still on offer, but many diners are opting for main menus that include all the celebratory fixings available at dinner.
Sommeliers, who discovered new varietals over the last two years, are highlighting boutique bottles from smaller wine regions around the world; and local ranchers, farmers and suppliers, who also survived closures, are invested in the kitchens of chefs who are finding new ways to impress creativity on the plate. For corporate Calgary ready to reconnect, the timing couldn't be better.
Open: 7 a.m., Monday to Friday
Best for: Work besties celebrating an office victory.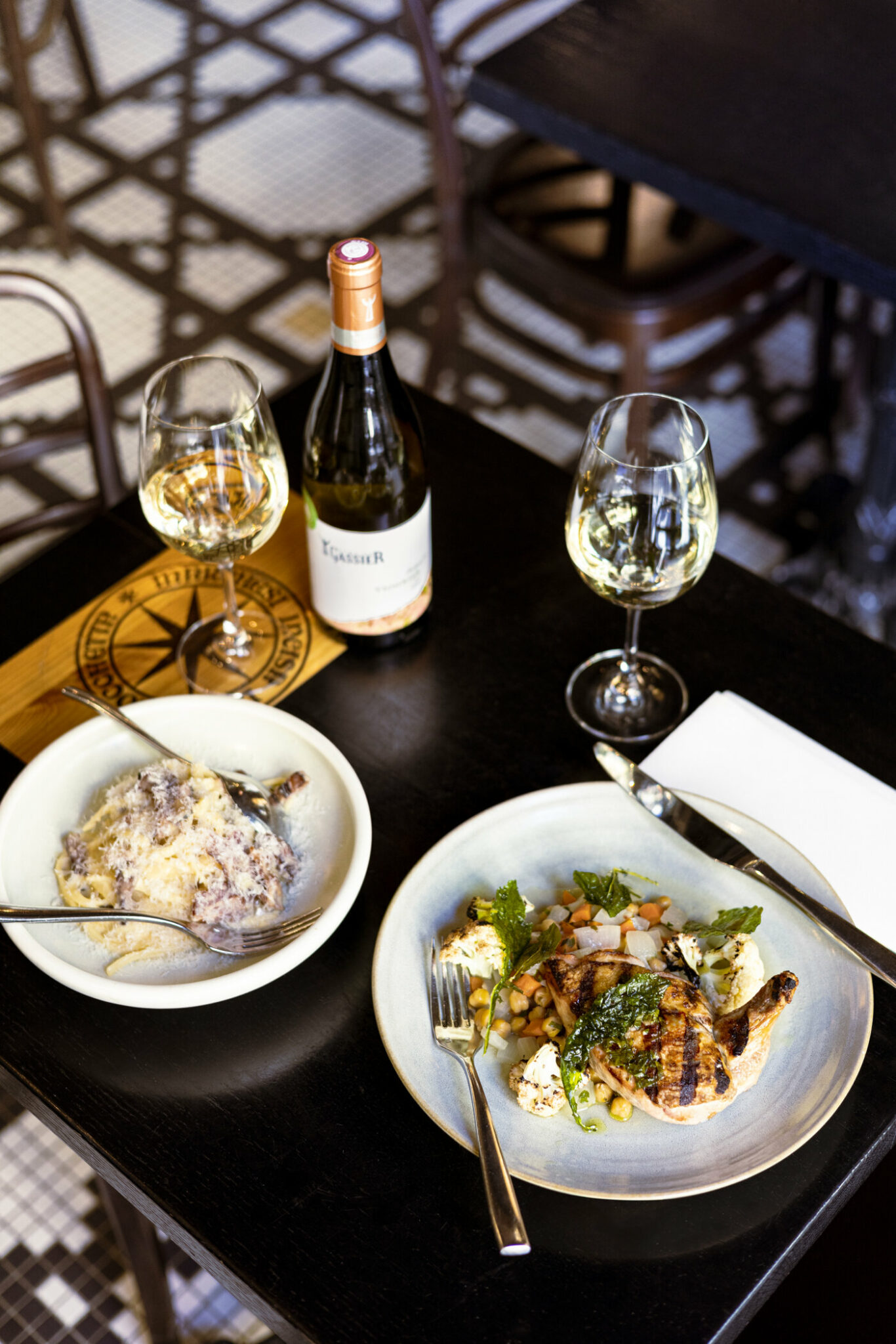 With its checkered tile floors and open kitchen, Cucina has the warm, welcoming energy of an authentic Italian bistro. An antique wooden ladder found by Italian-born owner Dario Berloni in the 1980s, and a print of Portrait of a Star, a piece depicting his late wife, Valentina, by Calgary visual artist Chris Cran (the original hangs in sister restaurant Teatro), offer character that is often missing from chain restaurants in the core.
"These small touches give the space a personal feel," says Mia Berloni, director of operations for the Teatro Group and daughter of Dario Berloni.
Like many of the city's best restaurants, Cucina's menu evolves seasonally — currently, it includes a grilled chicken dish with chickpea ragout, roasted cauliflower, fried kale and salsa verde, and gnocchi with braised pork. Just like at Teatro, high-quality ingredients are the stars here, from sustainably sourced octopus to fresh focaccia baked daily at Alforno Bakery & Café, another Teatro Group restaurant.
The wine list, curated by Taylor Simpson, offers gems like a 2018 Viognier from Bench 1775 in B.C.'s Naramata Bench, as well as Tuscan classics like a 2018 Ornellaia Le Volte, a perfect pairing for the charcuterie selection from Calgary-based micro-salumeria Saltcraft Meat Co. Diners looking to share can graze on Nonna's veal, beef and pork meatballs, marinated olives, and mushroom bruschetta. And, if engaging with your fellow diners is the top priority, opting for one of the daily features, which might include grilled branzino with creamed potatoes or fresh haddock risotto served with broccolini and olive tapenade, means you don't even have to look down at your menu.
515 8 Ave. S.W., 587-353-6565, eatcucina.com
Open: 11:30 a.m., Tuesday to Friday; closed Monday
Best for: Longtime colleagues catching up over the lunch special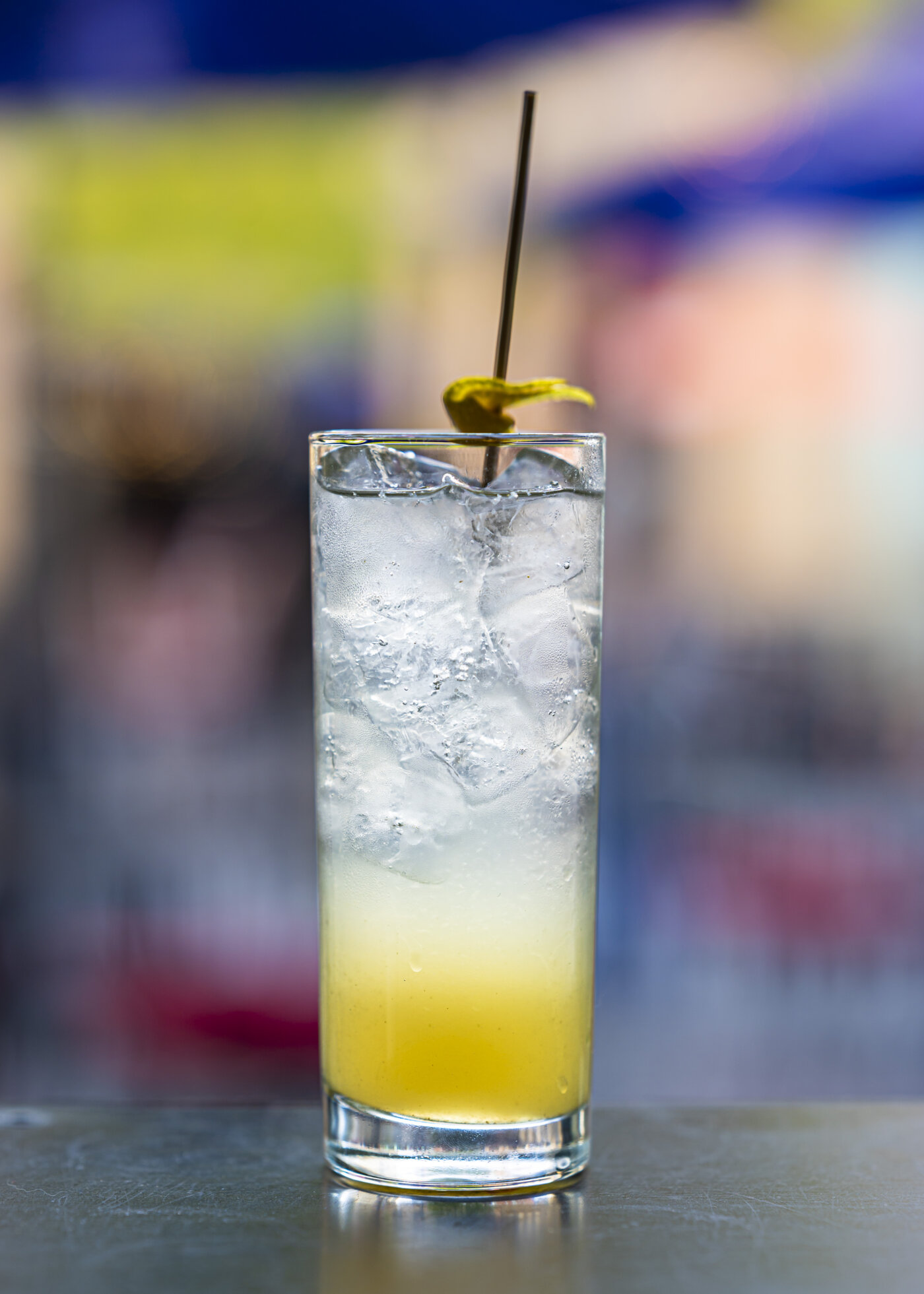 Stepping off Stephen Avenue during the lunch rush and into the cozy and chic atmosphere at Klein / Harris is the perfect way to take the edge off a stressful day. Co-owners and life partners Christina Mah and chef James Waters are there to greet diners, working away in their "from-scratch" kitchen in this homey, yet upscale space featuring shelves of cookbooks, preserves and a variety of seating options so guests can relax and linger longer.
K/H prides itself on being an independent restaurant inspired by a range of Canadian dishes from coast to coast, from grilled Humboldt squid to a parmesan crusted grilled cheese with Oka, smoked Gouda, caramelized onions and green tomatoes. Of course, you can't go wrong with the K/H burger, made of prime Alberta chuck and brined brisket — it's one of the best in the city.
For those looking for a quick bite, The One Punch Lunch deal at $18 offers a daily feature sandwich with a choice of a garden salad, fresh chips or the daily soup, as well as a mini sour cream-crusted butter tart filled with maple. The meal also comes with coffee or the daily zero-proof or low-ABV cocktail. "Zero-proof cocktails are a delicious option for those who aren't having a regular cocktail, especially during our lunch service," says Mah. The list includes Clove & Cola, a sparkling Italian soda mixed with a reduction of cloves, vanilla and citrus peels, and the Harris Swizzle, with fresh orange, mint and lime juice topped with ginger beer.
After lunch, some diners are known to make their way to the couches in the back corner of the restaurant, an ideal spot for another beverage, like a French 75 topped with Veuve Clicquot or a classic Caesar with K/H's own clam and celery broth laced with tomatoes, pickled celery and carrots.
110 8 Ave. S.W., 403-262-8100, kleinharris.com
Open: 11:30 a.m., Tuesday to Friday; closed Monday
Best for: Closing the next big deal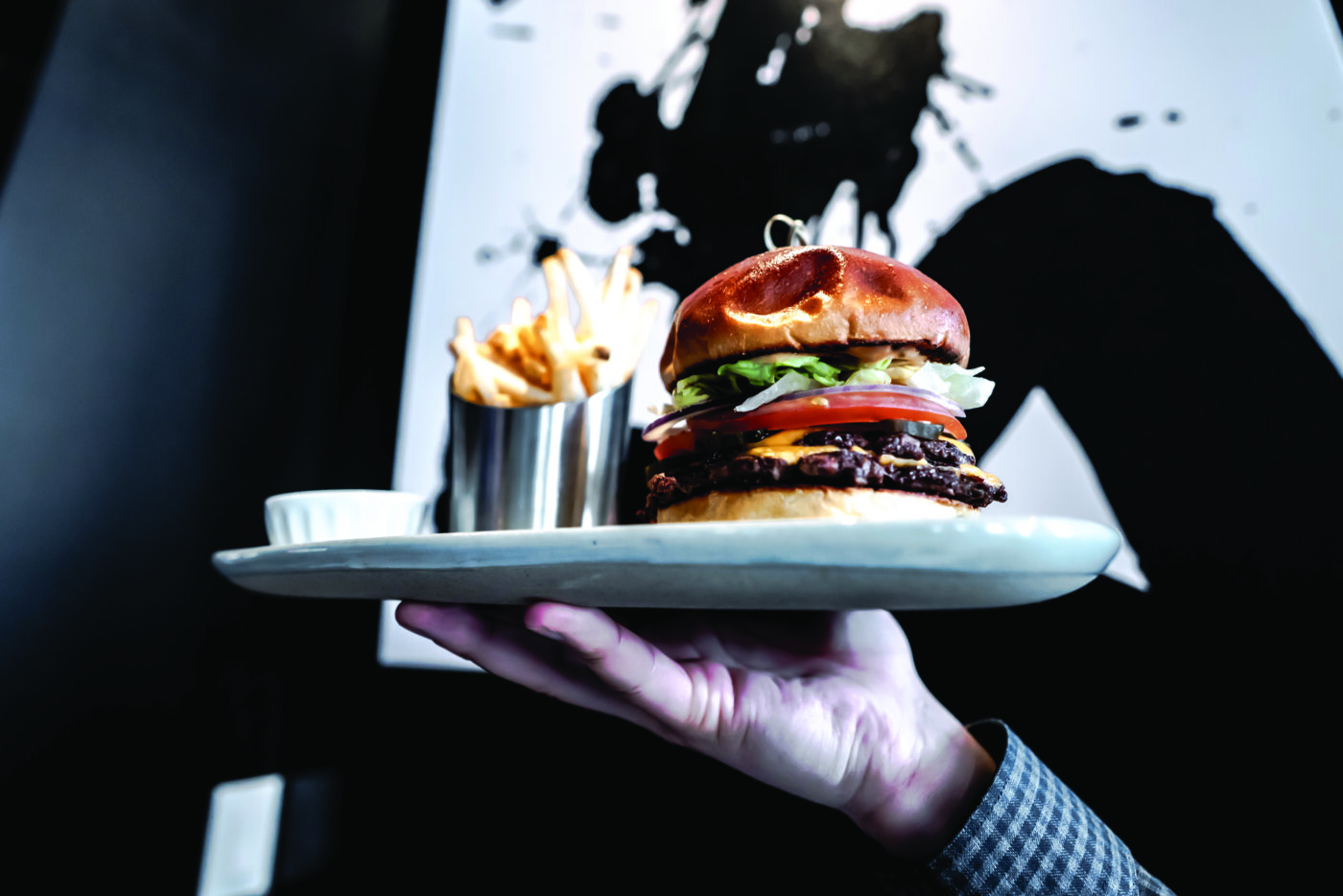 Modern Steak and its owner, Stephen Deere, are at the heart of the city's daytime dining scene. The Calgary-born proprietor has had a restaurant in the core since 2002 and has survived every bust since. "When COVID closures happened and I laid everyone off, I closed the office door and had a good, hard cry," says Deere. "I take my responsibilities seriously: my ranchers, my suppliers, my staff — this is how they pay their bills and feed their families." He turned around three days later and started Modern Burger, selling 10,000 takeout burgers in less than three months, which enabled him to hire back some staff, work with suppliers and show up for his loyal customer base.
Today, it's back to bricks-and-mortar business as usual inside the Stephen Avenue restaurant that offers a contemporary take on a steak house, complete with exposed sandstone walls, light leather upholstery and a lunch menu full of quick, but substantial plates. The beloved Alberta beef burger is as delicious as it is well-priced at $19, while a quintessential wedge salad, enlivened with feta, crispy pickled onions and everything bagel spice, sneaks in under $15. Serious diners can go for the main menu featuring a selection of A5 Wagyu beef, tomahawk steaks and a seafood platter packed with king crab legs and lobster tails.
Deere says the wine list has been increasingly popular in this back-from-COVID period; from a light 2019 Joseph Drouhin for $62 to a full-bodied 2005 Château Margaux for $3,548, there's something for every lunch scenario. "People are spending a little more time together and a little more money on the wine," says Deere. "We're seeing the connections being made again."
100 8 Ave. S.E., 403-244-3600, modernsteak.ca
Open: 11 a.m., Tuesday to Friday; closed Monday
Best for: Wowing out-of-town clients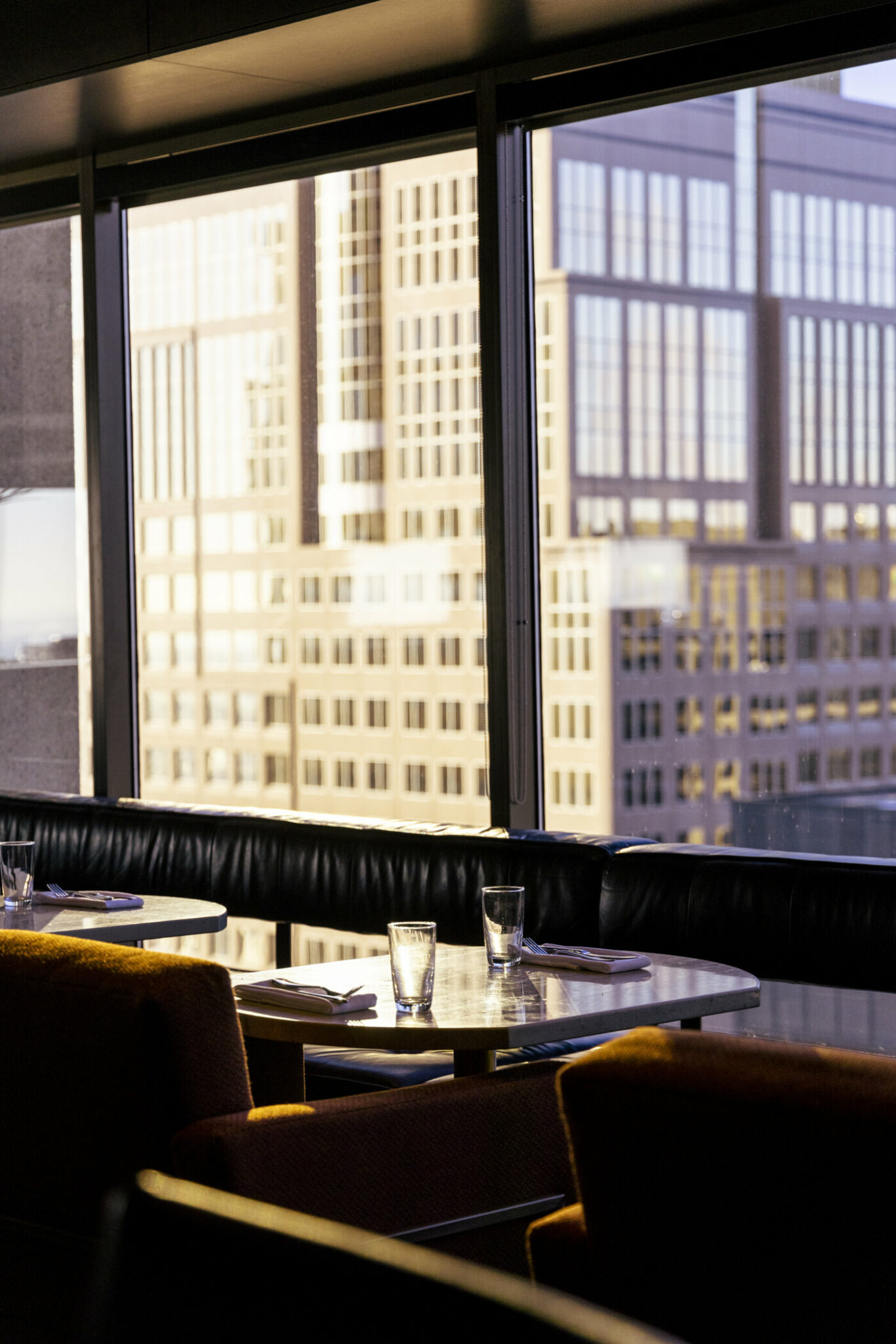 Perched 40 storeys above the bustle of Stephen Avenue, Major Tom continues to be one of Calgary's most talked-about new restaurants. Warm golds and emerald greens exude a sense of uptown glam and offer a sleek mid-century foreground to the impressive backdrop of concrete and glass office towers. For a high-stakes client lunch, you've picked the perfect setting. Major Tom first greeted diners in July 2021, but it was a few more months before daytime dining was available to the business crowd. In October of that year, lunch service debuted, but with only half the space and tables available.
"There was so much demand for lunch right off the bat," says Concorde Entertainment Group regional manager Brittany Thompson, who is also opening Barbarella Bar on the main floor of the same building this month. "It was just a matter of building our team."
As the staff and waitlist grew, so did the capacity. Today, the whole restaurant is typically packed for lunch, serving more than 200 people. The all-day menu offers classic plates, including baked Pacific halibut and steak frites, but its real strength is in creating a sense of celebration with a family meal. Here's how we'd do it: begin with a dozen oysters, followed by a single crispy hen egg hors d'oeuvres for each diner. Next, glazed snow peas with chili, parmesan and garlic offer a fresh, full-flavoured burst, before moving onto plates of bone-in striploin, Marsala mushrooms and fries with garlic aioli.
Be sure to peruse the wine selection: Sommelier Brad Royale's list is one of this city's most enjoyable reads. The description for the 2020 Elena Walch Lagrein, for example: "Warm blueberry muffins with a cold can of root beer. It's like you're eight years old again."
40th Floor, Stephen Avenue Place, 700 2 St. S.W., majortombar.ca
Open: 11 a.m., Monday to Friday
Best for: Toasting a hard-earned deal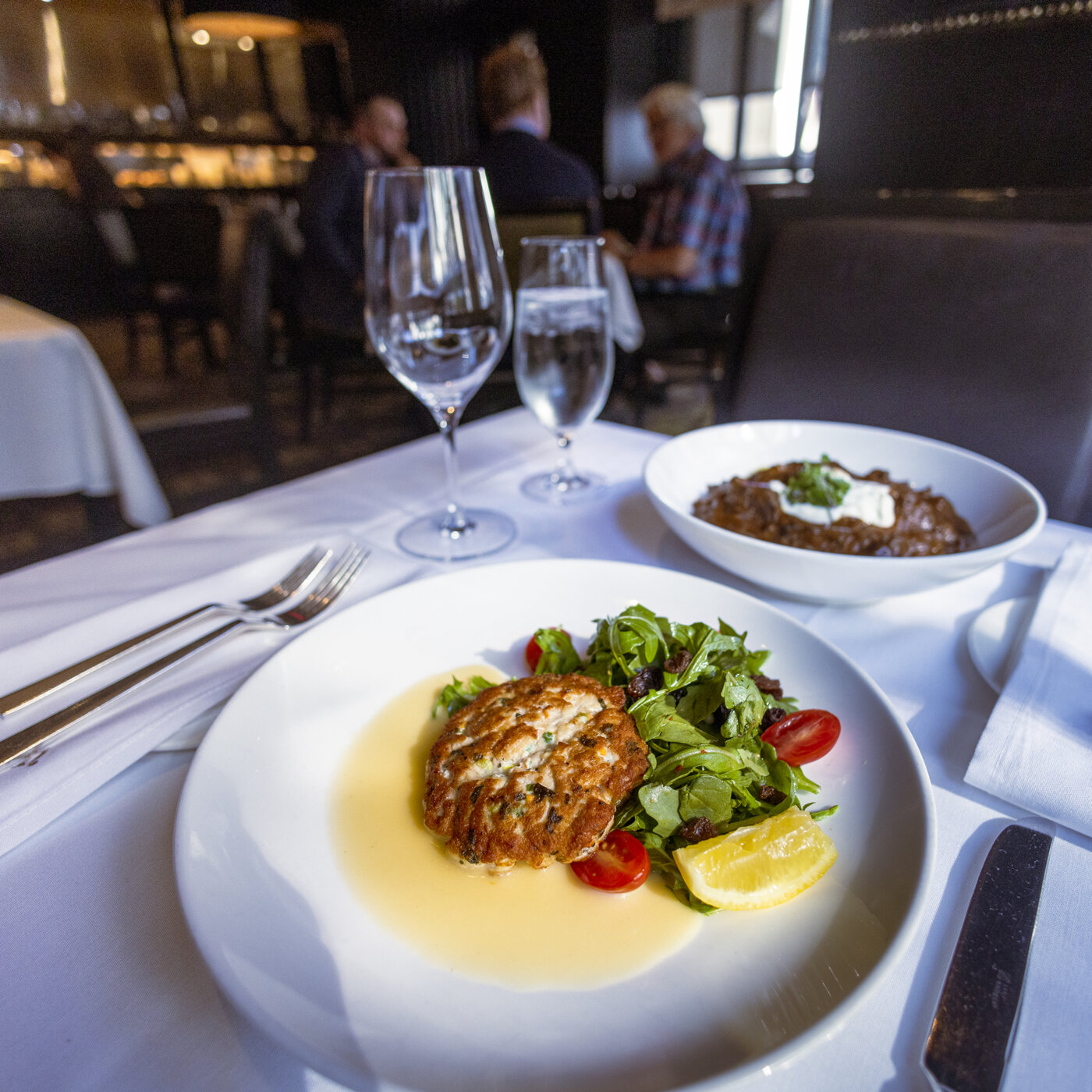 The hustle of Stephen Avenue moves quickly past Hy's picture windows, while, inside the dining room, dark walls, high ceilings and service staff in boxy jackets offer a sophisticated familiarity — this is one of the city's most beloved steak houses. Established by Alberta's own Hy Aisenstat in 1955, Hy's has been around so long that the staff are intimately acquainted with many of the city's key players. "They are like family to us," says general manager Barb Steen. "We are seeing a lot more of our regulars — not just for special occasions, but once or twice a week."
Longtime employees enable Hy's to make special accommodations for its regular clientele, Steen says, while also making first-timers feel equally welcome. "If we see [a regular's] name on the lunch books and we know they prefer the lounge, they get the lounge; whatever they like, we make it work."
Daytime diners settle into their reserved-in-advance spots for the classics, including jumbo shrimp cocktail, baked French onion soup and escargot, available on both the lunch and dinner menus. Favourite lunch-only plates include the pan-fried chicken salad and creamy, tender beef stroganoff. And there are new vegetarian offerings, too, including the organic vegan bowl with tender pieces of eggplant, okra and yam served in a rich coconut cream sauce topped with crisp lotus chips and mango chutney. No matter what you order as a main, there's one dish that's a must: regulars claim some of the more important deals in the city have been finalized over Hy's famous cheese toast, which has been on the menu since the beginning.
At The Core, 8th Avenue and 3rd Street S.W., 403-663-3363, hyssteakhouse.com
5 More Lunch Spots We Love
Open at 11 a.m., Monday to Friday
You'd be hard pressed to find someone in the downtown core who hasn't been for lunch at Cactus Club. Guests appreciate the upscale chain restaurant for its consistency and upbeat atmosphere; flavourful dishes such as ceviche, truffle fries and chef Rob Feenie's tuna stack don't hurt either.
178, 317 7 Ave. S.W., 403-454-9399, cactusclubcafe.com
Open for lunch 11 a.m. to 2 p.m., Monday to Friday
Sukiyaki House serves some of the city's best sushi. Reservations are a must as diners flock for the lunchtime bento box featuring spicy prawns, vegetable tempura, and a fresh assortment of sushi and makimono rolls. If you're imbibing, check out the impressive sake selection or go for an ume negroni or yuzu gimlet.
130, 207 9 Ave. S.W., 403-263-3003, sukiyakihouse.com
Open for lunch 11 a.m. to 2 p.m., Tuesday to Friday
A staple on Stephen Avenue for more than 15 years, Rose Garden's lunch buffet is filled with all the favourites: crispy fried spring rolls, shrimp salad rolls with fresh mint, a myriad of creamy, colourful curries with crunchy vegetables and, of course, Pad Thai. Lunch service is packed, so it's best to get there early.
112 8 Ave. S.W., 403-264-1988, rosegardenthai.ca
Open at 9 a.m., Monday to Friday
Just a block from The Bow tower sits one of Calgary's most infamous late-night Chinese food restaurants (IYKYK). During the week, daytime diners can enjoy dim sum deals like the lunch for four: seven dishes for $48, with steamed shrimp dumplings, garlic spareribs and steamed BBQ pork buns all on offer.
201, 233 Centre St. S.W., 403-264-5988, uandme-restaurant.com
Open at 7 a.m., Monday to Friday
Trading reservations for variety and a more relaxed atmosphere, this food hall in the Beltline entices the corporate set out of the core with options that include Actually Pretty Good pizza, Indian street food by Saffron Street and tacos from Moose and Poncho, which was formerly hidden away in a small space in Chinatown.
1327 1 St. S.W., fsmyyc.com