It's plain to see from the permanently long lines of people waiting at all the popular spots that brunch is a big deal in Calgary. And while I wouldn't deny that a buttery Benny is the ultimate hangover food, and that there's something comforting about gathering with friends over coffee to conduct a weekend post-mortem, I'm also sad that the popularity of brunch so overshadows lunch on the weekend.
I prefer lunch to brunch for several reasons: wine is extremely difficult to pair with eggs, people feel more compelled to shower and wear fresh clothes to lunch and restaurants that serve lunch generally take reservations.
Despite my strong case, it is frustratingly difficult to find a restaurant that serves lunch on the weekend. But all is not lost. These eight restaurants are offer excellent lunch menus with fine wine lists and a freshly scrubbed clientele.
Black Pig Bistro
Its name may say black pig, but this Bridgeland restaurant is definitely the black sheep of the neighbourhood, which is well known as the brunch mecca of the city. The Spanish-style bistro has a small but very well-curated and executed menu featuring such favourites as a daily risotto, the signature pork and beans dish and a tomato Caesar salad, which is without question one of the tastiest salads in the city. Rounding it all out is an inventive cocktail menu and a dessert menu that is worth leaving room for.
825 1 Ave. N.E., 403-460-0350, blackpigbistro.com
This relatively new addition to Mount Pleasant has a no-minors license, making it a perfect choice for anyone who prefers to dine sans children. The restaurant is divided into two areas – one that's more casual with TVs and a lounge feel that's conducive to watching sports and a dining side, which is more conducive to enjoying the inventive, upscale menu. Standout dishes include the tuna melt, piled high with confit of sustainable tuna, aged cheddar and a fennel slaw, a steak sandwich with green peppercorn aioli and lobster pot pie. And don't pass up the butterscotch pie, plated up with toffee crumble, Chantilly cream, berries and vanilla orange sauce.
2411 4 St. N.W., 403-282-1339, eatdrinkblock.com
With room for 220 inside and another 48 on the patio when the weather heats up, Cibo is a particularly good choice if you have a larger group, especially since it takes reservations. But even if it's just lunch for two, you won't be disappointed with the menu that features pizza and other Italian classics plus particularly good salads. This sister restaurant to Bonterra is a great place to spend a casual afternoon, tipping back cheap-and-cheerful prosecco, $5 Caesars on Sunday and a Sunday rotisserie roast feature.
1012 17 Ave. S.W., 403-984-4755, cibocalgary.com
Mango Shiva
You may think of Stephen Avenue as a weekday lunch destination for downtowners but Mango Shiva is open for weekend lunches, serving modern, upscale Indian food in a sexy and stylish environment. As with all Indian food, the dishes are ideal for sharing no matter the size of your party and there are plenty of vegetarian and gluten-free options on the menu, as well as Ocean Wise seafood choices.
218 8 Ave. S.W., 403-290-1644, mangoshiva.com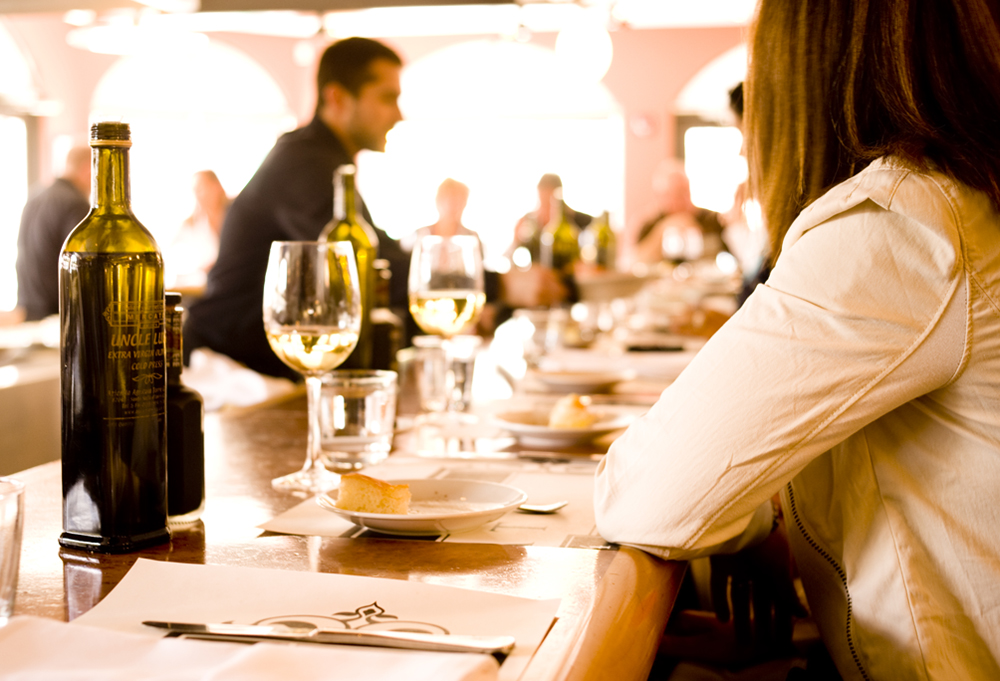 At Mercato in Mission, the ambiance is always lively and elegant.
Both the Mission and the Aspen location are open daily for lunch, which is great news for anyone experiencing a pasta craving, given that Mercato does pasta dishes better than almost anyone in the city. The Mission location, which is always packed at lunch during the week, comes with a little more elbow room on the weekends but with the same lively atmosphere. The best seat in the house is always at the open-kitchen bar, watching the non-stop action of chefs working their magic with pasta, sauces, meat and veggies.
2224 4 St. S.W., 403-263-5535; 5000, 873 85 St. S.W., 403-263-6996; mercatogourmet.com
Scopa
If you like Italian dining in a charming, rustic and authentic atmosphere, and who doesn't, look no further than Scopa – a relatively new restaurant just north of 16th Avenue on Centre Street, next to Lina's Italian Market. This cosy, casual spot is another relative of Bonterra's and as such maintains exceptionally high quality food standards without much fuss and bother. Begin with a charcuterie platter and some yummy polenta bread before diving into a pasta dish, pizza or one of the rotisserie meat features.
2220 Centre St. N.E., 403-276-2030, scopacalgary.com
Dining at Shiraz is like being invited to dine at a Middle Eastern friend's home, if that friend happens to be a whiz at preparing Persian cuisine. For a taste of everything, order the Shiraz appetizer platter (stuffed grape leaves, hummus, roasted eggplant, yogurt and cucumber mint dip and mixed vegetables, $15.99) and move onto the flavourful stews, kebabs and other meat dishes. Or, if you're feeling adventurous, put yourself in the capable hands of the servers – they'll assemble a not-on-the-menu feast for you and you'll be really glad you did.
1120 Centre St. N., 403-452-4050, shirazpersiancuisine.ca
Whether it's part of a family outing to Heritage Park or a destination in and of itself, the Selkirk Grill is worth a visit. Its upscale casual menu focuses on local, seasonal ingredients and the kitchen turns out a mean burger as well as more refined takes on salads, seafood and such creative masterpieces as cauliflower Pacific Rock perogies with crme frache, house-made sausage and braised red cabbage. It's all housed in a decidedly Canadian atmosphere that's definitely worth the price of admission – especially since you won't be charged admission. Don't pass up the desserts.
1900 Heritage Dr. S.W., 403-268-8607