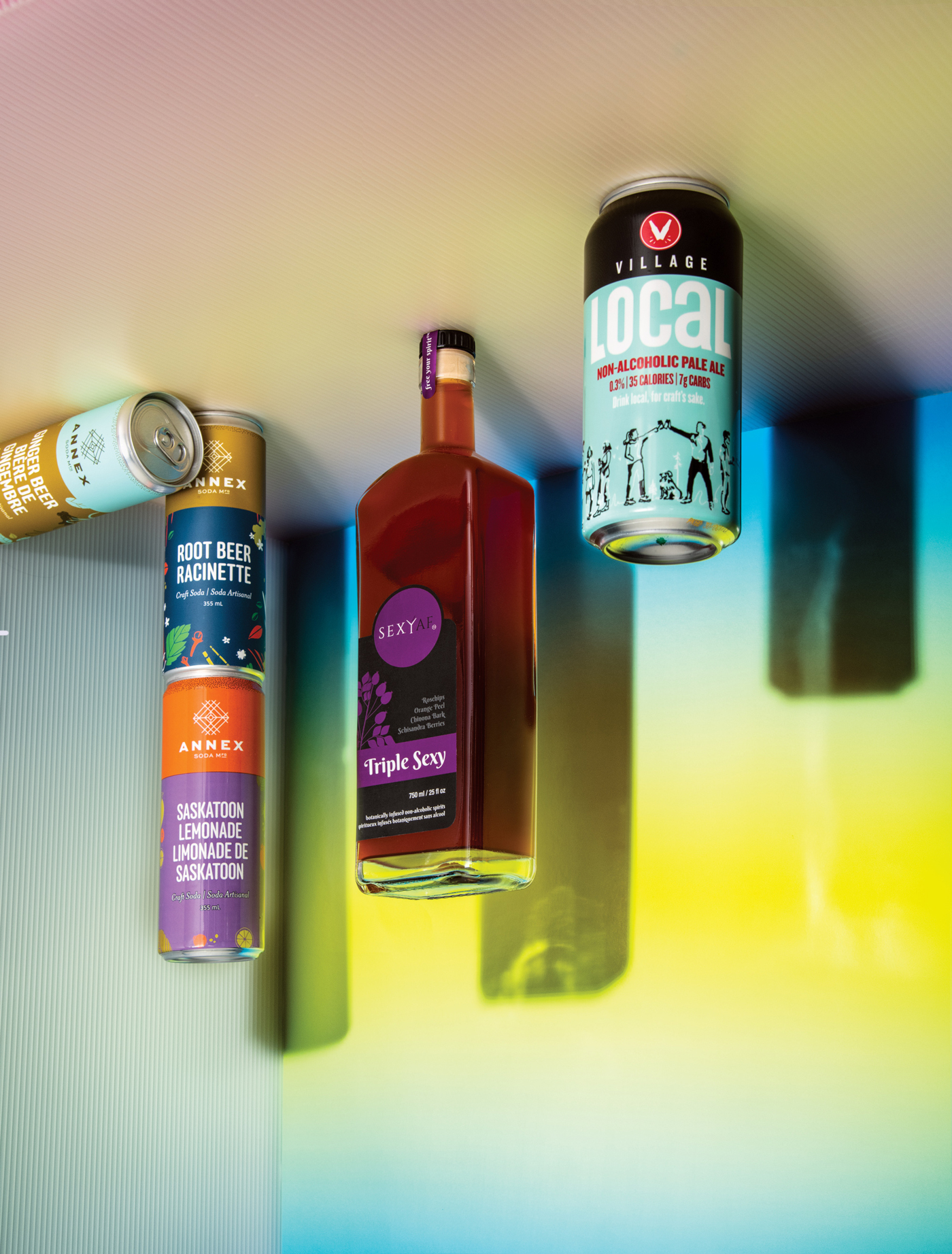 Calgarian Ted Fleming lay in a hospital bed in Malta, the blue waters of the Mediterranean glittering outside his window, and decided he'd better make some changes. Fleming, then 33, had been diagnosed with Crohn's disease, a chronic inflammation of the digestive tract, five years earlier. On holiday in Europe, he ended up in the hospital — the fifth time in five years — with complications from his disease. Fleming promised himself that when he got out, he would focus on his health. He would exercise more, eat better and quit drinking.
But the last goal proved especially challenging. Fleming loved beer. He loved everything about it — the smell, the rituals around it, the sense of discovery that came with the first sip of a new craft beer. Firmly committed to his no-alcohol pledge, he set out to taste test every alcohol-free beer he could find, and came up wanting. "There was no variety, the taste profiles weren't inspiring," he says.
In 2013, he started Premium Near Beer, North America's first online non-alcoholic craft beer store, trying to get more options into the hands of non-drinking Canadians. But the selection, especially those that Fleming could drink, still disappointed him. So, in 2017, he decided if he couldn't find a great non-alcoholic beer, he would make one. That spring, he launched a Kickstarter campaign that surpassed its goal within three hours. By September of 2017, Partake Brewing released its first beer, an IPA with 0.3 per cent alcohol. It was brewed in Toronto, but the company maintains its headquarters in Calgary. In early 2018, Partake rolled out its second product, a pale ale that went on to win the World Beer Award for the best non-alcoholic beer that year. (To be considered non-alcoholic, beer has to have less than 0.5 per cent alcohol.)
Today, Partake produces four different non-alcoholic beers that are sold in liquor stores and grocery stores across Alberta, online for customers throughout North America, and at local pubs and restaurants that range from Craft Beer Market to the fine-dining restaurants at the Fairmont Chateau Lake Louise.
"I launched Partake as an answer to my problem," says Fleming. "As it turned out, it solved that problem for a lot of other people."
The problem Fleming is talking about is this: many people like a good drink, they like the social scene that comes along with a good drink, but they don't want to drink alcohol. That's not an easy problem to solve when the phrase "let's grab a drink" is a standard part of business networking and friendly socializing and is understood to mean an alcoholic drink. Restaurants advertise happy hours and cocktail hours, deluxe tasting menus with wine pairings and game-day specials that celebrate sport by offering deals on drinks.
Booze is never difficult to find: Alberta is home to nearly 2,300 liquor retailers selling more than 29,000 products, and more than 10,000 businesses with licenses to serve alcohol.
So celebrated is alcohol, that a separate industry has sprouted up, extolling the idea that drinking is part of how we get by as stressed-yet-high-functioning adults. This has been further fuelled recently by the uncertainty and stresses of the pandemic. On Amazon, there's a section of products selling a love of wine that sometimes overlap with the category that New Yorker writer Jia Tolentino billed "mom merch." Products in this category include things like wine tumblers with the words "Because Mommin' Ain't Easy" and "Mom Juice." (Never mentioned alongside these fun-time promoting items: women are at greater risk than men for certain alcohol-related illnesses like stroke, some cancers and liver disease, and alcohol consumption among women is increasing rapidly.)
But more people are also speaking out about sobriety — and they're looking for places and products that support their decision to stay away from the hard stuff. "People are becoming more comfortable creating that boundary to say 'drinking isn't quite for me,'" says Kira Dunlop, founder of Calgary's Boring Little Girls Club, a social group for sober women, trans and non-binary folks.
Dunlop stopped drinking almost two years ago when she was 21. She stood in front of the mirror one morning and figured that she was going to die. It might not be from liver failure or cancer or any other health issue directly related to drinking, but she had a tendency to down one drink after another, which got her into one dangerous situation after another. She had watched family members struggle with addiction and she didn't want to be next. "I just decided right there that I would stop drinking," she says.
Dunlop knew quitting wouldn't be easy, but she was surprised by just how hard it was. She went out to bars and restaurants with friends and felt paralyzed with anxiety about being surrounded by alcohol and people drinking it.
She wanted a circle of like-minded supporters who didn't drink or use any mind-altering substance (or, at least not much), but who still wanted to have fun. So she set up the Boring Little Girls Club (the "boring" in the title being entirely tongue-in-cheek). The group is neither a recovery group nor a peer-support group. That said, members get together at coffee shops (or online while coffee shops are closed), and they have each others' backs when things are challenging. They share strategies for high-stress events where alcohol will be served and discuss how they'll deal with any pressure to drink — "putting on your armour" is what they call their defence systems for not drinking. Their members include "Sober Supporters" who don't stay sober all the time, but who are sober when their friends need them to be. "The biggest thing is making sure people know that they are not alone. They don't have to be hiding in their houses. I want people to know that supports exist, and if you're struggling, that's okay," says Dunlop.
Globally, enthusiasm for not drinking, or for drinking a lot less, has been growing. Google Trends data shows a sharp rise in searches in Canada for "dry January" in December 2018 and 2019 compared to the three years prior. So, too, for the terms "staying sober" and "alcohol-free." The New York Times in 2019 described a movement of people who are "sober curious" or "mindful drinkers." They're abstaining from alcohol, permanently or temporarily. And if they're not abstaining entirely, then they're sharply curtailing their consumption. They don't drink for many reasons: religion, fitness, diet, addiction, dependency, cost and, increasingly, overall health. And they're backed by a growing body of research that shows alcohol, even in moderation, can be harmful: according to statistics cited by Canada's Low-Risk Alcohol Drinking Guidelines, average long-term alcohol use — even as low as one or two drinks per day — can lead to at least six types of cancer as well as other serious health conditions.
Josh Methot, a long-term Calgary wine expert turned real estate agent, says there's been a big shift in the way people talk about sobriety. "It's more socially accepted these days for people to not drink. Ten years ago, or even five years ago, there wasn't an open community of people that didn't drink that I knew of," he says.
Thirteen years ago, Methot attained his sommelier certification and went on to become the wine director for the Teatro Group and one of the province's most sought-after sommeliers. "In hindsight, toward the end of my drinking, I was always drinking to get drunk," Methot says, acknowledging that people don't often associate sommeliers with excessive drinking. But as he got older, the consequences of alcohol became "more intense or more serious." It got harder on his body and he took longer to recover. It was clear, he says, that it was time to stop.
He stopped working in the wine industry about five years ago, and 21 months ago he quit drinking. Today, he still does all the things he used to. He goes out to dinners, parties and events. He's still the person who selects wine at dinner. "I just don't consume alcohol," he says. And he chooses to be public about not drinking because he wants to show support for others looking to quit or slow down their drinking.
His good friend Jereme Bokitch, the Calgary hairdresser who founded and co-owns the Hedkandi salons, Butter Beauty Parlours and Johnny's Barber + Shop, publicly announced in 2019 that he was celebrating his one-year anniversary of sobriety.
A longtime trainer and employer of hairstylists, Bokitch says the hairstyling world can be tough on people, with its social events, late nights and lots of drinking. He went public with his own sobriety because he wanted people to know that they could succeed in the industry without alcohol. "Because so many people in our industry have challenges with alcohol and drugs, I wanted to put my experience out there if anybody's having challenges," he says.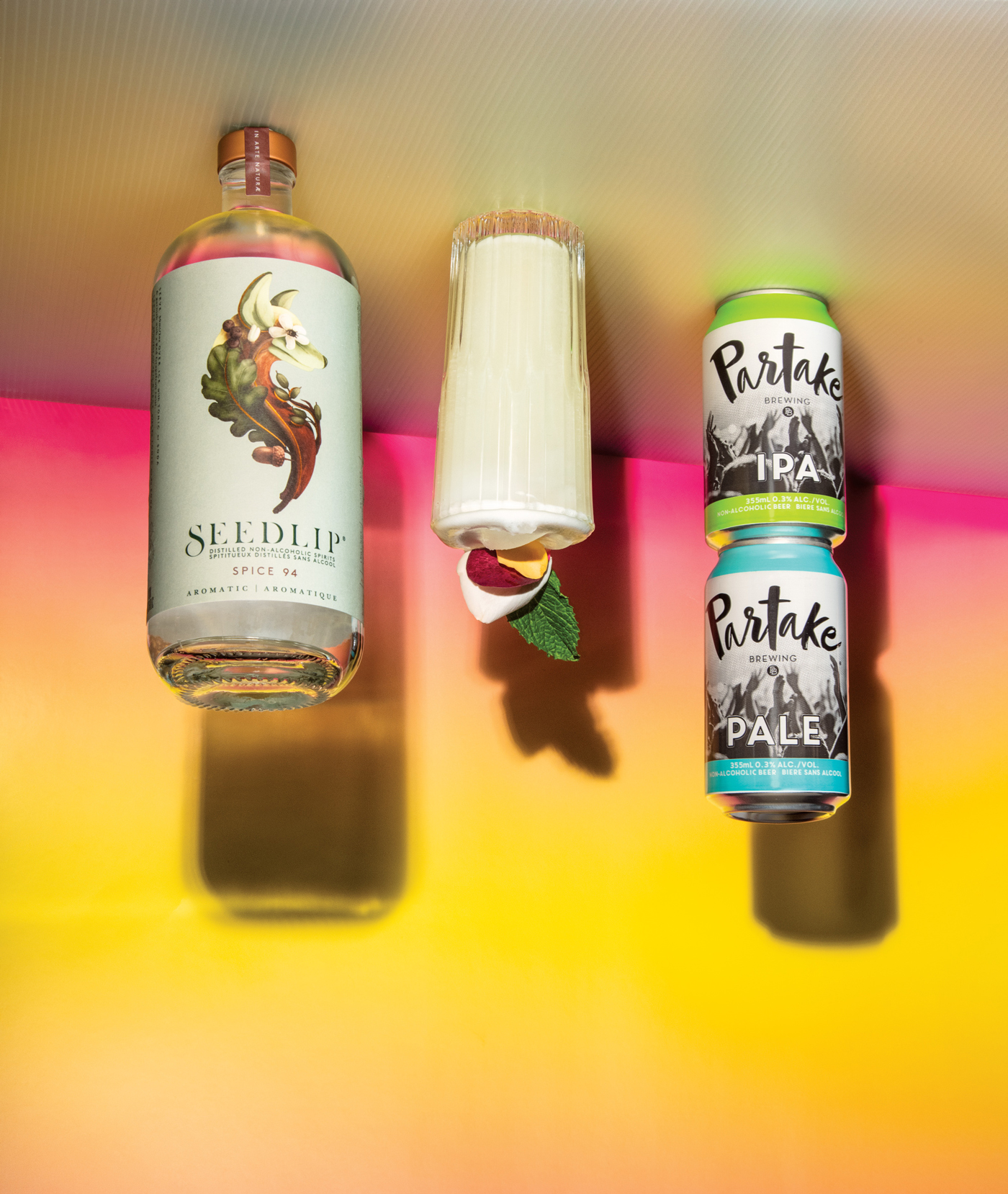 As more people speak up about not drinking, restaurants, bars and breweries are coming up with products tailored to non-drinkers, a previously overlooked market. While most restaurants are currently closed due to pandemic restrictions, many had added alcohol-free drinks to their menu before that. At Bridgeland's Waalflower Kitchen and Cocktails, the menu includes a full page of zero-proof drinks. In Central Memorial Park, the Israeli-inspired menu at the new Sidewalk Citizen restaurant features six fresh-to-order alcohol-free juices and juice-soda combinations — a list nearly as long as the actual cocktail list. The Rosetta, for example: a combination of almond and rose with some mint flavours that are common in Eastern Mediterranean drinks and desserts in the summer. At Proof and Bar Von Der Fels, bartenders serve made-to-order alcohol-free drinks mixed with Seedlip, a high-end, London-based brand of non-alcoholic spirits.
"We are definitely seeing a movement of people who want to enjoy a drink with complexity, but it doesn't necessarily have to involve alcohol," says Erin Miller, the general manager at Proof. Ten years ago, most alcohol-free products were "kind of gimmicky," she says. Now, with Seedlip and other products, "you can get the same complexity and the same kind of satisfying conclusion from a 'mocktail' as you can with a bottle of gin." While it is of course too early to say how the pandemic may affect this, another trend afoot in the bartending world has been a shift toward lower-alcohol cocktails, Miller says. Bartenders have been switching out high-alcohol bourbons, gins and vodkas for Sherrys, vermouths and liqueurs with lower alcohol content.
Even within the industry, Miller says she has seen a change in attitudes around drinking. Ten years ago, people who worked in bars and restaurants were more likely to feel pressure from co-workers or customers to drink alcohol on the job or after a shift. But not anymore. "I've had friends in the industry who've struggled with addiction and abuse of the thing that we work with every day. Not drinking is definitely more of a respected decision," she says.
Justin Darnes (who goes by JD) has been a bartender for 20 years and sober for the last four. He stopped drinking because he could see the toll alcohol was taking on his health. "I heard a statistic that the life expectancy of a bartender is 55 and so I quit [drinking]," he says. "And then I discovered a lot of my peers were doing the same."
Darnes started experimenting with elaborate cocktails made without alcohol, and developed his own botanical take on non-alcoholic gin. Popularity grew by word of mouth and customers started requesting his concoctions. Last year, he got a message from Calgary entrepreneur Jo-Anne Reynolds — founder of SpikeBee.com, a website that helps parents search for children's camps and activities — asking him if he wanted to partner with her and start a brand of non-alcoholic spirits.
Reynolds came up with the idea after a girls' trip to California with two friends who don't drink. In the evenings, her friends' drink options were limited to water, pop or sugary mocktails. "The more I looked into it, I saw more people who were confident in going out and saying 'I choose to not to drink,' and that's where the idea came from," she says. Earlier this year, Reynolds and Darnes launched Sexy AF Spirits (the AF stands for alcohol-free), a line of botanical-infused variations on gin, triple sec, Campari and amaro.
Breweries, too, are getting in on the act. In 2019, Village Brewery launched its first non-alcoholic beer. Called Local, it's a pale ale made with regional ingredients, weighs in at 35 calories and has an alcohol volume of 0.3 per cent. Village now also brews a non-alcoholic stout.
A few kilometres away at Annex Ale Project, founders Andrew Bullied and Erica O'Gorman started making artisanal sodas in 2016 as they waited for their brewery license to come through. Since then, their sodas have remained so popular that the pair expanded their taproom last year to add a soda shop. "We are primarily a brewery, but we also understand that the craft-beer experience can be extended to people who maybe don't drink beer or don't drink alcohol," says Bullied.
As for Fleming, he says he's been surprised by the demographics of Partake's customers. He set out in the alcohol-free business expecting to have older customers or those with specific reasons for staying away from alcohol — health issues or religious beliefs, for example. Instead, Partake's customers tend to be in their 30s, and often don't have any clear reason for not drinking other than they don't want to. "I think that's a mindset change. Instead of alcohol being a normal part of someone's life, they're looking at it as an indulgence," he says.
Even though it's gaining traction, sticking to a lifestyle of not drinking still feels like swimming against a very boozy current, says Dunlop of the Boring Little Girls Club. We live in "an alcohol-centric world," she says, and that requires strategizing and planning to maintain sobriety. She also emphasizes that the stakes are high — sobriety is for many people a life-or-death decision, not a lifestyle trend. For all the inventive alcohol-free cocktails bartenders can shake up, most bars still don't list their zero-proof offerings on the menu and mocktails don't appeal to everyone. The onus is on the customer to know what he/she/they want and ask a bartender to deliver. But, as Dunlop says, "the shift is beginning to happen."
Addiction is a serious issue that requires treatment. If you are experiencing addiction, you can call the province's Addictions Helpline toll free at 1-866-332-2322.