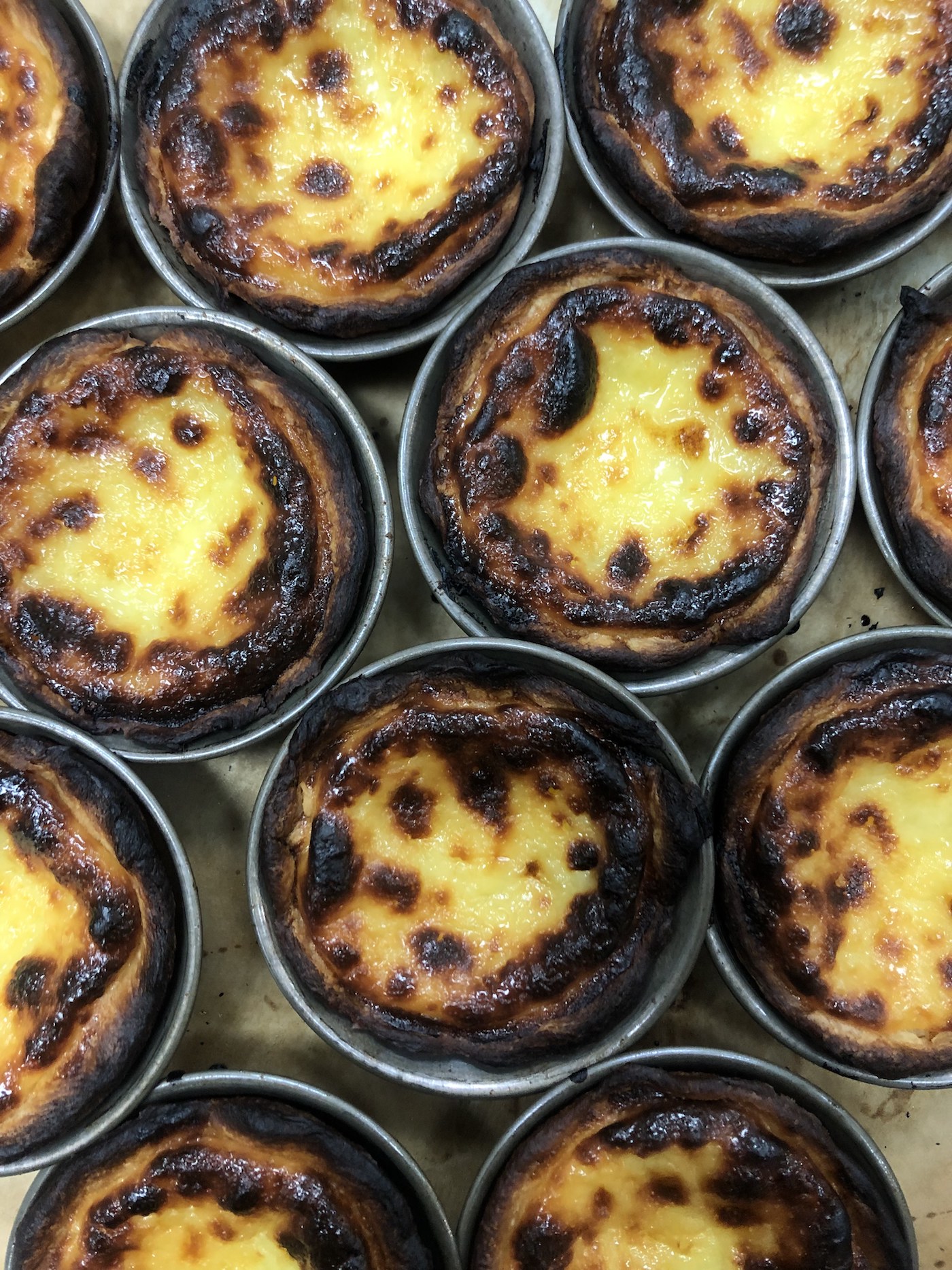 While other big Canadian cities like Toronto, Montreal and even Edmonton have plenty of Portuguese bakeries, it can be harder to find places offering Portuguese custard tarts in Calgary.
So when local baker Karen Kong of Butter Block & Co started making pastel de natas last November and announced she was selling these flaky, caramelized custard tarts, word quickly spread. What started out as an item for her #TuesdayTestRun, where she experiments weekly with recipes and sells the item for a toonie every Tuesday, quickly evolved into limited quantities on the weekends to now a regular bakery item that sells out daily.
Pastel de natas are hot and buttery pastry tarts with a creamy egg custard distinguished by their dark, caramelized tops. Kong's version echoes how she makes her famous 81-layer stuffed croissants. To make the tarts in her signature style, Kong starts mixing and folding the dough every morning from 6 a.m. until 10 a.m. in a time-consuming process of folding, setting, sheeting and folding.
"If it's too cold, I can't spread [the dough]. If it's too soft, it smears and you can't see the layers. When it's just right, you can see all the rings," she says. Once the dough is ready and at just the right temperature, Kong will cut discs from the logs she's rolled out and shape them into custom molds she purchased while abroad in Lisbon.
For the custard filling, Kong adds a bit of flour to frozen pasteurized egg yolks (the traditional recipe calls for fresh yolks), which already have some sugar in them. "I'm also using one per cent milk for it which I first thought was odd because it's a custard — like how can you have such low fat — but it works," Kong says.
The tarts are then baked at a super high temperature, creating the brûlée finish on the light, slightly sweet and smooth custard. Kong says the best way to enjoy the Portuguese custard tart is to pair it with a black coffee.
She typically bakes about a dozen of these tarts daily and it's first come, first-served, but they often sell out by noon. The tarts are $2.20 a piece and the bakery is closed Mondays. You can also find Butter Block's tarts at Sought x Found Coffee Roasters on Centre Street every Wednesday and Friday.
Devenish Building, 111, 908 17 Ave. S.W., butterblockyyc.com