The ritual has become a larger part of Joe Mack's life in recent years than he'd like to admit. At least once a week, the 41-year-old director of strategy at Telus arrives home from the office exhausted, starving and in desperate need of dinner. For that, he reaches not for the fridge, but for his phone, where a world's worth of food styles await ordering at his fingertips.
Having food delivered to fill a dinnertime pinch is nothing new. But in the last few years third-party apps like Skip the Dishes, Door Dash, Uber Eats and Foodora have brought a digital disruption to the time-honoured tradition, and in the process blown open the boundaries of delivery beyond old standbys like pizza and Chinese food. This is much to the delight and relief of Mack, whose frequent 70-hour workweeks have made the services a mainstay of his meal planning. "Now I can have Italian or Indian or Mexican or Vietnamese — even breakfast, I've seen some places doing that now," says Mack, a self-described food-lover.
But as appreciative as he is for Winnipeg-based Skip the Dishes (his preferred app) he also sees his growing dependence on delivery as something of a double-edged sword. It is definitely a symptom of an increasingly busy life, without much time or energy left for cooking at home, or even for swinging by a restaurant to pick up something for dinner.
"It's made it far too easy to eat out — well, eat in, actually," says Mack.
That distinction between eating out and eating restaurant food at home might be easily lost on diners who can now enjoy virtually any type of food — from Filet-O-Fish to filet mignon — almost without leaving the couch. But it's a significant shift for restaurateurs scrambling to retool business models that weren't designed to serve remote customers who now expect any and every type of food to arrive hot on their doorsteps at any time of day.
As much as these apps promise new revenue streams to restaurants grappling with Calgary's sluggish economy, they also have disconcerting implications for the industry — and society — at large. Have we really gotten to the point where we are too busy to dine at our favourite restaurants, or even swing by to pick up our own food? And if so, what does the future hold for restaurants in a world where people have lost their appetite for socializing in public over food?
Amy Turner mulls all this over as she tends to a handful of patrons during the pre-dinner lull at Donna Mac on 10th Avenue S.W. It's a snowy Friday afternoon in November and as the temperature outside plummets Turner knows she'll soon see a cascade of delivery drivers brushing past her restaurant to shuttle food from other establishments to the residents of the condo tower above. A few might also stop in at Donna Mac to pick up for customers across town whom she'll never see.
It's a new normal that Turner isn't exactly thrilled about. Delivery was not in the initial plans for Donna Mac. In fact, delivery was pretty much anathema for the "no-concept concept" of a restaurant built around a continually changing menu that celebrates the social act of dining rather than a specific type of food.
"It's kind of like going to your grandma's house for dinner," says Turner about the restaurant she named for her own grandmother. "You don't know what's going to be on the menu, but you don't mind because you're going for the laughs and the good times and the wine and the catch-up and all those reasons why we love gathering around the table."
But within months of opening in November, 2017, Turner realized a growing number of Calgarians would apparently prefer to gather at home instead — even those who lived right upstairs from Donna Mac. "Night after night, just watching driver, after driver, after driver come and bring food to the people in this building, and them not coming down and supporting us, we thought maybe we're missing out on something," she says.
That fear of missing out prompted the restaurant to start offering delivery with Door Dash in April 2018. But it's a decision Turner says she's still lukewarm on. Like most apps in the delivery space, Door Dash rents a tablet to the restaurant for a few dollars a month and only charges Donna Mac for orders that come through the app. But at 25 per cent per order — about average for the apps, which charge restaurants between 20 per cent and 30 per cent per dish — Door Dash's cut eats up most of the profits on any given meal.
And because ordering delivery isn't any cheaper for customers (they pay a delivery fee to the app and tips for the driver on top of the same food costs they would pay in-house) Turner worries many people think ordering delivery is a new way to support local restaurants while saving themselves time. In reality, delivery orders are often a wash financially for traditional restaurants, or even a slight financial hit. "It doesn't support our service staff, the bartenders aren't making their tips, and we're taking a hit on the food costs," Turner notes.
This isn't the case for every style of restaurant, however. Restaurants set up from the outset to take advantage of the business model, much like pizza joints and Chinese food spots, can do well. Turner acknowledged those in hard-to-find locations without much foot traffic, or with a small staff and an even smaller physical footprint, are often better able to take advantage of delivery apps to boost the bottom line. But Turner cautions that the economics of catering to a delivery-dependent clientele is changing the nature of restaurants as we've come to know and love them.
Across the U.S., Europe and Canada "ghost restaurants" or "ghost kitchens" have started springing up to serve the growing delivery market. Built to run on a skeleton crew, ghost restaurants don't have dining rooms or service staff and can set up in less-expensive locations far from high-rent high streets. Sometimes these kitchens will even pump out multiple styles of food under different restaurant brands, in order to share ingredients, staff and space, and cut costs even further.
In January, CBC reported that a ghost kitchen had opened in Calgary's southeast that was operating as many as 13 restaurant concepts out of a single space set up for pick up only. Turner says she also knows of at least one restaurant in town that recently opened a ghost kitchen, and while it makes financial sense, she worries about the impact the trend could have on the city long term. Imagine 17th Avenue S.W. or Kensington Road without sprawling patios or cozy dining rooms to liven up the streetscape. Turner wonders if that could become a reality if the business model for restaurants shifts completely to delivery: no more restaurants as we know them with dining rooms, service staff and bartenders. If taken to their most extreme, delivery services could spell the end for a dining tradition that reaches back to around the time of the French Revolution. "It's a really dangerous game," she says.
Like so many other industries, restaurants can't stop the disruption that apps are bringing, even if those changes are painful. And the apps themselves aren't to blame, Turner adds. The fact that they're successful at all means diners are hungry for delivery, and the onus is on restaurants to try to meet that demand.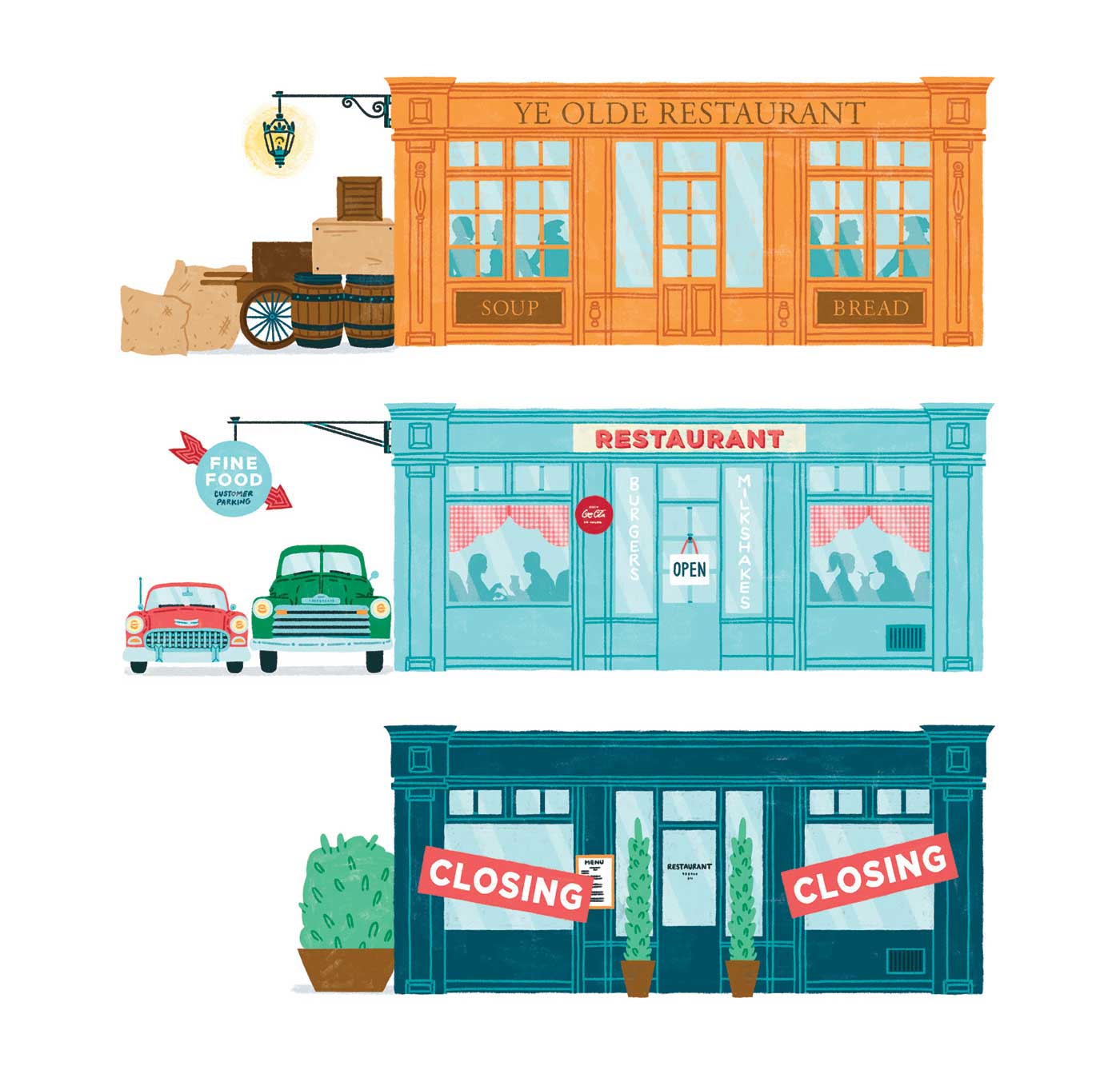 How best to meet the new demands, or whether to even try, is top of mind for Tim Collins when I meet him at his office just off Macleod Trail near CF Chinook Centre. Laid out on his filing cabinet is a buffet of potential takeout containers that Collins, the director of operations for Ruth's Chris Steak House, is assessing for a number of factors: presentation, environmental sustainability, cost and, of course, the ability to keep food both hot and fresh.
He asks me which one I like, and I confess the idea of a steak in any of the foil-lined trays makes me think of airplane food, an association Collins is hoping to avoid.
Delivery might seem like a strange option for a high-end steak house, but like Turner, Collins says the service is becoming a necessity for restaurants hoping to survive in a digitally enabled, on-demand world. "We're all fighting for the same consumer that seems to be dining out a little less," he says. "We don't get to make those rules."
If customers want to enjoy a pricey steak dinner at home, Collins is willing to try and get it to them. But figuring out how to maintain the quality of the food in the up-to-an-hour it can take to get to its destination is no small feat. "The biggest concern we have is that we have no control over our reputation with our food once we've let it leave our building," he says. While he says he is still leaning toward offering the service, he isn't sure how to pull it off in the way he wants, so he isn't sure whether Ruth's Chris will ultimately take the plunge into delivery.
Anyone who knows a thing or two about cooking red meat knows it continues to cook after it has left the heat source. That can spell disaster for something as sensitive as steak, where a minute or two can be the difference between perfectly cooked and completely overdone.
At Ruth's Chris, chefs deliberately cook steaks to ensure they're perfect by the time they get to the table rather than by the time they leave the kitchen, says Collins. They also serve the steaks on a plate heated to precisely 500 degrees with a sizzling pat of butter meant to stimulate the diners' senses of smell and hearing. "We don't get that with delivery," Collins notes.
Nor do customers get the music, the design of the room, the interactions with the staff, nor even the energy of other patrons that, according to Collins, are essential ingredients in a memorable dining experience. "So, the best we have is to speak to you through our food," he says.
Of course, the food also speaks about whatever might have happened to it along the way. Certainly the drivers, largely independent contractors provided by the apps, offer restaurants a cheaper and more effective method for delivery than most restaurants could ever provide on their own. But along with that arm's-length arrangement with the delivery drivers comes a lack of allegiance to restaurants' reputations, or the integrity of their food. Collins doesn't doubt that delivery drivers take their work seriously, but anything from a wrong turn to an ill-timed bathroom break could be the difference between a repeat customer and a complete write-off. It's a big risk for restaurants to take.
To complicate matters further, there's no way to know whether customers will factor delivery into their assessment of the quality of the food — whether expectations are lower for a meal fresh from the car rather than fresh from the kitchen. Collins thinks most people accept that delivery won't be as good as dining in the restaurant — at most he thinks they expect about an eight out of 10. But while that might be good enough for a $20 curry he doubts it will cut it for the Ruth's Chris $85 Cowboy Ribeye. "If you're paying premium price for the best food you can buy at a steak house, I think eight out of 10 is a fail," he says.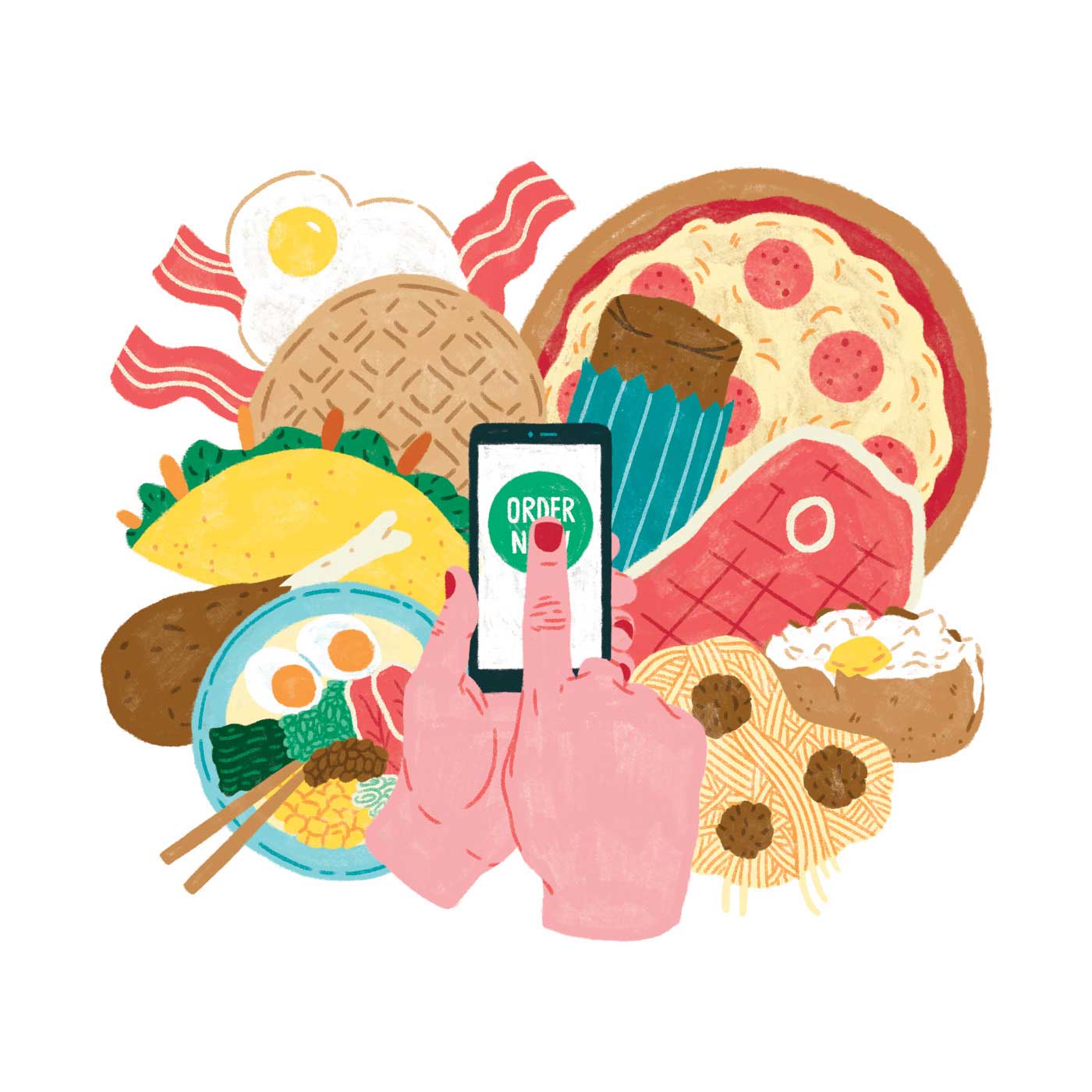 So should delivery really be on the table for all types of food? According to Dan Park, general manager of Uber Eats Canada, the answer is yes.
"I think there is a world where you can deliver pretty much anything," he says in a phone interview from his office in Toronto. The average delivery time for Uber Eats in Alberta is about 15 minutes, he notes, short enough not to adversely impact most people's meals. But beyond that, the company also offers information to its drivers on how to make what he calls "five-star deliveries."
"Even in Canada we deliver for top-rated restaurants and we've done really interesting collaborations with high-profile chefs around date nights and dinners," he says.
In a bid to meet the seemingly insatiable appetite for delivery (Uber Eats saw its heaviest user in Calgary order more than 270 times last year) Park says the company has started experimenting with its range of offerings, such as delivering partially cooked meals to be finished at home for a semi-DIY take on restaurant dishes. The company has also brought movie-theatre popcorn from Cineplex theatres to people Netflixing at home. "It's really about delivering experiences customized and individualized for a particular consumer," he says.
Novel as those experiences may be, Park insists they are no replacement for special nights out at our
favourite restaurants. When it comes to anniversaries, birthdays or even kicking back on a Friday night with friends, people still choose to frequent their favourite culinary haunts, Park says. Where delivery apps really shine is in providing an alternative to frantic trips to the grocery store when the kids are screaming and the cupboards are bare. "It's not a question of whether we want to go to the restaurant or get delivery. It's a question of whether we go out, period," he says. "Do you order food or scrounge in the fridge?" In this view, delivery doesn't replace the restaurant experience, it replaces home cooking.
Jeff Adamson, co-founder and chief restaurant officer for Skip the Dishes, agrees that delivery is no replacement for dining out at a restaurant. "It's an entirely different experience," he says. Adamson also says that changes to delivery echo the changes we've seen in other industries such as retail or travel as they've adapted to an online world. Far from signalling the death of dining as a social act, the uptick in delivery apps is simply a sign of the times, Adamson says. "I wouldn't call people who want to buy their flights online anti-social. They just find it a lot more convenient than being on hold."
In fact, he says, delivery apps enable social behaviour by freeing up customers' time to spend with family and friends. He notes that Skip the Dishes sees a lot of people ordering in for social occasions. "I think we're seeing the natural evolution of restaurants coming online and our goal is to help restaurants make that transition."
For Falyn Letkeman, general manager of Booker's BBQ Grill & Crab Shack, that transition doesn't look a lot different from business as usual. Since partnering with Skip the Dishes in October, 2016, the restaurant hasn't seen a wild increase in revenue, she says, but it has been a good way to bring in some business during slow times. "The reality is, during slower periods, like on a weekday lunch service or between 2 p.m. and 4 p.m., we're here, we have cooks here and we have servers on staff," she says. "So why not try to get our food to other people that can't necessarily get to us?"
Compared to an earlier experience with parent company Just Eat, Letkeman said this second go-round with Skip the Dishes has been fairly unobtrusive, plus the restaurant can turn orders off during busy times to prioritize in-house guests. And while Booker's doesn't offer time-sensitive dishes like crab for delivery, the barbecue dishes have proven to travel well.
But Letkeman says her ultimate hope for Booker's is that delivery will inspire more people to visit the restaurant in person. "We are in a weird little corner of the city in the East Village, so … in my eyes, the hope is that people order Skip, try it, and they're like 'next time I'm down there I'm going to go in and have a great experience at the restaurant; their takeout was fantastic.'"
It may seem like a logical connection, but it's not one restaurants can rely on heavy users like Joe Mack to make. While he classifies his favourite restaurant as "one I haven't tried yet," and still makes time to dine out on the weekends, Mack said he doesn't use delivery for discovery.
In fact, Mack has a specific takeout ordering process that starts with filtering food by delivery time and then by type. "Half the time I don't even look at the name of the restaurant," he says.
In the end, his decision to dine out or order delivery stems from two very different motivations, he says: eating out is about experience; ordering in is motivated by survival.
In the years to come, that may prove to be even more true for restaurants than for diners.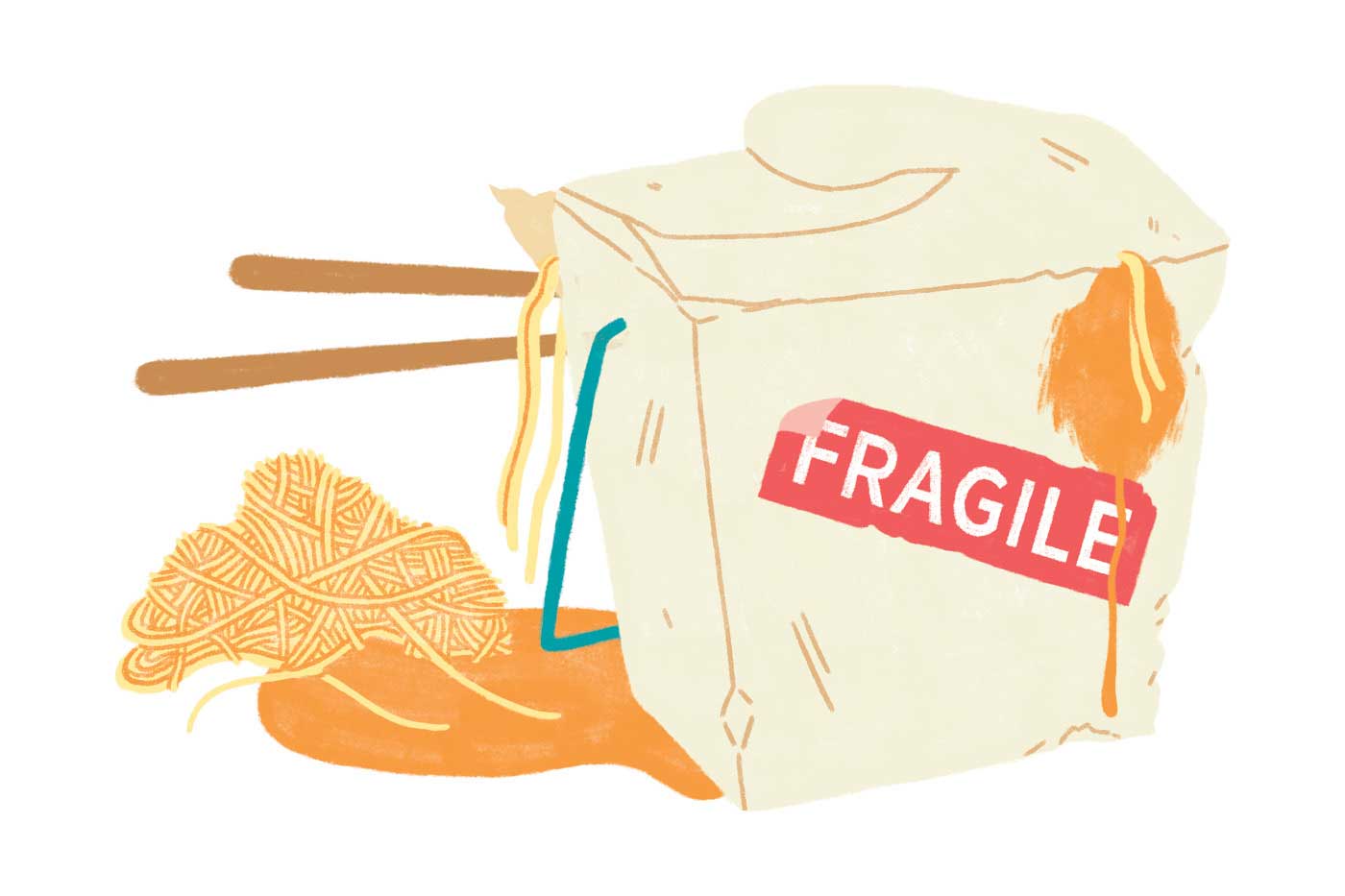 How Delivery Drivers Get Paid
With most delivery apps, drivers keep 100 per cent of their tips, but otherwise there are differences in how they compensate drivers. Understanding how it works may change which service you want to use and how much you want to tip. Most of the services didn't return repeated requests for information.
Door Dash did not provide comment for this story, but its website says numerous factors determine payment for "dashers" (drivers), including size and complexity of the order, distance, parking, traffic and whether or not drivers have to place the order themselves at the restaurant. The company's minimum compensation is $1 per delivery plus 100 per cent of the customer tip, but drivers are quoted the full payment amount prior to accepting a delivery and can accept or reject trips at their discretion.
Foodora did not respond to requests for comment for this story, but its website says"riders" delivering by scooter, bike or car can make up to $25 per hour.
While the company would not provide specifics upon request, Skip the Dishes' website says drivers keep 100 per cent of tips and are paid based on distance and drive time. Its website also says drivers make an average of $8 per delivery.
Uber Eats determines driver fares through four criteria. For Calgary, the breakdown is a pickup fee of $1.50, drop-off fee of $1.00, a per-kilometre rate of $0.43 and a per-minute rate of $0.16. Uber Eats guarantees a minimum payment of $4 per trip. In addition, driver's keep 100 per cent of their tips.
—Colin Gallant
How to Win at Ordering Delivery
Being a pro delivery diner is about more than just downloading an app. Here's what you need to know to get the most out of ordering in.
Choose a nearby restaurant
Your meal will arrive hotter and fresher. Plus, your driver will probably be happier, too.
Select your dishes with care
For the most part, dishes with sauce are a good bet. The sauce prevents moist foods from drying out and most aren't too delicate. Pasta dishes are on the borderline — they can easily get gloopy during the drive. Definitely don't choose something that has sauce but is supposed to be crunchy.
Avoid fried foods
Fries don't travel well. Neither does anything else deep-fried. In general, avoid anything that is supposed to be crispy.
Use the special instructions box
Basically, anything you'd typically ask of a server you can ask for in the app. Extra spicy? Yes! Hold the onions? Yes! You get the idea. —Jennifer Hamilton