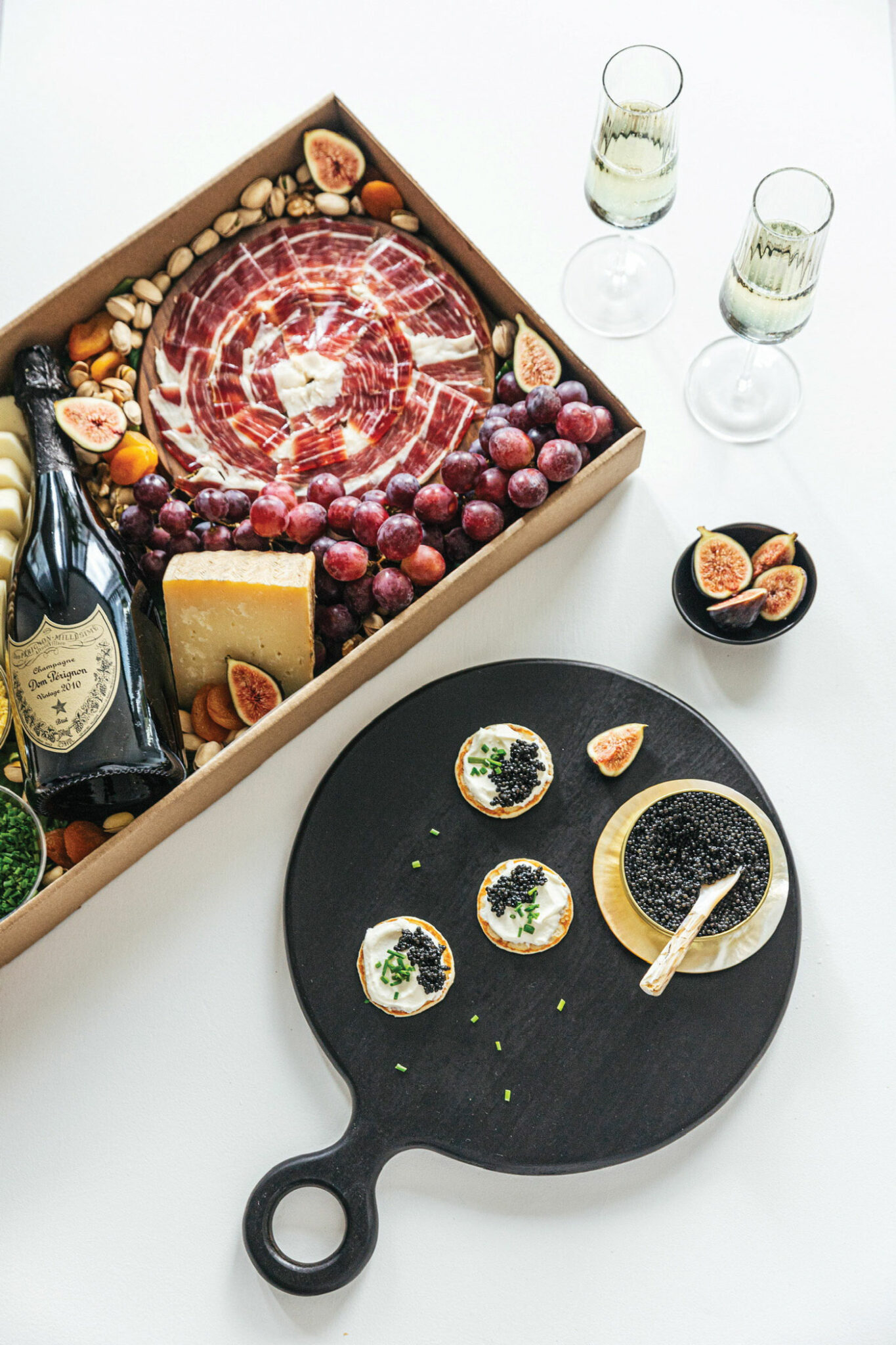 If it's wow factor you want, The Graze Company offers a luxurious charcuterie spread (starting at $1,250) that arrives in a platinum box. The box features caviar and accoutrements, Cinco Jotas jamón Ibérico, Dom Perignon, pecorino tartufo (truffle), manchego, garnishes and a nine-inch serving board. The Graze Company also retails premium serveware that can be added to any order. If you're looking for a less luxurious option, Graze offers a DIY kit, starting at $100.
1502 27 Ave. S.W., 403-465-4875, thegrazecompanycalgary.com, @thegrazecompany
This Instagram-based business serving both Calgary and New York City offers charcuterie plates served on palm leaves and charcuterie boards and grazing tables presented on wood. There are gluten-free, lactose-free and pork-free options, plus vegetarian and vegan spreads. There's occasionally a special where a bonus item is thrown in. Tasty add-ons include sugared Prosecco grapes and chocolate-covered strawberries.
If you've been fortunate enough to attend an event catered by Salon, you know this company is a cut above. Operated by the team behind gourmet market-restaurant Our Daily Brett (and Actually Pretty Good and Neighbour Coffee), the charcuterie offerings include large-format boards for full-service events, but the odd drop-off package is available.
1507 29 Ave. S.W., 403-457-0422, saloncatering.com, @saloncatering
This company offers exceptional presentations of boards, boxes and tables that include flowers, greenery and serveware rentals. There are a staggering number of options, ranging from a picnic box for two to grazing tables to serve 40 or more. For the holiday season, you may want to try a holiday feast package available in servings for four to 14 (packages start at $189). Each package includes a platter, mixed toasts, macarons, crackers and "sticks," a beverage option and a decorative bunch of eucalyptus.
524 42 Ave. S.E., 403-874-7006, brieandbanquet.com, @brieandbanquet
This ever-reliable market for gourmet goods offers cheese trays and charcuterie boxes in sizes small ($50, serves three to six), medium ($80, serves six to 10) and large ($120, serves 10 to 12). Each comes with crackers, fruit, olives and preserves. There's also an option to order just the quantity of sliced meat and cheeses of your choosing. If you're shopping for gifts (or for yourself), check out the cheese subscription club and cheese gift boxes.
1104 1 Ave. N.E., 403-269-2381, bridgelandmarket.com, @bridgelandmarket
This storefront in South Calgary keeps things fun and fanciful. There are the expected boxes and boards in various sizes, but a unique option is the "charcusicles" package ($60): 20 skewers stacked with two meats, two cheeses, plus fruits and veggies. Offerings rotate monthly, so, if you love Fraser & Fig's food, check back regularly to see what's new.
2010 34 Ave. S.W., 403-923-7632, fraserandfig.com, @fraserandfig
Bespoke Boxes makes a wide variety of charcuterie boxes, including themed ones for special occasions like "date night." There are vegan and pork-free boxes, a breakfast box of pastries, sweets and fruit and an outdoor/indoor picnic set with serveware and a picnic box that you keep. Bespoke also has interesting add-ons like the "forever rose" from Rosé Designs (a preserved rose that lasts years without water) and "gem berries," a collection of colourful, chocolate-dipped strawberries from Gem Boutique.
825-882-2693, bespokeboxesyyc.com, @bespoke.boxes.yyc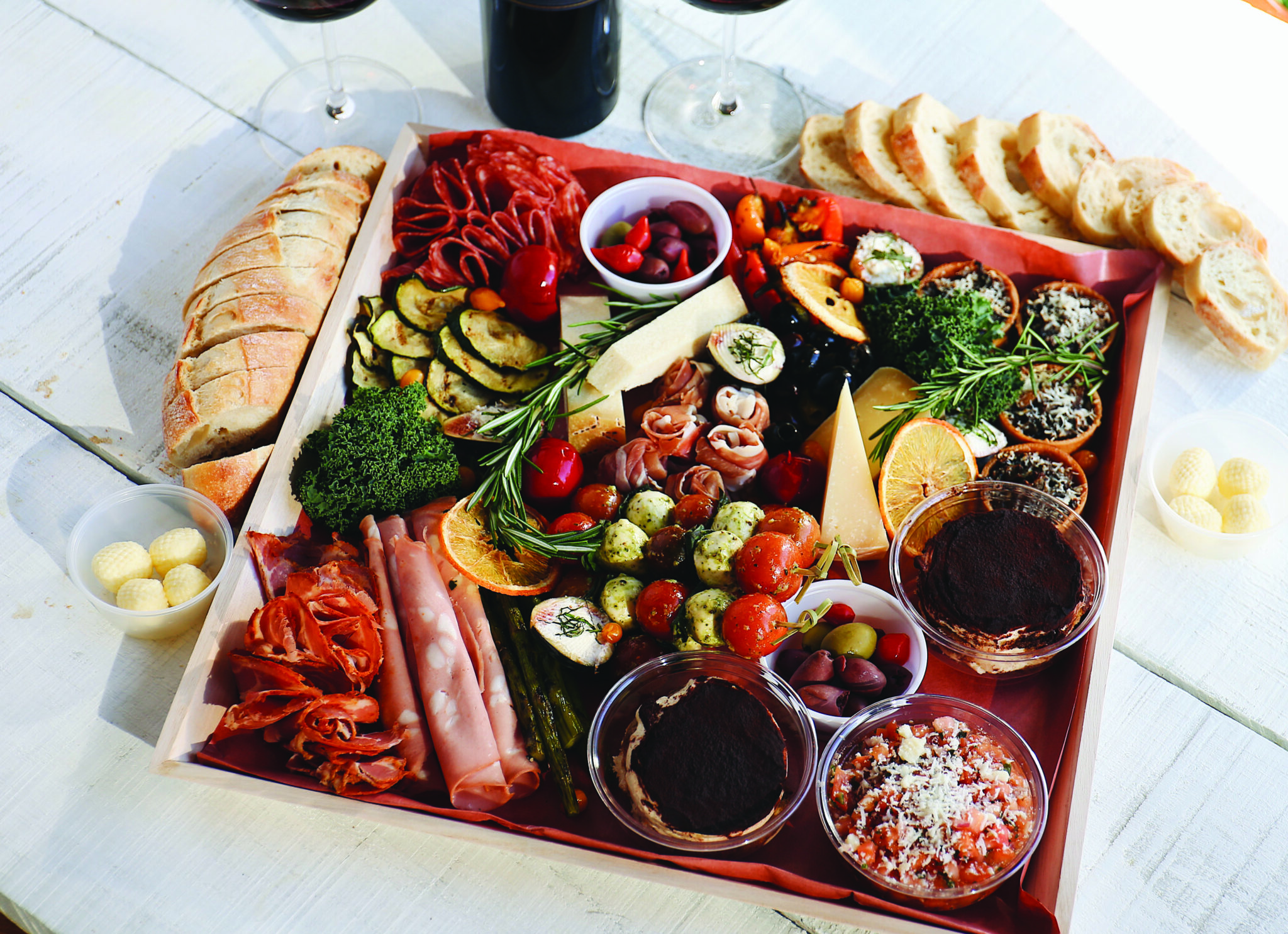 This long-running caterer run out of Cravings Market Restaurant offers a range of charcuterie boxes big and small. Options run from the $35 vegetarian box to one that comes with Champagne for $167. For mass appeal, you can't go wrong with the rustic charcuterie box.
7207 Fairmount Dr. S.E., 403-256-7150, greateventscatering.ca, @greateventscateringyyc