Stuart Valentini's memories of the 1988 Winter Olympic Games in Calgary are hazy — to be fair, he was only around four years old then. But those Olympics had an enduring legacy on the city and its people, and now, it has inspired one of Calgary's newest breweries.
Co-founded by Valentini and three friends who all grew up in Calgary around the time of the Olympics, Eighty-Eight Brewing Company (see what they did with the name there) is inspired by Calgary's stint as the host of the 1988 Winter Olympics and the general awesomeness of the 1980s.
"The 1988 Olympics, for us, signifies a time where Calgary put itself on the map so to speak. I think the Olympics happened [and] then the city got a bit more of a presence on the global stage, and so it's kind of like the start of something bigger. So to us, there's that extra meaning behind it, but it's also a super fun, inclusive, happy time where people were having fun [and there was] lots of celebration. So I think it's a really positive story in and of itself," says co-owner Stuart Valentini. "And then without getting too cheeky, enjoying the nostalgia that can go along with that."
To do that, the team incorporated elements like neon lights in the taprooms and brewing area, a Nintendo Entertainment System for gamers and even gave their beers fun names like Cassette, Hologram, Duotang and Hammer Pants. Valentini says Calgarians have embraced the brewery's love of the '80s and the Olympics too, bringing in items like cassette tapes (look for them on the wall in the downstairs washroom) and Olympics memorabilia like flags, magazines, hats, photos and more into the brewery.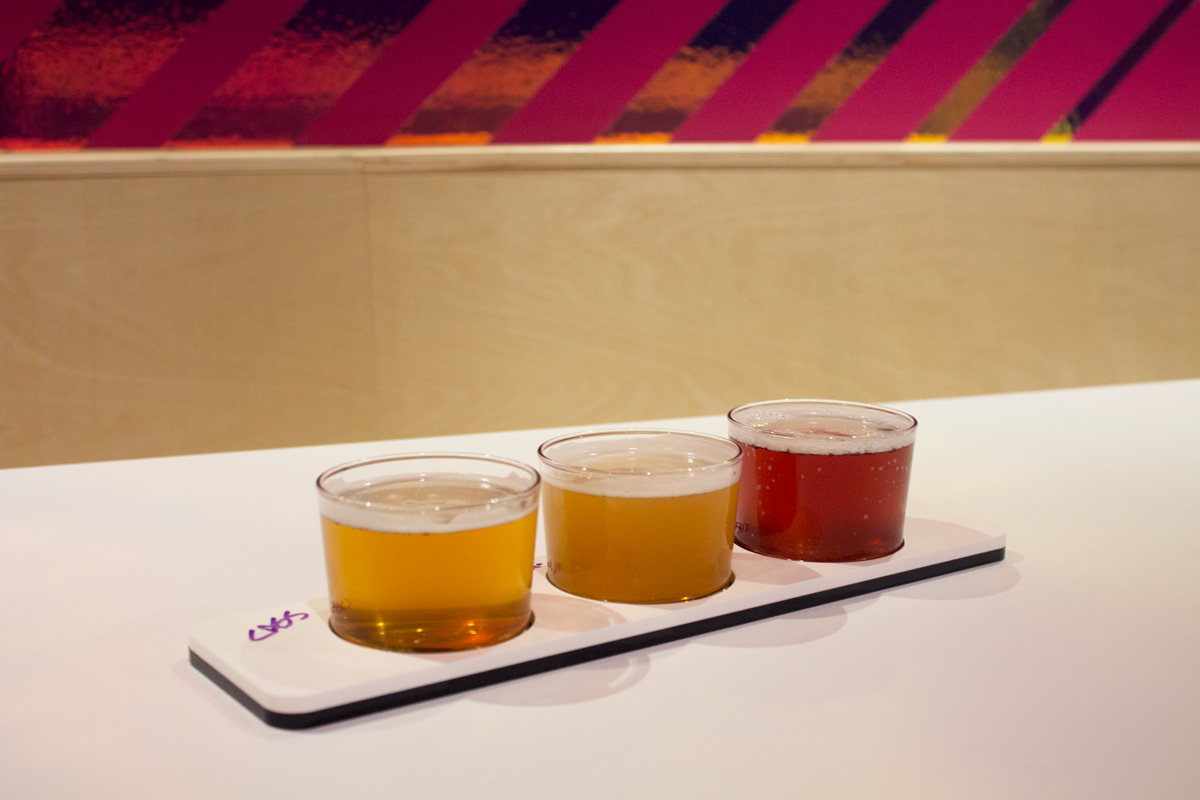 A flight of beers in the downstairs taproom at Eighty-Eight Brewing Company.
Designed by McKinley Burkart, the brewery's two taprooms (which can both offer up to 18 beers on tap) each bring their own vibe to the facility. The 60-seat upstairs taproom has a bright, Scandinavian vibe and a kitchen. Downstairs, the second, 35-seat taproom boasts a black, pink and white palette inspired by Miami in the '80s. Both taprooms look into the brewing area, which is lit up with neon lights when the facility lights are dimmed at night.
Head brewers Carson Peterson and Donovan Fast are behind Eighty-Eight's selection of tasty beers, which include staples like the Tiffany rosé saison, the Duotang dry-hopped Sour, the Night Gallery NEPA, the Wave Pool Tropical IPA and more. The team will be regularly introducing seasonal brews through its pilot system too, and they've already debuted brews like a Hammer Pants pale ale, a Purple Rain Milkshake IPA and a Dial Tone small pale.

Noble Pie owner Mike Lange creates The Roni pizza at Eighty-Eight Brewing Company.
The brewery's regular snack offerings are simple and nostalgic — think bags of chips and dip or Lunchmates (aka Lunchables). But the brewery has really found a winner in Noble Pie, a local pizza pop-up that makes New York-style pizzas in the brewery's kitchen on Fridays and Saturdays. The pizza pop-up is run by Mike Lange, a longtime fan of New York pizza who spent seven months working at Calgary restaurant Posto during the evenings to learn more about making it himself.
Lange makes 65 to 70 pizzas in total each week, fermenting the dough for three days and making tomato sauce using San Marzano tomatos. On Fridays and Saturdays starting at 5 p.m., guests can order a slice or a whole 18-inch pie of cheese pizza (called Sweet Cheesus) or pepperoni pizza (called The Roni) while the dough lasts. Those who want to elevate their slice can add a drizzle of Mike's Hot Honey from Brooklyn, New York for an extra 25 cents.
While it's been more than 30 years since Calgary hosted the Olympics, the city is currently considering a bid to host the Winter Olympics once again in 2026. Whether it pans out or not, Calgarians can continue to revel in Olympics nostalgia — or just enjoy some great beer and pizza — at Eighty-Eight Brewing Company.
1070, 2600 Portland St. S.E., 403-452-5880, eightyeightbrewing.ca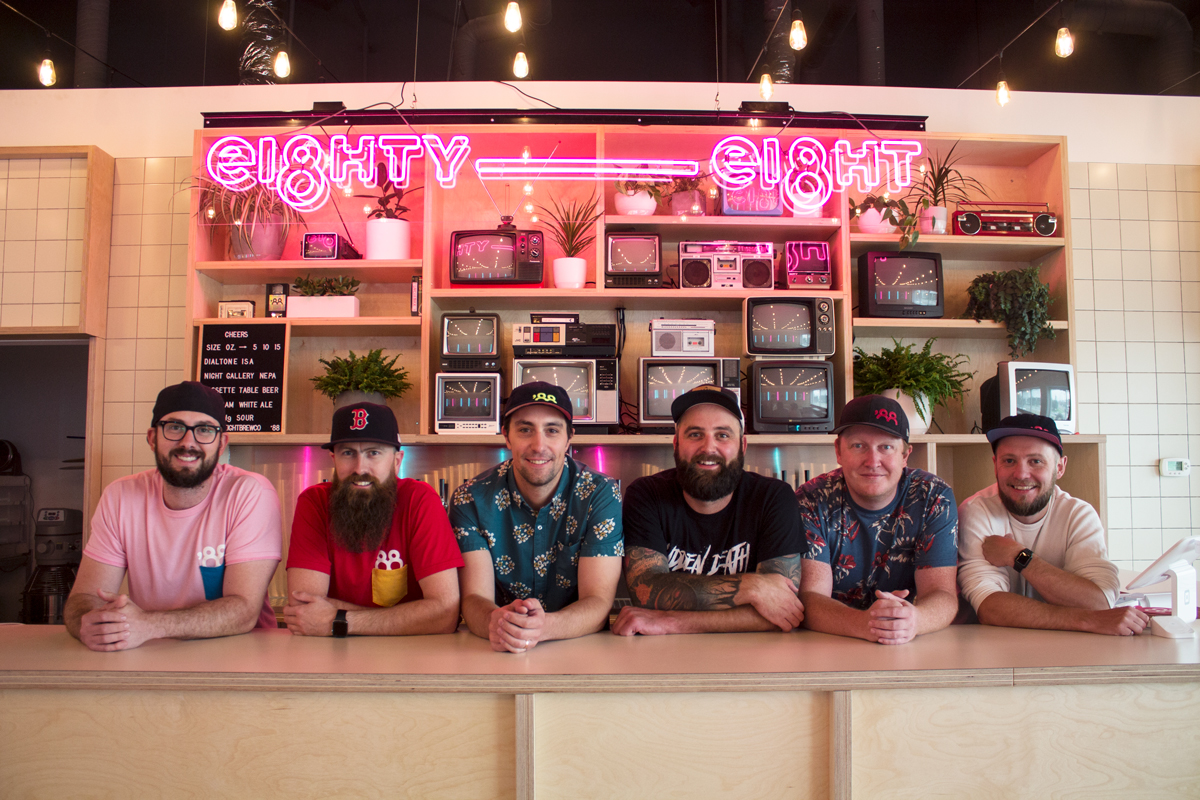 From left to right: Owner Jordan Saracini, head brewer Carson Peterson, owner Stuart Valentini, head brewer Donovan Fast, owner Brendan Barnett and owner Nick Wallat.
[Correction: This story was changed to correctly state that the brewery has a Nintendo Entertainment System (not a Nintendo PlayStation) and that Noble Pie is making 65 to 70 pizzas a week (not 25).]