Vegetarians and vegans in Calgary have a new reason to get excited about the local dining scene: the newly opened Fire & Flora focuses on vegetable-driven cuisine made with the best Canadian ingredients. Located inside The District at Beltline, the restaurant doesn't offer fare that features meat substitutes, rather the kitchen here creates dishes that highlight the natural flavours of seasonal, locally sourced fruits and vegetables.
Chef and owner Adam Ryan has already established himself as one of the top plant-forward chefs in Calgary, heading up restaurants like The Coup as well as his most recent venture, Shrub Bloom (also inside The District at Beltline). Now, with the opening of Fire & Flora, Ryan is looking to bring plant-based cuisine to forefront of Calgary's fine-dining scene. The restaurant offers both an à la carte menu as well as an ever-changing tasting menu that reflects the best of the season.
In terms of decor, everything inside the restaurant is inspired by the flora of Canada. As diners walk into the space, they are greeted by a living mushroom wall — and the mushrooms, of course, are used in a number of the dishes on the menu. The mushroom motif extends to the rest of the space, and the colour palette used throughout nods to the greens, browns and yellows of the Canadian landscape — no bright colours here, but the dining room still feels light and airy, thanks to the glass doors that open up to an expansive, south-facing patio.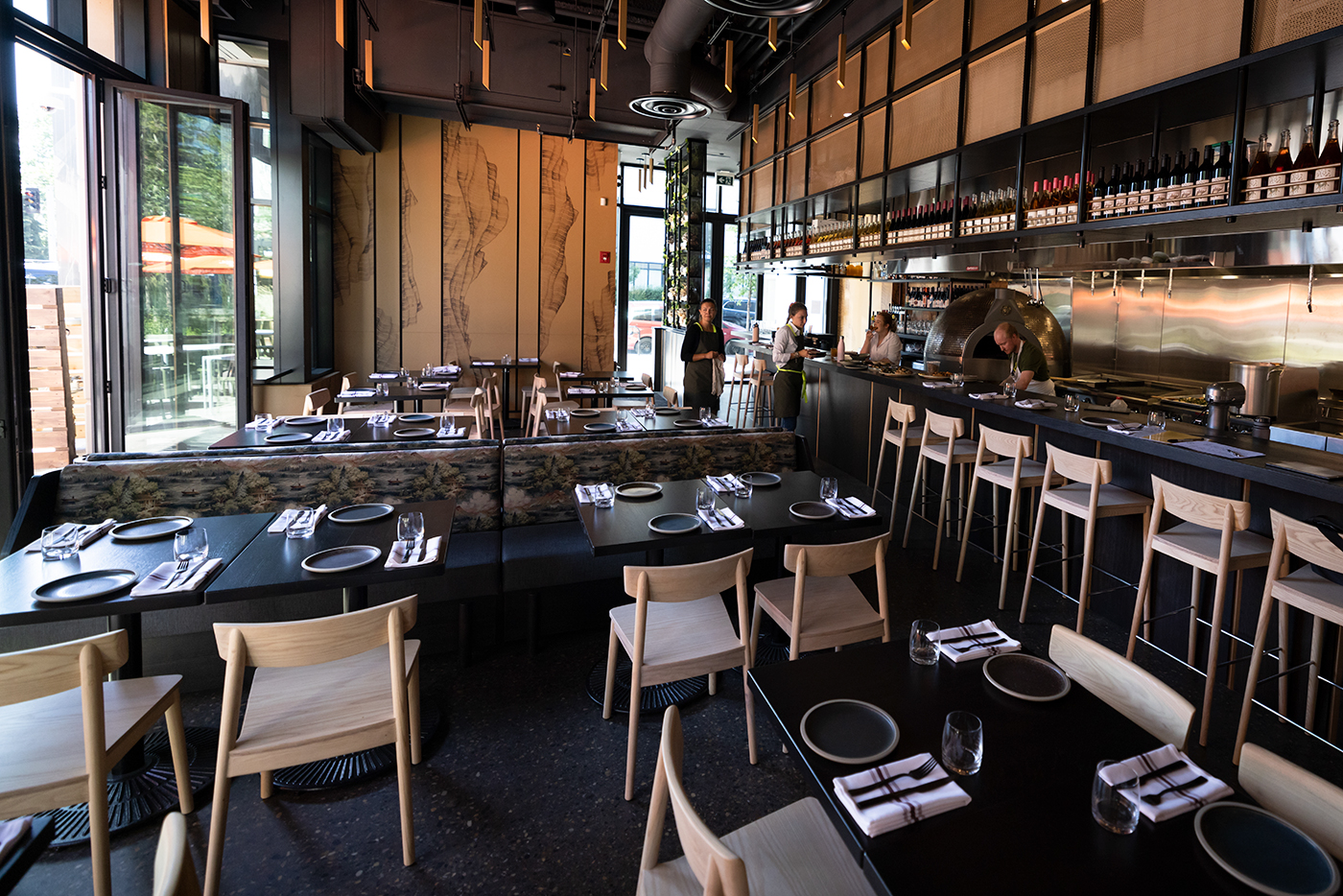 The open kitchen features a wood-fired oven in which many of the dishes are cooked, including the sourdough and focaccia breads, eggplant and potato pizza and the restaurant's signature dish: whole roasted mushrooms from the mushroom wall, cooked in the growing substrate and served with various accoutrement. The mushrooms even find their way onto the dessert menu, in the form of mushroom profiteroles. Also on the à la carte menu, which is split into large and small plates, are dishes like strawberry glazed asparagus, grilled baby cucumbers, buttermilk fried baby broccoli or rhubarb tartare.
The drink menu is equally as focused on local ingredients and products, and it features an all-local beer selection and carefully chosen wines from Canada and around the world. The cocktails are made following the same philosophy of locality — the black cherry sour, for example, is made with aquafaba (which is the juice from chickpeas, used as an egg white substitute) and black cherries.
Chef Ryan hopes to prove to vegetarians and non-vegetarians alike that a plant-forward diet can be just as delicious as a meat-based one, and that it can push the boundaries of what Canadian cuisine can be. Fire &
Flora is open daily from 11 a.m.
227 11 Ave. S.W., fireandflora.ca