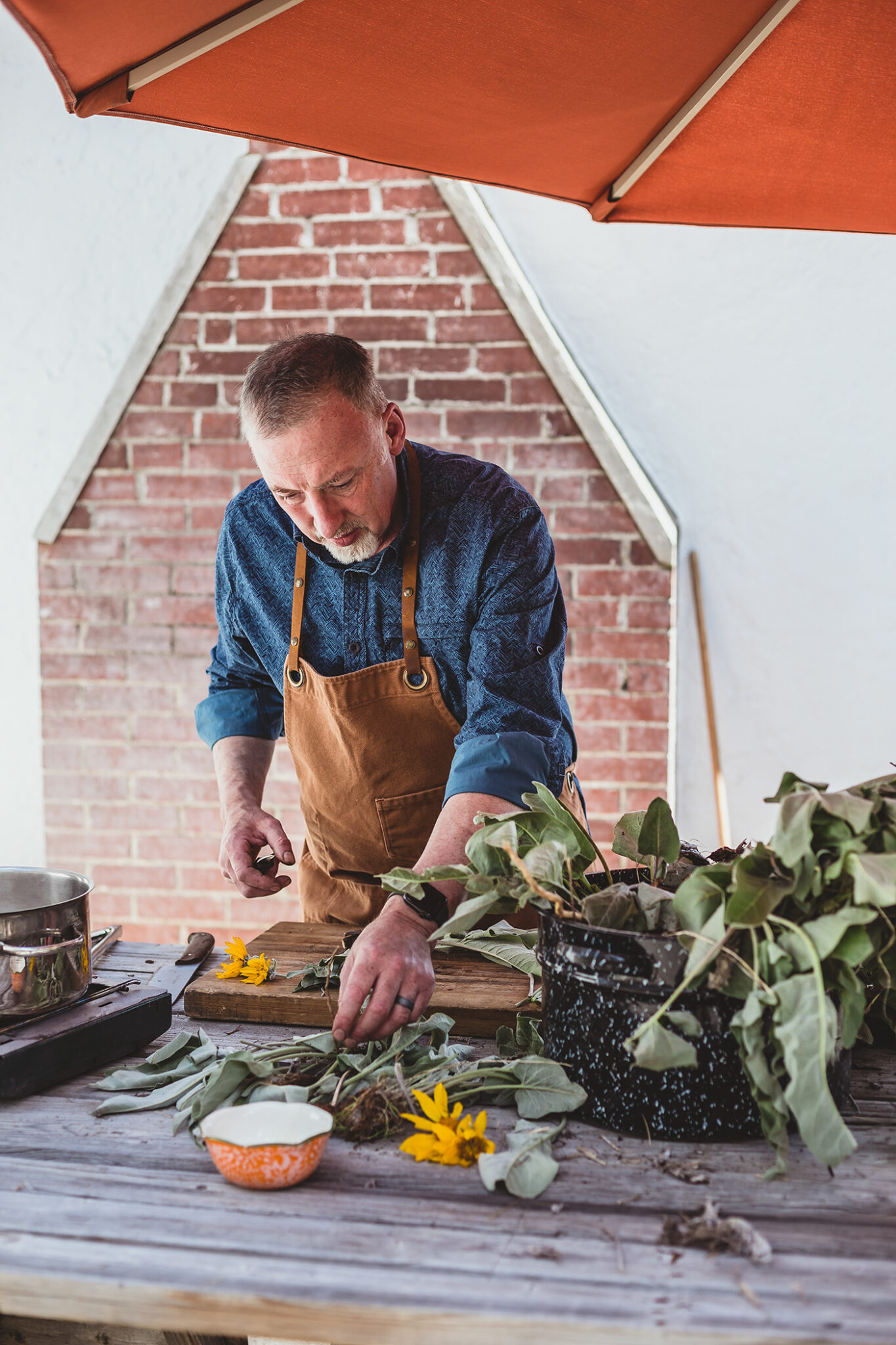 In June 2019, Rouge Restaurant co-owner and chef Paul Rogalski and Les Stroud, a.k.a. TV's "Survivorman," set out in search of wild edible plants in a spruce bog near Sundre, Alta., and in nearby Burnstick Lake, a place Rogalski had been going to since he was a teen. It was the first day filming their new cooking/adventure show, Wild Harvest. Stroud picked horsetails, dandelions, cattails and spruce tips. Rogalski battered and fried the horsetails over a fire and served them with a dandelion dipping sauce. He then served up a dandelion greens cake topped with aioli and spruce tips, followed by cattail fritters seasoned with roasted dandelion root.
Over the course of his culinary career, Rogalski has sought to understand and practice local food movements such as farm-to-table and garden-to-table. This journey with Stroud found him deep in the next phase of his culinary education: wild-to-table. "[Foraging] is about connectivity," says Rogalski, "connecting with people around the table, connecting with the source of your food, and with soil, sunlight and the rain."
Sitting by Burnstick Lake that day, Rogalski says he was overwhelmed with "so much gratitude."
The modern foraging movement is often credited to René Redzepi, head chef at the famed three-Michelin-star restaurant Noma in Denmark. To call foraging "modern" is essentially incorrect, however, as Indigenous peoples traditionally depended on wild plants to survive. As Robin Wall Kimmerer writes in her book, Braiding Sweetgrass: Indigenous Wisdom, Scientific Knowledge, and the Teachings of Plants, "to our people, [the land] was everything: identity, the connection to our ancestors, the home to our nonhuman kinfolk, our pharmacy, our library, the source of all that sustained us."
But, over the past decade, this traditional practice has been adopted by leading chefs around the world. In 2015, Italian chef and former Redzepi cohort, Alessandro Porcelli, brought together 14 leading Alberta chefs (Rogalski included) for his show, Cook it Raw. The goal was to explore hyper-local ingredients and collaborate on creating an identity for Alberta Cuisine — an experience that sparked curiosity about gathering native plants among many of the participants.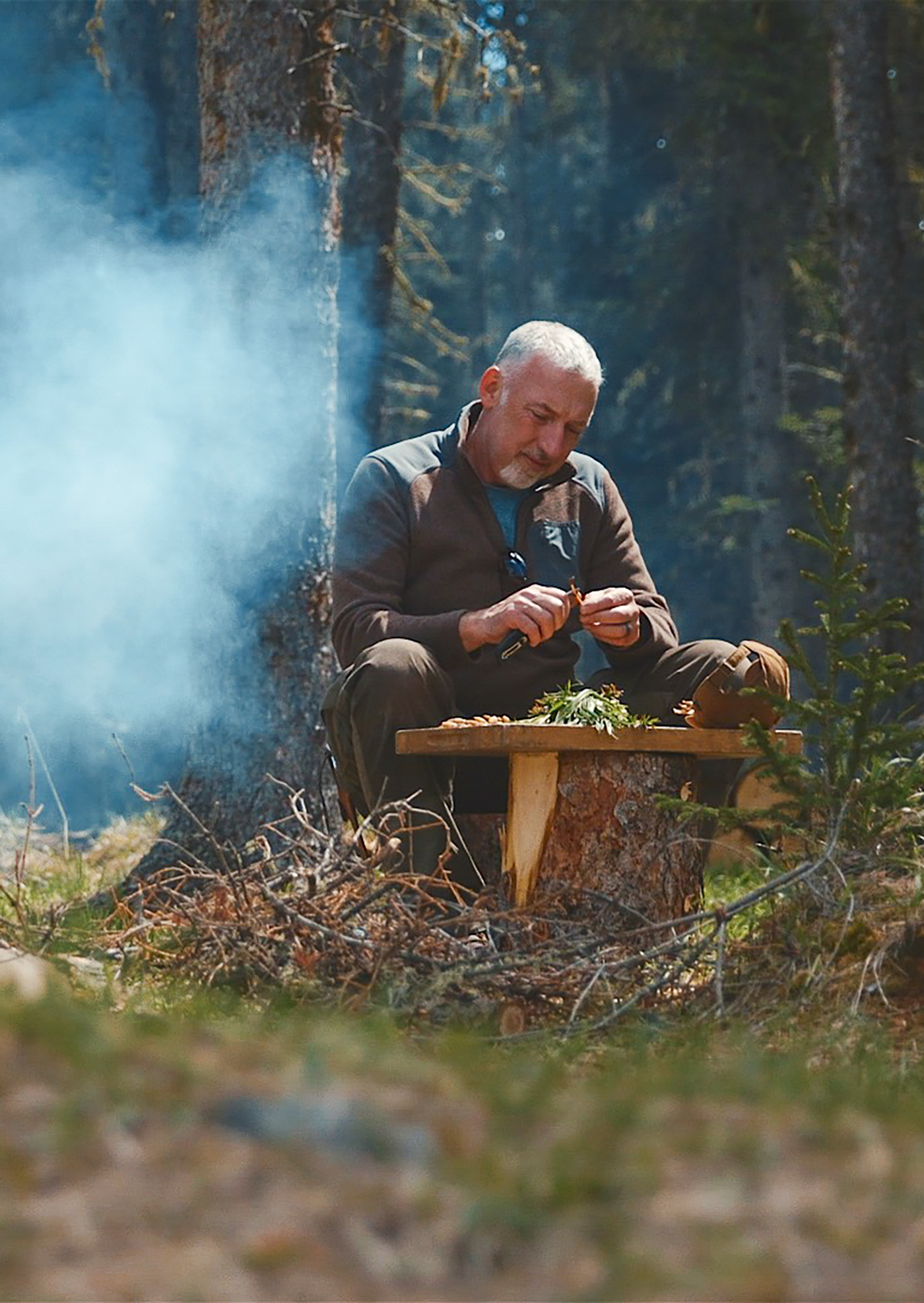 When practised sustainably, there's an environmental argument for foraging, as ingredients gathered in the wild don't need to be transported on planes or trucks. Discussions of climate change, population growth and supply-chain disruptions all lead to the question of food security and suggest we should know what edible plants thrive right here where we live.
But there's also a spiritual side to foraging that involves forming connections with the land and what it provides. Julie Walker is a Calgary-based trail guide who leads edible plant walks through her tourism company, Full Circle Adventures. She believes foraging is about the "spiritual engagement with our food, with our landscape and with Mother Earth."
Full Circle's edible plant walks caught the attention of SAIT culinary instructor and chef Andrew Hewson, who now includes them in his training for up-and-coming chefs. Hewson says that, for chefs, finding a plant in its natural habitat changes their relationship to that ingredient and brings energy and inspiration to their work. The ingredient now has meaning, and a story. "You're going to pay more attention when you're cooking it, or when you're presenting it," Hewson says.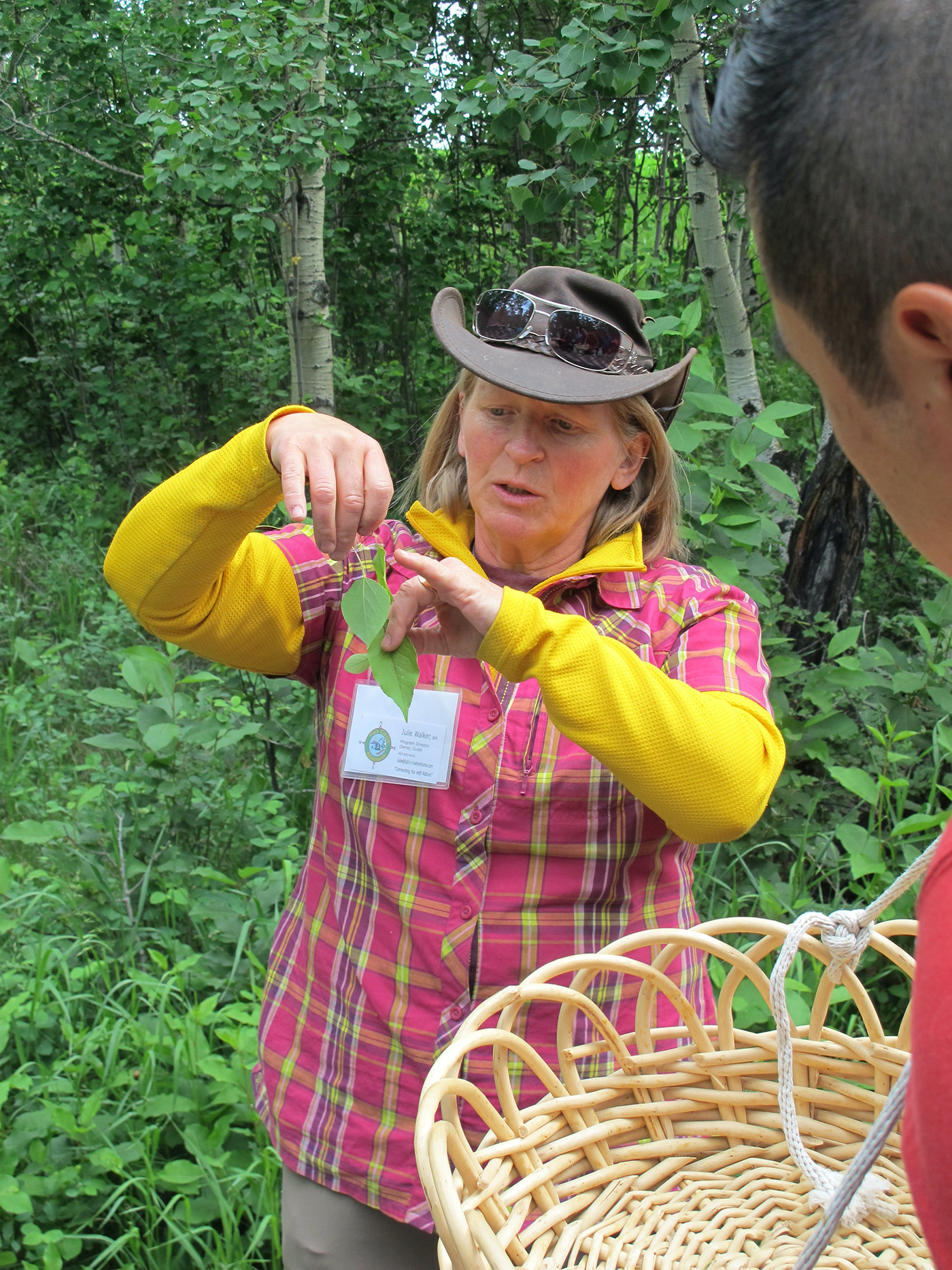 Rogalski says that, by being served wild plants, diners can also experience those stories. A foraged ingredient represents a connection to the landscape, a singular moment in time it was picked. "My desire is to provide the time-and-place experience," Rogalski says. On any given month at Rouge, you might find pine, cedar, catkin, elderflower, cattails, sumac or any array of local mushrooms on the menu. While the names might sound exotic, the flavours are often more familiar. Roasted dandelion root, for example, is "nutty and bitter, like coffee," Rogalski says, while sweet clover has hints of vanilla.
For both Rogalski and Hewson, the foray into foraging has also been an education in the culinary purpose of trees. On one foraging outing near Pincher Creek, Hewson and his companions clipped young spruce bark, then baked it in an oven and ground it into flour to make cookies. "It was mind-blowing," says Hewson. "A taste of pine and earthiness."
River Café chef Scott Mackenzie says he once made a velouté with stinging nettles and topped it with wood-fire-grilled morel mushrooms, French sorrel and tangerine marigold. The resulting dish, Mackenzie says, tasted "like the wild."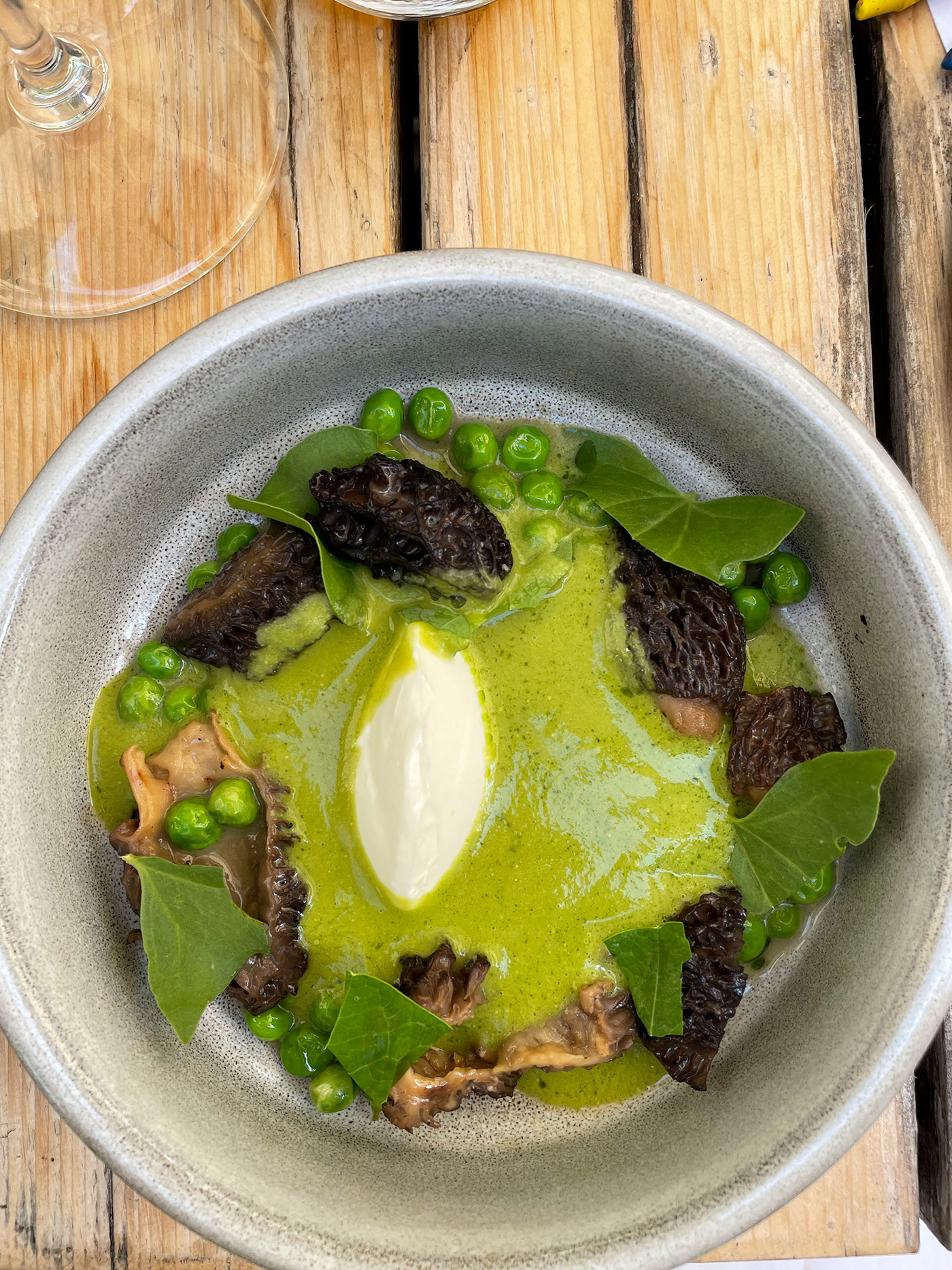 How to Start Foraging
Walker says learning about and cooking with edible native species is a journey of discovery. When you start looking for edible plants in nature, you'll become more attuned to the ecosystem around you, the seasons, to your movement from montane forest, to subalpine, to alpine environments.
She suggests starting with what you know — easily identifiable plants such as dandelion or wild rose. Pick young dandelion in the spring (from a spot where no herbicides or other chemicals have been sprayed) and toss them in vinegar and lemon for a simple salad. "It's like a spring cleaning for your liver and kidneys," Walker says. Look for public lands where you can find raspberries, strawberries and saskatoons. Be aware that foraging in protected city, provincial and national parks is unlawful, as it disrupts the local ecosystems those plants support.
Walker stresses that understanding how to forage sustainably is key. Every plant plays a vital part in its environment, and part of being a steward of the land is understanding how to pick and eat wild plants, without devastating local ecosystems.
Take fireweed, for example. "In April and May, fireweed stalks are at their most sweet," says Walker, noting that bears eat them to fatten up. When fireweed blooms later in the summer, bees, butterflies and hummingbirds feast on the pollen. The plant blankets landscapes devastated by fires or logging. It's considered a "healer," Walker says, as its lateral roots return stability to the soil and regenerate it with potassium and phosphorus. Walker recommends taking no more than five per cent of what's there when foraging for any wild plant.
Another approach, says Walker, is to plant a wild garden that you can then harvest and cook to your heart's delight. (Full Circle Adventures also offers Wild Food Garden Design consultation.) You'll also be providing much needed nutrition for local insects, which are, in turn, a vital food supply for migrating birds. "In re-wilding our gardens, we are contributing to an integrated food chain," she says. Whether we find them or grow them ourselves, Walker believes these wild foods can "help us build back to a healthy relationship to nature."
Season 1 of Wild Harvest aired in 2021 on PBS and can currently be seen on YouTube. Filming on Season 2 is complete and is set to air this spring. For more information, visit wildharvestfilms.com