As the gate to the Rockies, Canmore is well known as a starting (or stopping) point for great mountain adventures. But every great adventure can use some good eats, and Canmore also features excellent and varied dining options, making the mountain town a worthy candidate for a foodie escape. Here are 10 excellent options to check out, for breakfast, lunch and dinner, next time you're in Canmore.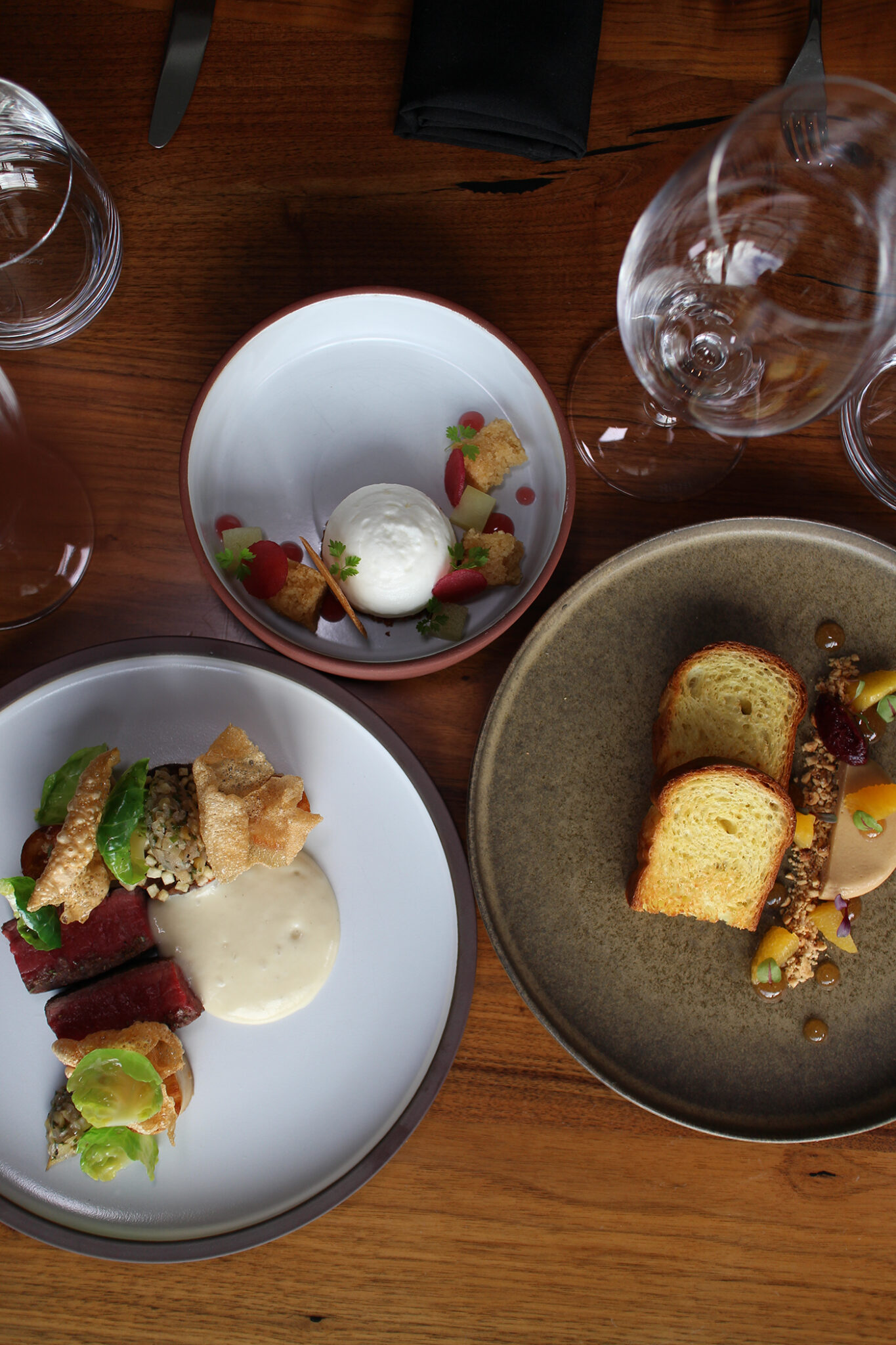 Serving a menu of creative cuisine rooted in highlighting Canadian ingredients, änkôr offers inventive yet approachable dishes, made with modern techniques and artful plating. Try the specialty of foie gras, maple and fermented plums with a house-made brioche toast, or the änkôr take on beef and potatoes, with braised beef cheeks and smoked potato foam. Pair dishes with a diverse wine list and cocktails made with Canadian spirits.
1430 2 Ave., 403-675-2424, ankorcanmore.com
Crazyweed, named after a Rocky Mountain flower, has long been a staple in the Canmore dining scene. Serving a menu of eclectic flavours, the down-to-earth menu still screams fine dining with well-executed worldly dishes. Try dishes like Indian-inspired masala baby-back ribs, lamb sirloin with a Thai massaman curry or a chipotle-crusted Alberta beef bavette with the flavours of Mexico. For dessert, try one of the rotating small-batch ice creams made in-house.
1600 Railway Ave., 403-609-2530, crazyweed.ca
This quaint local café serves hearty and healthy food, all day long. Try one of the many tasty wraps and paninis, like the Holy Molé, with chicken, chorizo and house-made molé sauce, or head in early for a breakfast wrap for a boost before a hike or skiing.
2, 718 10 St., 403-678-3747, harvestcafe.ca
At Le Fournil, you'll find a touch of classic French boulangerie in the Rocky Mountains. Browse the selection of fresh baked bread loaves and baguettes, as well viennoiseries like croissants, danishes, pastries, cakes and more — all made using the freshest ingredients available. If you want to try your hand at baking, you can also choose from the small selection of pantry items, including Le Fournil's own raw sourdough starter.
101, 1205 Bow Valley Trail, 403-675-5005, fournil.ca
Ramen Arashi offers a little Japanese oasis in Canmore. Stop by for a traditional bowl of ramen in several styles, such as with tonkotsu pork broth or a veggie miso one, as well as appetizers like chicken karaage, takoyaki and gyoza. For dessert, why not try a taiyaki, a red-bean-filled cake, shaped like a fish. There's also a small market carrying Japanese ingredients and pantry items to take home with you.
105, 1000 7 Ave., 403-678-1129, ramenarashi.com
For Neopolitan-style pizza in the Rocky Mountains, look no further than Rocket Pie. The father-and-son operated pizzeria serves delicious pies topped with classic ingredients. Diavola pizzas are also in the lineup as well as a few styles of calzone. For dessert, grab a traditional tiramisu in a jar to go.
101, 304 Old Canmore Rd., 403-675-2865, rocketpie.ca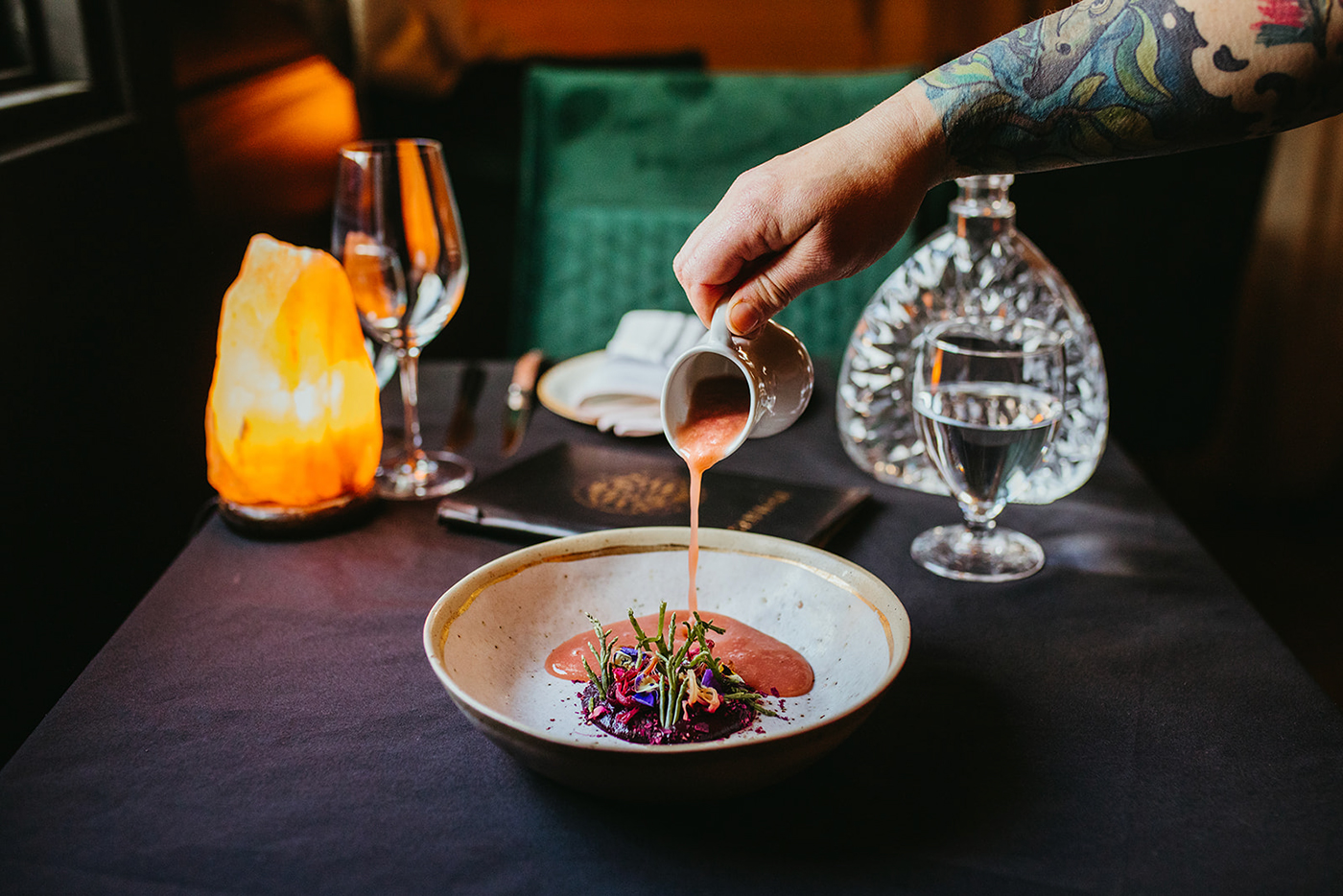 If asked to describe what Canadian cuisine is, Sauvage provides an excellent answer. Driven by sustainable, locally sourced and foraged ingredients, the food at Sauvage tells the story of chef Tracy Little's upbringing, full of fishing, hunting and foraging in the Canadian landscape. The menu consists of constantly changing, seasonal tasting menus in either three-, five- or seven-course options served in a shared-plate, family-style dining atmosphere.
633 10 St., 403-609-0583, sauvagerestaurant.ca
With striking views of the Three Sisters, this fine-dining restaurant features a menu to match, with a focus on presenting regional cuisine of the Rockies. By far the best way to experience The Sensory is through the Chef's Surprise three-course tasting menu, which changes every night — try it with the optional wine pairing for the optimal experience.
101, 300 Old Canmore Rd., 403-812-0837, thesensory.ca
On the third floor of Grizzly Paw Brewery, Tank 310 epitomizes Canmore pub culture. With panoramic views of Ha Ling and Mount Rundle, Tank 310 serves up delicious gastropub-y food, like handcrafted sandwiches and pizzas, in an incredible dining space. All of the food is designed to pair perfectly with the beers brewed on location — try the Peck of Pickled Pepper pizza paired with an Evolution IPA or the smoked beef short rib with a Rutting Elk Red.
310 Old Canmore Rd., 403-678-2487, thegrizzlypaw.com
Located on Canmore's Main Street, this modern cocktail bar holds a step-back-in-time twist. Its cocktails are made using specialty local spirits, which are proudly displayed on the website. Try playful drinks like Thai One On, a take on a sour with lime, lemongrass and ginger flavours, or test your mettle with something heavier like the Midnight Cowboy, made with bourbon, rum, sweet vermouth and Benedictine in a cinnamon-smoked glass. The food menu is tapas-style, offering worldly flavours like duck wings with char siu sauce or pork birria tacos.
2, 626 Main St., 403-675-2222, canmoresaloon.ca