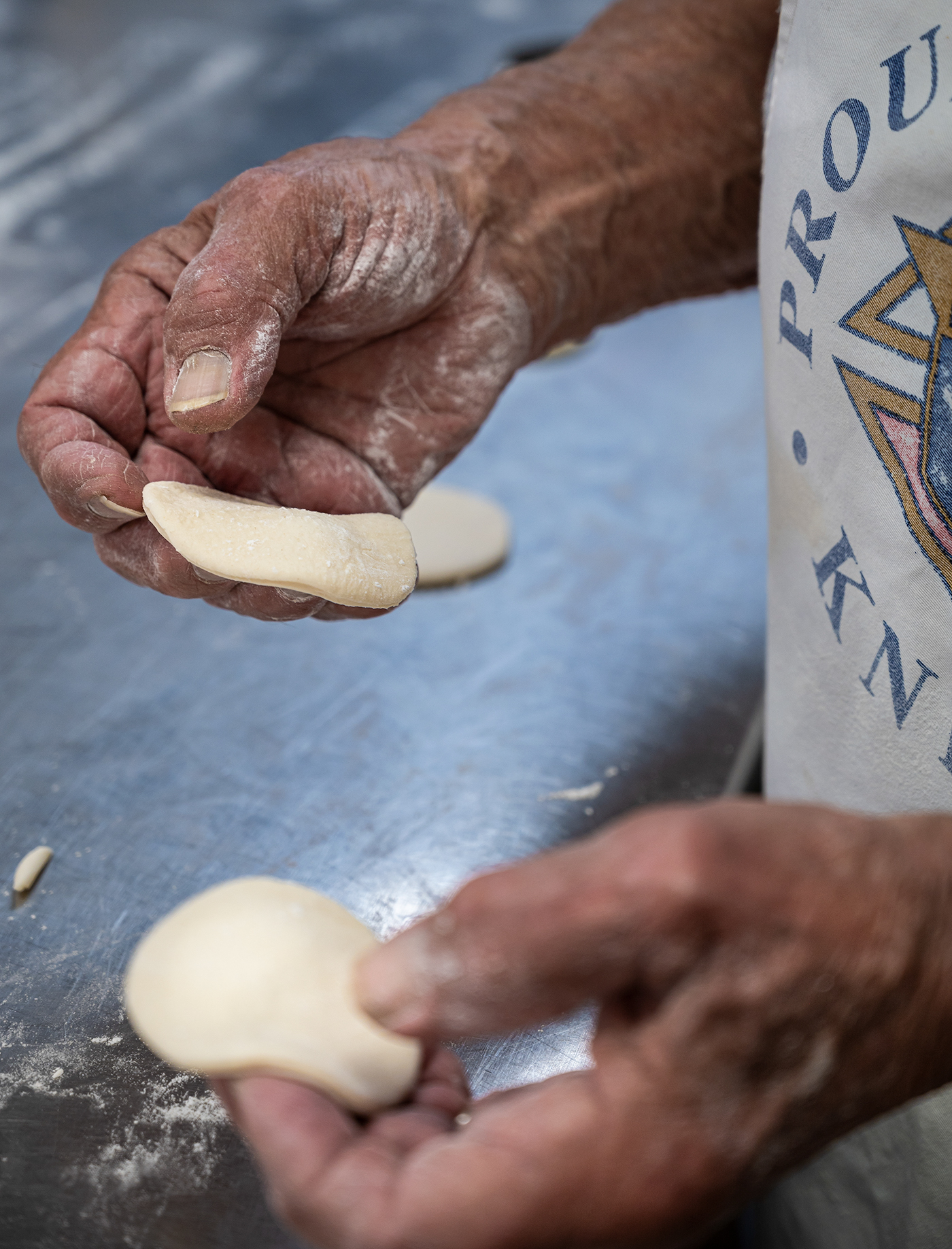 At first bite, they couldn't be more simple: Flour, eggs, water and salt turned into a dough and filled with ingredients like potato and cheese. The humble perogy is the ultimate comfort food, but, for many, that sense of comfort extends beyond what's on the plate.
In Calgary, perogies have long served as a beacon for people who are searching for a way to help, or find solace, in the midst of a crisis. In the face of the ongoing war in Ukraine, pinching dumpling after dumpling — an art honed by generations of babas passing down the technique to their children and grandchildren — keeps idle, worried hands busy.
The perogy has roots in Poland, Russia, Lithuania, Slovakia and Ukraine, with slight differences between each country on the names and fillings. Ukrainian perogies, known as varenyky, can be stuffed with sweet or savoury fillings. Most commonly, they have the tooth-sinkable filling of potato and cheese, while sometimes perogy-makers tap into the Ukrainian penchant for sour foods by adding cherries or kraut.
Ukrainians serve perogies at Sunday dinners, Christmas Eve feasts and on special occasions. Ukrainian lore also used to have women eating perogies on the second day of their wedding celebrations to bring about well-being, while farmers would often eat the halfmoon-shaped food in the fields to conjure abundance.
The ubiquitous presence of perogies in Alberta also has its roots in farming. Beginning in the late 19th century, the Canadian government actively recruited Eastern European farmers to work the sparsely populated prairies. Hundreds of thousands made the journey, with many homesteading in Alberta. They created communities, set up churches and brought their culinary traditions, including perogies, with them. The village of Glendon, northeast of Edmonton, has a 27-foot-tall roadside attraction professing its love of the dumpling. In Calgary, affection for perogies is best exemplifed by the crowds of people who line up every time a church announces a perogy sale.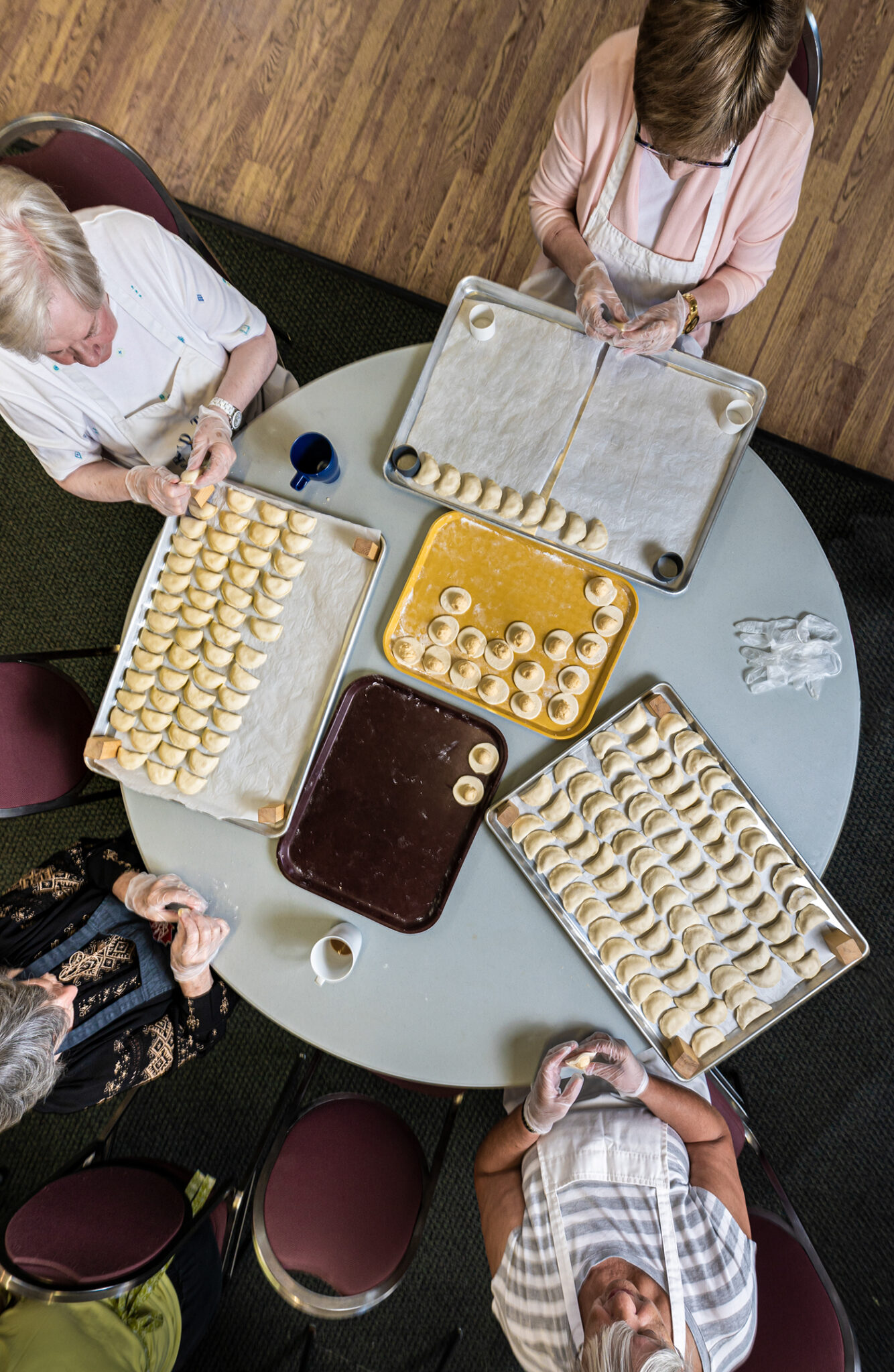 Helena Haridzuk runs the kitchen at the Assumption of the Blessed Virgin Mary Ukrainian Catholic Parish (ABVM) in the northeast neighbourhood of Renfrew. Several years ago, the kitchen at ABVM began an annual perogy fundraiser to help with the church's operating costs. The first year, volunteer perogy pinchers raised $4,000, and were elated. The next year, they doubled that. Word got around and demand continued to increase until 2019, when the lineup snaked down the block and sales skyrocketed. "It was amazing and overwhelming," says Haridzuk. "We were exhausted, but it felt so nice to see that support."
Among those waiting in line at that 2019 sale were third-, fourth- and fifth-generation Ukrainians, standing alongside newcomers and Calgarians of all backgrounds. As customers walked away, arms laden, many asked when the next perogy sale was happening. The appetite for the homemade comfort food was insatiable. Then, COVID-19 hit. In-person church services were halted, along with perogy-pinching group gatherings in the church hall. Sure, the perogies themselves were missed, but the biggest loss was the sense of community. For many Ukrainian-Canadians, getting together to cook is an antidote to loneliness.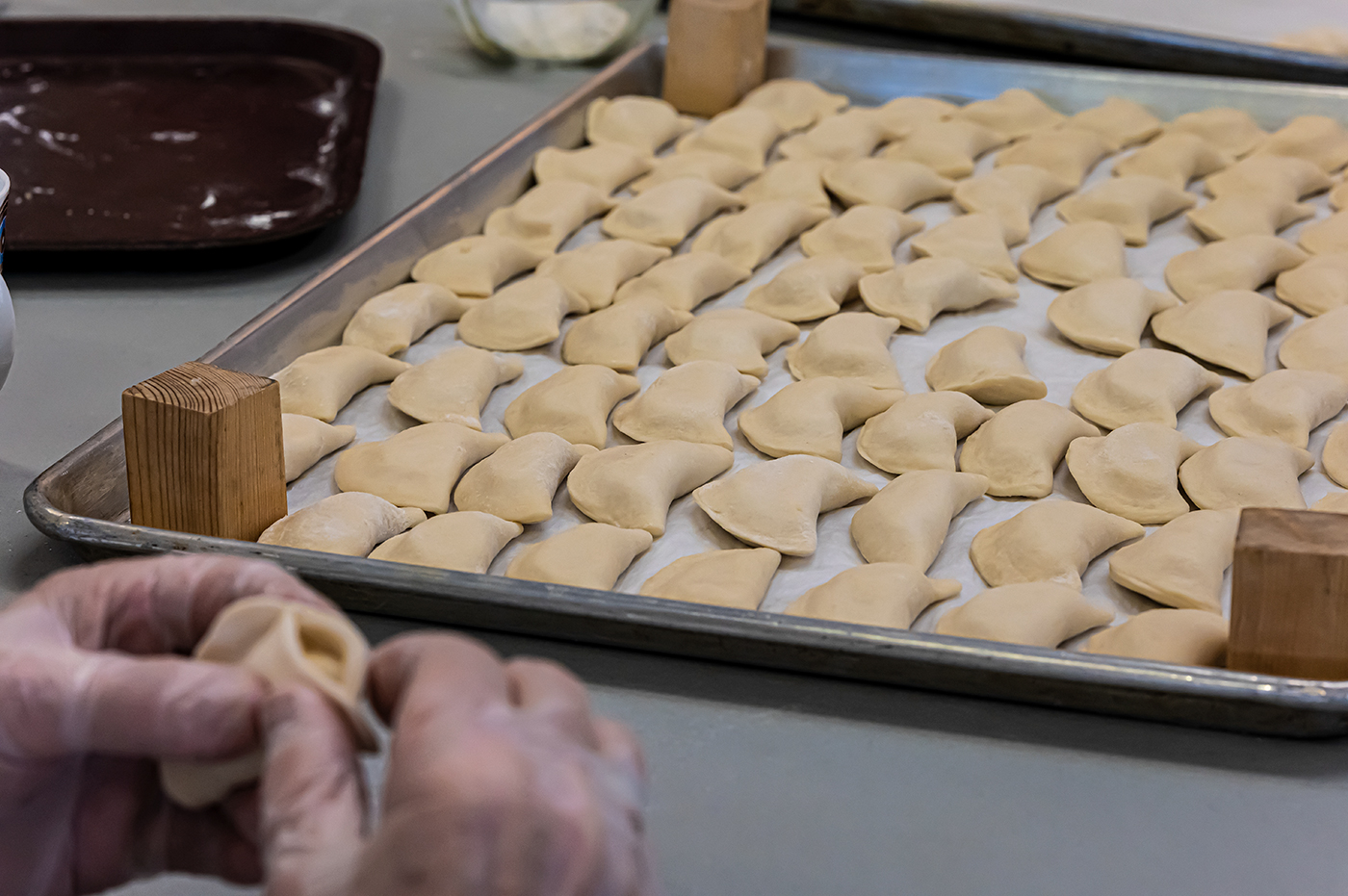 Larysa Gelleta is part of the Ukrainian Catholic Women's League (UCWL), a national organization with branches across Canada, including at Gelleta's parish, St. Stephen Protomartyr Ukrainian Catholic Church in southwest Calgary. St. Stephen's roughly 100 UCWL members often lead volunteer initiatives, activating work bees, including perogy pinching for the annual Christmas dinner (perogies are the third course in the 12-course meal). At work bees, there is a job for everyone, from mixing the fillings to loading finished perogies in the freezer.
"The work bees are a time for people to get together, talk and be less lonely," says Gelleta, who, prior to COVID, regularly gathered with friends to chat and make perogies by the dozen. When pandemic restrictions lifted, and both she and others grew more comfortable at the idea of meeting again, there was a collective exhalation of relief. "[Perogy-making] is like therapy," says Gelleta. "When you get together with a group, relax and talk — it's like you are pinching out your worries."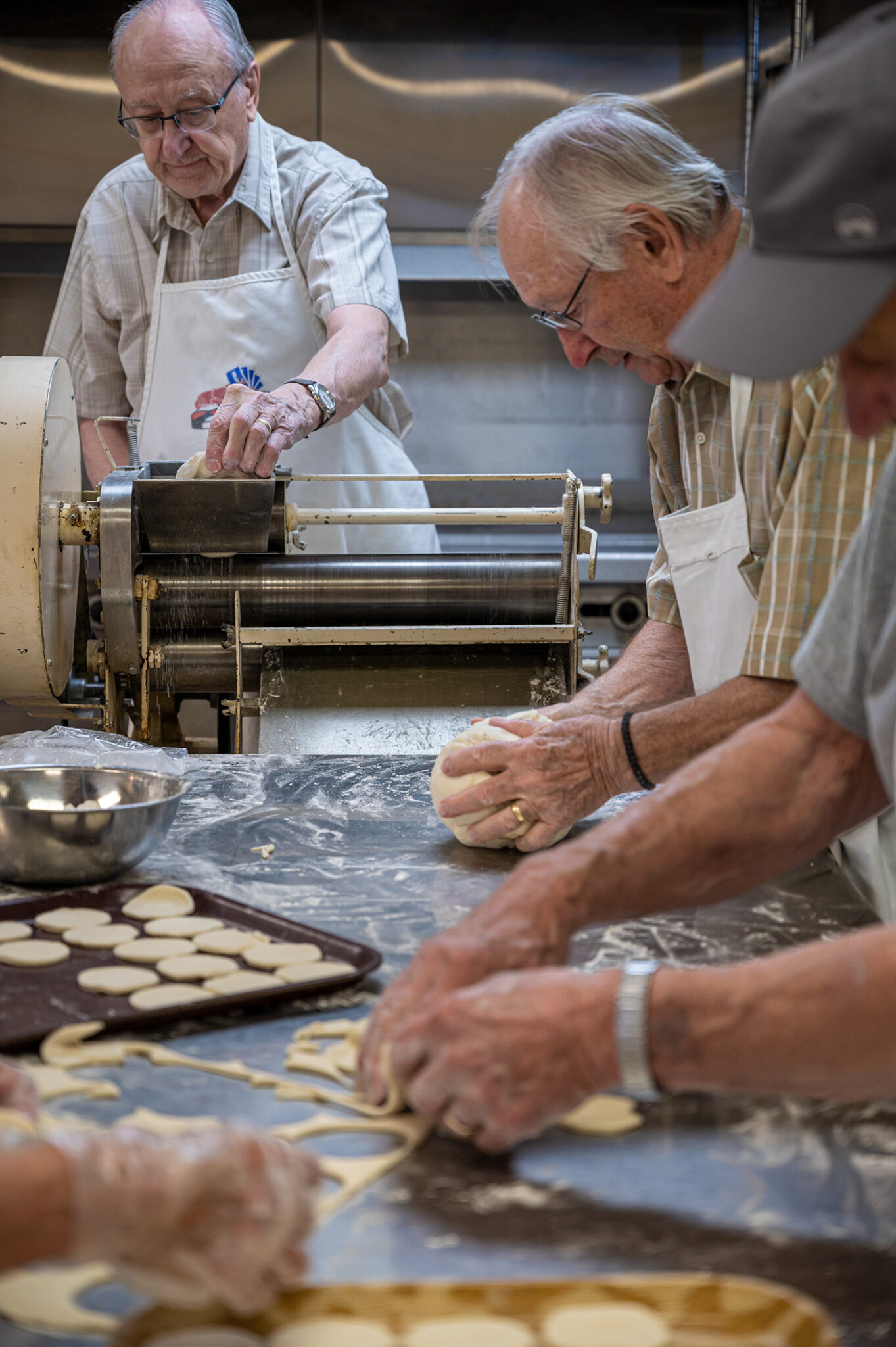 There is a lot to worry about these days. When Russia invaded Ukraine in February 2022, Calgary churches became a magnet for people looking for ways to show their support for Ukraine.
"It was overwhelming to have so many Canadians ask what they can do and how they can help," says Haridzuk. "We knew we had to do something, so we started pinching away again."
Dozens of volunteers at ABVM made borscht, cabbage rolls, perogies — whatever they could. People added an extra $10, $100, $500 to their purchase to boost the fundraising. "It was unbelievable. I've never seen people be so generous. We just kept going," Haridzuk says.
ABVM's largest single sale was in March 2022, soon after the crisis began. Haridzuk stocked the kitchen with all the necessary supplies and dozens of volunteers of Ukrainian heritage gathered to make 6,000 perogies in one evening. It was an enormous and emotional endeavour. "It started with everyone telling their story — where they came from, what was happening in their area. Toward the end, they all started singing," Haridzuk says. "[A perogy work bee] is a good place to come and heal a little bit. It brings us closer together."
Perogy sales are so popular now that ABVM has put a perogy watch on its website to announce upcoming sales and volunteer opportunities. Initially, the sales paid for bulletproof vests, night-vision goggles, food for the frontlines and those fleeing, a van to transport people from their destroyed communities and more. Now, ABVM and other churches are turning some of their attention back to what is happening here as more Ukrainians — mostly women and children — come to Calgary.
"It's a little bit of home," says Gelleta, of welcoming newcomers to the perogy pinching parties. "Belonging to something and doing something that feels normal."
Where to Get Perogies in Calgary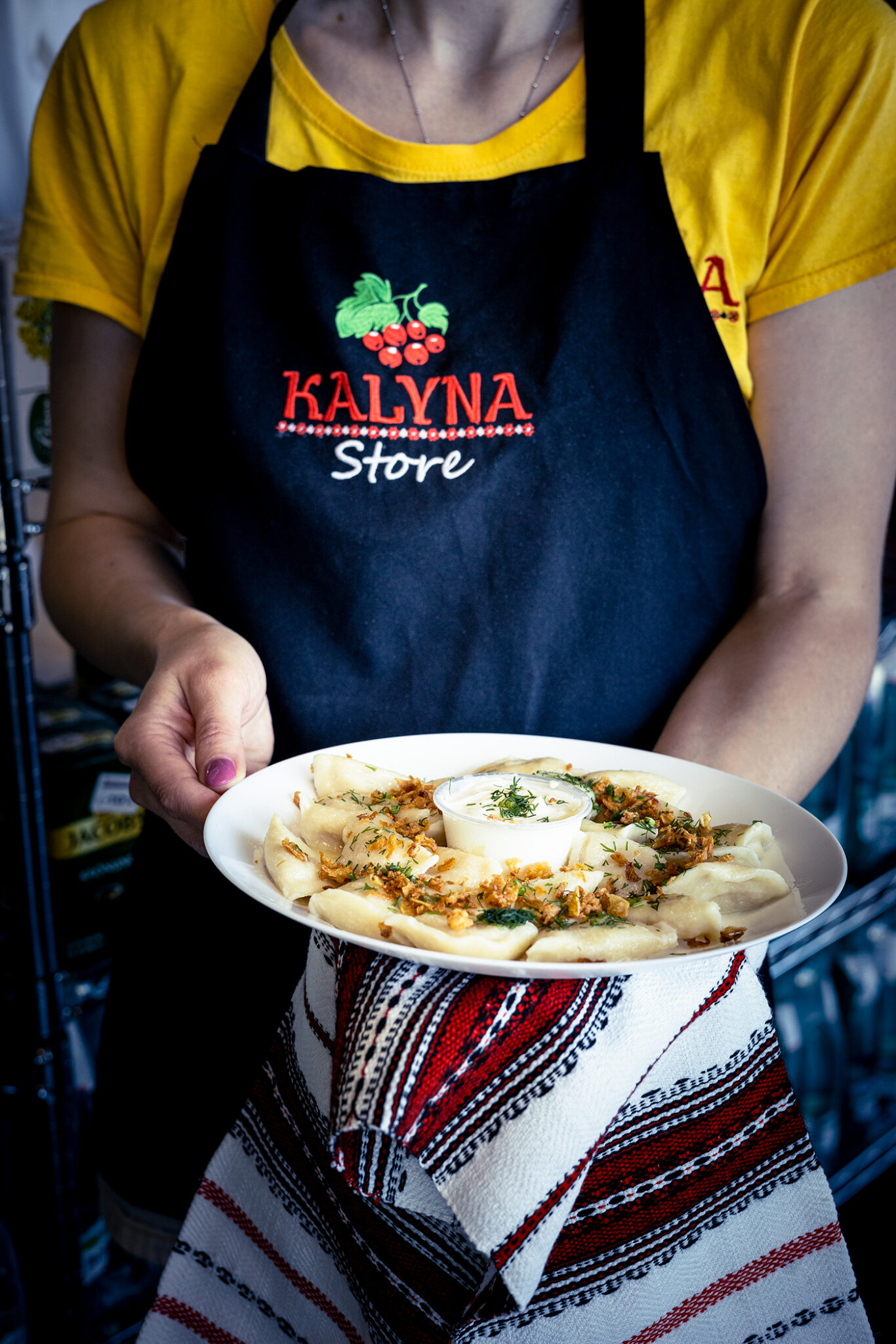 Kalyna's own brand of perogies are like a one-bite trip back to baba's kitchen. Grab a bag or two from the freezers, or, if you'd like to dig in right away, call ahead to order a ready-to-eat plate, along with fried sausages, cabbage rolls and more. Round out the Ukrainian comforts with a sweet treat, such as a cherry or cheese bun.
8, 7400 Macleod Tr. S.E., 403-457-0990, kalynastore.ca
Owner Erin Chromik is famous for her perogy casserole, which consists of savoury, hand-pinched perogies in a rich mushroom-dill sauce. Add some additional braised beef, sauerkraut or cheese perogies to your order for good measure. The name of Chromik's business is inspired by a hot tip from baba: if you stir with the back of the spoon, you don't break the perogy dough.
The perogies here come with all the familiar fillings, as well as untraditional ones like jalapeno. There are gluten-free options, too. Find them frozen at the Ukrainian Fine Foods shop in Manchester, or at Crossroads Market, where you can also buy them hot. If you happen upon one of the shop's two food trucks, try the taco perogies.
540 Cleveland Cres. S.E.; and Crossroads Market, 1235 26 Ave. S.E.; ukrainianfinefoods.com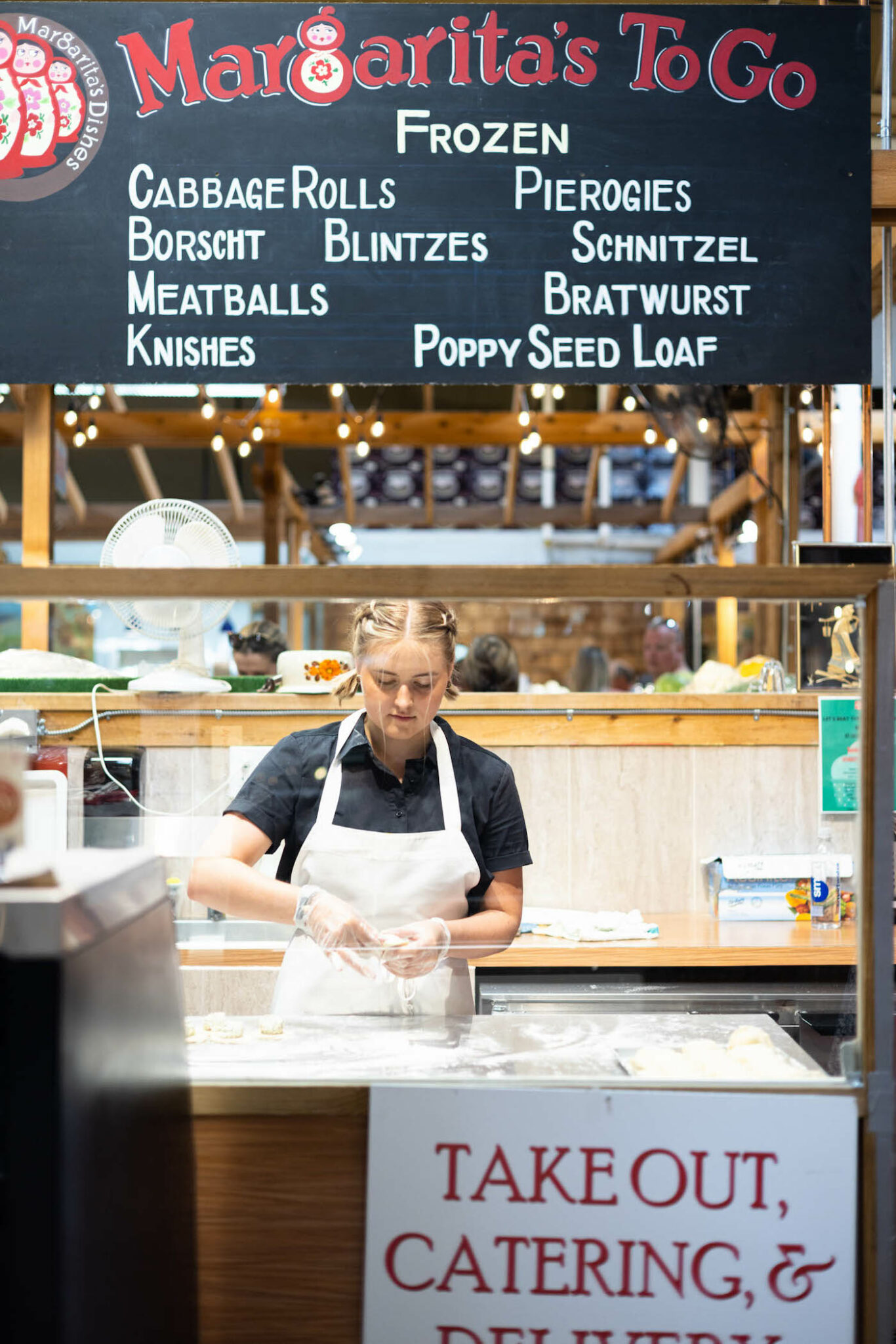 Margarita Korduner came to Canada from Odessa, Ukraine, in 1982 and started serving her delicious food to Calgarians soon after. Currently, you'll find her namesake booth at both Calgary Farmers' Market locations, where the menu offers perogies stuffed with homemade cottage cheese, and other classics like blintz, borscht and cabbage rolls.
Calgary Farmers' Market South, 510 77 Ave. S.E.; and Calgary Farmers' Market West, 25 Greenbriar Dr. N.W.; calgaryfarmersmarket.ca
One of Calgary's first food trucks, Perogy Boyz made perogies a street-food mainstay. The truck keeps it classic with a potato and cheddar perogy, but topping choices include fusion-inspired options, such as Tex-Mex, poutine and huevos rancheros. Frozen perogies, including vegan and gluten-free versions, are also sold online.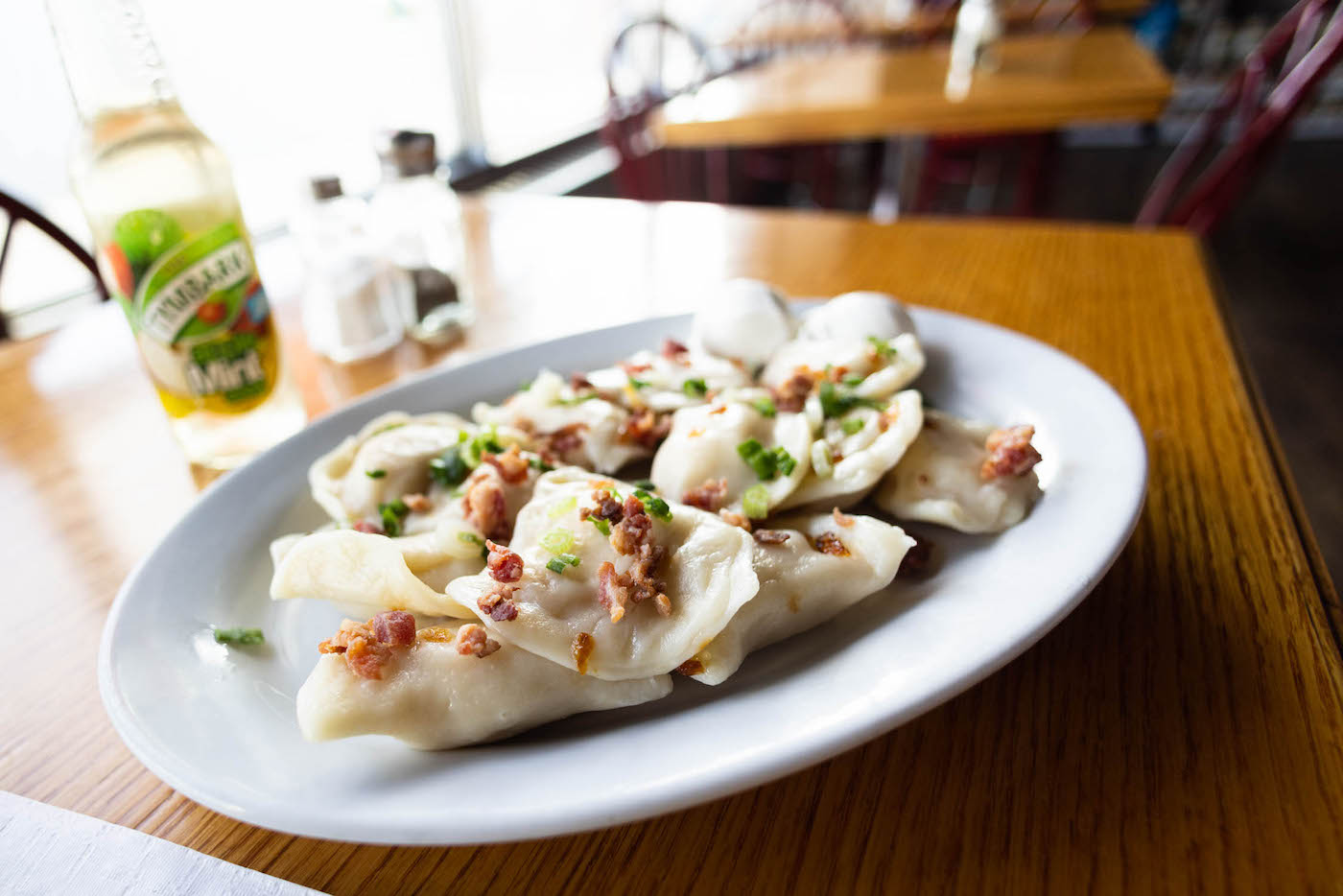 The family behind this restaurant is Polish, but that makes little difference — the subtleties of perogies from Ukraine versus Poland are less about the country and more about the preferences of the person filling them. Here, the hand-pinched perogies come in 10 varieties, including blueberry, sauerkraut and mushroom, and potato and cottage cheese. 
1912 37 St. S.W., 403-686-6835, heritagebakeryanddeli.ca