Before founding Calgary Food Tours, I was a nurse for 21 years. My severely ill and dying patients taught me a lot about living well. Lavishly decorated homes and expensive gifts never made their wish lists. They dreamed of rosy-cheeked children sipping cocoa after skating and days spent munching turkey sandwiches between Monopoly marathons. Family time is what mattered most. I took this to heart. It helped me realize the irrelevance of perfection.
The planning
If you wait for everything to be perfect before you start entertaining, you will miss out on a lifetime of fun. So forget about perfection – but do make a plan. Practice being hospitable and all will be well.
Make a master to-do list 
Make lists of the shopping, wrapping, decorating and cooking that you traditionally do. Absorbing these known entities into the routines of family life builds holiday rituals and fun instead of frenzy. Then plan for the unknowns by stocking your fridge and pantry with plenty of crackers, cheeses, meats, pickles and preserves so you can whip up a charcuterie platter when someone drops by unannounced. And always have a bottle of bubbly chilling in the fridge.
Shop for gifts throughout the year 
Focus on food shopping day-by-day the week you're entertaining. Make whatever you can ahead, preferably with a helper. My mother's annual visit to help with baking is a ritual my family treasures. We stick to our specialties – pies, tourtires and biscotti.
Decorate early 
Pull out your fake fir tree anytime after the Grey Cup. Use fresh flowers and evergreen boughs to make the house smell great. You get a lot of bang for your buck with roses from the grocery store – they're easy to arrange, they last up to two weeks and there's enough variety of colours to complement any holiday theme.
Keep spirits bright on long dark nights with candles, candles and more candles
If you're worried about fire hazards, choose battery-powered candle lights with flameless wicks.
Task the Christmas music playlists to tech-savvy kids 
They'll point you toward digital music services like Spotify, Apple Music or Rdio so you can choose your genre and then let it play all day.
Outsource to food pros 
If holiday baking isn't your thing, why stress about it? That's what pros are for. However, if you're particular, keep in mind that the deadline for ordering from fine bakeries like Crave Cupcakes can be as late as December 23, whereas ordering deadlines for other shops, such as Brle Patisserie, are as early as December 1, so check in earlier rather than later.
The 1, 2, 3s of a festive meal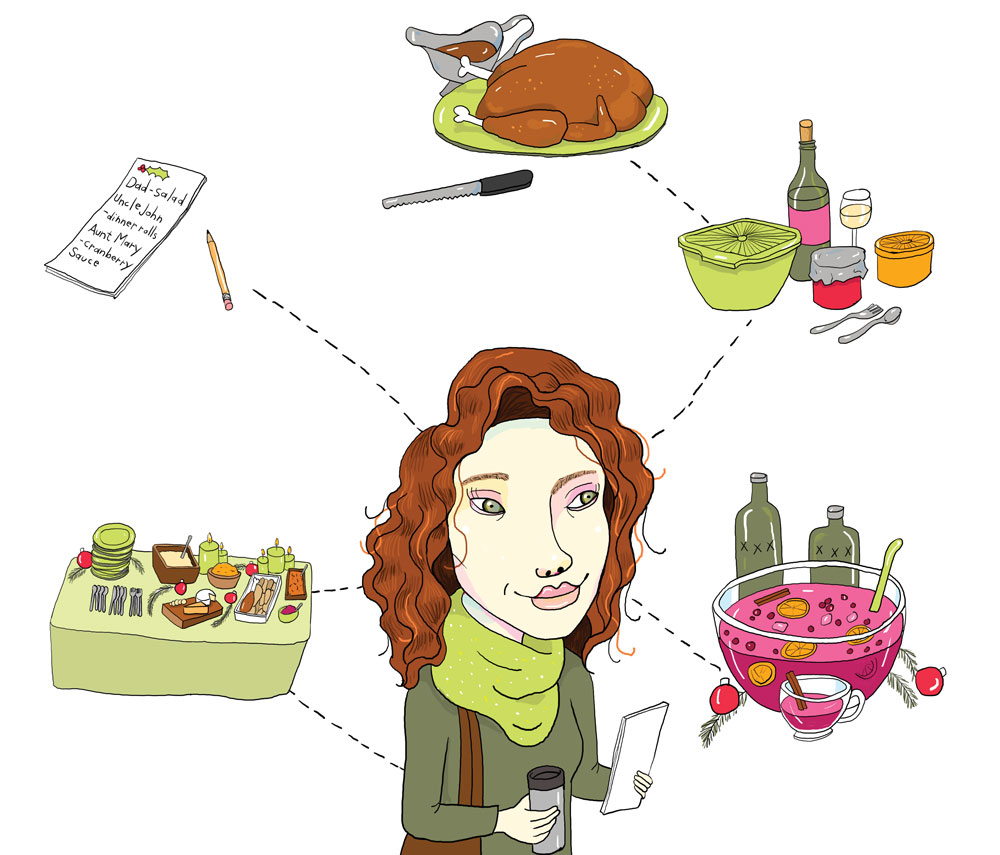 Illustrations by Monika Melnychuk
1. Grant flex time to family
We cook on Christmas Eve because that way we have 20-plus people who can gather without "big-day" commitment angst. I look after the bird and orchestrate the rest of dinner with guests who are thrilled to contribute to the meal. Designate specific dishes so you don't end up with six-dozen dinner rolls.
2. Build a buffet
Include utensils and set your guests loose to serve themselves. With a large group, it's infinitely easier than serving the meal family-style, when half the people can't seem to adhere to the "dishes are passed from left to right" rule of etiquette.
3. Brine and shine
I brine my bird overnight to ensure it stays moist, and then I just pop it in the oven and forget about it until an hour before guests are due. That's when I carve it, make gravy and keep it warm in the oven, all before the first knock on the door.
4. Make extra and love the leftovers
After a lazy Christmas Day egg and bacon brunch, we enjoy an even lazier supper of leftovers. We splurge on fine wine to keep any houseguests happy.
5. Serve punch
 Booze, more booze, fizzy soda, spice and ice are the formula. It's easier than serving individual drinks and it's festive, to boot.