Over the past five years, East Village has become one of the up-and-coming neighbourhoods to spend time in, with no shortage of new, slick-looking apartment buildings and a myriad of engaging events. But until June 2015, there really wasn't much to eat or drink, so the opening of the Simmons Building last month was an exciting day for a lot of Calgarians. Not only is the building obviously a hub for the area, but there is also a whole lot of deliciousness waiting inside, too.
This building really takes the term "restaurant collaboration" to a new level with its three inhabitants – Phil & Sebastian Coffee Roasters, Sidewalk Citizen Bakery and Charbar. Working side-by-side, the businesses not only share the space, but also share their products with one-another. Sit down at Charbar and drink a barista-made coffee from Phil and Sebastian or bite into a piece of pizza made with Aviv Fried's sourdough. It's pretty neat to see.
Operating in the majority of the space, Charbar offers a full-scale restaurant experience while its other two roommates stick to the more casual cafe-style. Open the dinner menu here and you'll find about 45 dishes to choose from. Unlike its older, meatier brother, Charbar puts more of an emphasis on vegetables and seafood and a little less on carnivorous options, although if you are craving a porterhouse steak for two or a big, juicy burger, don't worry, you're still covered.
Anyway, let's talk vegetables. One of the most delicious small plates that should grace your table is the vegetable "ceviche." A nice, bright mix of sliced cucumber, tomatoes, onions and avocado are lightly dressed and nestled into a charred tomato gazpacho then finished off with roasted cancha (a large kerneled Peruvian corn) and some crushed chilies for a little heat.
When it comes to the seafood, a South American-inspired restaurant can't be without a well-made ceviche. Chunks of raw tuna, prawns and squid are tossed in a yuzu-based marinade or "tiger's milk" as it's called in Peru and then finished tableside with the addition of chilies, fresh herbs, onions and roasted cancha. Stay even more raw with some crudo or an order of oysters topped with a chimichurri mignonette.Keep snacking on things like avocado and pistachio brushetta, tuna conserva and tomato salad or the fried roman cauliflower. The latter is listed as a side dish to go along with steak or fish, but it works well as an appetizer too, fried to crispy brown perfection then finished off with shaved cheese and a pepper aioli. It's very good.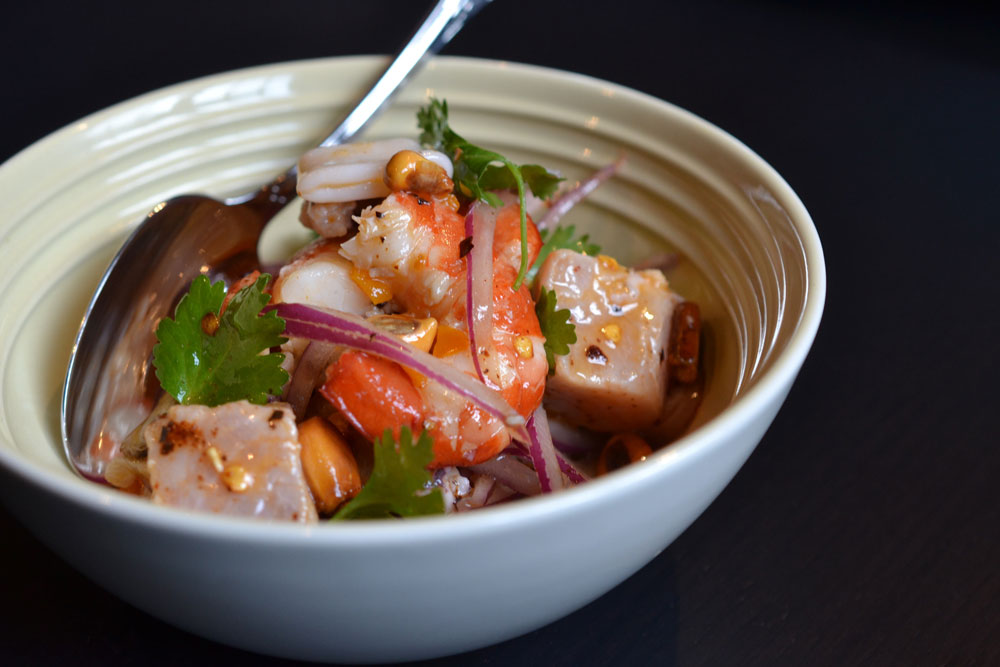 Ceviche.
Speaking of chimichurris, the three chimichurri sauces (green, white and red) created by chef Jessica Pelland may be only an accent for a meaty main, but they are awesome little flavour boosters so don't forget about them. The green is fairly traditional and herb-forward while the red is made using chilies, giving it a robust, slightly smoky flavour. Last, but not least, the white variation is made with blended cancha and is really unique too. At only $2 a pop, it would be a shame not to order all three.
Of all of the options on the menu here, I feel like the pizzas Charbar is offering might be skipped over by a lot of diners, as it does seem like a "one of these things is not like the others" situation, but it would be a mistake not to order at least one of them. The crust is made with sourdough from Sidewalk Citizen Bakery. It's almost bordering on deep-dish pizza territory with a doughy centre and crispy crusts, but let's face it, thin crust pizza is a little overdone in this city anyway. Try the clam pizza, layered with white sauce, clams, sliced peppers and healthy drizzle of chimichurri. It's unconventional and delicious.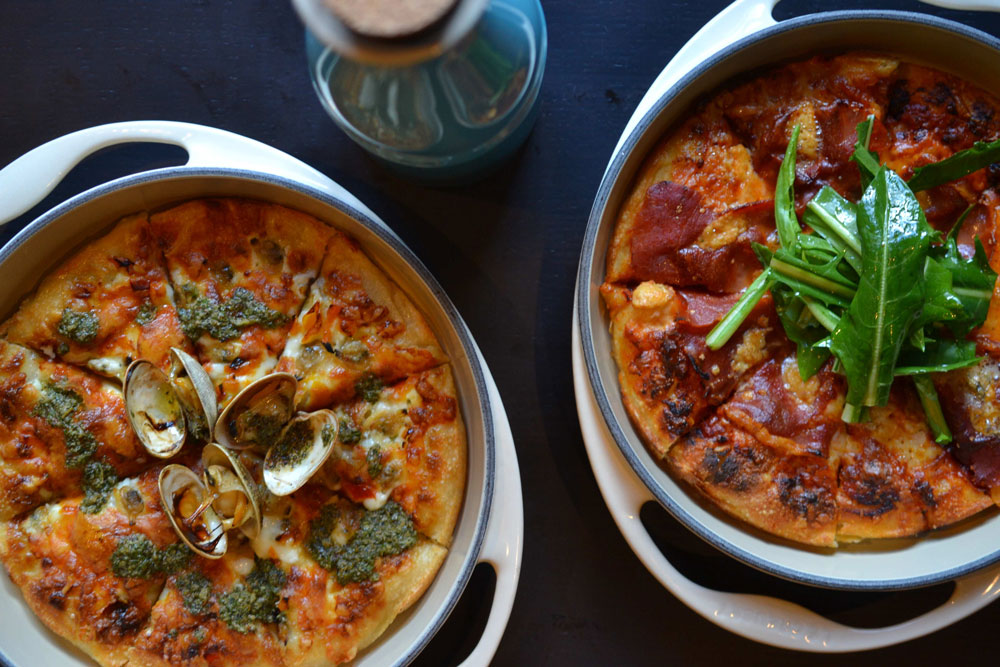 Clam pie and jamon crudo.
One of the best things about this new eatery is the fact that it's got not one, but two patios. If the sun is shining, then try to grab a seat on the north-facing main level patio or head up to the rooftop for some amazing views of Calgary's downtown core and the Bow River. If you aren't lucky enough to find a seat outside, the two-level open concept dining room fits the bill just fine too with plenty of natural light and views of the open kitchen where you can watch owner Connie Desousa and chef Jessica Pelland work the pass.
Wrap things up with one of the simple and summery desserts like soft serve ice cream with preserved peaches or the brled crepes that are generously filled with dulce de leche. Don't forget to wash it all down with a cocktail or two. The bar program here was designed by Christopher Cho, formerly of Charcut, who now calls Ayden Kitchen & Bar home in Saskatoon, so you know the drinks are going to be good.
618 Confluence Way S.E., 403-452-3115, charbar.ca, @charbar_yyc