New Restaurant: Workshop
The restaurant space in the Grand is revived again, but this time it has homemade sodas, a pastry chef in the kitchen and chef Kenny Kaechele's ambitious menu
By Dan Clapson
The interior of Workshop was designed by Connie Young.
The restaurant space inside of the Grand Theatre just north of 6th Avenue and 1st Street SW has been reincarnated a few times. When Ubu Lounge (an upscale sushi restaurant for lack of a better description) closed its doors almost a year ago, it was only a matter of time before a new concept inhabited the room. As of this week, we happily welcome Workshop to the Calgary food scene.
So, what's in a name? Years ago, the original theatre company that occupied The Grand was named "Workshop 14". It also ties into the fact that the worlds of arts and theatre and culinary collide (literally) since Workshop is built into the main atrium of this historic theatre.
Designer Connie Young – who has designed a variety of restaurants in Western Canada including Calgary's Avec Bistro and celebrity chef, Dale Mackay's establishment, Ayden Kitchen and Bar in Saskatoon – has transformed the space into a room that finds its charm in being both fairly intimate and a little dark and brooding. Accents like tall tartan upholstered banquets, large metal chains, a wood framing accent wall and chandeliers made of workshop lamps fused together make the design here a refreshing departure from the over-used edison lightbulbs and distressed wood look so many others have opted for in recent years.
This is officially chef and owner Kenny Kaechele's first restaurant endeavour, but his restaurant resume is a long one, working at and consulting for a variety of restaurants including The Ranche, Rouge, Tango Bistro and more. The chef's menu at Workshop is ambitious. Between the lunch and dinner menus, there are more than 30 dishes including a simple bowl of marinated olives, gin and juniper cured trout, beef tartar with horseradish emulsion, lamb shoulder meat (lunch) and a hummus-crusted lamb rack (dinner).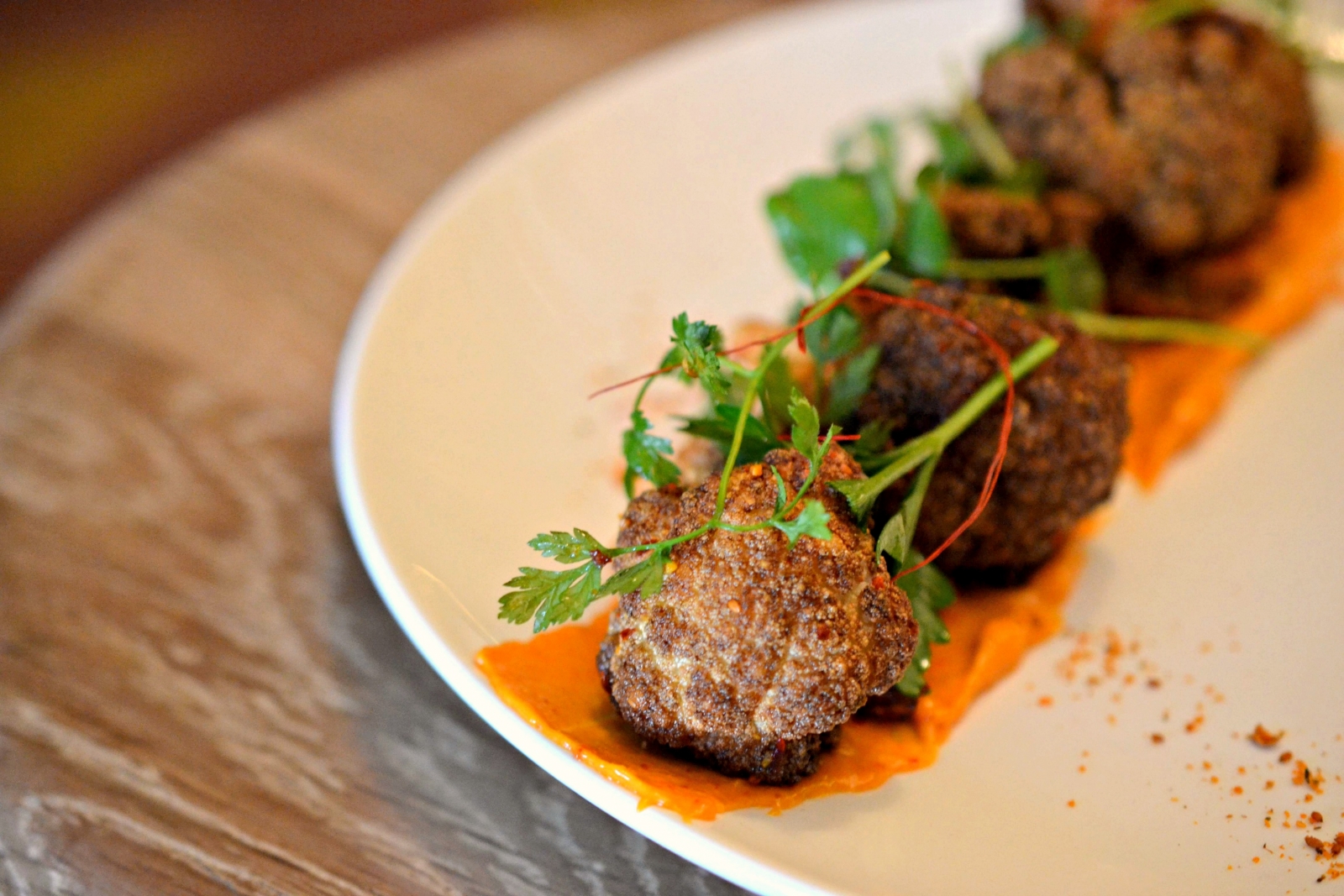 Fried cauliflower with harissa garlic sauce.
It's late 2014, so what's a restaurant without a signature cauliflower dish? Workshop puts its spin on the popular vegetable by frying big chunks of it until golden brown and crispy, serving them nice and hot on top of a harissa garlic spread. You'll have a little garlic breath after this one, but it's worth the sacrifice.
Aside from the variety of a la carte, you can opt for a set lunch menu for $25 that gets you an appy, a main, dessert and a (non-alcoholic) drink. If you're tired of making decisions all day at work, this might be the safe choice for you.
Speaking of the beverages, Workshop has a selection of craft cocktails including a caesar featuring a tomato clam juice made in-house, but what's more interesting is that the restaurant is also pouring sodas that it makes. Blackberry cardamom, grapefruit rosemary and honey lavender lemonade are just a few of the bubbly offerings you can sip on during your dinner. Pepsi is so last week anyway…
If you're feeling adventurous at dinner, take Kaechele up on his Workshop Improv tasting menu and choose between 3, 5 or 7 courses. Chefs love to flex their creative muscles, so if venturing into the unknown is your thing, then sit back and see what happens.
For those of you that want to stick to the regular menu, make sure to order Workshop's celery root and chicken skin side dish to go along with your main plates. It's a tasty combination of blue cheese, grilled celery root and chicken skin on a sweet charred leek puree.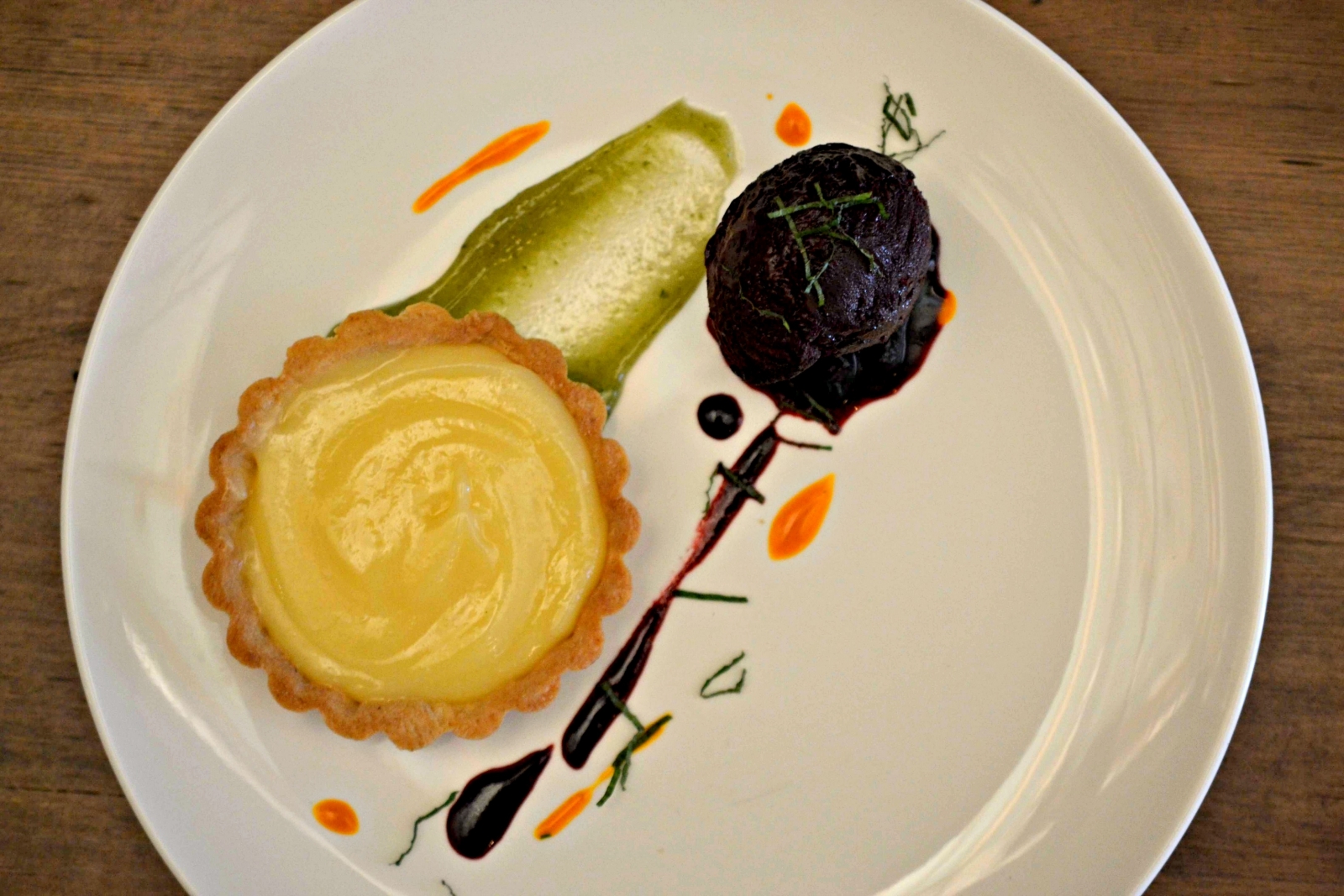 Yuzu tart with honey berry sorbet, Saskatoon berry compote, sea buckthorne berry puree and basil fluid gel.
Workshop has a pastry chef in their kitchen, which is not the norm in Calgary. I'm calling it now: 2015 will be the year that the average Calgary restaurant puts a little more thought into its desserts.
At Workshop you can get a root beer panna cotta with a white chocolate "root" cake, a chocolate bergamot (think the flavour of earl grey tea) chocolate pot de creme and a yuzu tart complimented by a honey berry sorbet, Saskatoon berry compote, sea buckthorne berry puree and a basil fluid gel (phew, that was a mouthful). Ending a meal here is anything, but boring.
(608 1 St SW, 403-266-7062, workshopcalgary.com, @workshopYYC)