There's no denying that poke, a Hawaiian dish that commonly features raw fish, green onions, soy sauce, sesame oil and seeds and other toppings on rice, is having a moment. The dish has been popping up in restaurants across the West Coast for some time now, but didn't have a big presence in Calgary until recently.
Now, Calgarians can get their fix at the newly opened Po-ke in Crescent Heights, one of the first shops in the city dedicated to poke. If the shop's first week is anything to go off of, it's clearly something Calgarians have been craving – opening day saw a line-up down the block, and they've sold out of seafood early every day they've been open so far.
Cindy and David Nguyen, the owners of Po-ke, were inspired to open the shop after they discovered just how much people wanted get their hands on the seafood dish – Cindy herself waited around an hour to get some during a recent vacation in Venice Beach.
While many poke shops embrace a colourful Hawaiian theme in their decor, the Nguyens opted for a rustic meets modern style for their eatery. Po-ke's main wall is covered in a large black and white mural by local tattoo artist Liam Chung of Wukong Tattoo. Beside the bar seating at the front of the shop, a mural of hand drawn calligraphy by Jenn Mayuga covers another wall. The pieces bring Japanese and Hawaiian elements into the shop's decor in a modern way.

Photographs by Alana Willerton
A large mural by Liam Chung of Human Kanvas (left) covers most of Po-ke's main wall, while handmade calligraphy by Jenn Mayuga adorns a corner at the front of the shop.
The menu, which the Nguyens created, features four signature poke bowls. The bowls range from the Traditional Bowl, which Cindy says is what you would get in Hawaii, to bowls with more creative West Coast inspired toppings. For instance, the Po-ke Special Bowl, which the Nguyens say is their most popular bowl, features ahi tuna, salmon, avocado, mandarins, seaweed salad, massago, shredded nori, sesame seeds, unagi sauce and the shop's signature sauce. Guests also have the option of creating their own poke bowl by choosing a base, protein, mixer, sauce, various toppings and finishes. At the heart of each poke bowl is the raw seafood (options include regular and marinated ahi tuna, spicy tuna, regular and marinated salmon, and special scallops), which the shop gets in fresh every day. You can also choose organic tofu as your protein.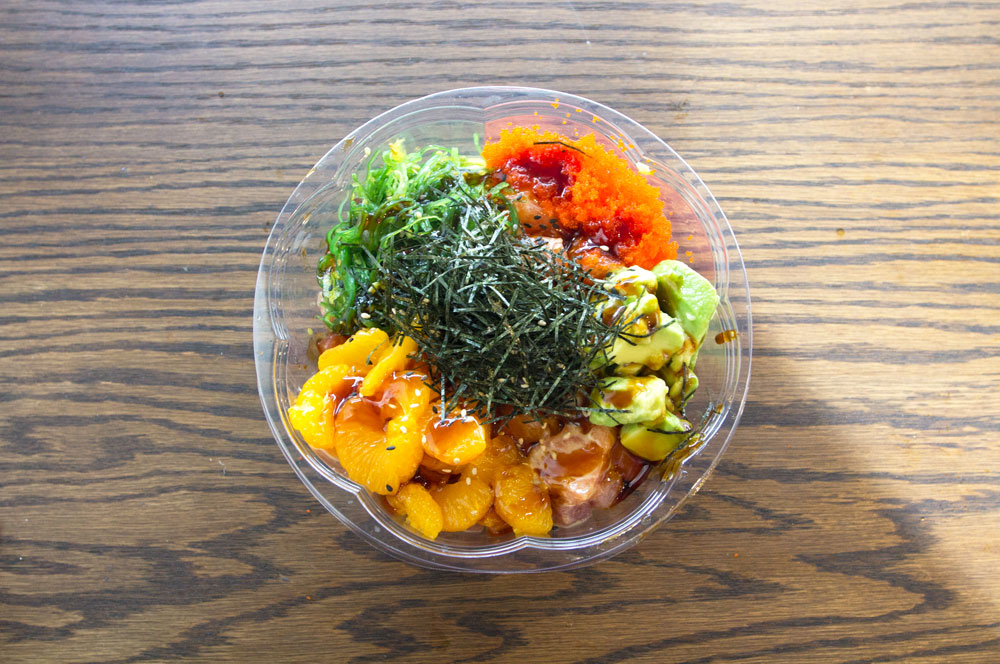 Po-ke also serves four different sushi burritos, two kinds of poke hot dogs (think poke bowl toppings and sauces on top of a beef hot dog and bun) and pieces of musubi. According to the Nguyens, the poke hot dogs are a good alternative for younger children or those who aren't fans of raw seafood. It's also a fun poke-inspired alternative if the shop is sold out of its seafood protein when you visit.
908A Centre St. N.E., 403-455-6507, po-ke.ca, @pokeyyc