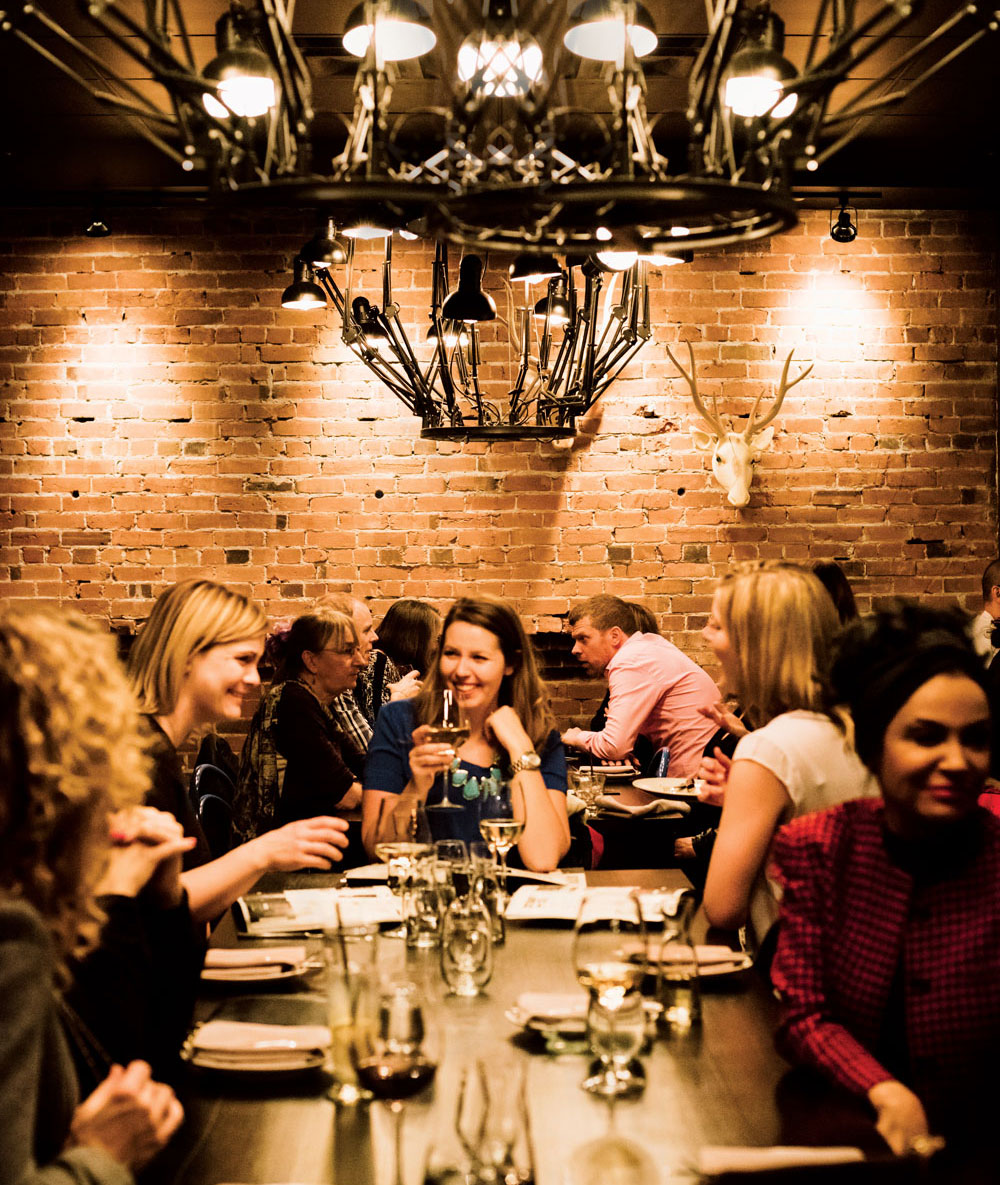 This Mexican cantina's speedy lunch deal is well-worth checking out if you're on 17 Ave. S.W. around lunchtime. Between 11 a.m. and 3 p.m., your order of a burrito comes with guacamole and a soft drink or a margarita. The best part? Both options are $20 and under and you'll be in and out in less than an hour.
723 17 Ave. S.W., 403-228-1854, blancocantina.ca
Bow Valley Ranche Restaurant offers a three-course lunch between 11 a.m. and 2 p.m. from Tuesday to Friday. It starts with a crunchy mixed greens salad or the chef's soup, then steelhead trout or roasted chicken and ends with apple strudel — the pièce de résistance. Talk about a delicious break in your weekday.
15979 Bow Bottom Tr. S.E., bvrrestaurant.com
Charcut's 45-minute in-and-out guarantee for its lunch-all-at-once deal is a great concept. Guests can choose between options like the daily sandwich, pasta or some rotisserie meat with sides ranging from parmesan fries to soup. We especially love the warm cookies to go after a hearty, meat-centric lunch.
101, 899 Centre St. S.W., 403-984-2180, charcut.com
Donna Mac's express lunch deal gives you a great taste of what this Beltline restaurant has to offer (but in a quick timeframe). The menu changes regularly, but you can expect soup, a main dish and a homemade cookie, all for the reasonable price of $25.
1002 9 St. S.W., 403-719-3622, donnamacyyc.ca
This restaurant's quick and filling One Punch Lunch includes a daily feature, a side, mini butter tarts and either a coffee or mocktail. It's a great midday pick-me-up. Klein/Harris offers this lunch special on weekdays from 11 a.m. to 2 p.m. for only $16.
113 8 Ave. S.W., 403-262-8100, kleinharris.com
For a quiet meal in an elegant setting, Q Haute Cuisine is just the place. The Eau Claire restaurant offers two- and three-course lunch menus. Express lunch dishes include warm smoked salmon salad or beef ribeye served with a roasted vegetable fricassee, all beautifully and efficiently prepared in one hour.
100 La Caille Pl. S.W., 403-262-5554, qhautecuisine.com
Every other week, Royale guests can expect a new three-course express lunch menu that includes a starter, a main dish and a cookie-themed dessert. The restaurant regularly post updates to their Facebook page, so make sure to check it out before visiting to see what's on for the week. In the past, they've served spiced potato croquettes, a lamb meatball melt and a triple chocolate cookie.
730 17 Ave. S.W., 403-475-9457, royaleyyc.ca
Set atop the Calgary Tower, Sky 360 is an obvious place to take out-of-town clients for the view, as well as the express menu that features local, seasonal ingredients and only takes 45 minutes in total. The three-course express lunch menu features coffee, tea, a starter, gelato for dessert and your choice of three entrees ranging from gnocchi to a chicken sandwich.
Calgary Tower, 101 9 Ave. S.W., 403-532-7966, sky360.ca
This three-course lunch comes with a salad, a main and a dessert. Watch Teatro's Instagram to see what the three courses are each week. Lemon butter garganelli, seared salmon, panna cotta and pavlova have all made appearances in the past.
200 8 Ave. S.E., 403-290-1012, teatro.ca
This downtown spot in The Grand building is definitely worth the little bit of effort it takes to find it. Chef Kenny Kaechele's innovative menu is a great conversation-starter and the $25 three-course Lougheed Lunch will have you in and out in one hour. Options like the daily braise and lemon posset will make you happy you stopped by.
608 1 St. S.W., 403-266-7062, workshopcalgary.com
If you only have 45 minutes for lunch, swing by Yellow Door Bistro at the Hotel Arts. Not only can restaurant guests save themselves some hassle by parking at the hotel for free, but Yellow Door also offers a three-course express lunch that changes weekly. One thing you can expect for sure is a takeaway dessert to bring back to work with you afterwards.
119 12 Ave. S.W., 403-206-9585, yellowdoorbistro.ca
[This story was updated on November 18, 2019]