Alongside rich flavours of fruit, spice and smoke, the warming qualities of heavier spirits characterize these seasonal cocktail creations, which will banish the winter chill from the inside out.
Stormy Weather from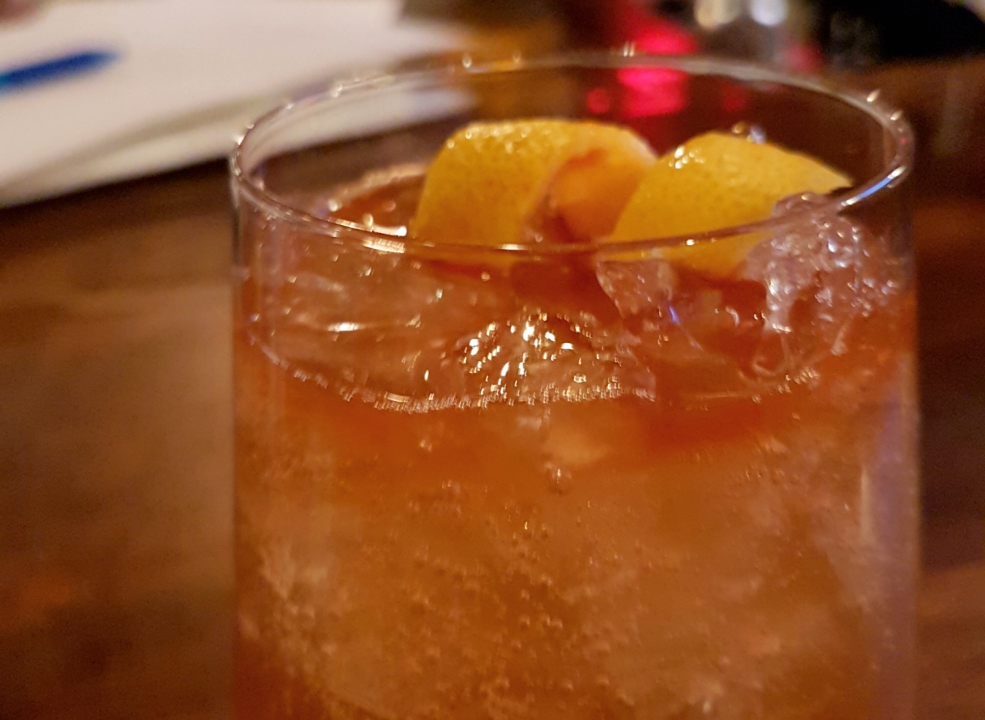 photo courtesy of brasserie kensington.
Bar manager and lead server Saralyn Leopatra created this drink as part of a project in which Brasserie's staff designed cocktails inspired by their favourite songs. Based on the 1960 Etta James tune of the same name, Stormy Weather features Buffalo Trace bourbon, Grizzly Paw ginger beer from Canmore, limoncello, green Chartreuse, lemon zest and cinnamon fig bitters. "I'm a huge bourbon lover, and I wanted to work with a dark brown spirit," Leopatra says. "It's a citrus spice flavour and you get a lot of heat from the ginger, which really shines through. The bourbon's quite mellow, and it's just enhanced by the ginger."
$12, Brasserie Kensington, 1131 Kensington Rd. N.W, 403-457-4148, brasseriekensington.com, @thebrass_kens
Pitilie Gold from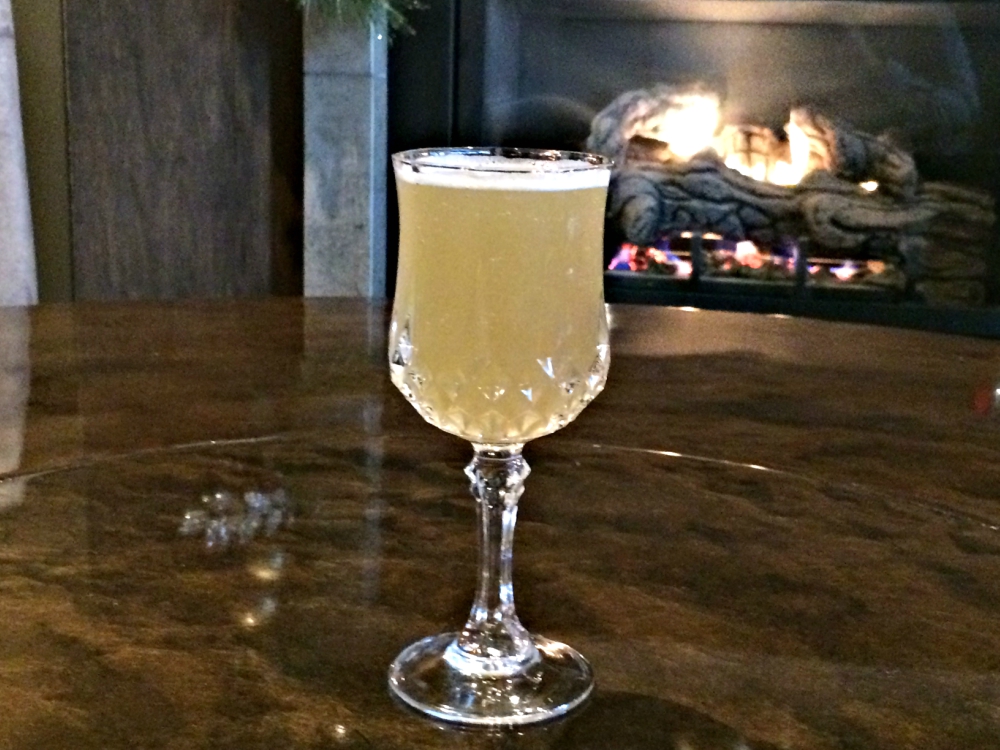 Photo courtesy of the living room restaurant.
Named after the water source used to distil its base of Aberfeldy Scotch, this drink blends Bndictine herb liqueur with Calvados apple brandy, lemon juice, ginger syrup and angostura bitters. "The cocktail is smoky and herbaceous and smooth," says general manager Timo Salimaki. "The strong flavours of the Scotch and Bndictine are balanced nicely with the Calvados and ginger. The perfect drink to have next to a fire on a cold day."
$14, The Living Room, 403-228-9830, 514 17 Ave. S.W., livingroomrestaurant.ca, @livingroomyyc
Give Thanks from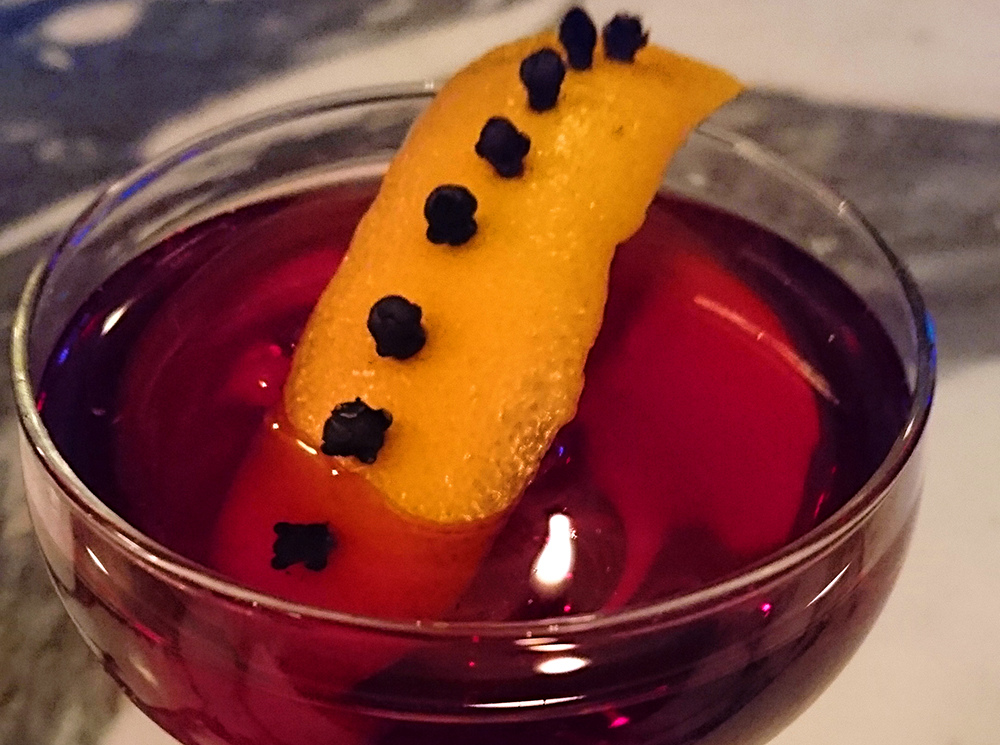 photo courtesy of cannibale.
You'll be singing something about chestnuts and an open fire with this cocktail from Bridgeland's Cannibale. It features Alberta Premium rye, and gets its festive red colour from both Periquita Reserva wine and cranberry juice. Finished off with sweet, thick Amaro Averna liqueur and black walnut bitters, its garnish of an orange peel studded with whole cloves gives it the aroma of a Christmas pomander. "The flavour is strong warming alcohol, with notes of dark fruit, malt and nuttiness with a slightly tart and sweet finish," says bartender Evan Cooper.
$13, Cannibale, 403-454-5808, 813 1 Ave. N.E., cannibale.ca, @cannibale_yyc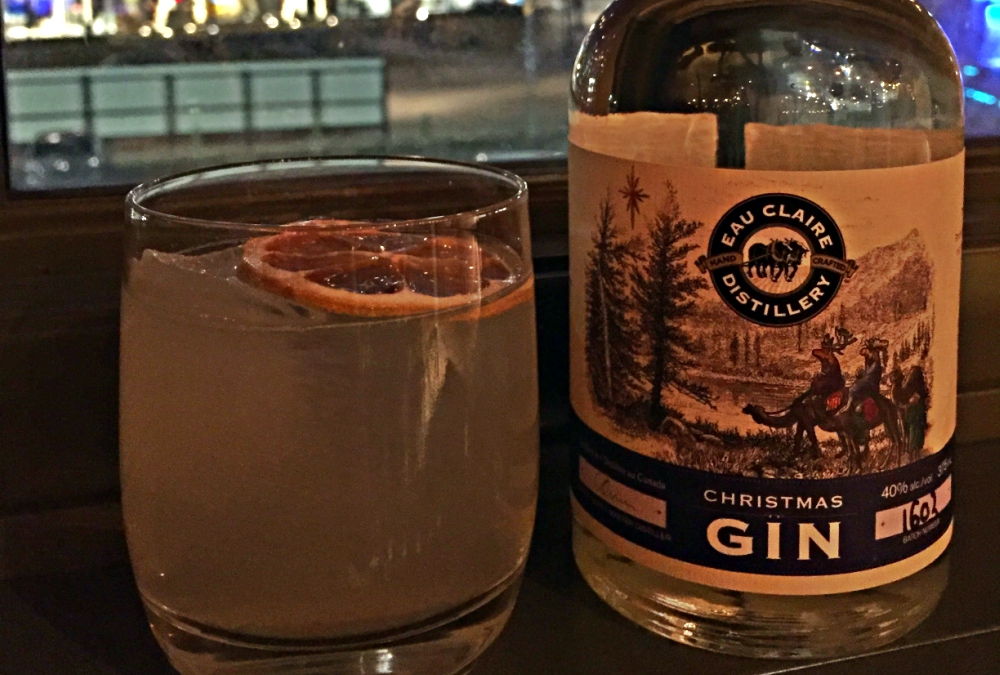 photo courtesy of charbar.
What could be more seasonally appropriate than a drink that includes actual frankincense and myrrh? The two ancient botanicals are featured in Eau Claire Distillery's Christmas Gin, which forms the base of this holiday cocktail from Charbar. To finish off the smooth, almost lemony gin, Vientos (Spanish for "winds") is topped off with St. Germain elderflower liqueur, lemon juice and a rosemary and juniper syrup. "The syrup is supposed to mimic the flavour of pine," says bar manager Justin Foltinek. The chill of winter winds is definitely best appreciated in cocktail form.
$14, Charbar, 403-452-3115, 618 Confluence Way S.E., charbar.ca, @charbar_yyc
Rhne Cobbler from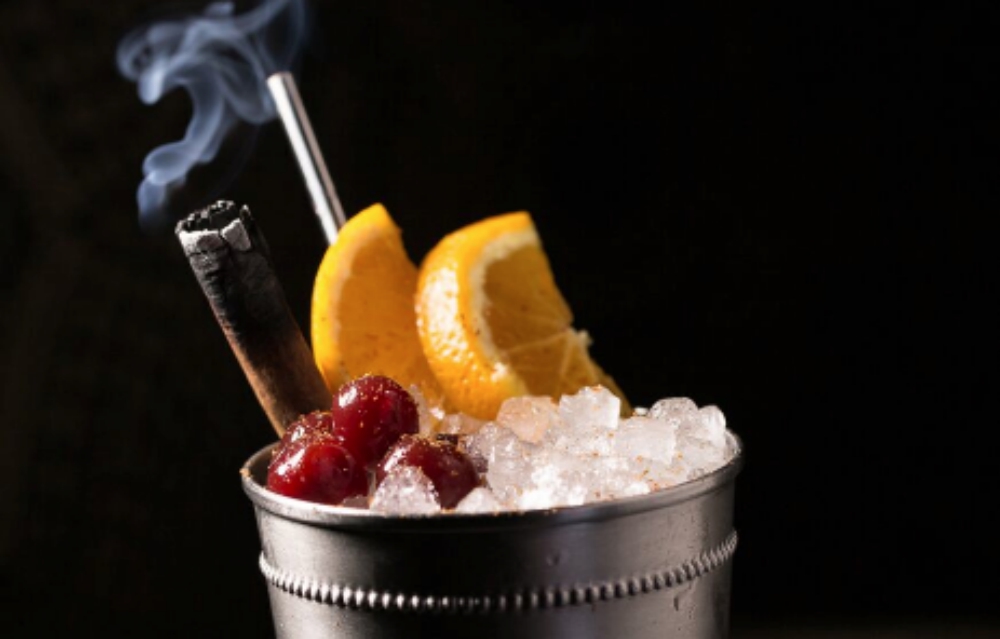 photo courtesy of alena jenkins/proof cocktails & curiosities
Named after the Ctes du Rhne wine it is built around, this cocktail resembles a combination of upscale fruit punch and Christmas Eve dessert. With Bndictine liqueur, orange and cranberry juices, and Angostura bitters, its show-stopper is the garnish of a lightly smoking whole cinnamon stick. "The drink really represents the inherent spice and fruit notes of the wine, with a backbone of the herbal Bndictine to bolster the holiday tones," says its creator, bar manager Jeff Savage. "Overall the cocktail is bold, with holiday spice and a rich wine background. Seasonal yet refreshing."
$13, Proof Cocktails & Curiosities, 1302 1 St. S.W., 403-246-2414, proofyyc.com, @proofyyc
Mistletoe from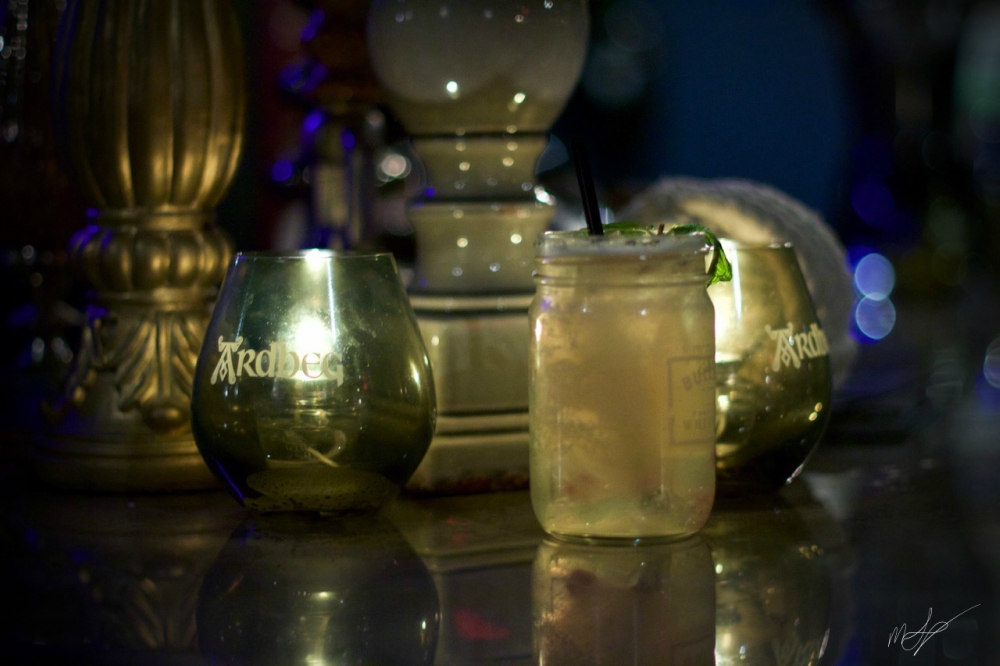 Photo courtesy of prlr lounge.
Served in a mason jar and garnished with cherries and a sprig of mint, this drink gets its warmth from spiced rum, King's ginger liqueur and Ardbeg Scotch, as well as chocolate and smoked hickory bitters and a sprinkle of nutmeg. "Mistletoe is the picture of the winter season, down to the garnish," says Mickey Gaudio, PRLR's head bartender. "It has festive flavours such as chocolate, nutmeg and ginger, crafted together with a smokey aroma."
$13, PRLR Lounge,124 10 St. N.W., 403-455-2452, prlrlounge.com, @parlourl