Last October, Two Penny Chinese unlocked its doors and welcomed diners into its main-floor restaurant and basement Tea House bar. Servers hustled from the kitchen with the restaurant's playful takes on Westernized Chinese food, dim sum and Hong Kong barbecue: steam baskets hiding soup dumplings, the pleated folds of dough enveloping pork morsels and a rich broth; small dishes of bright green cucumbers garlanded with droplets of chili oil; platters of bronzed barbecue-duck ready to be tucked into soft milk buns; while the bar shook up cocktails incorporating Asian ingredients such as peanut and soy.
Just one week earlier, the City of Calgary had finally given Two Penny Chinese owner Cody Willis and his team the go-ahead to open in the space on 1st Street S.W. They had been in a holding pattern since the previous August due to weeks of back-and-forth discussion with the City over permits. Only after a restaurant gets its final occupancy permit can it get its business license. And only after that can it apply for its Alberta Gaming and Liquor Commission permits. With all permits in hand, Willis could finally retrieve wine and spirits he had cached at various locations, put in food orders, set up the payment terminals and give staff their uniforms.
Though the time from inception to opening had been 18 months, the final week before opening saw things amp up considerably. "We had an eight-day schedule to open, for getting the space organized and cleaned, staff into place, running the friends-and-family soft openings," says Willis.
On that night last fall, the room full, tables laden with food and drinks, patrons downstairs in the Tea House checking out the dim sum cart rumbling around the room while sipping cocktails, Willis recalls casting an eye round and, in that moment, feeling washed with a sense of relief. "To have everything operating smoothly is an organizational feat. Six, seven months of construction with all the little things adding up – the plumbing in, fridges actually working, we have water – the space itself, lights dimmed and the room how we want, staff in uniforms, all your visions now reality. It's amazing," he says.
To an outsider, opening a restaurant may look exciting, but those supremely satisfying visions-become-reality moments such as the one Cody Willis had at Two Penny are few and far between.
Behind the scenes are a steady stream of headaches involving permit issues, equipment problems, staffing and the moving target of opening dates. Opening a restaurant is not for the impatient – or the faint of heart.
Even so, for the handful of local restaurateurs creating small-scale hospitality empires in the Beltline district, the memories of the pain and hassle of launching a new project tend to fade in light of the challenge and excitement of what's next.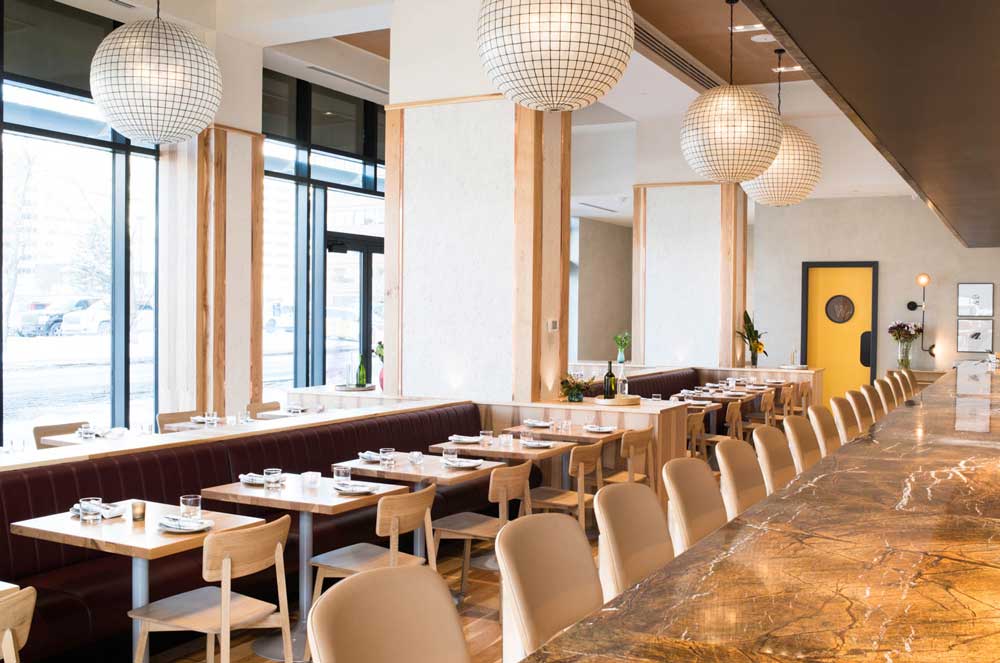 Donna Mac.
Down at the other end of the Beltline from Two Penny, new restaurant Donna Mac also opened its doors last November – also months later than its originally intended summer 2017 launch. Donna Mac is the latest addition to the Hangry Panda Hospitality group headed up by Jeff Jamieson and Jesse Willis (Cody Willis's brother), founders of the Vine Arts Wine and Spirits shops and co-owners of Proof cocktail bar on 1st Street S.W.
The duo hadn't planned to add another establishment into their group, even after the landlord of a new building going up in the western end of the Beltline approached them back in 2015 to ask if they would consider opening a Proof-like concept in the street-level storefront space. But when veteran restaurant manager Amy Turner (formerly with Anju and Model Milk) came to them with an idea for a casual, neighbourhood restaurant with an approachable, non-themed menu, they told her about the location. Together, along with Proof's original chef Justin Longpre, they brought Donna Mac to life.
Jesse Willis and Jamieson are majority owners in Donna Mac (Turner's grandmother's nickname) with Turner and Longpre rounding out the ownership. Getting chef Longpre in as an owner was important to Jamieson and Willis, as was providing Longpre with a kitchen larger than the postage-stamp-sized space he was working out of at Proof. "Seeing what he could do in the small space of Proof – he did it out of a closet," says Jamieson. "We wanted to give him a real kitchen with equipment and space." Jamieson also believes you get more from people who have something at stake in a restaurant. "I don't think anyone can create something truly great unless they feel it's theirs."
According to Jamieson, he and Willis didn't set out to have Hangry Panda (a joke name that stuck) become a mini-empire. The company's growth has been more organic than the label "restaurant group" would imply. After opening the first Vine Arts store, they weren't planning to grow any further. They said the same after they opened Proof. Now they have a second Vine Arts, Donna Mac, plus an online retail business called Fifth & Vermouth, which sells barware.
Those early opportunities were hard-won, though. They clawed to get the first Vine Arts open, using what Jamieson calls "blood money" from friends and family to fund the boutique liquor store. And while each subsequent success has brought more opportunity to the Hangry Panda crew and their peers, no matter how solid a track record a business may have, the restaurant and retail-food-and-beverage industries can hardly be considered a slam-dunk for investors.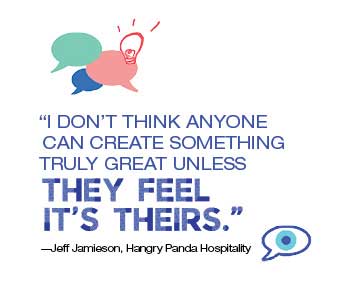 Just ask Jayme MacFayden, co-owner of BMeX Restaurant Group with Kelly Black (the duo are romantic as well as business partners), which includes Una Pizza + Wine in Calgary and Saskatoon, Frenchie Wine Bar and Bread and Circus. The couple are also partners in Cody Willis's Native Tongues Taqueria. "Banks don't want to touch restaurants," MacFayden says. "You have to rely on private investors and beg, borrow and steal."
This pretty much describes how MacFayden and Black brought the first Una to life back in 2010. Part of their funding involved taking out a line of credit on Black's mother's house and when they went over budget, they applied for every credit card they could and used them to pay for the construction. Needless to say, there was some stress involved with a tactic that would fly in the face of any right-minded financial advisor. "Every morning, I vomited," says MacFayden.
Getting Una open was only one in a series of struggles for the fledgling business. Initially, there were problems with the pizza dough and the restaurant was exceedingly understaffed considering its immediate popularity, with only MacFayden, Black and then-chef Stephen Smee handling all aspects of service for an often-packed house. "It took a year to catch up with staffing correctly," says MacFayden. "It was lightning in a bottle."
But being popular – even too popular for what they could handle – was a good problem to have, and when the dust settled, MacFayden and Black began considering their next project. "Once we opened Una, it was addictive," MacFayden says. "We get that adrenaline rush, even though I say I'm never doing that again."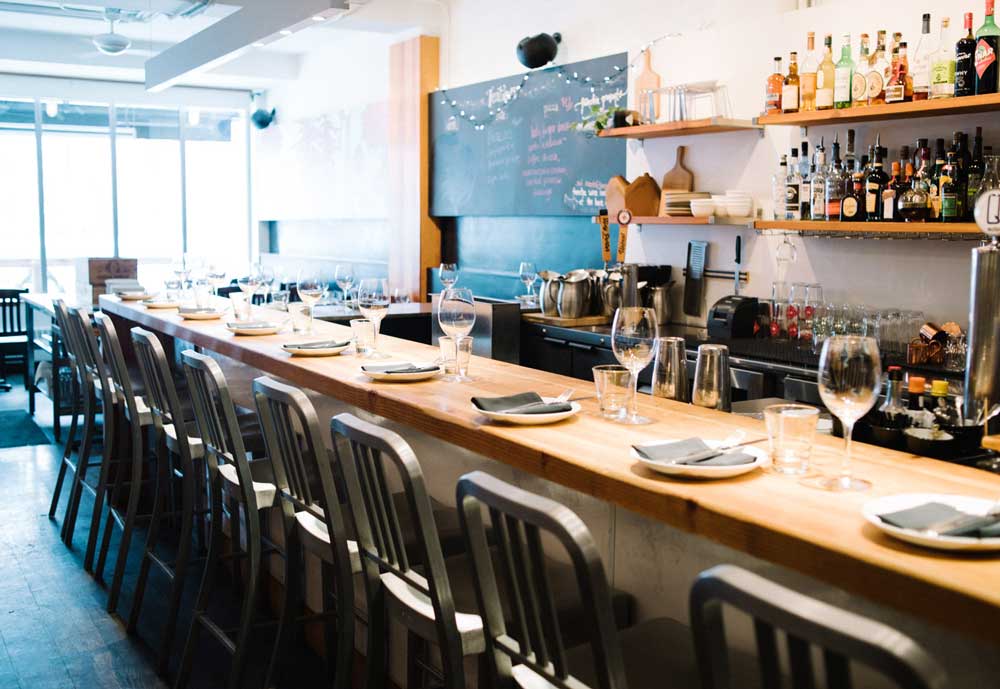 Una Pizza + Wine
Next came Ox and Angela (which rebranded in 2017 as Ox Bar de Tapas, after BMeX sold a majority stake in the restaurant), followed by Una Saskatoon, Native Tongues and Frenchie Wine Bar, a secret-speakeasy-style spot tucked in behind the original Una. With a number of successes under their belts, it seemed BMeX had the magic touch for creating buzzworthy restaurants with good food and a cool vibe. But even a run of successes can't protect hospitality groups from failure. Few restaurants survive the first year or two, and that's true not only for those entering the game.
For MacFayden and Black, that lesson was learned through Una Takeaway, which they first opened in June 2016. Their concept for turning the space adjacent to Una Calgary into a grab-and-go spot for Una pizza, as well as pastries and sandwiches, charcuterie and condiments, didn't exactly go as planned. Customers came only for pizza and the signature Una kale salad, leaving the other offerings untouched. Hemorrhaging money in payroll and wasted food, MacFayden and Black thought they could push through the end of the year, but eventually realized that could cost them everything.
So, after only six months in business, they cut their losses and drastically reduced the size and offerings of Una Takeaway, running it as a small takeout counter operation at the front of the space and repurposing the remaining space as an altogether new restaurant. Just shy of a year later, BMeX has launched the Roman-influenced trattoria Bread and Circus. Tucked into the space between Una Takeaway and Frenchie Wine Bar, this thriving new restaurant proves their tough decision was ultimately the best one.
Many of the new generation of restaurateurs in the Beltline credit MacFayden and Black for forging a path that has allowed them to open their own spots. The duo is seen to have brought about a new focus to hospitality in local restaurants rather than just the bottom line. This may be because MacFayden and Black, as well as many of those they've inspired, started their restaurant careers as servers and hosts and, as such, set about to create the kinds of operations that they themselves would have wanted to hang out in at the end of a shift.
"They deserve credit for starting a shift in the restaurant scene," Jamieson says. He adds that the fact that MacFayden and Black were young and took a big risk in starting a business inspired him and Jesse Willis to open Vine Arts.
Prior to starting Vine Arts, Jamieson also had experience in the hospitality industry. He was general manager at the downtown steakhouse Saltlik, and subsequently stepped in as acting chef when the chef at the time fell ill. Running the front and back of the house simultaneously, Jamieson was working 12-hour days, seven days a week. Burnt out, his marriage suffering, he left the restaurant world to work in oil and gas. But he couldn't let go of hospitality fully. To keep his hand in the game and his knowledge of wine fresh, he started working at Bin 905, the boutique wine store on 4th Street S.W., where he met Jesse Willis. Working Sunday shifts together at Bin 905 led to Vine Arts, which led to Proof, and so on.
Bin 905 has been an unintentional business incubator of sorts; it is where Karen Kho and Dave Sturies, the pair behind local charcuterie business Empire Provisions, met. Cody Willis worked there for a time, as well.
Cody Willis also worked at Una before going to culinary school, and he turned to his former bosses when looking for funding to open Native Tongues. More than just investors, MacFayden and Black have been mentors to freshmen restaurateurs, sharing time-tested systems for training staff, operation manuals, service standards and restaurant governance – along with their philosophy that service is the pinnacle of the restaurant experience. They installed Willis as a manager at Ox and Angela, during which time he gained valuable experience that would inform how he ran Native Tongues when it opened. "Kelly and I said the biggest accomplishment would be to use Una as an incubator for others to do their thing," says MacFayden, adding they are flattered when their staff go on to establish their own spots. "It's almost like being a parent. You teach them things and they take that and create their own."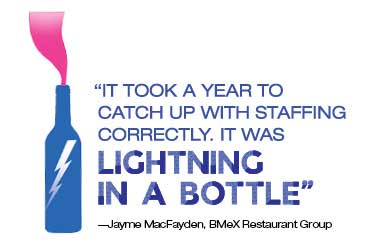 In Cody Willis' case, that means creating his own mini-empire – Thank You Hospitality – which has succeeded Native Tongues with Calcutta Cricket Club and Two Penny, all Beltline-based hotspots offering modern takes on classic ethnic cuisines. MacFayden and Black have also been happy to see their former Una chef Smee and his partner Aja Lapointe find success with their 1st Street S.W. restaurant Ten Foot Henry, which opened in February of 2016. "I take a lot of pride in seeing that happen. It came out of one little 1,800-square-foot restaurant," MacFayden says.
The connections and paths between this new generation of restaurateurs intertwine and cross over and over – they work together and push each other. If MacFayden and Black are the nexus of these connections, Cody Willis is perhaps the most common connection. In addition to his professional association with BMeX, as Jesse's brother, a former roommate to Jamieson and former co-worker with Smee, he's just one degree of separation from most of the Beltline's new restaurants.
For Cody Willis, the name of his company, Thank You Hospitality, echoes his philosophy when it comes to restaurants: hospitality comes first. It's an ethos he learned under MacFayden and Black, who hold that they and their staff are there for the clientele, not the other way around. "Someone is choosing to eat with us," says MacFayden. "It could be a special occasion, it could be that someone saved for a year to come have dinner at Una. You don't know what sacrifices they've made to dine at one of our restaurants."
Just about a month after Bread and Circus opened, breathing new life into the space that housed the initial iteration of Una Takeaway, the energy in the new restaurant is palpable. Patrons crane their necks for a glimpse of chef Kayle Burns tossing hot pasta in the well of a massive cheese wheel, while others, tucked into corners, are busy feasting on silky-smooth chicken liver with almonds, oxtail rigatoni or the cacio e pepe.
MacFayden circulates in the space as servers weave between the tables efficiently, pouring wine, setting down plates, whisking away empty ones. There's a sense lightning may have once again been captured in a bottle, not only here, but at the bright spots throughout the Beltline they've inspired.